Today we're talking about the best stocks that you can buy as a beginner going into 2018 and beyond. I'm here to help you master your money and build your wealth.
So why did I choose these stocks?
The reason I chose these 5 stocks is because they're all blue chip stocks with a strong dividend. Blue chip essentially means that it's a large well-established company that's financially sound and that has been operating for many years. These aren't going to be some fly by night IPOs (Initial Public Offerings). These are going to be well-established long-lasting companies that have a consistent track of quality.
Why the dividend factor?
Overall stocks that pay out a dividend or have enough money on their balance sheets to give out and pay out a dividend, perform better whether through better economic times or worse economic times versus their counterparts that don't actually pay out a dividend and that are mostly focused on growth. There's nothing wrong with growth stocks. I actually invest in a lot of growth stocks. However, for beginners, I want to make sure that these stocks are to be consistent and not volatile and that they pay you a dividend. That brings me to my third point-volatility. These are the companies that are going to be slow and steady that win the race. They're not going to be companies that grow 100% a year with doubling your money like crazy, but they can also go down 50-60% a year as well. The volatility is low in these five stocks that I chose. Without further ado let's get into the first stock.

1. Apple

No matter whether you're a fan of Apple products or not, you have to admit that this stock has been a winner over the past few years. It's a must-own stock, in my opinion, especially in a well-diversified portfolio. Apple's going to be a great technology and growth company stock, and I see myself owning this for a long term. The reason I like Apple is that when lately they've been obsessed with returning cash to their investors, they've done this through stock, share buybacks, and also through dividend increases.
If you have a look at the numbers, their one-year returns have been about 49.6% just right under 50% and the five-year returns have been 131%. This means that for every dollar you invested in Apple over the past five years, you're getting back $31 in profit which is pretty crazy, especially for an established company like Apple. P/E ratio is actually pretty low, especially for a tech stock. It's 19.05. For those of you that don't know what P/E ratio means, this is essentially the price to earnings ratio on a stock. That's the price of the stock divided by their earnings. Overall, Apple is going to be a great pick for the long term. It's going to be a staple in my portfolio for 2018 and beyond.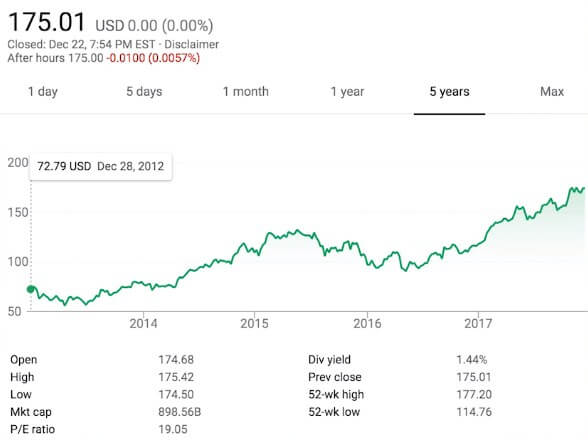 2. Visa

Visa is almost the definition of a blue chip stock. It's one of the 15 most valuable companies in the world that has a huge market share. It is highly profitable with high barrier to entry. I shall give you just a quick tip when you hear a high barrier to entry in the investing world. We like to call this the moat. When you think of a castle, you think of the water around it that's called a moat. The moat makes it difficult for invaders or competition to actually take over that stock and eat up that company's market share. Keep that in mind. Visa has a huge moat in the credit lending industry. Their global market share with about 323 million active accounts actually dominates their nearest competitor, MasterCard, who only has about a 191 million active accounts. Their dividend yield is not the strongest, but it's always been increased year over year for the most part. Right now, it sits at about 0.69%, but it has been increasing year over year. I think Visa, especially with this new tax bill, is going to make it a priority to raise that dividend yield. Their one-year return has been about 43.5% and their five-year return has been a 190%, which has been insane. Over the past five years, for every dollar that you put into Visa, you're getting back $1.90 in profit. That is excellent. They're a great stock with a steady growth track, and they've been doing it for years. Visa is going to be sitting in my portfolio for at least the next two years, if not longer. This is a great stock for beginners in 2018 and beyond.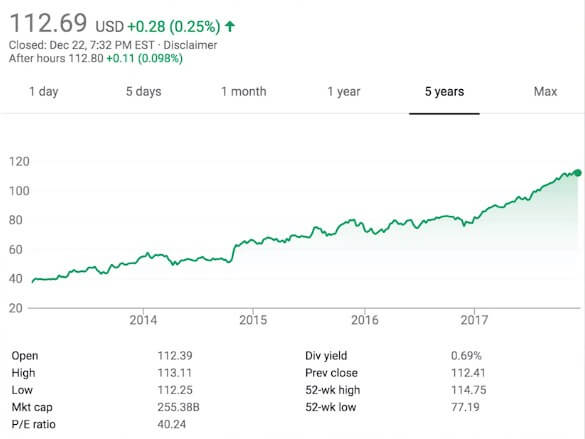 3. Texas Instruments

If you remember, in school you used to play snake on those TI-83 calculators. This is a Texas Instrument product. They produce much more than that. They have been around since 1930. It is currently a 100 billion dollar company. They are still growing at a healthy rate that is pretty crazy, given that they've been around for about 87 to 90 years. Their revenue is expected to increase by almost 12% in 2018, which is huge for such an old a company. They're a leading supplier in rapidly transforming automotive and industrial sectors. They've raised their dividend consecutively for 13 years. That's awesome! That means that they're managing their money effectively because they're able to raise that dividend consistently over a long period of time. They've also focused on buying back some of their outstanding shares in the same way as Apple was doing, as I mentioned earlier. This decrease is dilution that means that the company doesn't have as many outstanding shares.
For example, in 2004 there were about 1.7 billion outstanding shares of Texas Instruments, whereas in 2017 that number was brought down to about 1 billion. That's pretty solid. Their dividend yield is very healthy and comprise 2.38%. Their one-year returns have been about 41%, and the five-year returns have been 218%. You could have doubled your money over the past five years with Texas Instruments, which is pretty insane. There are only a few other stocks that offer this kind of a fat dividend with such an opportunity for growth. That's why Texas Instruments is number three on this list.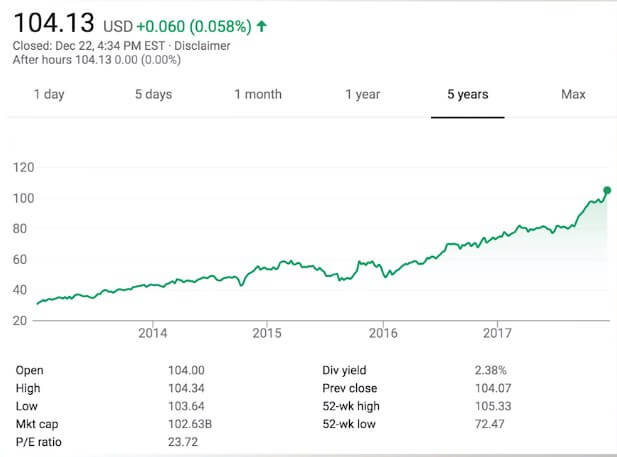 4. Johnson and Johnson

When you think of Johnson and Johnson, you're probably thinking of the baby shampoo. At least that's what I think of when I hear Johnson and Johnson. However, you have to realize that Johnson and Johnson is arguably one of the most diversified and consistent stocks available today. They've consistently raised dividends 54 years in a row. This makes it a long-term pillar in any portfolio. Johnson & Johnson has sustainable growth through diversification, excellent management, mergers and acquisitions of competitors.
Let's have a look at their dividend yield. Their dividend yield is also right in 2.38-2.4 neighborhood as well as Texas Instruments was. Then you have one year of 21.8% returns and five years of almost 100% returns. You're doubling your money which is insane for such a strong company like this. Johnson and Johnson is definitely a staple in my portfolio. They're not going to be a sexy stock, it's going to be a very boring stagnant stock. However, even with a fat dividend yield and growth that we've seen over the past five years, you'd better believe them. I'm going to be a big advocate of Johnson and Johnson for the long term.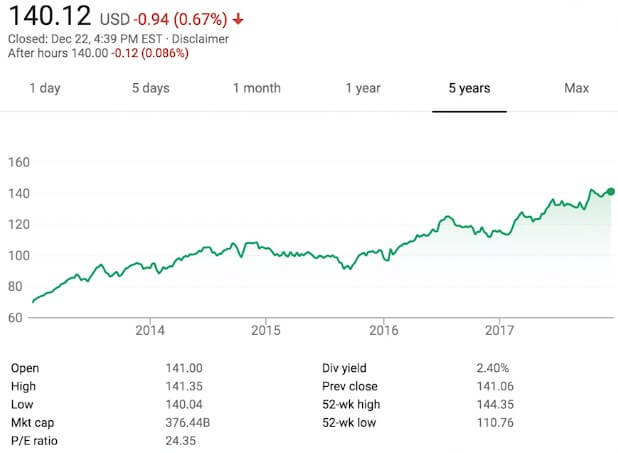 5. Microsoft

I personally work for one of the biggest Microsoft partners in the Midwest of the United States, if not the biggest partner of Microsoft, but that is not swaying or making my decision biased whatsoever. I took a hard look at Microsoft, and they have many service areas that have huge margins. A lot of their biggest service areas are Cloud, ERP software that stands for enterprise resource planning software. Think of software that runs big business such as manufacturing firms, chemical laboratories, food manufacturers, things like that, and Office 365. Office 365 is a big part of their business. They're incentivizing their sales people to sell Cloud. Microsoft is making a direct push to compensate their reps to sell Office 365 and cloud-based solutions with more dynamics.
One more reason why I picked this stock for 2013 for beginners is that they are consistently raising dividends. They're not focused 100% on growth even though it has been in the growth sector. Their Dividends are nice and fat. They've consistently been raising them, so their dividend yield is 1.95%. Their one-year returns have been 35.2%, and their five-year returns have been 224%, which has been insane. Microsoft, in my opinion, is a long-term hold. A lot of people got in right around 50-60 dollars a share. Right now, it's sitting in the mid 80s. I think that, for 2018, Microsoft may see triple digits in their stock price, so it is definitely going to be my portfolio for 2018. I would recommend Microsoft for beginners as well.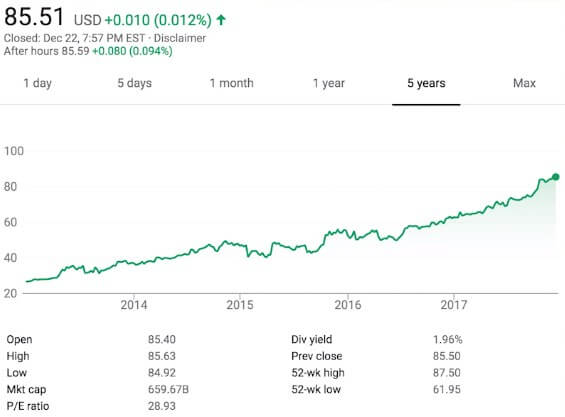 These are the best beginner stocks for 2018
However, you also need to do your own due diligence and take a deeper dive in all five of these stocks that I mentioned. Investing is a long game. It's not a get-rich-quick scheme. I know a lot of people that are investing over the past seven or eight years. They think that whatever they buy is going up because we've been in such a crazy market. You really need to dig a little bit deeper and look at fundamentals and the financials of these companies. I have dug deeper into these five stocks that's why I do recommend them, but you need to do your own due diligence. The market is like a roller coaster. You only get killed if you get off halfway. Think of this as a long game. Even if your stocks go down, you shall not jump off the ride. You need to keep investing consistently because then your dollar cost is averaging: you're buying at highs, or you're buying at lows, and you'll end up somewhere in the middle, but overall it's for the better in the long term.
If you got any value out of this post, please, share this article with your friends and your family.
I do have a question of the day: Out of these five stocks which are you investing in? I'd be happy to hear your opinions below.
Thank you so much and have a prosperous day.
by Marco — WhiteBoard finance