CargoCoin (CRGO) ICO

Past ICO

Apr 16, 2018 – Dec 31, 2018

CargoCoin platform the interaction amongst importers, exporters, shipping lines, freight forwarders, ship owners, booking agents and other parties involved in the international trade and transport of commodities and cargoes.

By investing in this ICO you agree to our Disclaimer
CargoCoin (CRGO) ICO ratings

| | |
| --- | --- |
| ICOrating.com | |
| Hype score | Medium |
| Risk score | Medium |
| Investment rating | NA |

| | |
| --- | --- |
| ICObench.com | 4.1 / 5 |
| ICOmarks.com | 9.3 / 10 |
| TrackICO.io | 4.6 / 5 |
| ICOholder.com | 3.9 / 5 |

Claim admin rights for this ICO
Overview
White Paper
Features
The CargoCoin platform connects importers, exporters, freight forwarders, booking agents, ship brokers, ship owners, etc. into a single unified marketplace. Cargo all-purpose platform – development of a marketplace, utilising Smart Contracts, allowing manufacturers to showcase their produce and connect them directly with customers, through an established link to the ship and inland transport platforms. CargoCoin avoids the delays by providing instant exchange, review and approval of documents and payments between the parties involved in the Smart Contract.
ICO Details

Pre-ICO token supply: 10,000,000
ICO token supply: 100 000 000 CRGO
Soft cap: 5,000,000USD
Hard cap: 55,000,000USD
Raised: 1,247,819 USD


Legal

ICO Platform: Ethereum
Country limitations: USA
Registration country: United Kingdom
Registration year: 2018
Office address: 99 Bishopsgate, London EC2M 3XD, UK

Token info

Ticker: CRGO
Type: Utility-token
Token standard: ERC223/ERC20
Token price in USD: 1 Token = 1 USD
Accepted currencies: BTC, LTC, BCH, BLK, DASH, DCR, DGB, DOGE, ETC, ETH, EXP, KMD, LSK, NAV, NMC, MAID, PIVX, POT, QTUM, STRAT, SYS, VTC, USDT, WAVES, XMR, XRP, CAD, EUR, GBP, USD
Bonus program:
Pre-sale price 1CRGO - 0.5$
ICO price 1CRGO - 1$
Token distribution:
10% - pre-ICO
55% - ICO
15% - Team
20% - Reserve
Funds allocation:
30% - Research & Development
50% - Marketing & Sales
10% - Administrative
3% - Legal
7% - Exchange listing

CargoCoin (CRGO) ICO Roadmap
1
Q3 2017
START OF IDEA.We started the idea of integrating the shipping platform with blockchain payments and smart contracts.
2
Q1 2018
ICO PREPARATION.Preparing the Initial Coin Offering for CargoCoin, gathering a team, selecting advisors, preparing whitepaper.


3
Q2 2018
ICO LAUNCH.Launching the Initial Coin Offering for CargoCoin.
4
Q2 - Q3 2018
SMART CONTRACTS. Programming of smart contracts on the ERC223 platform, testing and evaluation.


5
Q3 - Q4 2018
DEVELOPMENT STAGE 1.Development of the global shipping platform, connecting importers, exporters, ship brokers, forwarders, ship owners, etc. (Stage 1)
6
Q1 2019
BLOCKCHAIN INTEGRATION. Implementing blockchain smart contracts as core part of the shipping platform.


7
Q2 2019
LAUNCH STAGE 1. Launch of the global shipping platform.
8
Q2-Q4 2019
MARKETING STAGE 1. Year 2019 will be devoted to marketing and promoting the global shipping platform.


9
Q4 2019
DEVELOPMENT STAGE 2. Starting the development of an inland transport platform (Stage 2).
10
Q1 2020
LAUNCH STAGE 2. Launch of inland transport platform.
11
Q2-Q4 2020
MARKETING STAGE 2. Marketing of the inland transport platform.
12
Q4 2020
DEVELOPMENT STAGE 3 . Developing of the universal trading platform, directly connecting manufacturers, fleet owners and customers.


13
Q2 2021
LAUNCH STAGE 3. Launch of the all purpose cargo platform.
14
Q2-Q4 2021
MARKETING STAGE 3. Marketing of the all purpose cargo platform at stage 3.


15
Q4 2021
DEVELOPMENT STAGE 4. Development of air cargo platform.
16
Q2 2022
LAUNCH STAGE 4.Launch of the air cargo platform

.
17
Q2-Q4 2022
MARKETING STAGE 4.Marketing of the air cargo platform.
18
Q4 2022
DEVELOPMENT STAGE 5. Development of supply chain platform connecting stages 1, 2 & 4 (shipping, inland and air transport).


19
Q2 2023
LAUNCH STAGE 5. Launching of the integrated platform.
20
Q2-Q4 2023
MARKETING STAGE 5.Marketing of the intermodal platform.


Project team

Bogomil Alexandrov
Founder
Martin Iliev
Founder

Ilkay Topcu
Founder

Christina Sarastova
Shipping & Transportations specialist

Iliana Ilieva
Business developer

Samuela Valkova
PR & Marketing expert, event manager, press communication

Kaushik Ghosh
Blockchain Developer having expertise in Ethereum, Bitcoin and writing smart contracts

Mihaila Lukanova
UI & Front-end developer

Bogdan Todorov
Financial specialist

Petya Kalauzka
Office manager

Zlatin Sarastov
BSc Finance at the University for National and World Economy

Luben Kazanliev
Attorney at law, Legal advisor

Iva Kitova
Graphics designer

Georgy Zhelyazkov
Inland transportation specialist

Piyush Gupta
Blockchain Developer
Advisors

Simon Cocking
Senior Editor at Irish Tech News, Editor in Chief at CryptoCoinNews

Edilson Navas
Founder at GBPA (Global Blockchain Pioneers Association)

Lin Hsiang Liao
Vice President at China Merchants New Energy, part of China Merchants Group

Clemens Bechter
Asian Institute of Technology

Krasimir Georchev
Senior Business and IT Executive

Savio Gomez, Capt
Advisor

Jonathan Chang
Advisor

Bryan Ng
Advisor

Michael E. Bryant, MA, MBA, CPA, CBE
Chairman of the Advisory Board

Vladimir Loshkarev
Founder and CEO at Dylyver Technologies

Duyen Tran
Founder & CEO Extradecoin.com
Social media
How-To get a verified ICO status
To pass the verification you need to place a our logo on the main page of your ICO's website and make an announcement of the listing in your social network accounts. Send us the email in reply with confirmation of the link placement.
Top-Rated ICO's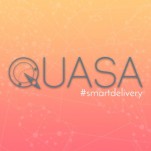 QUASA - The Decentralized Platform of Cargo Transportation. QUASA platform offers innovative solutions based on the introduction of blockchain technologies to ...
Start ICO
Feb 15, 2018
End ICO
Dec 31, 2019
Received
$ 94,134

603%

Goal
15,623


Bulk Trader is a Blockchain powered Online Marketplace Platform dedicated to B2B sales and services. Bulk Trader is a unique hyperlocal ecommerce platform with ...
| | |
| --- | --- |
| Start Pre-ICO | Apr 02, 2019 |
| End Pre-ICO | Jul 31, 2019 |
| Received | Pending |
| Goal | 35,000 |

Grotto Technology aims to simplify businesses' operations by developing business process automation through cloud-based software services.
| | |
| --- | --- |
| Start ICO | Feb 01, 2019 |
| End ICO | Jun 30, 2019 |
| Received | Pending |
| Goal | Not Set |