CoinSwitch Review

Bank transfer

Credit Card

Cryptocurrency

Since its foundation in 2017 by CEO Ashish Singhal [LinkedIn], CoinSwitch has established itself as one of the leading online crypto exchange aggregators. The company offers users worldwide the possibility to trade with over three hundred coins through the most prominent exchanges. Unlike other platforms, CoinSwitch does not provide its own liquidity. On the contrary, they integrate multiple exchanges to present users with the best exchange rates of the market. The company is headquartered in Bangalore, India, and primarily targets Asian traders.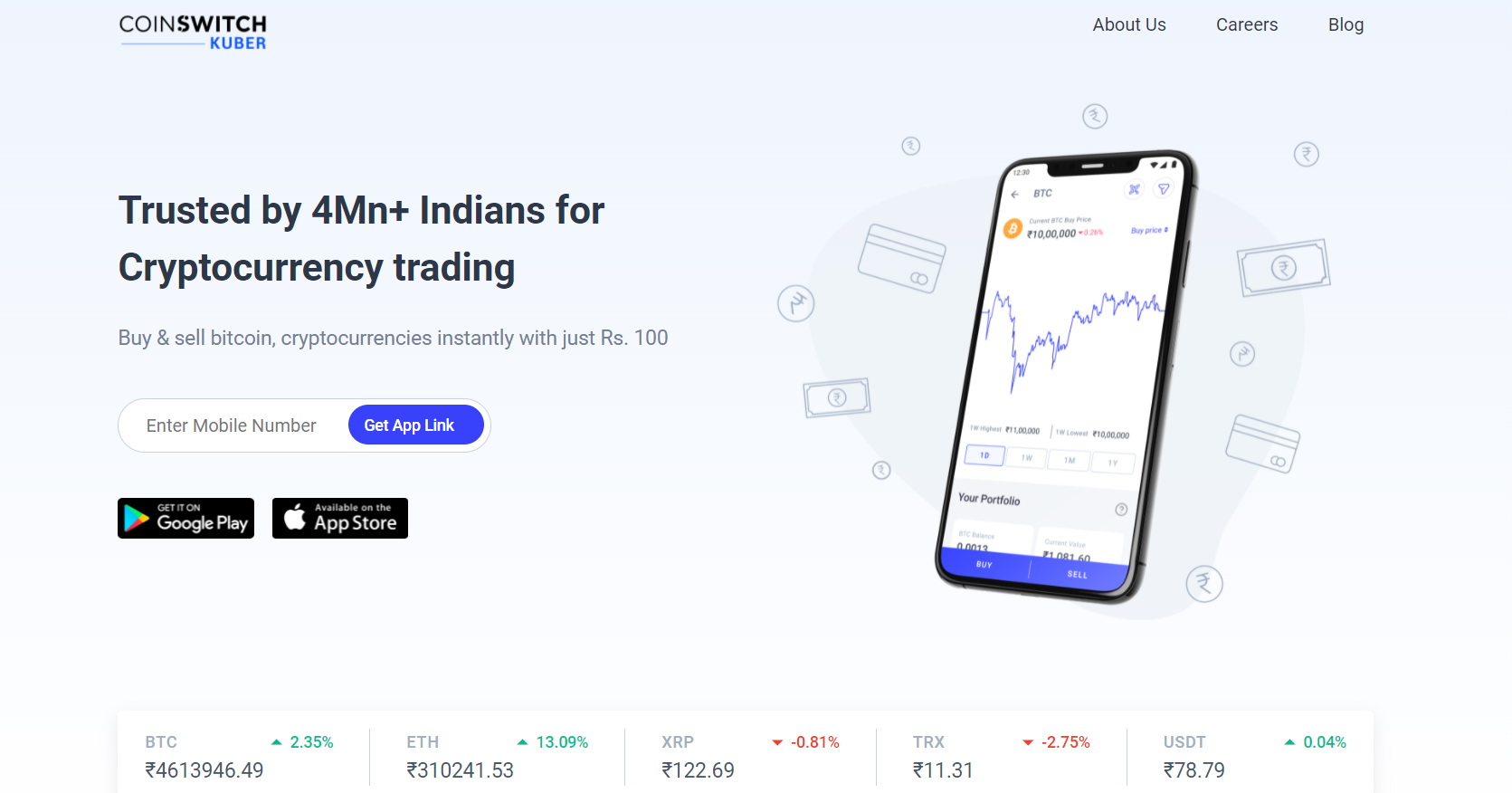 The following article will discuss CoinSwitch's unique trading model, features, and fees. Furthermore, we will examine their Airdrop program, security protocols, account creation, and anything else that may be relevant to users looking to trade within the platform.
Trading View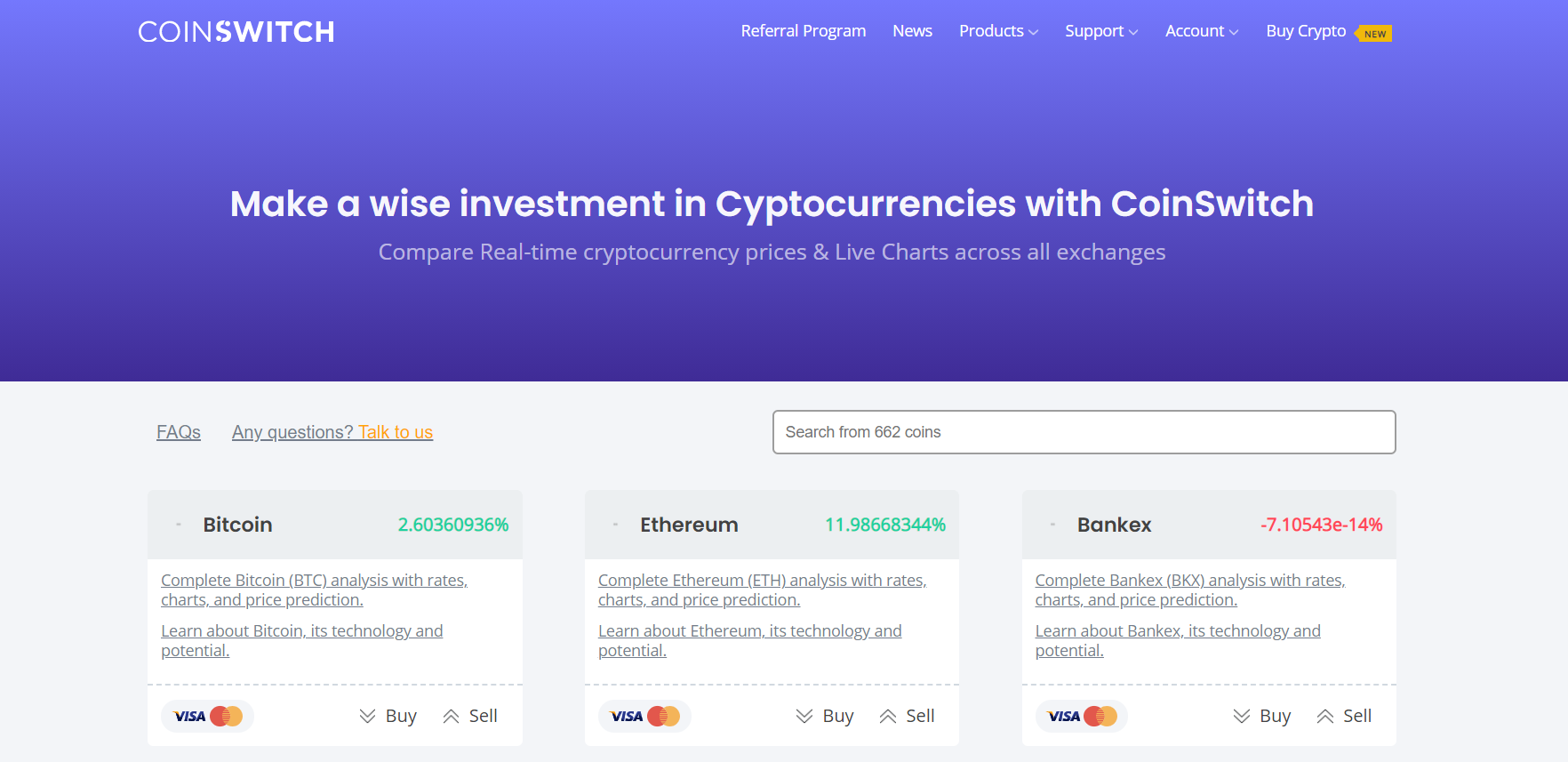 CoinSwitch trading view is limited in comparison with other exchanges. This is because the company's primary focus is to present users with the best rates across several leading exchanges rather than running their own exchange services. CoinSwitch's includes a simple order box where users can choose the pairs they would like to trade with. Once traders select their preferred coins, access to the current rates that CoinSwitch integrated exchange platforms offer is obtained. The most profitable rates are displayed in the upper section of the page. On the main page, users can also find a simple charting interface with the coin's price trend in comparison to the most used fiat currencies.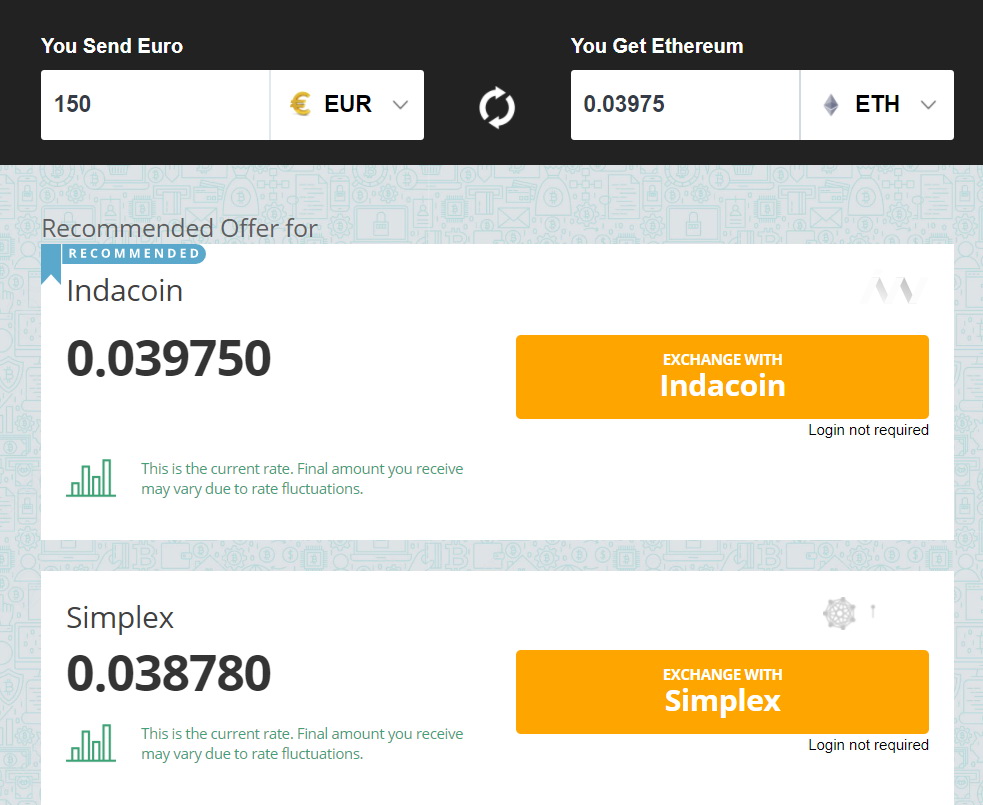 The platform lacks advanced features and a full-fledged interface for more experienced users, such as charting tools, trading history, and futures trading. Because of this, CoinSwitch may not be fit for professional traders.
Trading and Withdrawal Fees
As CoinSwitch works as an exchange aggregator rather than an exchange itself, the fees they charge are relatively low and vary according to the crypto exchange the user decided to trade with. Usually, trading fees range from 0% to 0.98% per transaction, although these are included in the total amount sent or received. At the same time, users can still expect to pay a management and mining fee.
CoinSwitch does not openly disclose fee information with its users. The company does not charge any fees whatsoever for deposits or withdrawals, but they do charge around 1% to 2% of every cryptocurrency purchase.
Deposit and Withdrawal Methods
CoinSwitch only allows users to buy crypto using credit or debit cards, which excludes other payment methods like wire transfers and virtual wallets such as Paypal or Skrill. Because it is non-custodial in nature, CoinSwitch users cannot store stable currencies in the platform, which can be a disadvantage to those looking to trade rapidly during market fluctuations.
CoinSwitch does not support any fiat currencies, as it is a crypto-only exchange. A fiat on-ramp is available via CoinSwitch's Banxa partner, accessible upon clicking on the 'Buy Crypto' option. This feature allows users to buy crypto with a credit or debit card.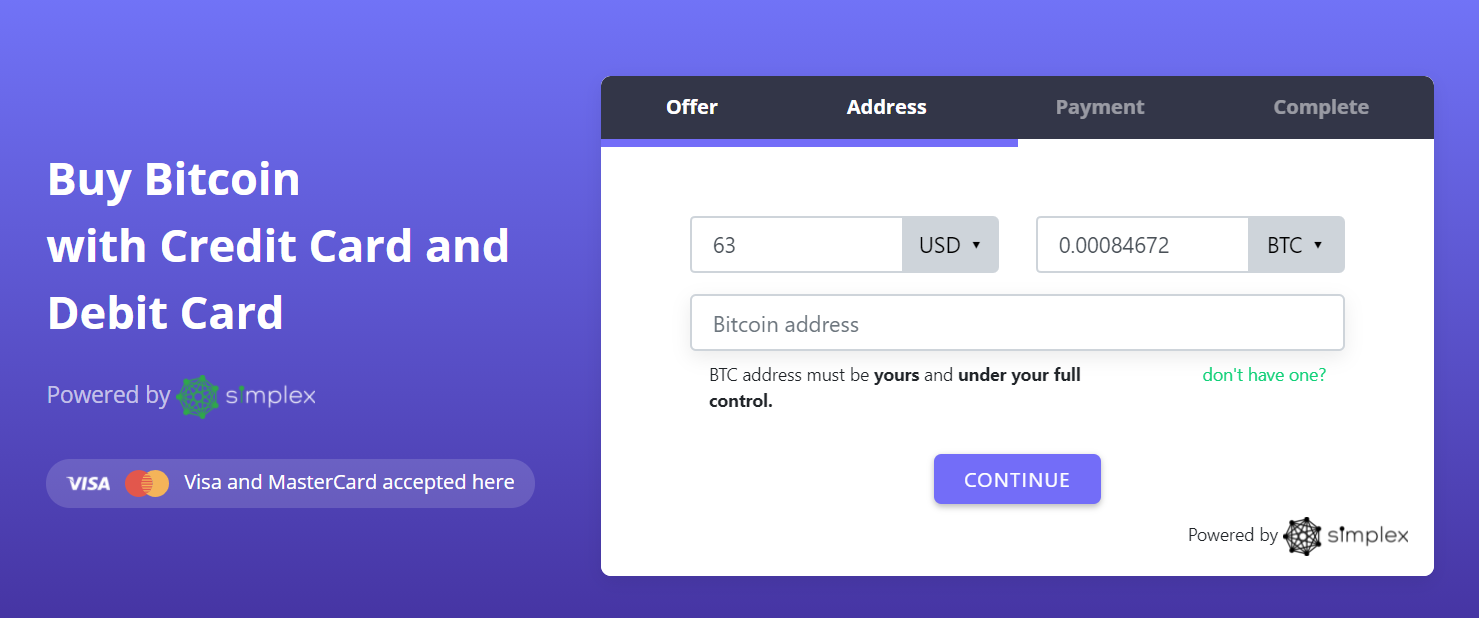 CoinSwitch does not impose sell or buy limits. Traders can use the platform as long as the amount traded covers mining fees.
Supported Cryptocurrencies and Countries
One of the most attractive aspects of CoinSwitch is its wide range of cryptocurrency offers. They currently support over 350 coins and are constantly adding more crypto projects to their list.
Because of the different laws regarding crypto trading globally, CoinSwitch has restricted citizens of some countries and territories from trading within their platform. Some examples are Cuba, Iran, North Korea, Crimea, Sudan, Syria, Afghanistan, Pakistan, and all the states and territories of the United States.
How to Use CoinSwitch Exchange
Creating an account
CoinSwitch does not require users to create an account to start trading crypto. Their anonymity option is probably one of the most popular aspects of the platform. Still, in order to access some extra features, users may need to create an account. To do so, click on the "Account" option located in the upper section of the page. Select register and provide a valid email address, as well as a strong password. The whole registration process does not take more than a few minutes.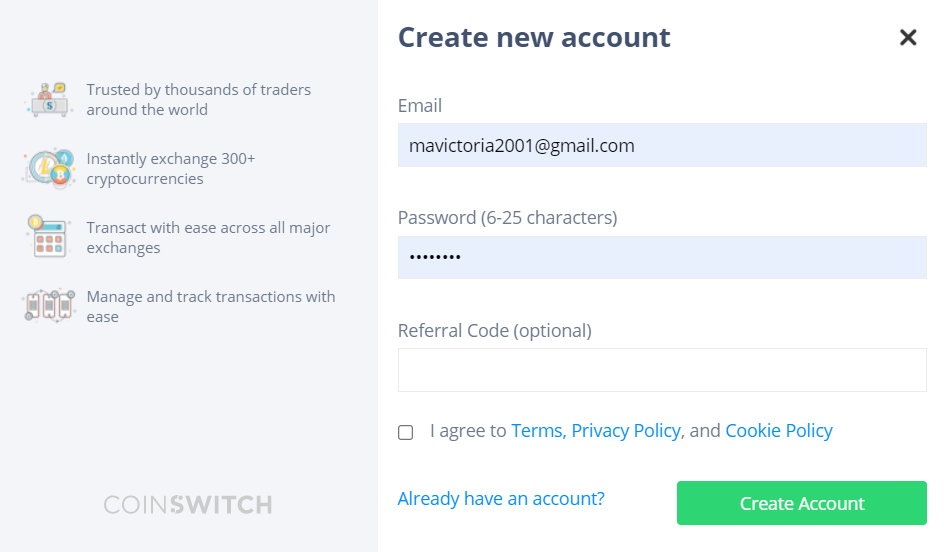 KYC Verification: How to Buy and Sell crypto
Unlike other platforms, CoinSwitch has no KYC verification model for simple trading purposes. Still, going through a simple verification process does increase the limit of BTC users can trade each day. By storing a valid phone number, users can trade with up to 6 BTC per day. Providing basic personal information such as your full name, date of birth, and the country where you live, increases the trading limits to 100 BTC per day.
CoinSwitch Airdrops
CoinSwitch Airdrops page is dedicated to highlighting many of the best airdrops available on the market in an effort to support new crypto projects. The companies featured in the platform constantly give away new coins directly to the holder's wallets in order to incentivize trade and interest on the token. To be eligible for airdrops, crypto traders must meet several CoinSwitch criteria, including having an ERC20 compatible wallet, a minimum balance in the wallet, and specific requirements each project may have in place to ensure people don't create random addresses. On the CoinSwitch Airdrop page, users can also see the list of active Airdrops available and complete the task needed (if any) to receive free tokens.
API
CoinSwitch allows businesses to trade cryptocurrencies with their APIs. Unlike other platforms, the CoinSwitch API process is fast and straightforward. They offer partners the possibility to trade with all the available pairs, share the revenue created from every transaction, and set a fixed or dynamic rate when trading.

Reviewing CoinSwitch Security Protocols
Because of the platform's lack of verification measures and the possibility for people to trade within it without providing any source of information, many people have questioned whether CoinSwitch can be considered a safe and reliable exchange, especially as it is not a smart contract-based automated market maker. Although the company has security protocols in place, these are not disclosed to the general public, so it is rather difficult to reach a conclusion on security grounds. Nevertheless, because the platform is non-custodial and doesn't allow people to trade with fiat directly, it's unlikely that a hypothetical hack could pose a threat to users' funds. Still, the lack of safety measures and regulations may be a downside for traders looking for security above anything else.
Bottom Line
CoinSwitch does well at achieving its mission to provide users with the best rates out there. They also support the community of new traders by providing an easy-to-use interface and featuring airdrops from rising projects. Still, the lack of regulation, advanced features, and strong security protocols may not be enough for advanced traders looking for a refined and regulated exchange platform.
Visit Exchange >>>
Social media