How to Save Funds on MyEtherWallet (MEW) – Step-by-Step Guide
Anyone who owns crypto tokens needs an efficient and reliable digital wallet to keep them safe. MyEtherWallet lives up to the task and is relied on by millions of users, to help them hedge and manage their funds. In this modern MyEtherWallet review, we will take a closer look at all the features and nuances of installing, configuring, protecting, and using the MEW5 web wallet and MEWConnect App, as well as integrating to the Trezor hardware wallet.
Technically, the MyEtherWallet can be defined as a free and open-source interface that can be used to efficiently interact with smart contracts and also send, store, and receive Ethereum-based digital coins. Such include Ethereum (ETH), Ethereum Classic (ETC), USDT Tether, Basic Attention Token (BAT), and USDC (USD Coin) among other ERC-20 tokens. Since the wallet is only limited to Ethereum-based tokens, you can use it alongside digital wallets such as Trezor–to transact using other types of tokens. But we shall get into it later within the article. Let us first explore how to use MyEtherWallet itself.
Table of Contents

Since its creation in 2015, the tool has attracted much attention and gained trust among crypto users. With time it has become one of the most widely renowned Ethereum wallets. Here are the factors that make this wallet popular:
Free and Easy to Use
Unlike many digital wallets, MyEtherWallet can be used for free. Besides, you do not have to be a technical geek to use it: if you have basic Internet and cryptocurrency knowledge, you are good to go. Its extremely handy GUI makes it easy to use.
For first-time users, the tool comes with useful documentation and numerous how-to videos that you can use to learn: https://kb.myetherwallet.com and https://www.mewtopia.com.
In case you still find your wallet difficult to use, you can always contact customer support for help by sending an email to the provided address. The customer support team is always online and ready to provide prompt responses to customers' queries.
No Verification Required
MyEtherWallet does not require users to verify their identity in order to access its services. This means that you can use the tool anonymously.
Private Information is Stored Offline
Any confidential information required by MyEtherWallet is usually stored offline. To make this possible, the tool enables you to create a wallet in your web browser. All private keys and account information are then stored on your computer (or in your Trezor device, which greatly enhances your safety!). Considering that online wallets are exposed to hack attacks, this measure guarantees more security to user data and assets. Furthermore, you do not need to go through the hassle of setting the two-factor authentication (usually associated with online servers).
Enables you to Write and Use Smart Contracts
Through MyEtherWallet, you can interact with Ethereum smart contracts, commonly used in ICOs and dApps. You can also navigate through and manage existing smart contracts or create new ones.
Allows you to Swap Fiat to Crypto
MEW allows you to easily swap your cryptos: ETH and ERC-20 tokens. This especially comes in handy in platforms that do not accept fiat currency. You can first exchange your tokens, then move on to trade.
Continuously Evolving
As the world keeps growing more digitalized and evolved, MEW has not been left behind either. The team behind it continues to work toward newer versions that will address user needs better. Each new version introduces useful features and is made compatible with other computer applications. Every time a new version comes up, users are advised to upgrade their accounts to leverage it.
Available in Several Languages
Currently, the wallet is used in 192 countries in the world. To cater to users, MyEtherWallet can be used in 18 different languages!
Smartphone-Friendly
The MEW team launched the MEWconnect app to enable users to better access the digital wallet via their mobile phones. Therefore, a good internet connection is all you need to make transactions with your smartphone.

Precautions and Deficiencies
You Need a Backup
Since vital information is stored on your computer, you need to create a reliable backup for any stored data. Use a hard disk or flash drive for that. If you don't and your computer ends up crashing, you risk losing all the crypto you may have stored in MyEtherWallet. You also need to ensure your computer is virus-free. Any virus that will compromise your device is also going to affect stored information.
Once you create an account and start utilizing MyEtherWallets, you become fully responsible for any stored information. The tool's website clearly reads:
"you and only you are responsible for your security."
Not 100% Secure
Despite the measures taken to keeps user data safe, MyEtherWallet is not totally immune to hack attacks. Reportedly, on April 24, 2018, a couple of DNS servers were hijacked and MEW users were redirected to a phishing site. Once there, most who keyed in their private key had their data snagged by hackers. According to MEW, many Users who were using Google's Public DNS (8.8.8.8/ 8.8.8.4) at the time were affected and lost their crypto. However much the team worked hard to resolve the issue, the damage had already been done as many users lost their investments. The MEW team does not guarantee the safety of transactions but rather advises its users to always beware of suspicious activities.
Couple of DNS servers were hijacked to resolve https://t.co/xwxRJ4H4i8 users to be redirected to a phishing site. This is not on @myetherwallet side, we are in the process of verifying which servers to get it resolved asap.

— MyEtherWallet | MEW (@myetherwallet) April 24, 2018
Stores a Few types of Crypto Coins
MyEtherWallet is not a cryptocurrency wallet in its own right. It only has a room for Ethereum-based tokens, which means that if you want to own other crypto coins you will need to find a separate crypto wallet. Users may find it cumbersome switching from one wallet to another during transactions.
To try and solve this, MEW's team has made a tool compatible with hardware wallets such as Trezor One and Model T. These provide extra security and also accept a wider variety of cryptocurrency coins. However, hardware wallets are usually quite expensive compared to software wallets. This may turn away users who would only like to store a few coins.

How to Create MyEtherWallet Account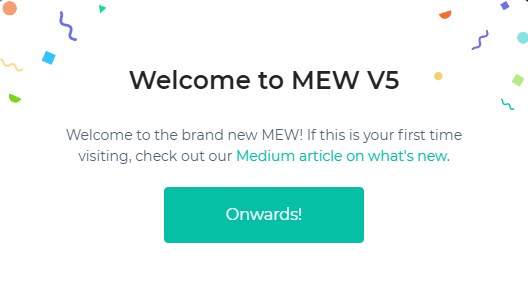 The February major update of the wallet's interface and design is great! In this article you will also learn about interesting things like ENS (Ethereum Name Service): MEW V5, MyEtherWallet's All-New Interface, Is Here
Click Create A New Wallet.
Carefully study the information on how to use the wallet: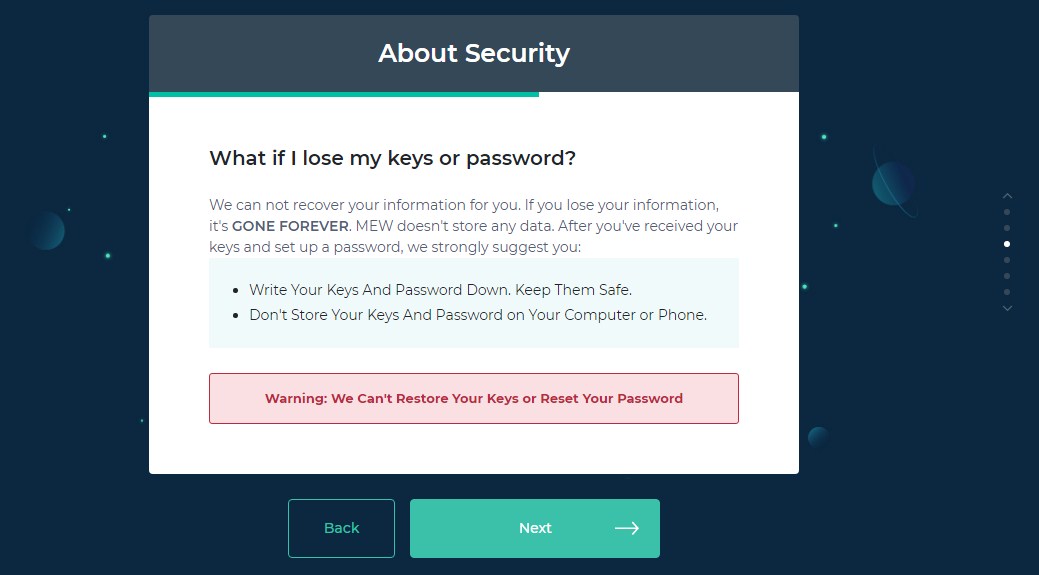 To begin with, we will tell you about unrecommended methods: you can sign up using either a Keystore File or Mnemonic Phrase (for experienced users only).

Keystore File
You will not be able to use this wallet later. With MEWconnect App, you will need a mnemonic phrase to access the wallet on your smartphone.
Step 1: Visit MyEtherWallet's official website page and create an account. To avoid being led to phishing sites, make sure the website portrays MyEtherWallet Inc (US). You can also look out for "Secure" green signs in the address bar.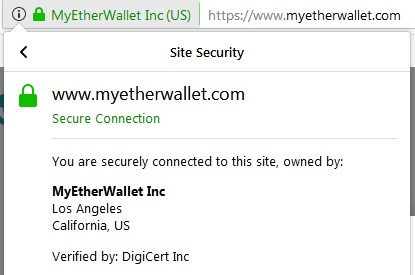 Step 2: Once on the official page, click Create A New Wallet and choose by Keystore File. Enter your preferred password in the provided slot and click Next. Both the password and Keystore File are used to access and protect your account.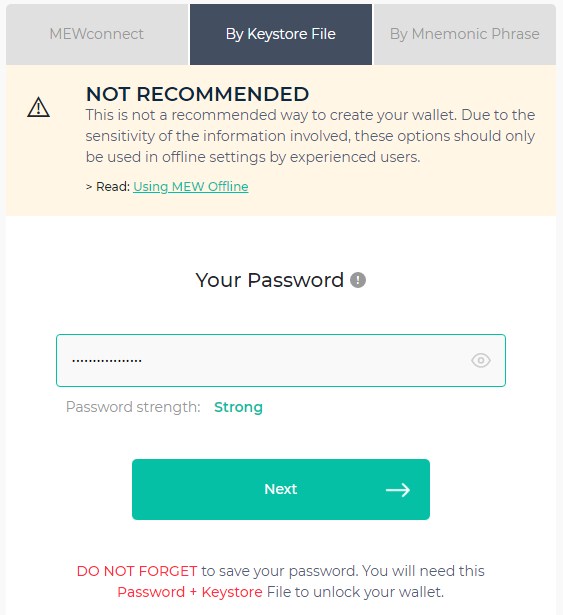 Step 3: You can download a Keystore File to your computer in either UTC format. Ensure to store the downloaded file in a safe location as it shall be used to access your account. Having downloaded the file, click Access My Wallet to proceed.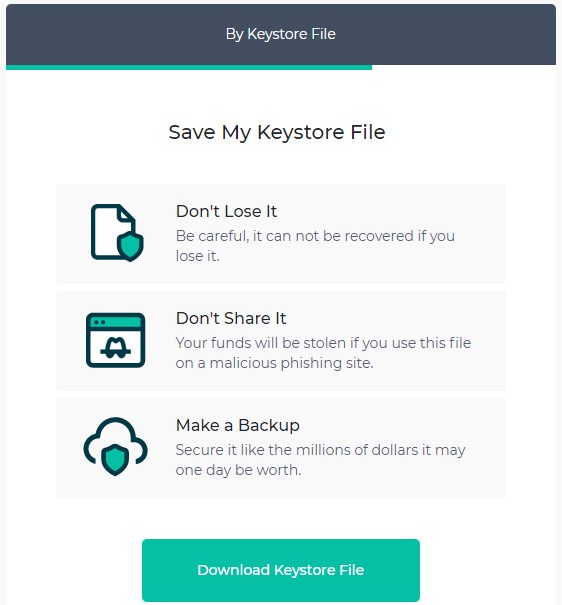 Keystore File:


Please note that anyone who gets your Keystore File can access your wallet. Also, if you lose it, you will not be able to recover your assets. So, to ensure your safety, save your Keystore File to external devices (e.g a USB Flash Drive).
Don't skip basic security measures. If you are a Windows user, disable Autorun.
To access your wallet, click Software and attach your Keystore File.
Click Continue and enter your password: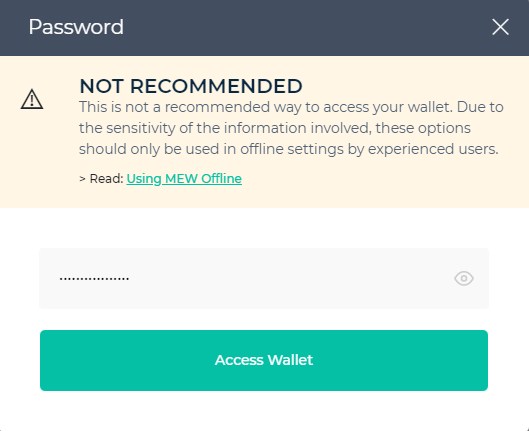 You will see your public address, balance, network status, and more on the screen.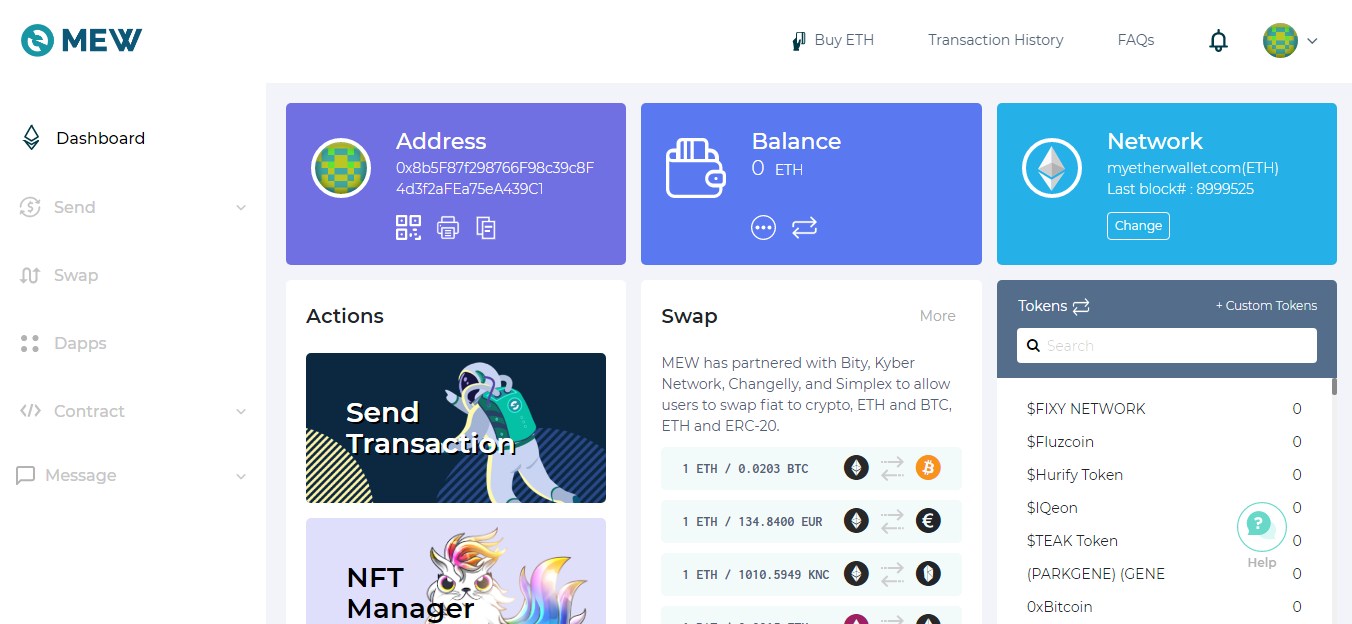 Mnemonic Phrase (Recovery seeds)
You can easily restore this wallet in MEWconnect. You will need your mnemonic phrase (Recovery phrase). It is desirable to choose a 24-word phrase at once!
Step 1: Visit MyEtherWallet's official website, click Create A New Wallet and select Mnemonic Phrase.
Step 2: You will be required to create a 12-24-word phrase and write it down. Note it down severally so you can store it in multiple locations.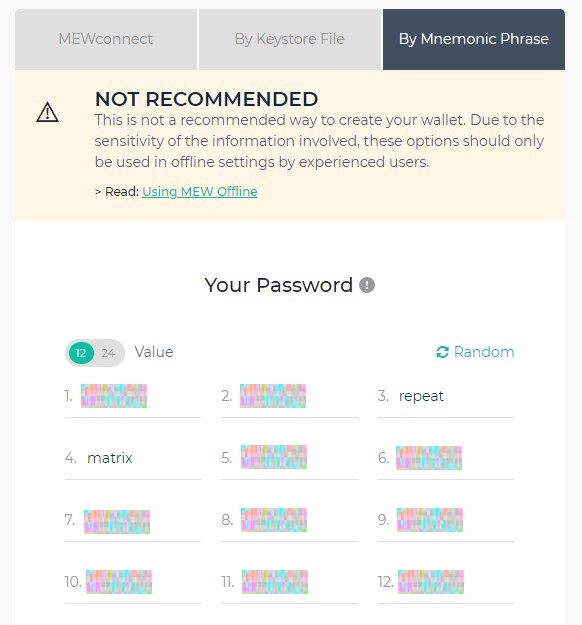 Step 3: Enter a password that you can remember and make sure it is strong enough. Otherwise, if lost, it can neither be reset nor recovered.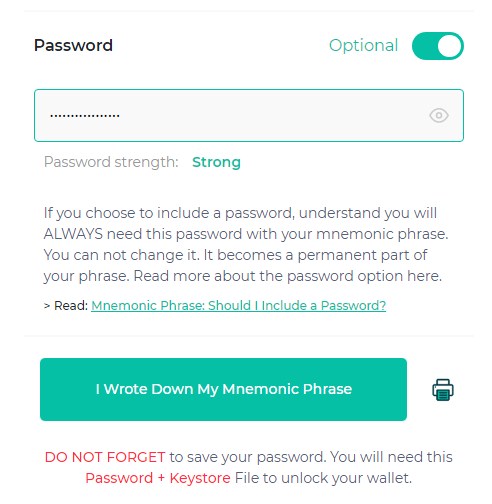 If you have saved all the data, click I Wrote Down My Mnemonic Phrase.
Step 5: Take a quick test and once you complete it, your wallet will be ready to use.
To access your wallet, you will have to enter your mnemonic phrase and password.
After successful confirmation, you will see network data:
Then choose any address you like, check out the Terms, and confirm: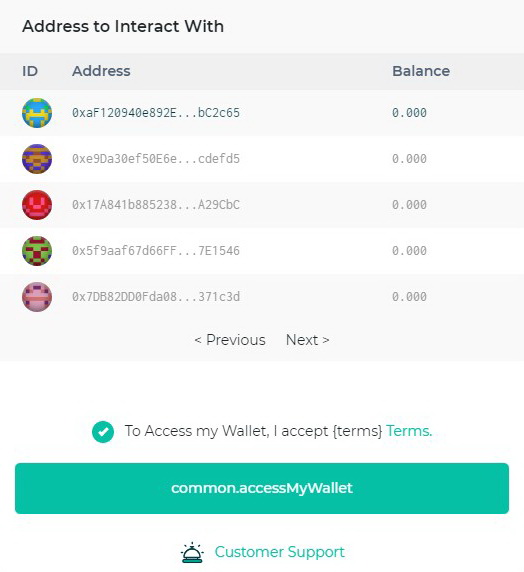 Next, you will need to enter your mnemonic phrase each time on PC, without using a password.
You will see your public address and your balance in your general list: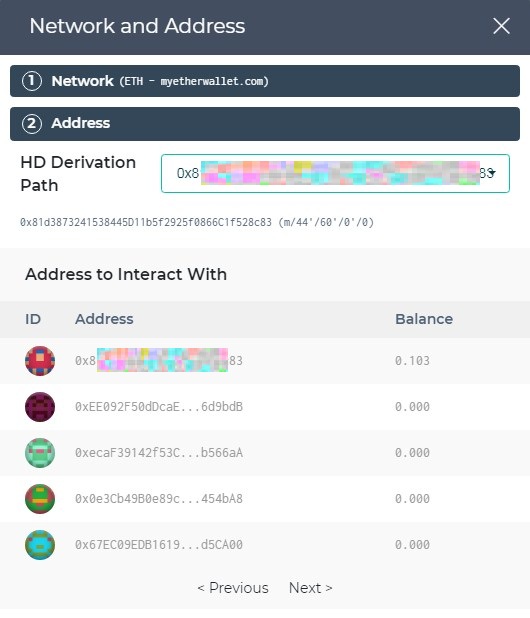 Or, you can use your password to log in to the MEWconnect application, and from there you can connect to the interface on your computer (or another device) using EASY access via QR.

Private Key
If you have registered MyEtherWallet before and have a private key, you can access your wallet.
Click Access My Wallet – Software – Private Key.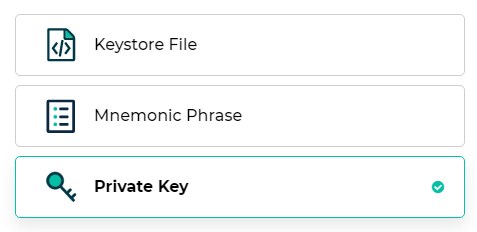 Then enter your private key and click Access Wallet.
You may have previously written or printed your private key on a piece of paper for safe storage.
Kindly note that anyone who knows your private key can access your wallet. Also, if you happen to lose it you WILL NOT be able to recover your assets. So, to be safe, print and store your private key in multiple locations so you can get a backup key if you lose one.
You should not store this information on an Internet-connected device as hackers may have access to information available on users' hard drives.
For better security, you can save your Private Key to external drives or other offline devices (e.g. old laptops). Or you can write down your private key in a notebook.

Connect MyEtherWallet to MEWconnect
The MEWconnect's App only works on an iOS or Android smartphone and is the recommended method that can help you secure your funds as never before.
You can use a QR scanner to go to the appropriate app store. It only takes a few minutes to install the app.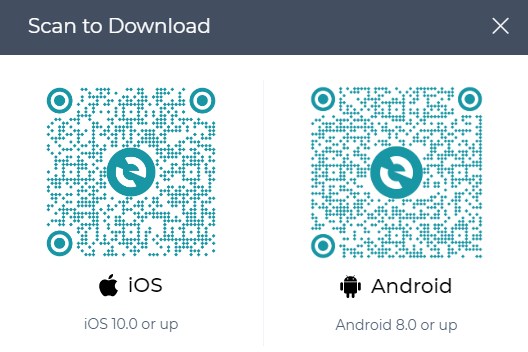 MEWconnect's 5 Major Benefits
Secure your every MEW transaction with the two-factor verification.
Protect yourself from phishers and obtain your private key.
No data collection: MEW can't collect your personal data even if the developers wanted to.
No centralized servers, no databases. MEWconnect and MyEtherWallet talk via P2P communication.
Transparent, free, and open-source. Audited by the Ethereum community.
You can only restore access to a previously registered MEW wallet using a mnemonic phrase. Click RESTORE WALLET.
You won't need a 24-word recovery phrase to restore the wallet. We easily managed to restore access to the wallet which contained 12 words in its mnemonic phrase (recovery seeds).
Next, you can login to the app using just your password.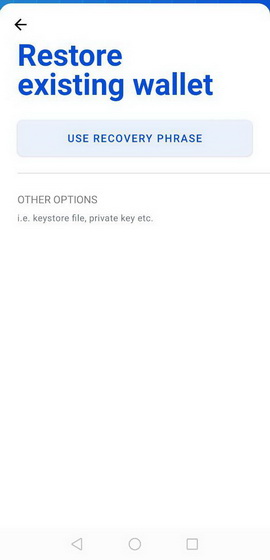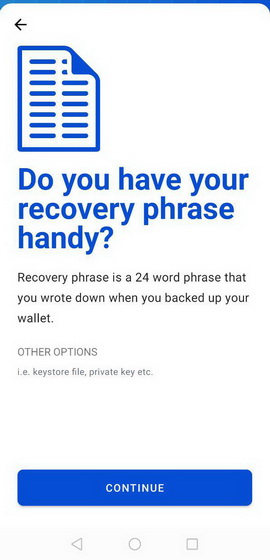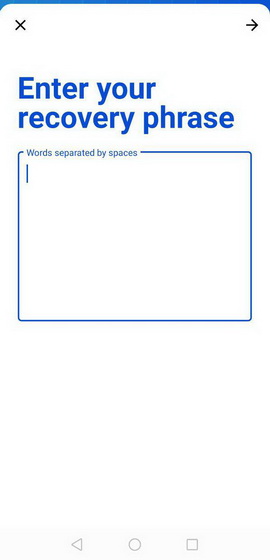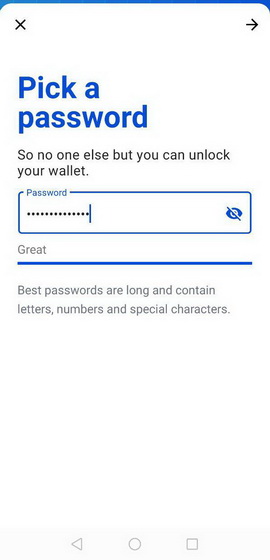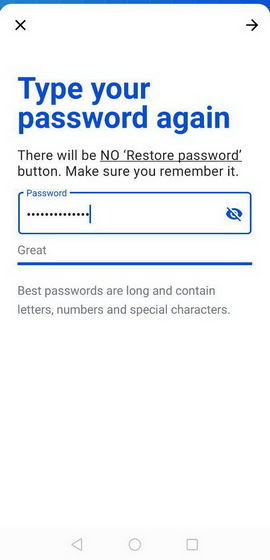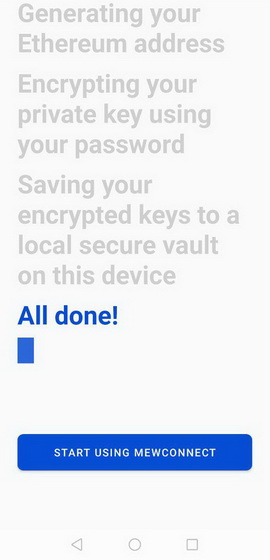 How To Create A New Wallet with MEWconnect
Install the MEWconnect application and click CREATE NEW WALLET.
Enter and then confirm your password. Use lowercase and uppercase letters as well as numbers and symbols. Your password should not be simple.
Wait until the program finishes the installation: generating your Ethereum address, encrypting your private key, and saving your encrypted keys to a local secure vault on your mobile device.
Click START USING MEWCONNECT and you will immediately get your public Ethereum address! But don't rush to use it right away. First, make a reliable backup: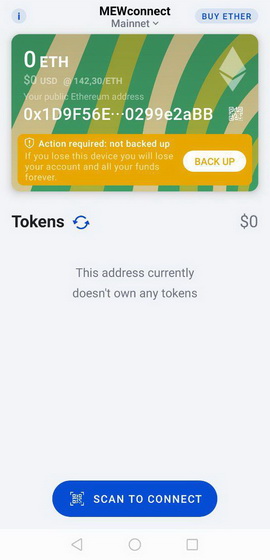 Click BACK UP and then BACK UP NOW.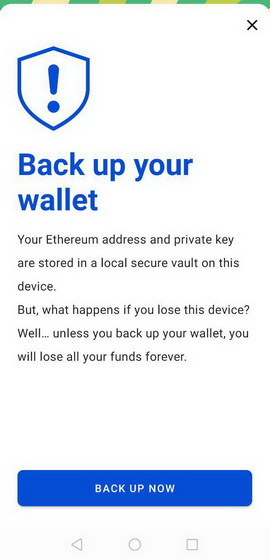 Prepare to write down your recovery phrase!
If your device gets lost or stolen, you can restore your wallet using your recovery phrase. Get a pen and paper before you start.
"Resist the temptation to email it to yourself or screenshot it. You will thank yourself later."
Write all words carefully on a piece of paper, keeping the word order. It is advisable to make several copies.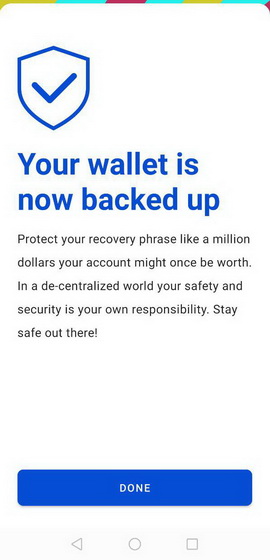 Now you can use your wallet.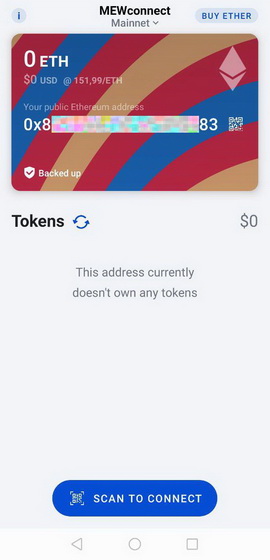 Use QR code scanning to connect your MEWconnect to your MyEtherWallet on your PC or other devices.
Further, you will only need to enter the password to access MEWconnect.
From the application you can get to all the necessary sections and continue your training: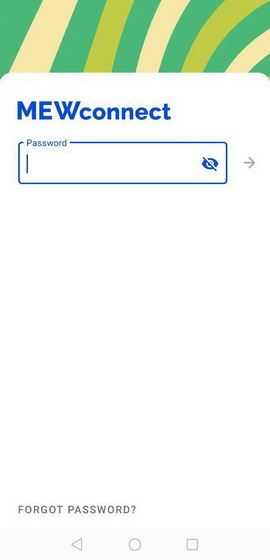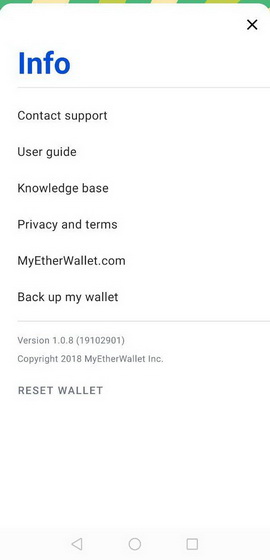 How to Use MyEtherWallet with TREZOR
With a Trezor wallet, you can significantly augment the security of your assets.
The Trezor Hardware Wallet is one of the best reliable methods to save your money today and for a very long time. As long as you use the hardware wallet, all your ERC20 tokens, as well as your Bitcoins are in an isolated device that cannot be hacked.
This tutorial assumes that you have already read our detailed review of SatoshiLabs and Trezor Model T.
Open the MyEtherWallet website and follow this:
Access My Wallet – Hardware – Trezor – Choose a Hardware.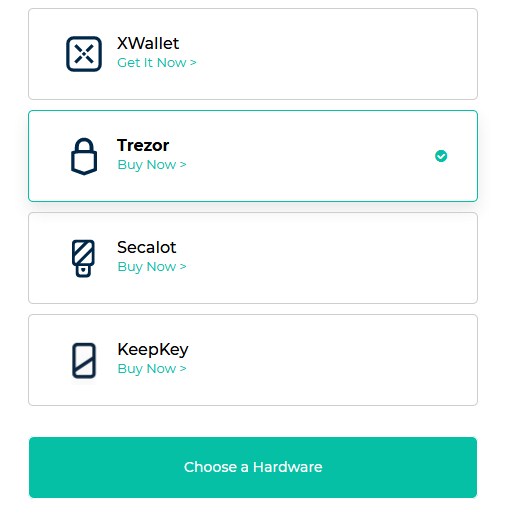 Connect your Trezor wallet to your computer or smartphone and unlock your device using your PIN: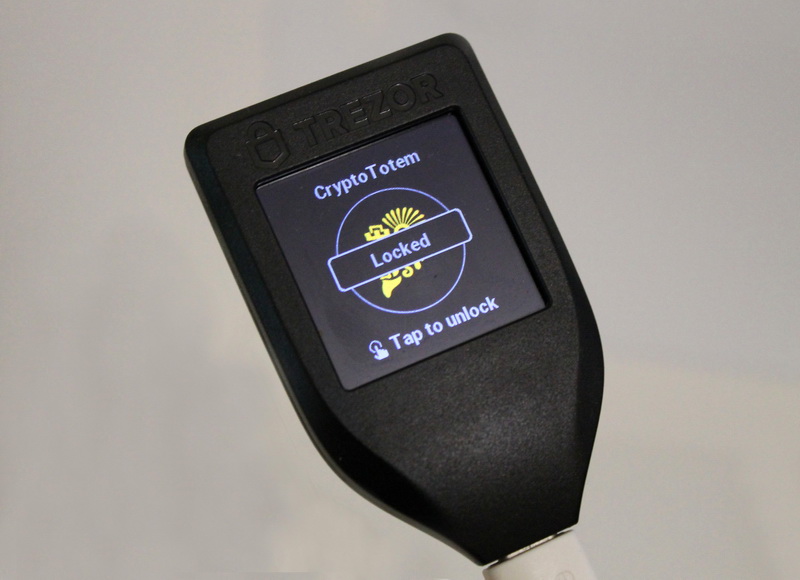 Click Allow once for this session and Export.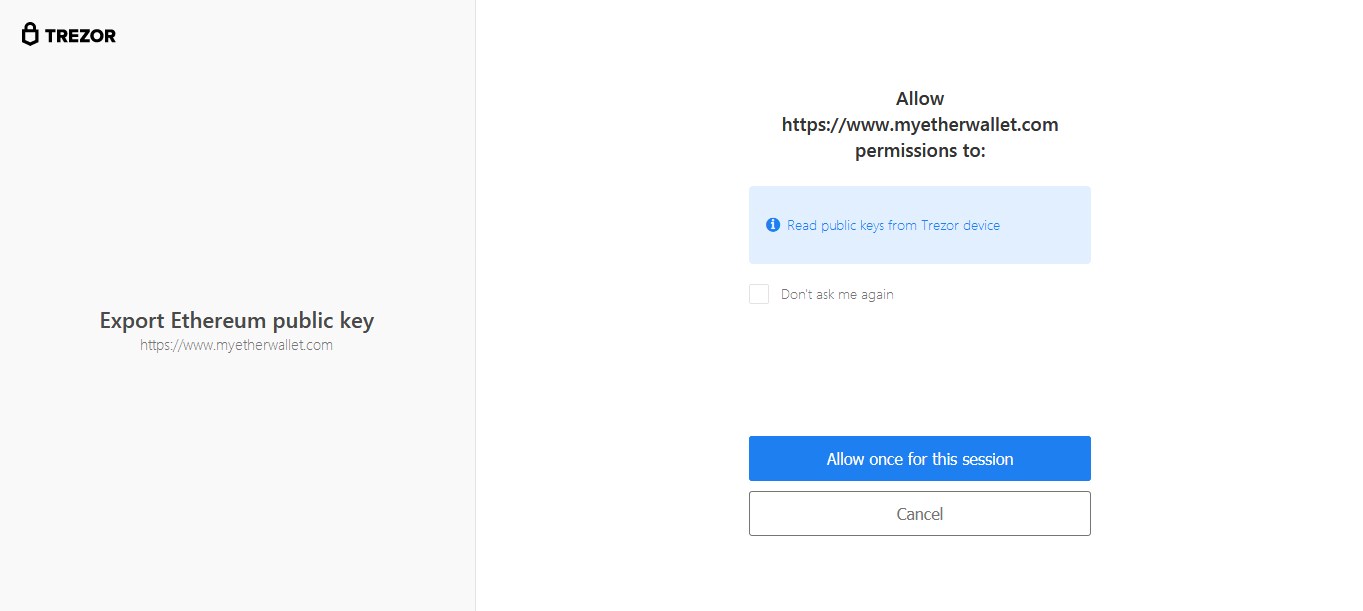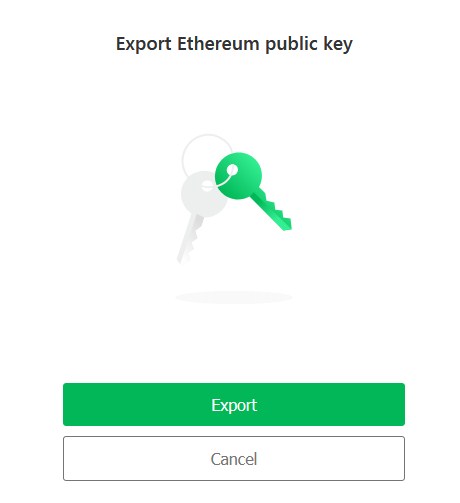 Choose your future wallet address: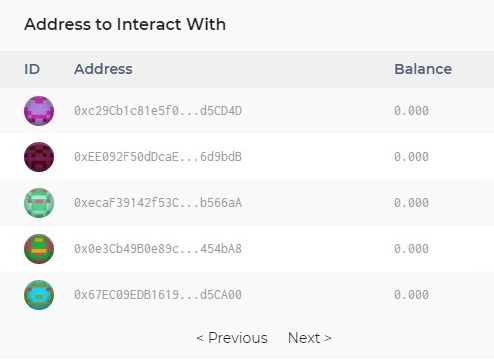 You can also switch from your Trezor wallet
Visit your personal account at wallet.trezor.io and choose, for example, Ethereum (ETH) from the drop-down list: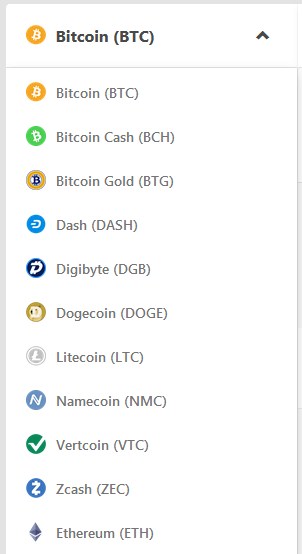 Click Go to MyEtherWallet and repeat the above steps.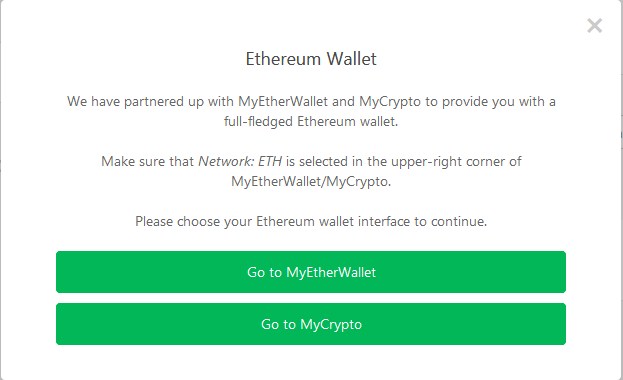 You will always be able to see your address on the screen of your Trezor to make sure it is correct. To do this, click Display Address on your device.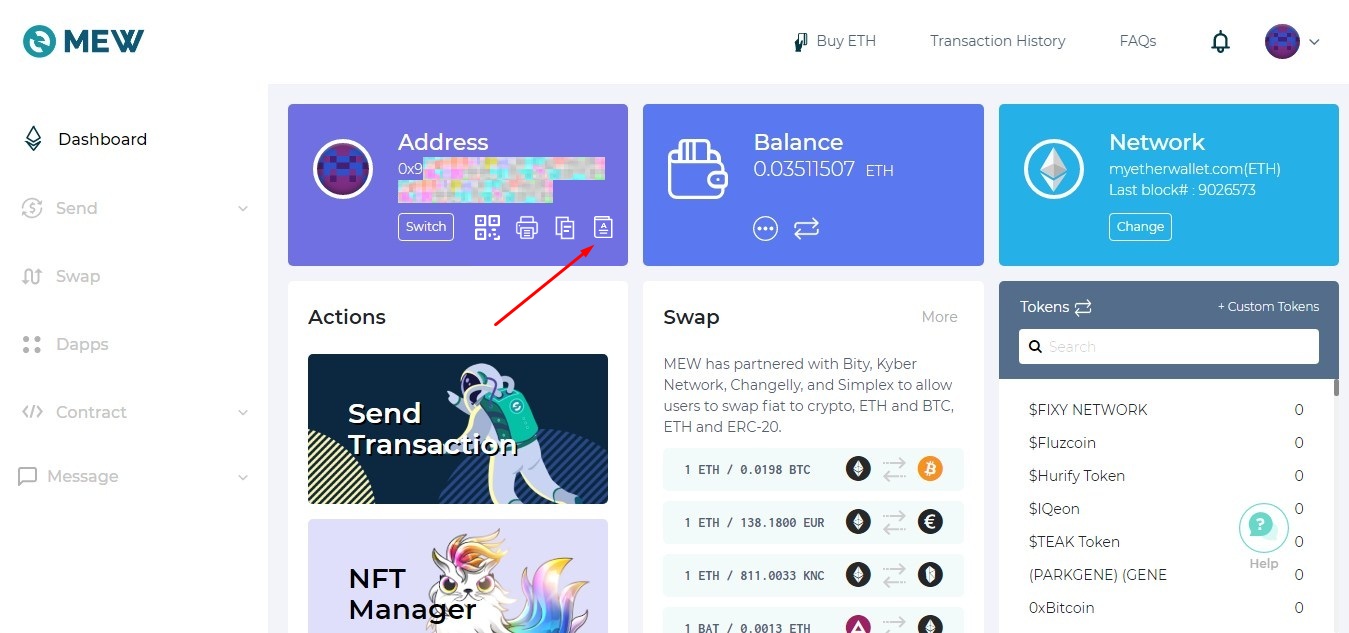 Your address will appear on the screen or you can also select a QR code: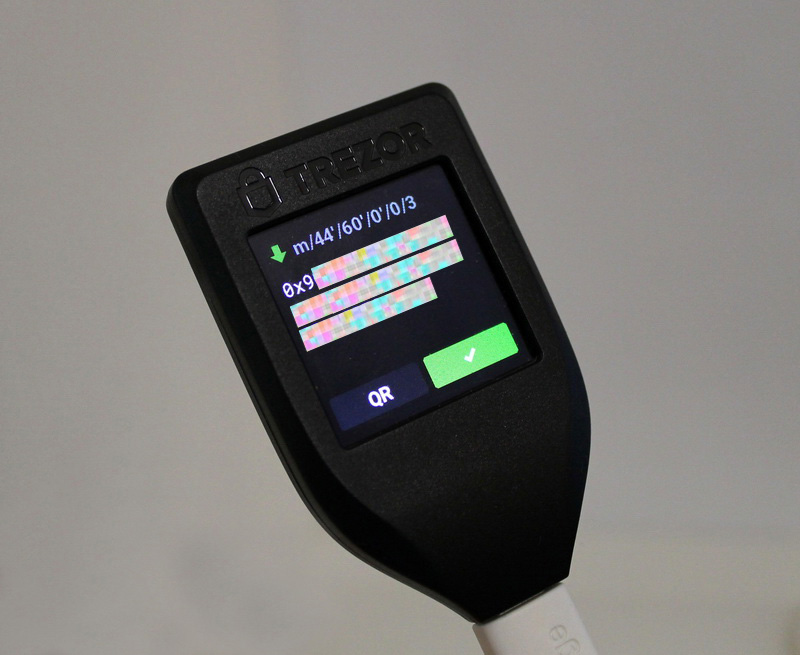 How to Buy Ethereum (ETH) via MEWconnect or MEW
You can buy some Ether (ETH tokens) right away using your Visa or MasterCard via Simplex. The minimum purchase amount is $50. Click Buy Ether.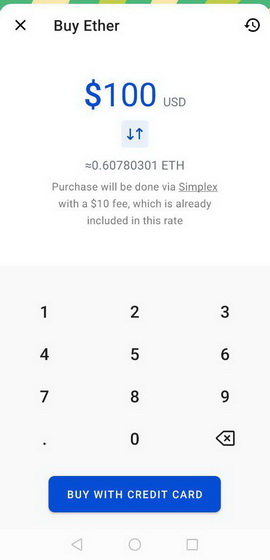 To do this, enter the required number of tokens and address of your wallet.
Click Continue.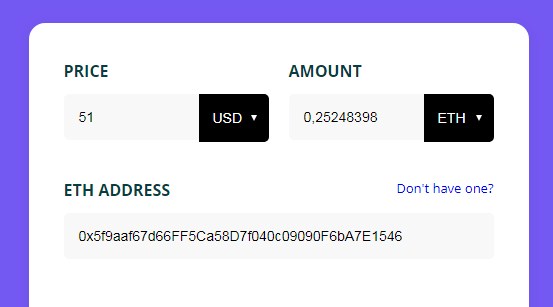 Step 1: Payment.
This is your first purchase of cryptocurrency with Simplex. Therefore, if you plan to use this method all the time, it is necessary to complete a thorough verification. Otherwise, use other crypto exchanges.
Enter your personal credit/debit card details, Billing address, and Contact details (Email, Phone number, Date of Birth). For any online purchases, use a virtual card with a limited withdrawal budget. This will protect you from losing large amounts of money in case of unauthorized data leakage.
Read and confirm the Terms and Conditions and Privacy Policy.
Click PAY NOW.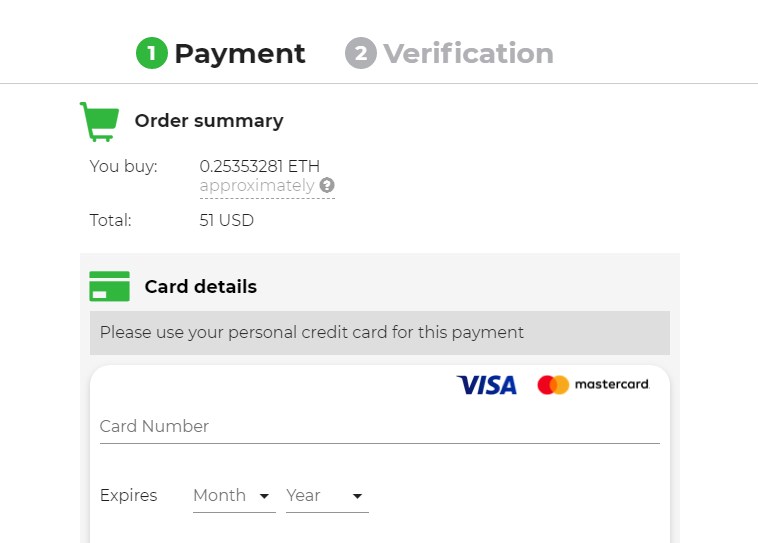 Next, you'll need to confirm your Phone number and Email.
Step 1: Verification.
Upload an identity document. You can use Passport, ID Card, or Driver's License for this purpose. Your data will be used for verification purposes only.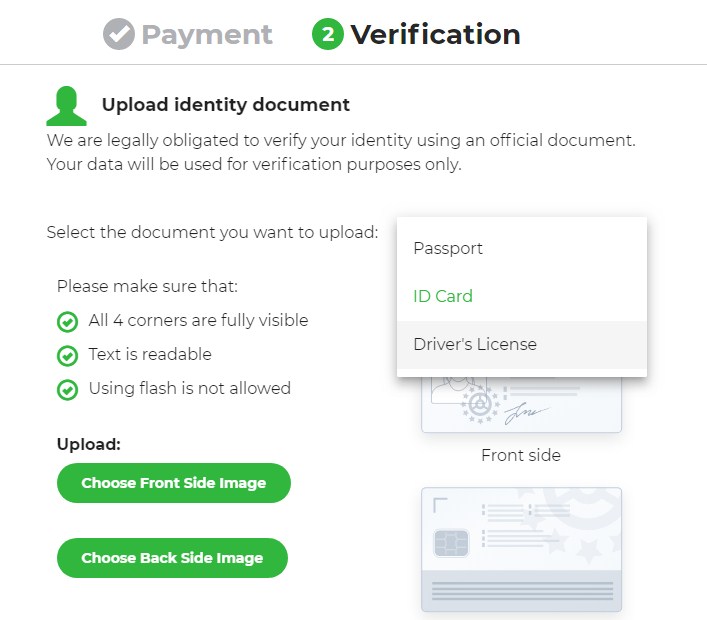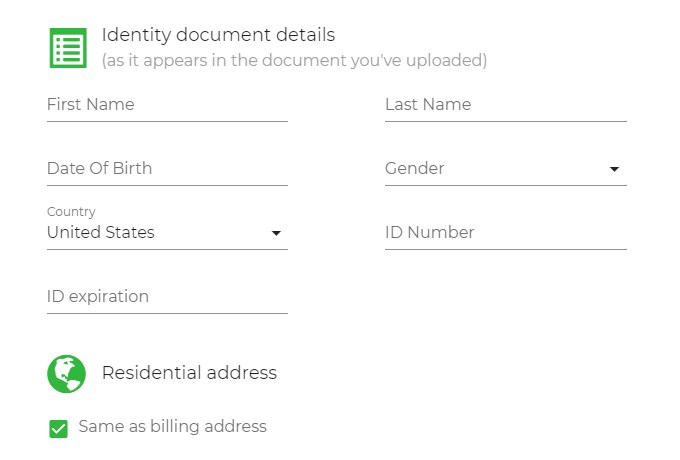 For example, we got a few ETHs from one of the available crypto exchanges.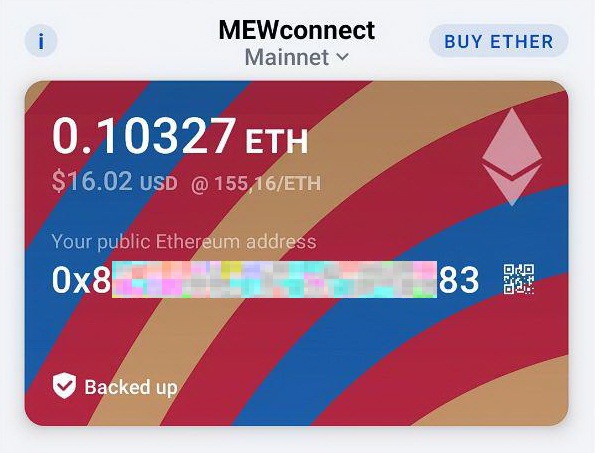 MyEtherWallet can be used to receive and send Ether tokens (including sending digital assets offline), swap assets, interact with smart contracts, add new tokens, and participate in ICOs…

Send and Receive Cryptocurrency Tokens
Find and click Send or Send Transaction.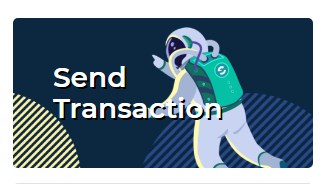 Send Transaction
Choose the Token Type, enter the required Amount, add the recipient's address, and set the Transaction Fee (Gwei).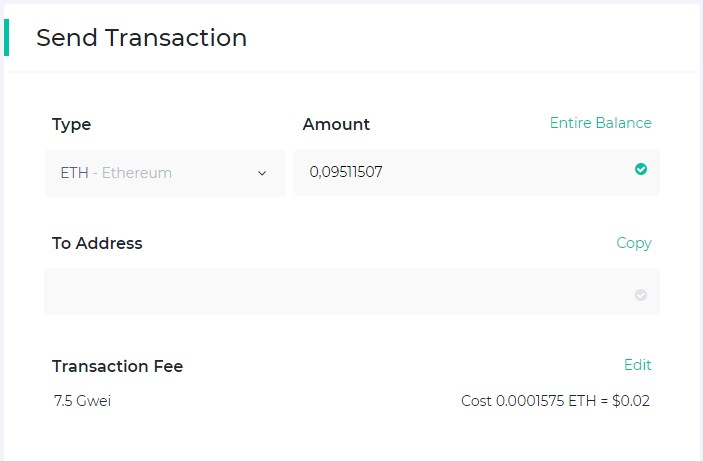 If you want to increase the receiving time but save on the fee, click Edit and select the Transaction Speed.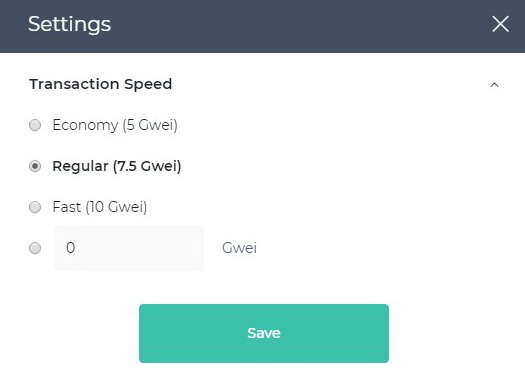 Your transaction will appear on the screen, and you will need to confirm it with your MEWconnect.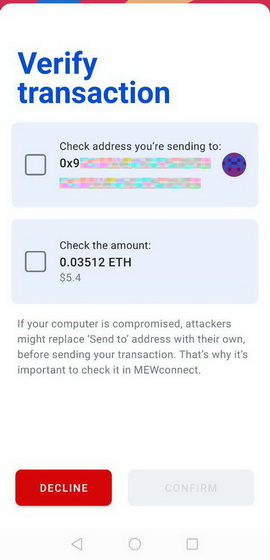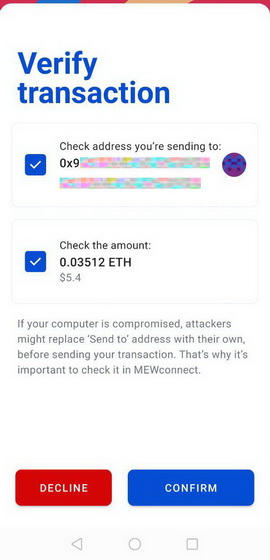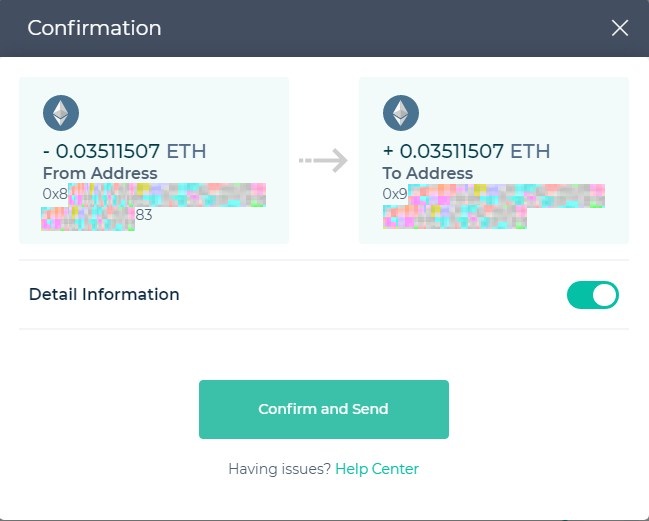 Click Confirm and Send if everything is correct.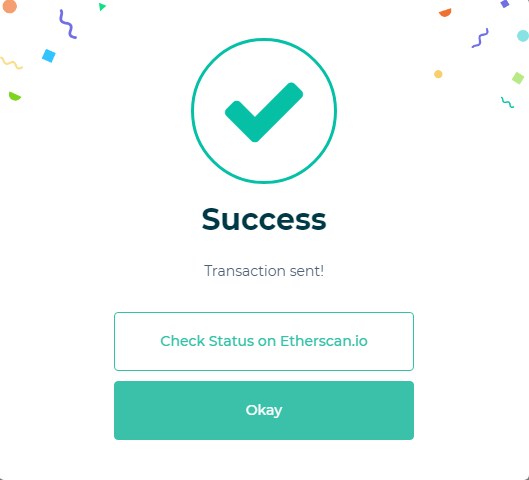 Okay, Great! Your transaction was a success! Now you can look at it in Blockchain on Etherscan.io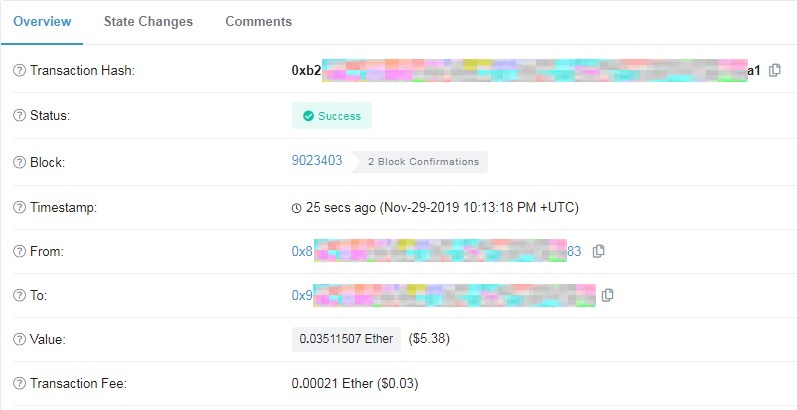 Or with Ethplorer.io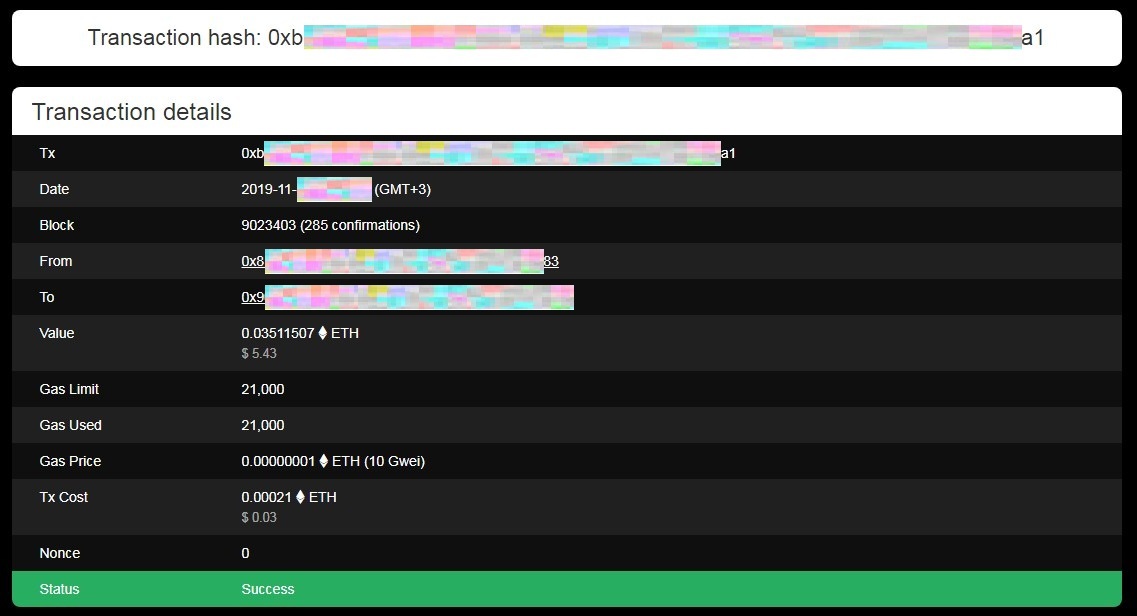 Send Offline
In case you want to send your assets more securely (especially if it involves a lot of funds) you can choose to send your assets offline. In this case, select Send Offline and key in the destination address. Then click Generate Information after which you should disable your internet connection. Fill in the required transaction information and unlock your wallet. To complete the transaction, click Generate transaction.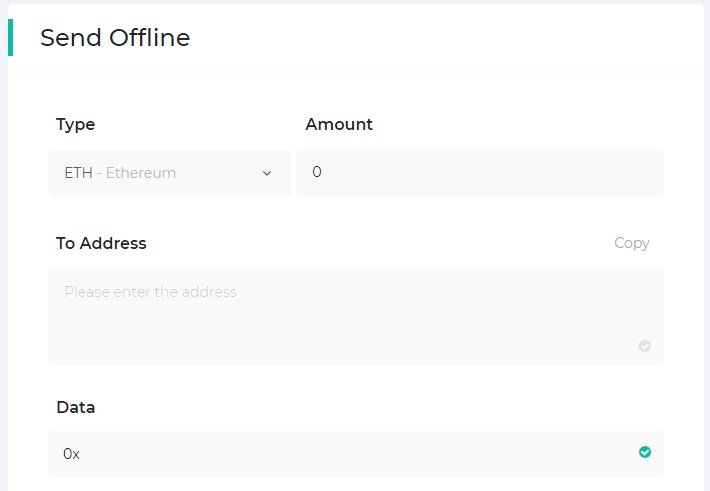 Non-Fungible Tokens (NFTs)
NFTs are tokens that are usually associated with a singular, unique thing. There are no two identical Non-Fungible Tokens.
Such products can be manufactured and transferred. This is used, for example, in blockchain games where various unique items are valued. The item owner has full control over their NFT.
Click NFT Manager.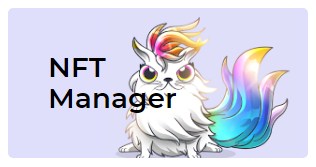 Each CryptoKitty is a separate NFT, for example.
So far, MyEtherWallet supports:
CryptoKitties
Gods Unchained
Etheremon
Cryptant Crab
CryptoFlowers
Swap Assets
The wallet provides users with an option to swap their tokens with other cryptos on the exchange. Swaps can be made between tokens such as Bitcoin (BTC) for Ethereum or vice versa, as well as Ethereum for Revain token (R), for example.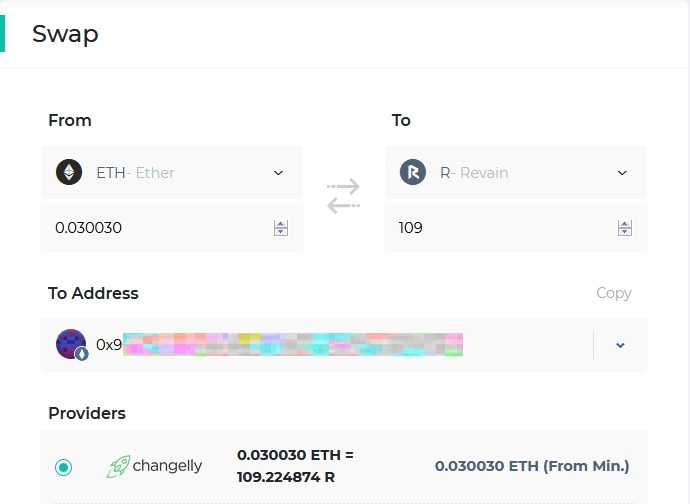 To use this, simply click Swap, select the token you would wish to exchange and key in the exact amount. You should then enter the destination address and click Continue.
Confirm your action with your smartphone if you are using MEWconnect, or on your Trezor device screen: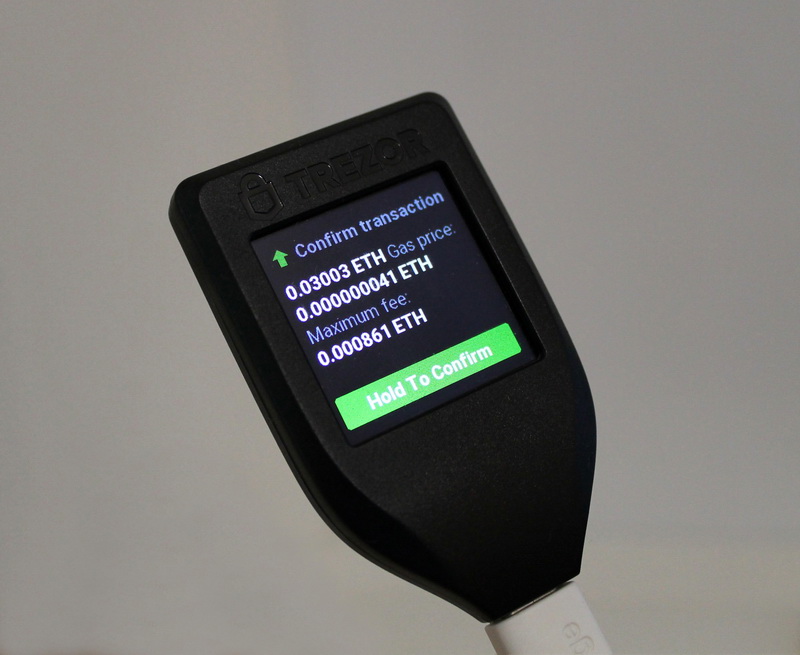 Interact with Smart Contracts
MyEtherWallet provides you with a contract interface that enables you to interact with any smart contracts. The interface features a form where you have to provide the contract's address and ABI/JSON interface (a summary of the smart contract).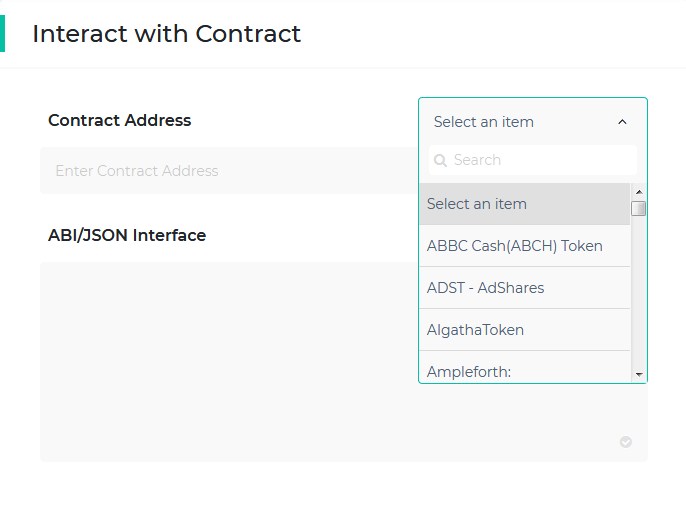 Once you enter the requested information, the wallet will connect you to the contract. Using Select an item dropdown you will be able to view and interact with any part of the smart contract you are interested in. Depending on the option you choose, you will see a form with appropriate parameters.

Add New Tokens
In case a token you would wish to transact is not yet supported in your wallet, you have the option to add it by yourself. First, unlock your wallet as described above then find the Tokens table.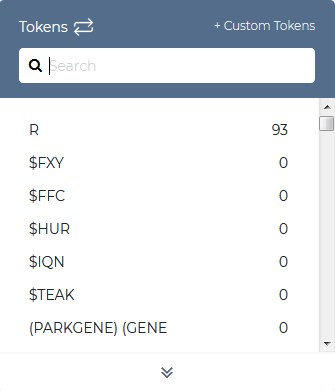 Since that token will not be in the available tokens list, click + Custom Tokens. You will then be required to provide the token's contract address, token symbol, and Decimals. After that, click Save.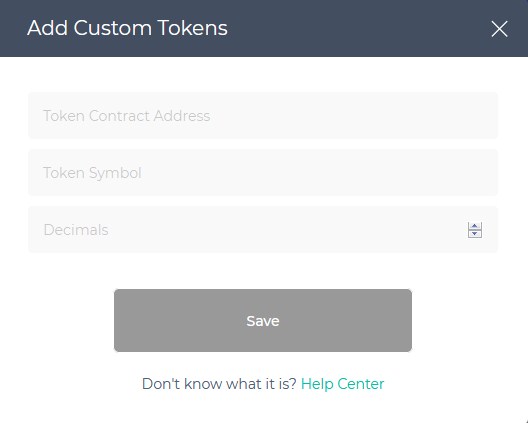 If the new token is compatible with the wallet, it should soon appear in the available tokens list.

Participate in ICOs
You can take part in any ICO which utilizes uses ERC-20 tokens. To do this, visit the website where the ICO will take place. Search for the address where you are required to send your Ether tokens to participate in the ICO fundraising. You can then access your wallet and send a preferred number of tokens. The website will then send you the new tokens in return which can be stored in your wallet.
Measures to Safeguard Your Wallet
Do not trust messages or click on links that you receive in an email or on other social interaction platforms. In case you do, never provide any requested information.
When transacting online, install an ad blocker to keep off enticing ads that may actually be from hackers. If ads still pop up, do not click on them.
Find and install MetaMask. Alternatively, you can use MyEtherWallet Chrome Extension. Doing this will block all malicious websites.
Access MEW wallet using Trezor, the best hardware wallet that can be used to safe keep private keys offline. Trezor enables you to safeguard your privacy and at the same time use your Ether wallet to send and receive tokens.

Alternatives to MyEtherWallet (MEW)
MyCrypto provides similar services to MEW and also works in a similar manner. This is because it was formed as a fork of MyEtherWallet's codebase after a fall out within its team members. Though MyCrypto went on to launch new features to embrace modern changes in the crypto world, it still lacks the robust community MyEtherWallet has.
Metamask can be used to access and manage all Ethereum tokens. You can access it via both Chrome and Firefox. The extension enables you to block unwanted ads and conveniently store your crypto tokens.
Mist is a user-friendly interface distributed by the people in charge of managing Ethereum's ecosystem's future. It is especially applicable to developers who intend to create, deploy, and use smart contracts. Also, if you do not want to couple your Ether wallet with hardware, Mist is a viable option.
Parity is a digital wallet integrated directly into your browser. It was designed to support Ethereum-based tokens and also provide access to features available within Ethereum's blockchain. Being a full-node wallet (you can store the blockchain on your computer), it is considered more suitable for desktop users.
Trust is a new Ethereum Wallet able to support all existing ERC-20 tokens. Users can access it via its app available for both Android and IOS. Users who prefer convenience more than security will find this wallet useful.

Conclusion
If you look for an efficient wallet to handle Ethereum based tokens, MyEtherWallet (MEW) should be at the top of your list. It will enable you to store, send, and receive tokens at absolutely no cost. Besides, taking into account its useful features for interacting with the Ethereum blockchain, the tool has become popular for good reason. Even though the wallet has experienced phishing attacks and criticisms following its weaknesses, users' loyalty remains unfaltering. Statistics show that most crypto users still prefer it over other digital wallets available in the market. This can be attributed to the tool's outstanding features and MEW efforts on reassuring its users and also educating them on how to avoid possible future attacks.
Generally, it is a great wallet! You only need to observe the recommended measures to further safeguard your assets and stay safe and good.

Frequently Asked Questions
What is MyEtherWallet?
MyEtherWallet (MEW) is a free open-source instrument that allows users to create Ethereum-based wallets. With MEW you can send, receive, and store Ether and other ERC-20 tokens, create and manage smart contracts, etc. MEW is a user-friendly and flexible solution.
Can MyEtherWallet be hacked?
In theory, you can suffer from a phishing attack. The best way to protect your assets is to use MEWConnect, Metamask, or hardware wallet Trezor that will protect your funds in an isolated environment.
Do I need Ethereum to send tokens?
All transactions with ERC-20 tokens require that ETH (aka GAS) supports the Ethereum network. To send or swap tokens, you have to have at least 0.005 ETH on your account—to cover the transaction fee.
What is GAS in Ethereum?
Gas is a fee for successful transaction processing or smart contract execution on the Ethereum network. An exact gas cost is determined by miners that can cancel transaction processing if the gas cost exceeds their threshold.
How many GWEI are there in 1 Ethereum?
Gwei is a denomination of the cryptocurrency Ether (ETH), which is used on the Ethereum network. Because "gas" prices are easily specified in Gwei. For example, instead of saying that your gas costs 0.000000001 Ether, you can say your gas costs 1 Gwei. 1 Ether = 1,000,000,000 Gwei.
What does ERC-20 stand for?
ERC-20 is a protocol standard used for smart contracts in the Ethereum blockchain. ERC stands for Ethereum Request for Comment, while 20 is a unique ID that helps distinguish this standard from others.
What is Etherscan or Ethplorer?
Etherscan and Ethplorer are leading BlockExplorers in the Ethereum blockchain. A BlockExplorer is a search engine that helps users easily find, confirm, and verify.
Can you send Bitcoin to an Ethereum wallet?
No, you can't send Bitcoins to the Ethereum wallet or vice versa. Check the recipient address before sending Bitcoin, Ether, or another cryptocurrency.