The Most Comprehensive Step-by-Step Guide to keep your Bitcoins safe
People who store their cryptocurrency on the virtual accounts, crypto exchanges or used electronic crypto wallets are now losing their money. Unfortunately, it happens all the time.
Among recent examples are the security breach at Cryptopia exchange, the losses of funds on the QuadrigaCX and Binance platforms, a big leak of information from the Coinmama service, or breaking of one of the largest electronic crypto wallets MyEtherWallet.
The scale of these financial crimes is horrifying.
"Major Bitcoin thefts began back in 2011, when 650,000 BTC were stolen from the MT Gox exchange, and continue to this day. 1 Billion Dollars' Worth of cryptocurrency was stolen in 2018 from stock exchanges. As of the first 5 months of 2019, cryptocurrency thefts had already exceeded the amount of $ 1.2 billion. At the same time, net statistics show that the majority of Bitcoin owners keep them on stock exchange accounts. A sharp rise in Bitcoin price will happen when its holders realize that physical Bitcoin is when private keys are kept not in online wallets or exchanges, but in their own hands," wrote blogger Gennady M. in his Telegram channel.
Of course, many companies care about their reputation and try to protect their users from such problems. The market is rapidly developing, offering new solutions, but we still see how many newbies fall into the same trap, having no idea how to keep their money safe.
We conducted a detailed study on how you can safely store your Bitcoins, other crypto coins and digital assets, as well as why Trezor is the most convenient and reliable hardware crypto wallet in the world.
This guide details all the basic and most important functions that you can perform with Trezor, from setting to sending and receiving coins.
Trezor Wallet Review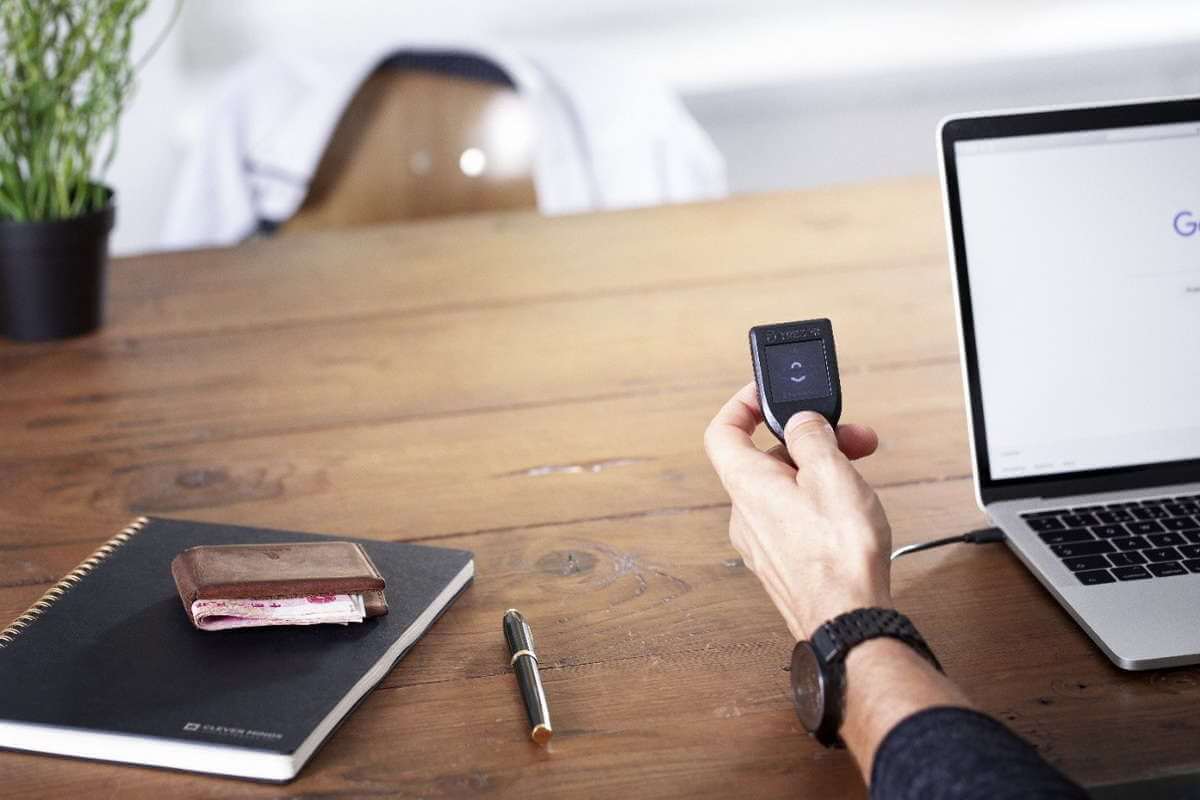 Trezor was developed and released in 2014 by the Czech company SatoshiLabs. It is the first hardware wallet in the world.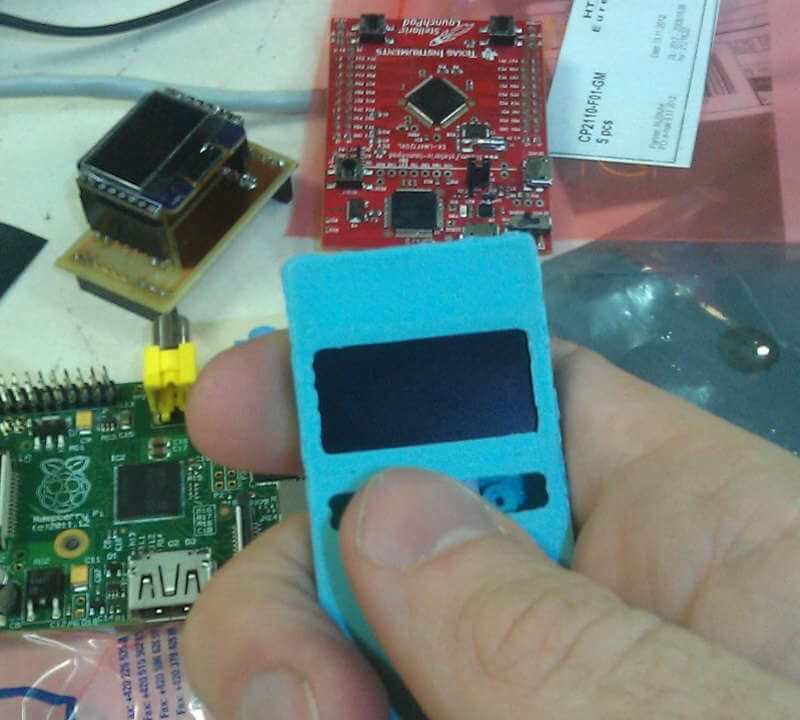 The main idea of the creators was to isolate private keys from the external environment, and thus prevent the data leakage. And they succeeded. Throughout the company's history, they have not recorded any single case of missing cryptocurrency!
Trezor successfully provides unsurpassed security to hundreds of thousands of crypto-enthusiasts in more than 150 countries around the world. Your coins are fully protected from both physical and virtual theft.

«Our aim is to understand & deliver secure and easy-to-use solutions to real problems»

SatoshiLabs
Trezor security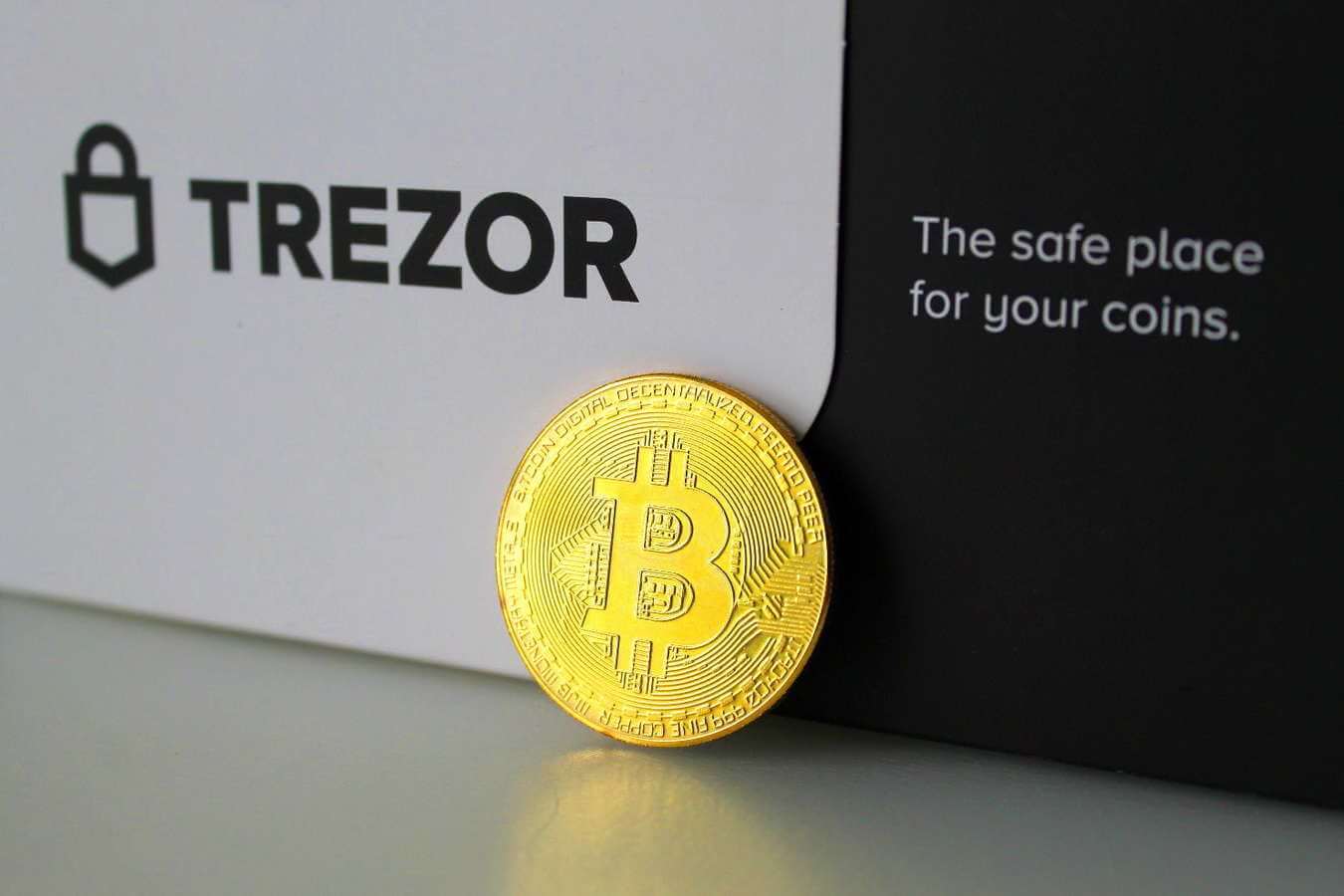 Trezor is completely safe even if you use it on the computer infected with malware. SatoshiLabs cannot track your actions and transactions because it does not have a serial number for each device.
Next, we will consider the basic recommendations and levels of protection against the potential threats to your security that are used by Trezor.
Recovery Seed
For backup Trezor uses 12 words (Model T) or 24 words (Model One) which are called recovery seeds.  You can always recover your device. We will discuss this process in more details below.
Passphrase
In your personal account you can create wallets encrypted with a special password.  This option is recommended for experienced users only.
With the help of Passphrase, you can get the additional reliable protection, which has a triple safety effect:
If your Trezor was stolen and its chip was examined under a microscope in the hope of getting the recovery seeds, your money will still remain safe.
If your recovery seeds were stolen, no one can recover your wallet without Passphrase.
You can create several so-called "bait wallets" with low balance on one Trezor device. This will give you a huge advantage. Even being at gunpoint, the attacker will only get your bait wallet with a small amount of coins, instead of real access to your money. Therefore, never save your Passphrase together with recovery seeds.
Phishing
Trezor is completely isolated from external threats and works offline.
Be careful! Never send or enter your recovery seed in the direct sequence even for Trezor technical support.
Watch addresses of the sites you visit. Attackers can use similar domains to steal your data.
To avoid mistakes and misprints – add the official website of Trezor to your browser bookmarks (Press "Ctrl + D" for Windows or "Command + D" for Mac).
Always install official software updates as they are released.
Before following any link in social networks or email, hover your mouse to view the URL, then enter the URL yourself in the address bar of your browser.
Always pay attention to shortened links, especially on social networks.
Be careful! Always conduct your own research before entrusting your confidential information to a third-party service.
PIN code
The Trezor hardware wallet is securely protected by a PIN code (personal identification number), which can consist of up to 9 digits.  This is a powerful tool that protects your wallet from unauthorized access.
The device automatically erases all the data if the PIN has been entered incorrectly more than 15 times. Each time an incorrect PIN code is entered, the waiting time between attempts increases by 2 times. For example, on the 15th attempt the waiting time will be more than 9 hours.
Be sure to memorize your PIN or keep it in a safe place. It is important to never save a PIN on your computer, smartphone or anywhere else on the Internet, just like your recovery seeds.
If the PIN code has been lost, you can always recover it using seeds.
Do not use a simple or predictable PIN, such as your date of birth, "12345", "7777", etc. Use as long digit as possible.
Each time when the new numbers for entering the PIN code are used on the Trezor screen, they are arranged in a random order.
You can also use the option «disable a PIN-code», which is naturally not recommended to do.
Malicious firmware
The official Trezor firmware is signed by the master key SatoshiLabs. In case of installing an unofficial firmware, the memory of your device will be automatically cleared (all information will be deleted) and Trezor will be showing a warning every time it starts.
Fake device
The Trezor device is ultrasonically welded, so it is almost impossible to open without destruction.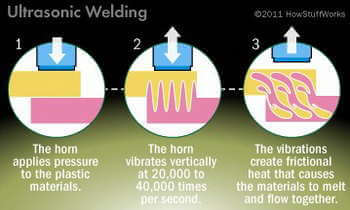 You can sign the back of the hardware wallet with a non-erasable marker or a pen and personalize the Trezor's main Screen by uploading your own image. As a result, you will never confuse your device with someone else's.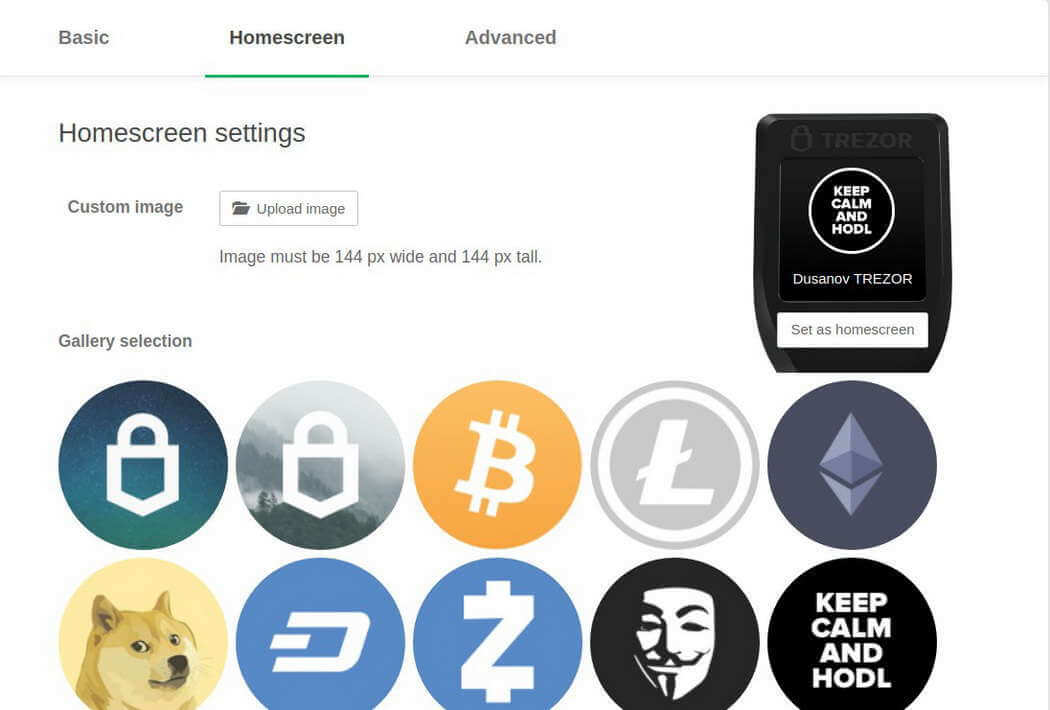 Computer theft
It is impossible to access Trezor without the hardware wallet itself. You can always use your Trezor on any device.
Hacking SatoshiLabs servers
SatoshiLabs assures its users that they are very serious about security, and that hacking is a highly unlikely scenario. Moreover, each user can run his local copy of Trezor wallet on his computer and be completely independent of the connection to the SatoshiLabs servers. You only need to install updates regularly.
If SatoshiLabs closes
Although this is strongly outside the company's plans, Trezor is fully compatible with other cryptocurrency wallet standards such as BIP32 (hierarchical deterministic wallets), BIP39 (mnemonic code for generating deterministic keys) and BIP44 (hierarchy with several accounts for deterministic wallets).
Developers from around the world will be able to support Trezor and add new features as the device code is publicly available. In the most extreme cases (not recommended by SatoshiLabs), it is possible to recover your funds on another wallet with the help of your recovery seeds.
The main differences of TREZOR One from TREZOR T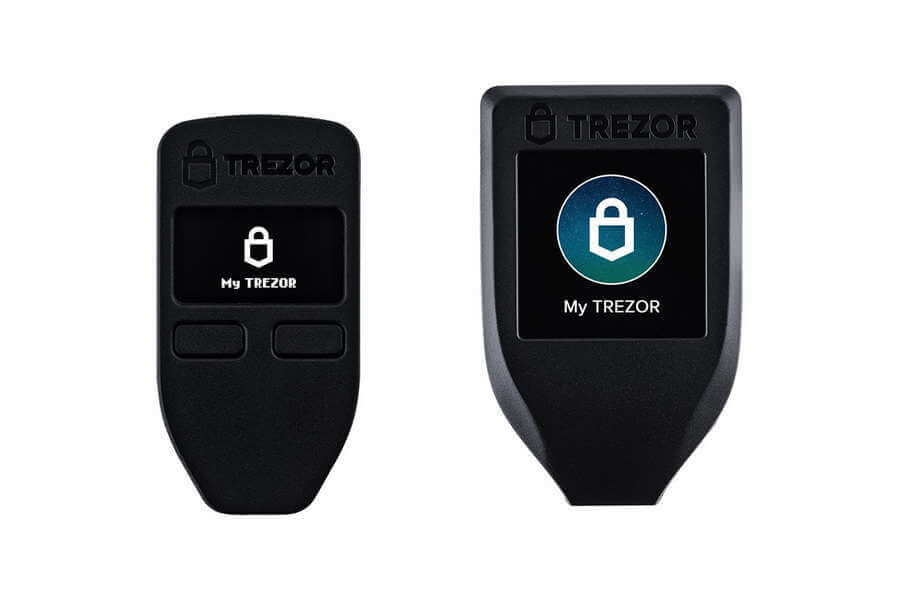 Unlike the previous model of TREZOR One with physical buttons, the latest model of TREZOR T has a touch screen and supports more coins.
All transactions (confirmation of transactions, PIN entry, recovery seeds, etc.) are performed on the LCD display. USB connection is activated after authentication.
Trezor Model T supports microSD cards. In future, this interface will be used for everyday tasks. For example, you can sign files or save tags on the SD card instead of uploading them in encrypted form to Dropbox. The card will not store your personal data or any private keys.
The hardware wallet uses a completely new open source firmware TREZOR Core which allows you to significantly simplify the future updates and adding new features.
You can learn more about the code on GitHub: https://github.com/trezor/trezor-core.
Trezor vs Ledger
Lots of articles tell how to choose a wallet for keeping your crypto safe. Now, there are 2 main competitors on the market which are well-known. They are Trezor and Ledger.
Below we will refer to only 3 of the most well-known facts about the Ledger hardware wallet:
1) Ledger uses JavaScript
"Ledger wallets generate the displayed receive address using JavaScript code running on the host machine…malware can simply replace the code responsible for generating the receive address withits own address, causing all future deposits to be sent to the attacker."
Source:  https://news.bitcoin.com/ledger-addresses-man-in-the-middle-attack-that-threatens-millions-of-hardware-wallets/
Trezor uses 2FA and you will confirm every action with your transactions on the wallet itself.
2) Ledger saw a case of cryptocurrency loss. A customer using a Ledger hardware wallet lost $ 74,000 (1600 XMR).
Source: https://www.reddit.com/r/Monero/comments/ax0pqt/alert_stop_using_ledger_with_014_client/
In the entire Trezor history starting in 2014, there has not been a single case of loss of cryptocurrency from the wallet.
3) Ledger has posted information about the new vulnerability in its Twitter.
The attackers faked the screen of their wallet and asked to enter the recovery seed. The users again lost their money.
WARNING: we've detected a malware that locally replaces the Ledger Live desktop application by a malicious one. Users of infected computers are asked to enter their 24-word recovery phrase after a fake update. Please refer to our security best practices https://t.co/MlAUlgoqj9 pic.twitter.com/Qzr3o4xaOq

— Ledger (@Ledger) April 25, 2019
Unlike Ledger, you can connect your Trezor hardware wallet to any infected computer or smartphone and use it freely. Trezor keeps your private key inside your device and does not put it in open access.
We hope Ledger will soon fix the existing weak spots of their security.
Trezor Model T: Setup and Installation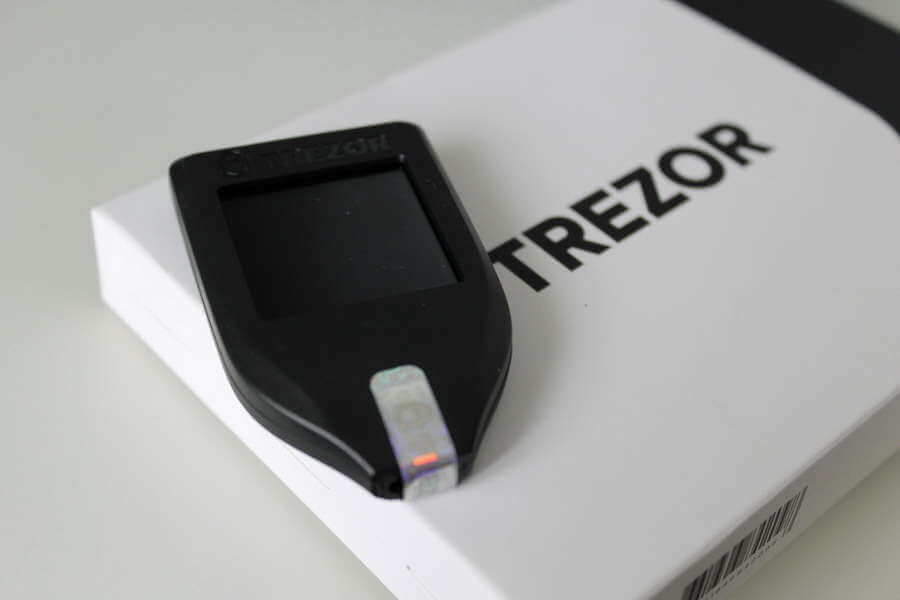 Now, let's take a closer look at the entire installation process of Trezor Model T. This is the most up-to-date model with an intuitive interface and an enhanced level of security which has been tested by first-class specialists. The hardware wallet has a touch screen, a faster processor, and expanded coin support.
The device is very light and resistant to X-ray, so you can easily carry it on the plane.
Absolutely any user, regardless of whether he is an expert or not, can easily figure out how to set up Trezor on his own. You no longer have to worry about keeping your Bitcoins and other digital assets safe. Your keys always stay within the device as it is completely isolated.
After you received your parcel, the first thing you need to pay attention to is the packaging.
Carefully look at the condition of postal envelope and cellophane which the box is packed in.
The security hologram, with which the USB port is sealed, must not be damaged (it is very difficult to remove it without leaving a trace). Otherwise, if your hardware wallet was opened by someone, you must immediately contact the Trezor technical support, and they will replace it with a new one.
That's why it is strongly recommended to order Trezor directly from the manufacturer.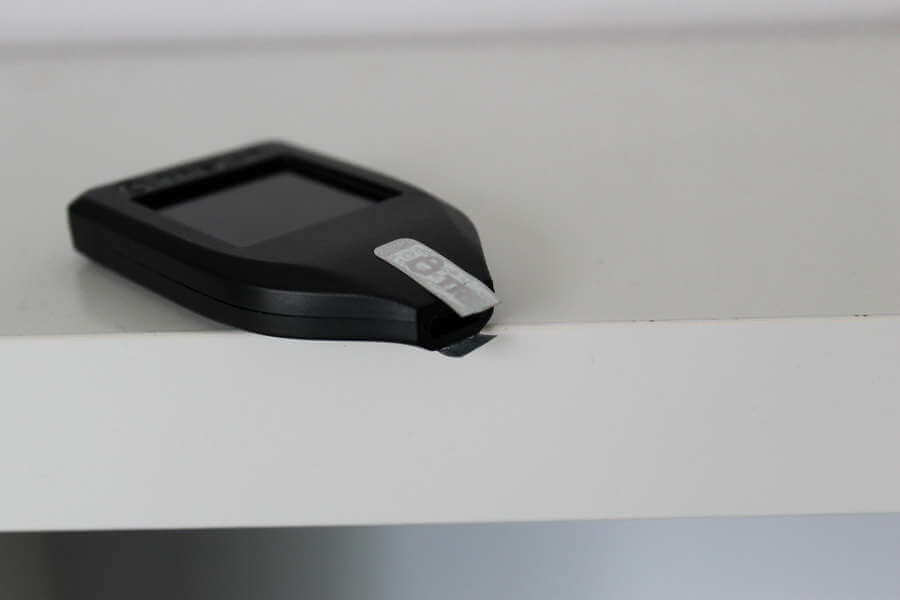 What is included in the Trezor Model T
Trezor Model T hardware wallet.
Magnetic dock, which you can attach to any convenient place where your device will be harder to find(for example, on the top of the lid in a desk drawer).
USB-C cable – no matter which side it is connected to the wallet, in any case it will work.
2 booklets to record recovery seeds.
Trezor Stickers.
Application instruction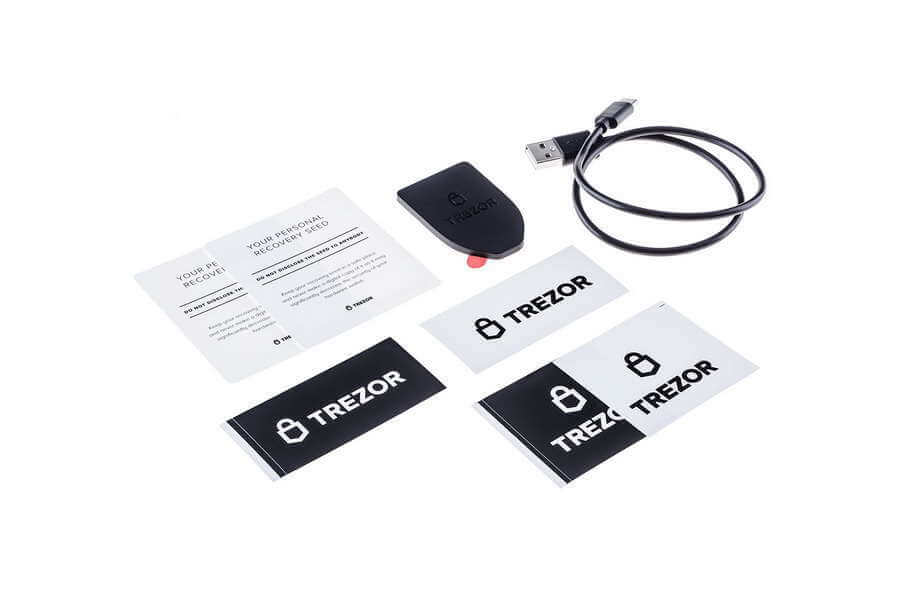 Technical characteristics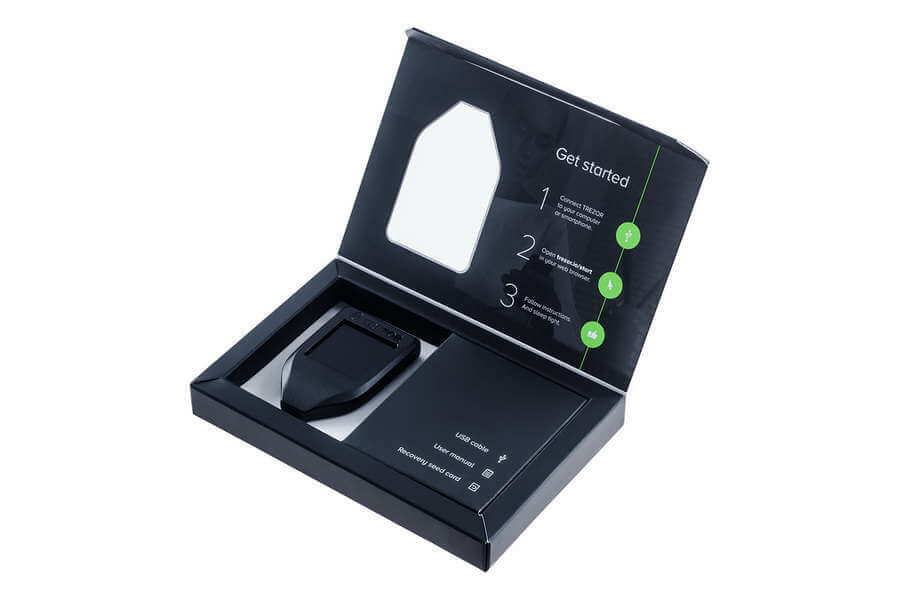 Dimensions & Weight
Size: 64 mm x 39 mm x 10 mm (2.52 in x 1.54 in x 0.39 in) / Weight: 22 g (0.77 oz)
Operating temperature
-20°C to +60°C (-4°F – +140°F)
Connectivity
USB-C connector for connecting to the computer or mobile phone.
CPU
168 MHz embedded ARM processor (Cortex-M4) running a custom developed system, the Trezor Core.
Screen
Bright color LCD – 240×240 pixels.
Safety & certifications
The Trezor is CE and RoHS certified, so it meets all quality, reliability and environmental standards. It's fine to take your Trezor with you on the airplane. Like all modern electronics, the X-Rays won't hurt it.
Trezor installation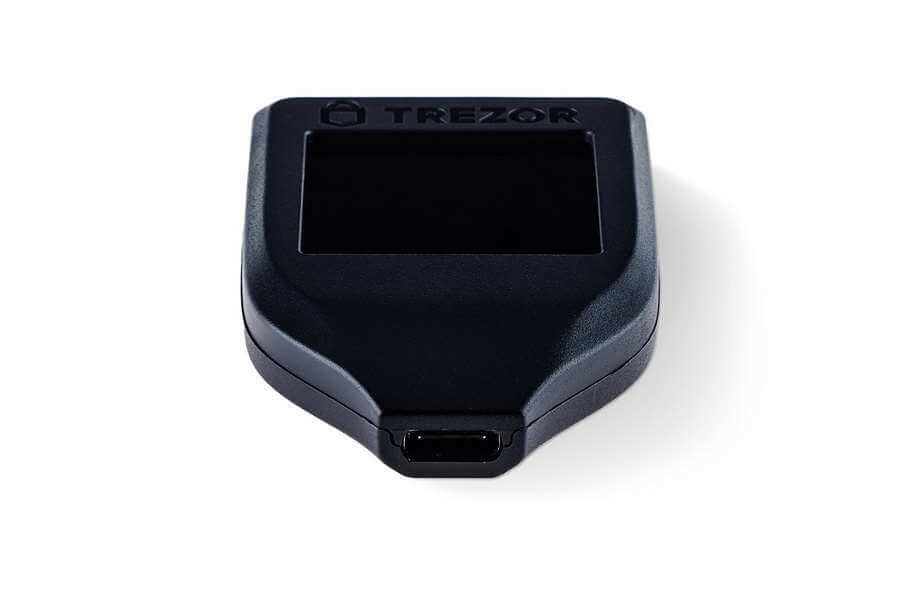 Trezor installation is very simple and fast. To prepare this article, we conducted several large-scale tests and described the entire installation process and the problems that Windows OS users may encounter in as much detail as possible.
By the way, Trezor does not support all browsers.  For example, Opera is not yet compatible with it.
In our article we use Google Chrome and the Windows 7 operating system.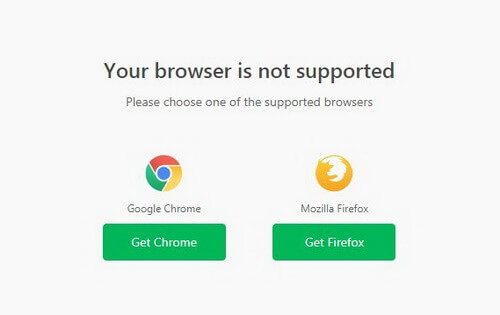 We connect the hardware wallet to a computer or smartphone.
Trezor greets: «Welcome! Go to trezor.io/start».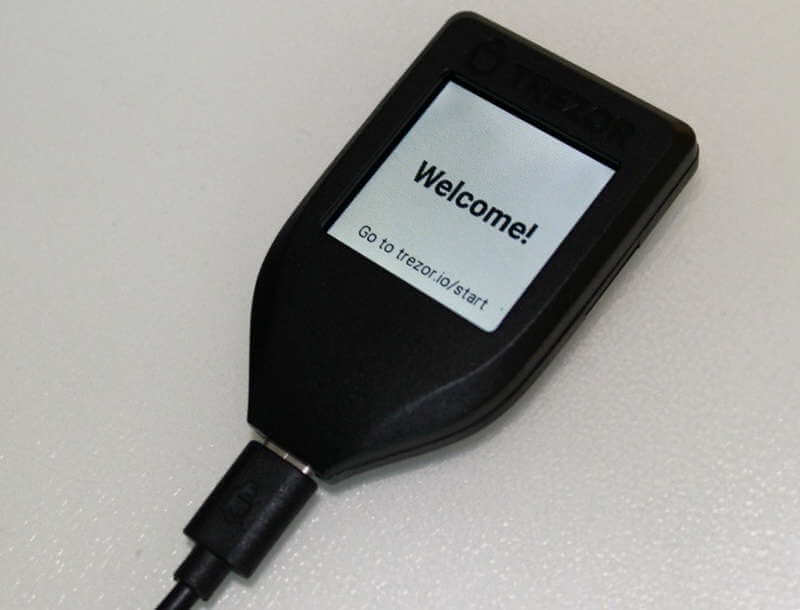 Follow this link in your browser and select Trezor Model T.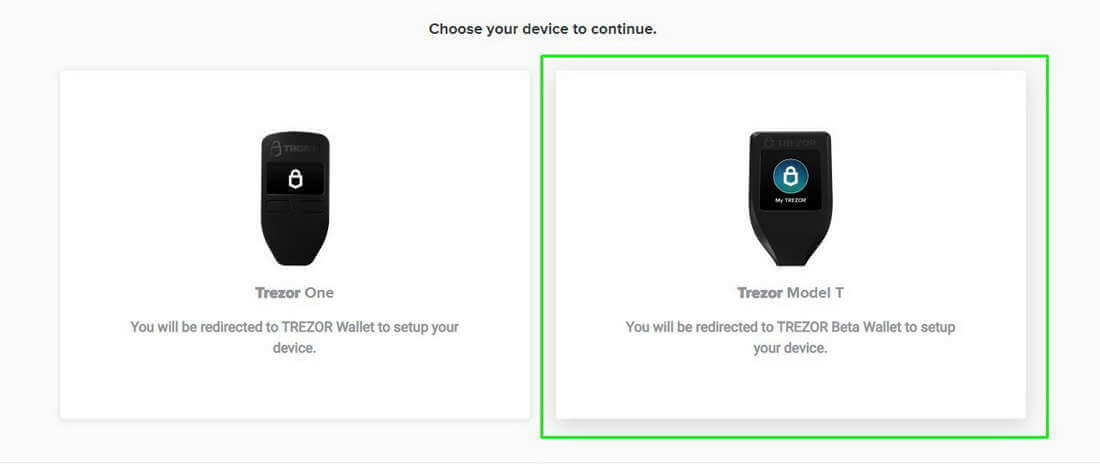 Then it warns that the hologram seal must be authentic and intact. If you have any doubts, and your hologram is different from the one shown in the video, please contact Trezor technical support and do not connect your device to the computer.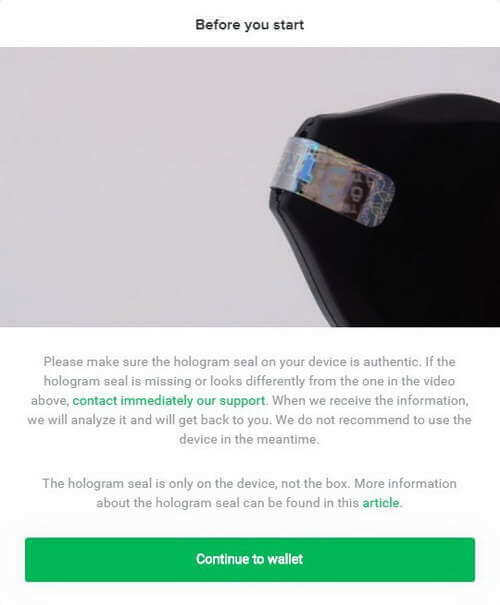 Next, you need to install Trezor Bridge. It is an application that runs in the background on your computer and provides a connection between the Trezor device and your browser.
Note. If you are using Firefox, restart the browser after the first installation of Trezor Bridge.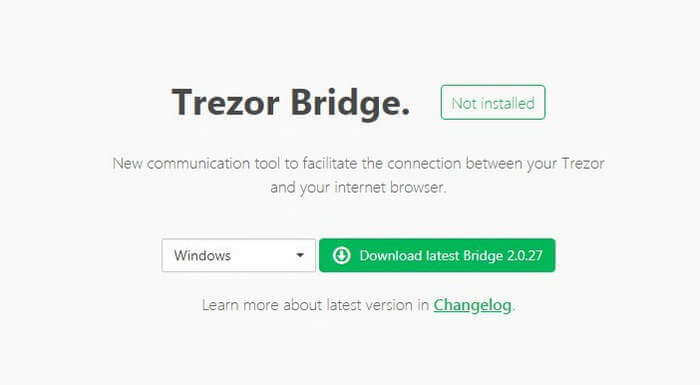 Choose your version of operating system and click «Download».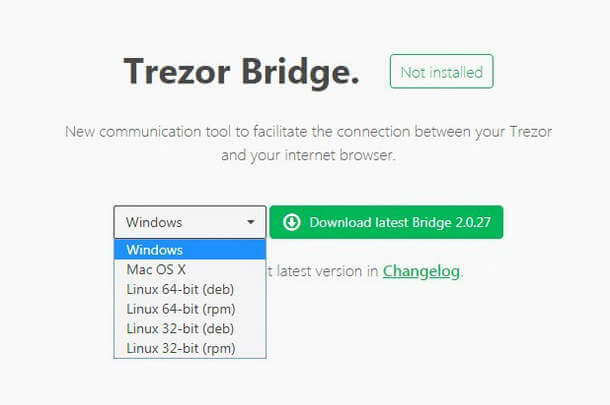 During the installation process there was no problem for Mac OS, but Windows faced some difficulties. Next, we will describe the process for just such a case.
After Trezor Bridge application is downloaded to your computer, install it and reload the page to get to your personal account.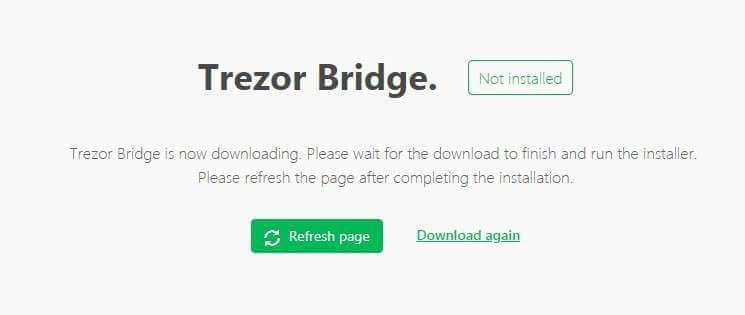 Follow the installation steps: select a destination folder and click "Install".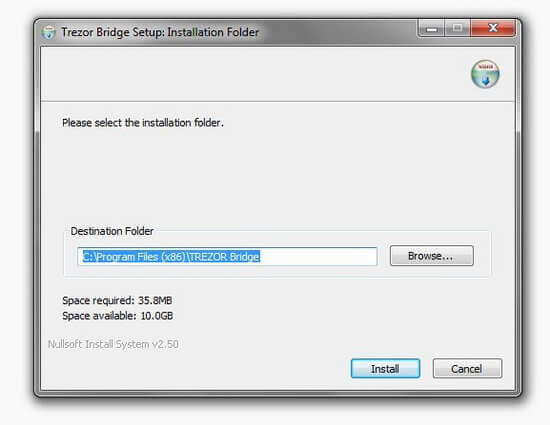 Installing process of the application goes quite fast.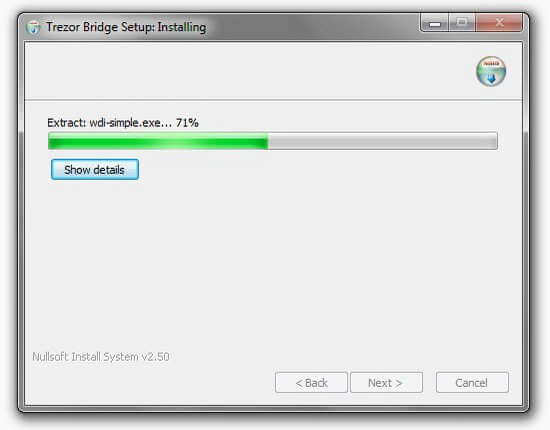 The program will ask you to disconnect your Trezor to complete the installation.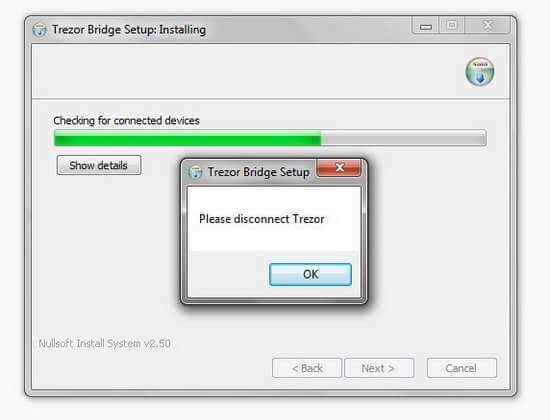 Click «Ok» and «Next».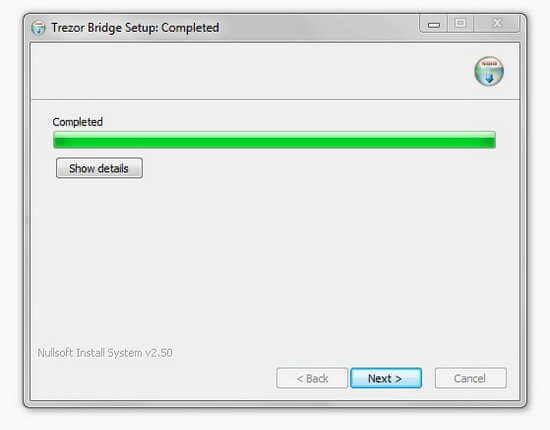 Choose «Start Trezor Bridge» and click «Close».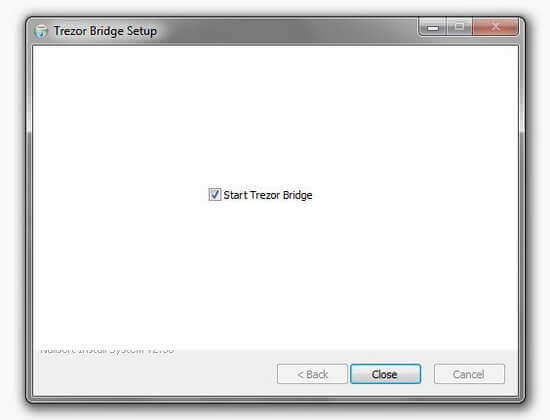 The program is installed on your computer. Now connect the Trezor and refresh the browser page.
Trezor wallet is not recognized in bootloader mode: «Connect your Trezor to continue»
What if nothing happens, and your hardware wallet fails to connect after installing Trezor Bridge?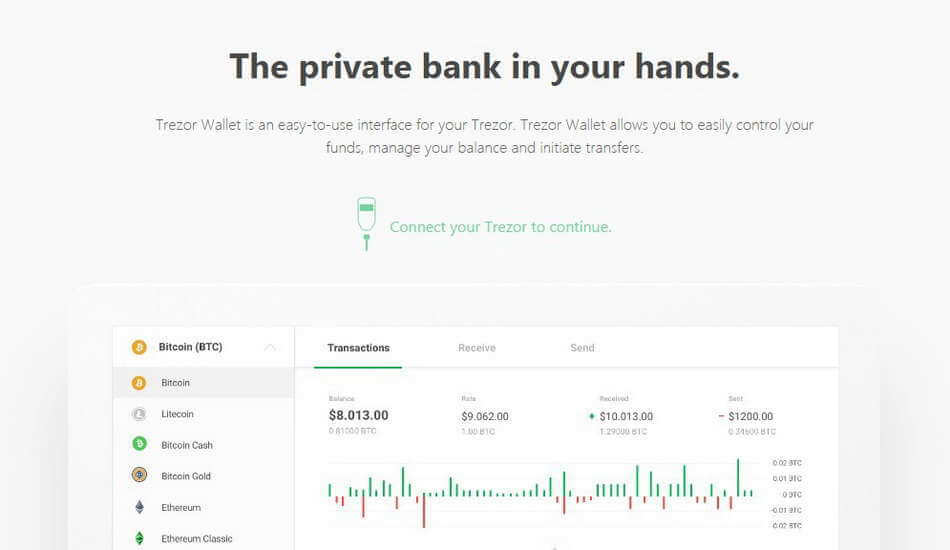 We used Windows 7 (similar problems may also occur with Windows 8 and Windows 10).
The fact is that the operating system from Microsoft cannot recognize the new device that are connected to your computer. This problem occurs due to the USB driver.
You can read more about solutions of the problem on the official website Trezor (applicable to versions 8 and 10):
https://wiki.trezor.io/Device_not_recognized_in_bootloader_mode
In our case we chose replacing the driver:
To do this, go to the site recommended by SatoshiLabs.
Installing USB drivers for Windows
Go to the site Zadig.
Download the program to replace your USB driver and launch it.
You need to choose something like "Unknown Device # 1" and select the driver "libusb-win32".
(If something goes wrong, write to us in comments, and we will try to help you with your problem. During installation we tried several variants of different drivers. Some of them get started, but after a few minutes the operating system could not recognize the new Trezor device).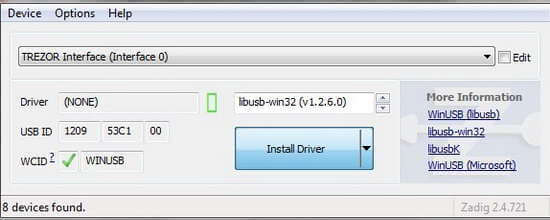 After your USB driver has noticed a new device, you will receive the following message:

Congratulations! Now you need to install the firmware on the hardware wallet itself.
Initially, the device has no internal program installed which increases its security (in the old Trezor One model the firmware was already installed by default).
Click "Install firmware".
During the installation you can view all the log files in your browser and observe the process on the Trezor screen: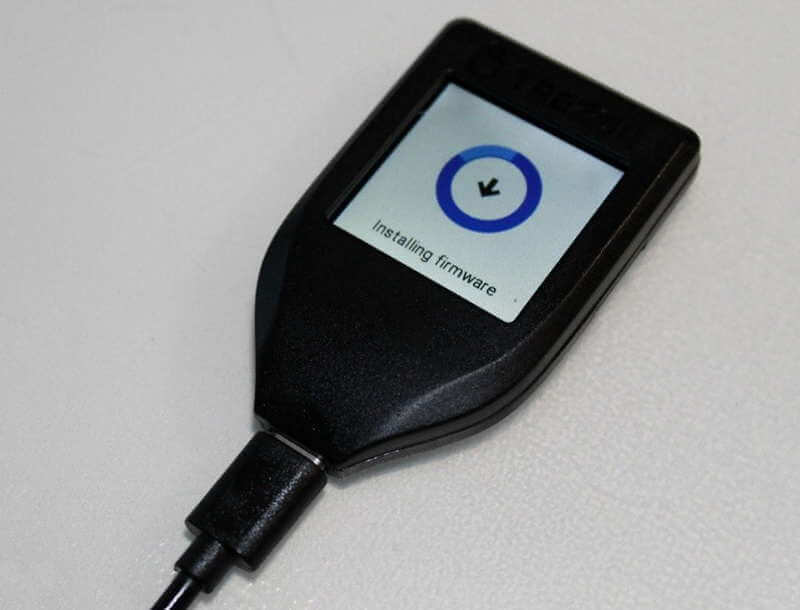 Next, you have to choose: "Create a new wallet" or "Recover wallet".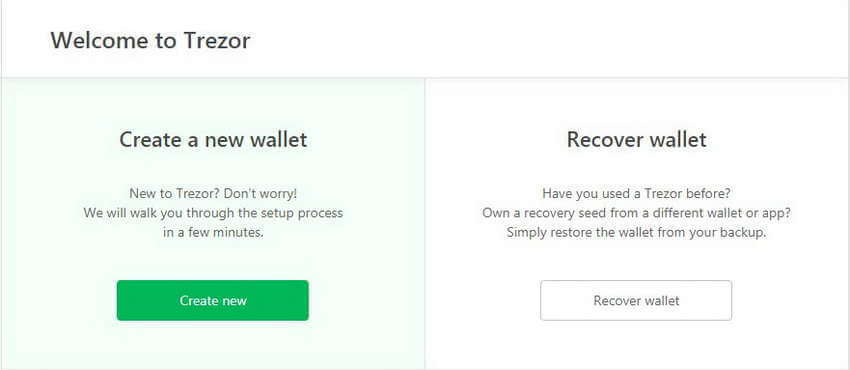 Installing a new Trezor wallet on the Model T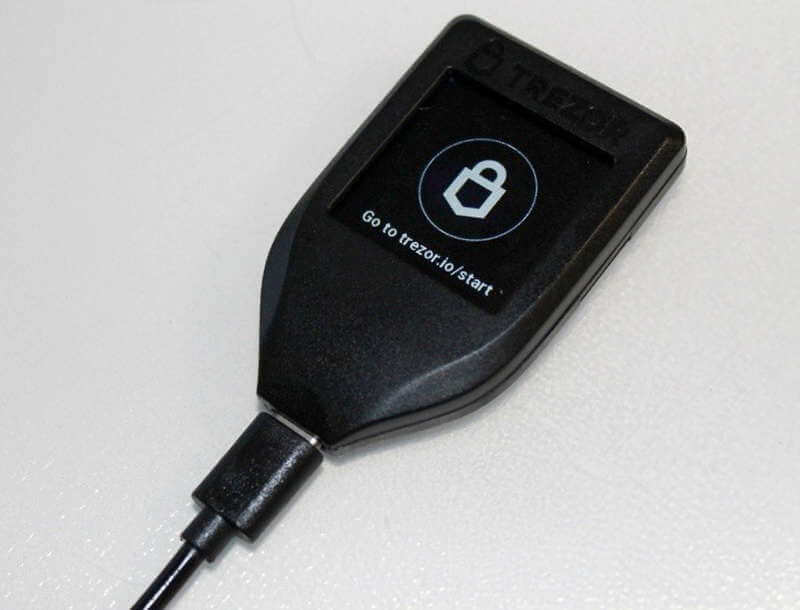 Confirm the action "Do you really want to create a new wallet?" on the device screen.
Your browser should open a personal account.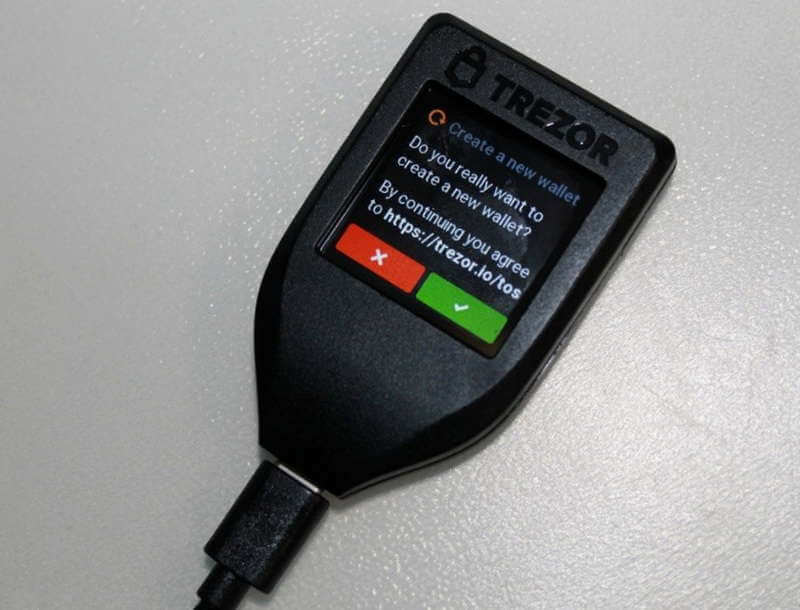 Now you have to back up.
Be sure to save your recovery seeds in a secure place so that you could recover all your data and save your money in case of breakdown, loss of the device, loss of the password or PIN code.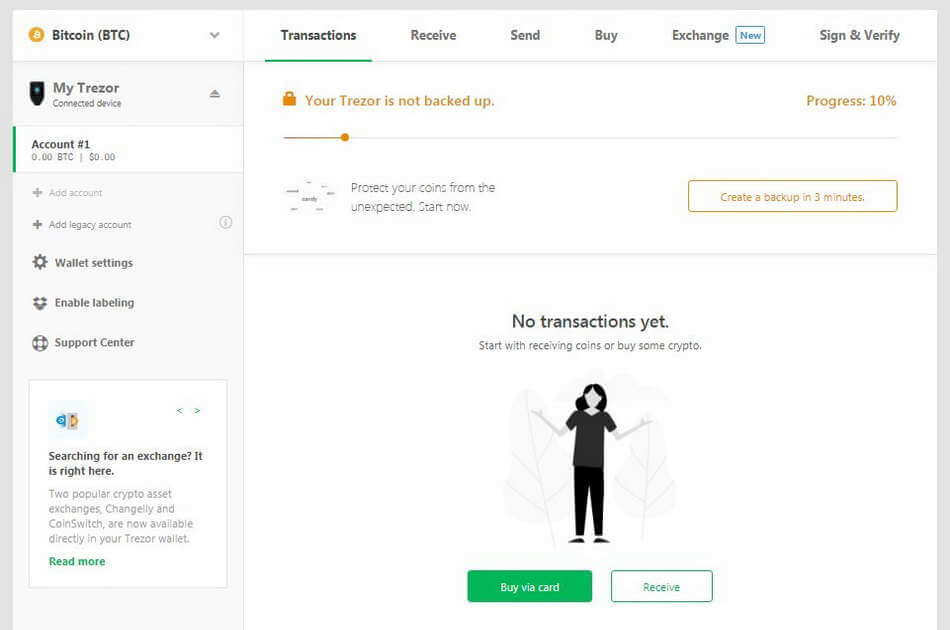 Click «Create a backup in 3 minutes».

Very important:
Do not take a photo or print of your recovery seed.
Do not write it into a computer.
Do not save it into your cloud storage.
Never upload it on the Internet.
You can write down your recovery seeds on special sheets of paper that were supplied with your device and hide them in a safe place.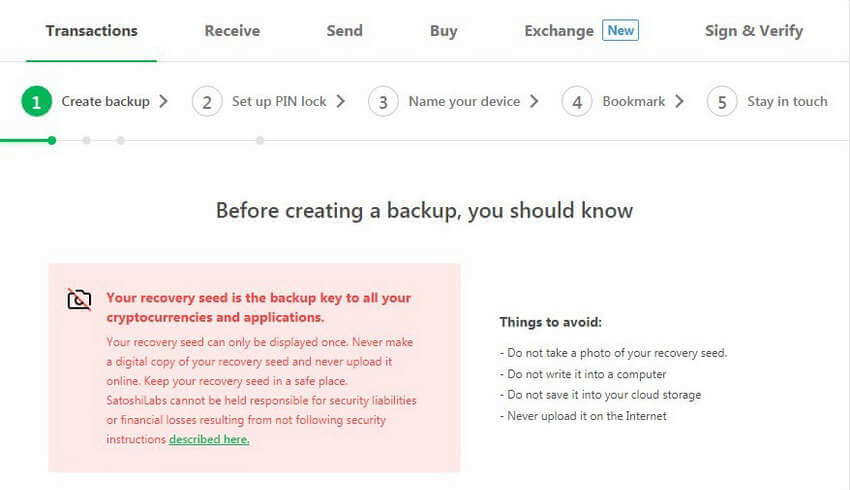 One of the most reliable ways to save the seeds is Cryptosteel which cannot burn in a fire and can withstand any cataclysm.
This is a physical backup tool for your data.
Cryptosteel is entirely made of stainless steel and is resistant to corrosion and shock.
You shell not worry if suddenly someone else finds your Cryptosteel. In each free cell you add only 4 letters from each phrase, the rest needs to be memorized.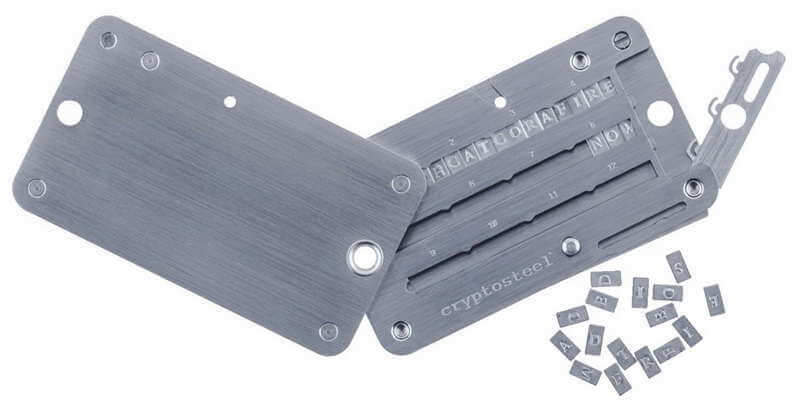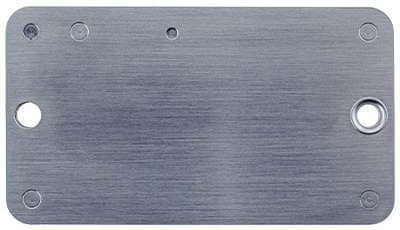 If everything is clear, confirm and click "Continue".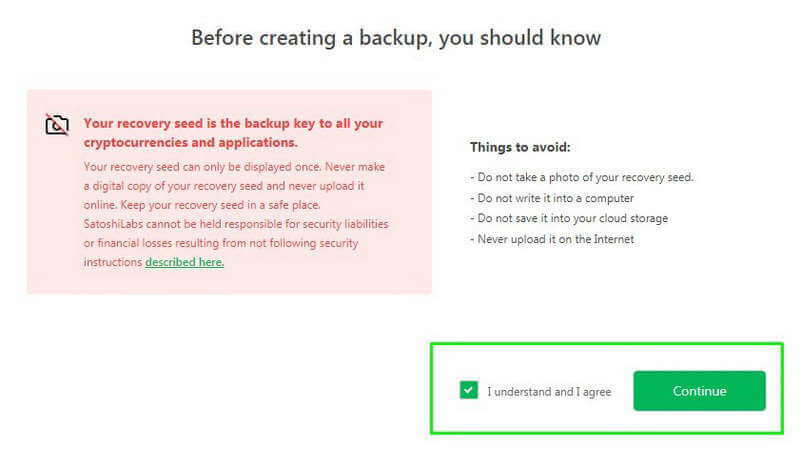 Do not disconnect your device during the backup.

Confirm the action on Trezor screen.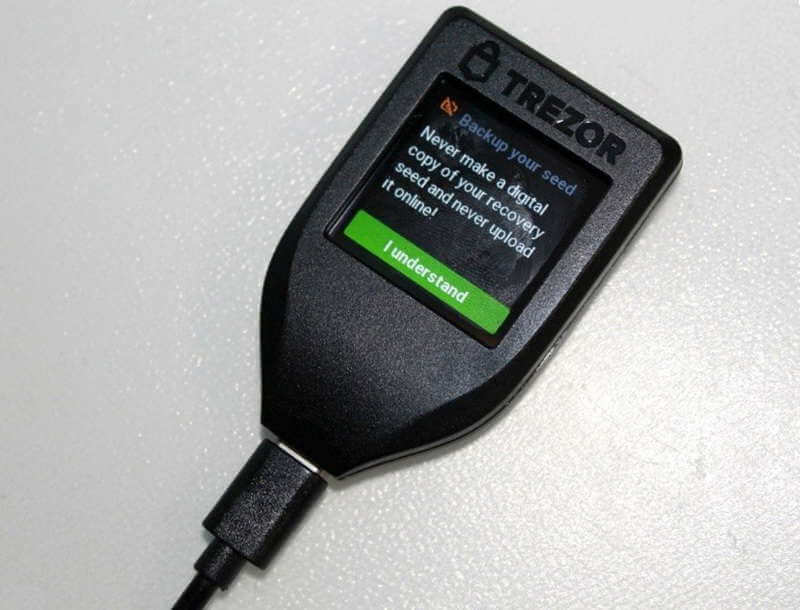 After confirmation the recovery seeds will appear on your device screen.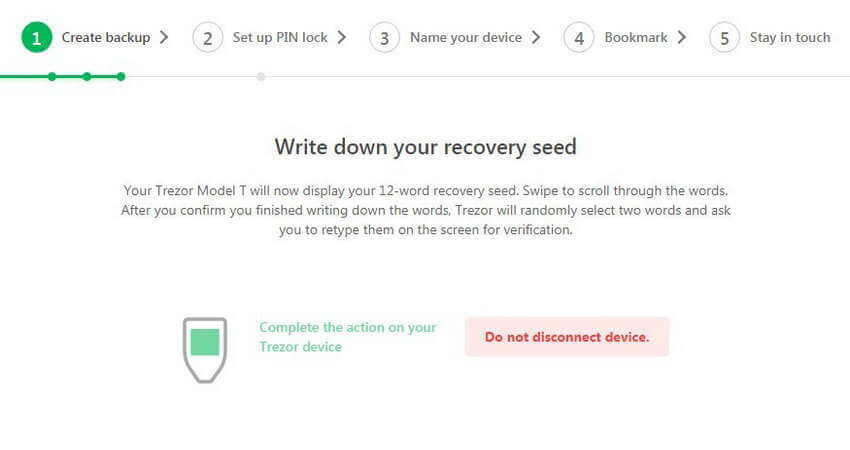 Carefully write down all the phrases on a sheet of paper and/ or add them to your Cryptosteel.
After you finish, confirm the action on the screen of your hardware wallet – click and hold "Hold to confirm".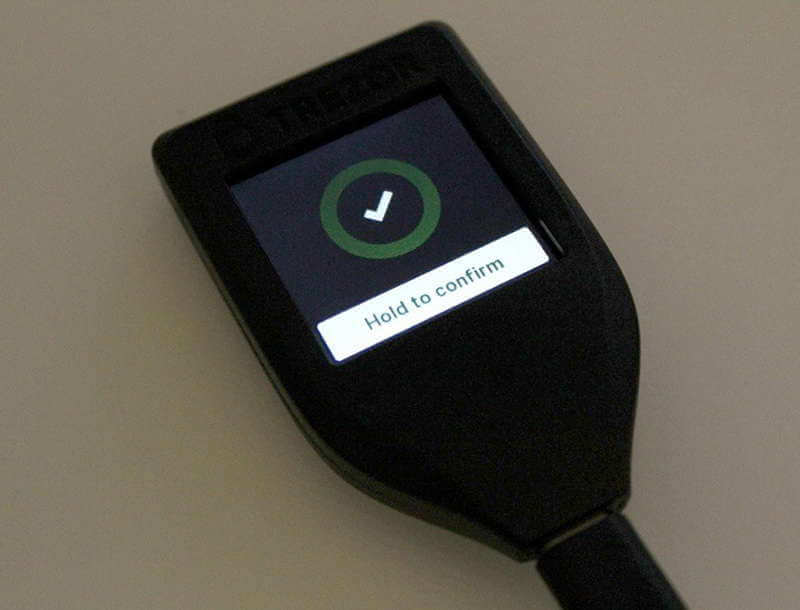 Trezor will ask you to enter 2 any phrases in random order to check and confirm the correctness of your actions.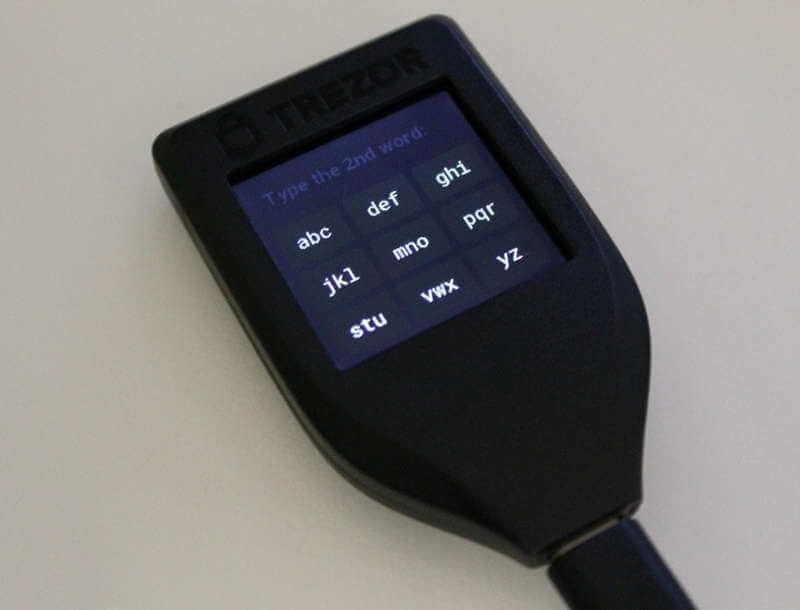 The main principle here is the same as in old push-button telephone and a T9 keyboard (enter the word like on a T9 keyboard). You simply click on the desired cell several times until you get the desired letter.
The program will help you predict the words.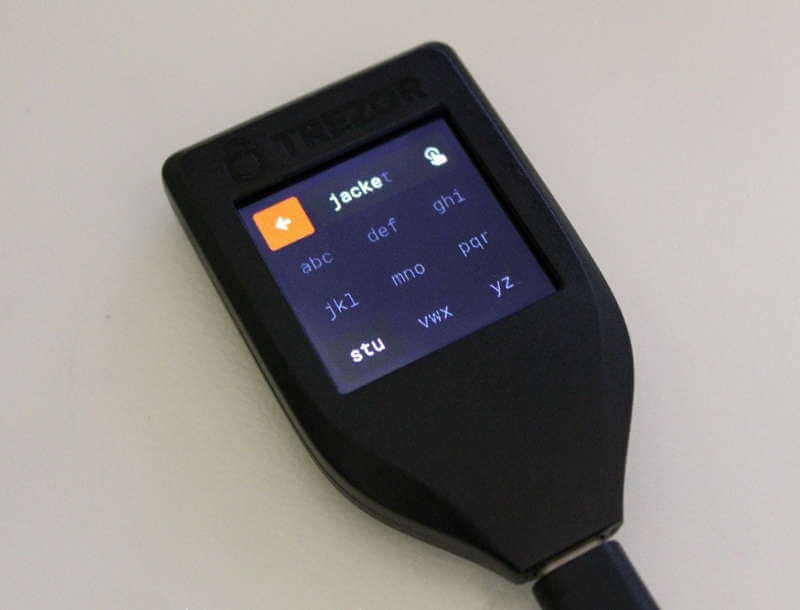 If you confirmed the wrong word, Trezor will warn you about the error and ask you to repeat the whole procedure again.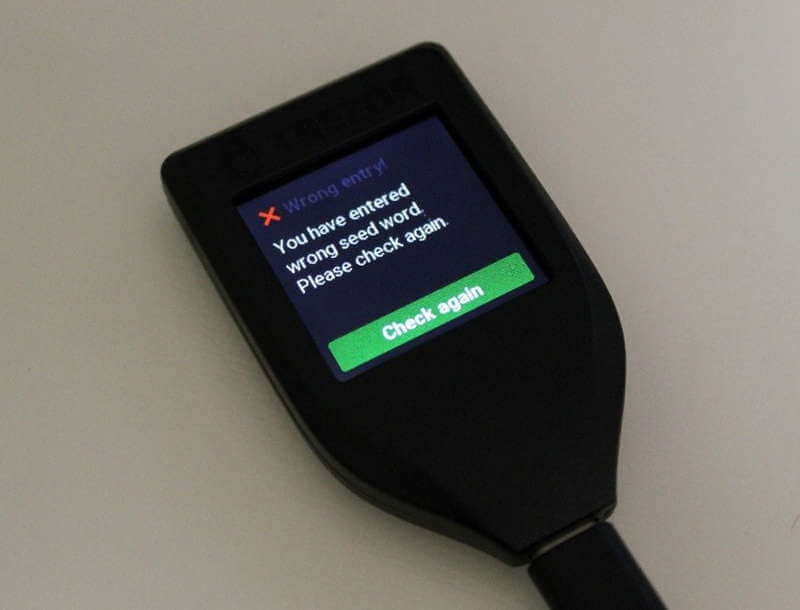 Congratulations! You have successfully completed the backup!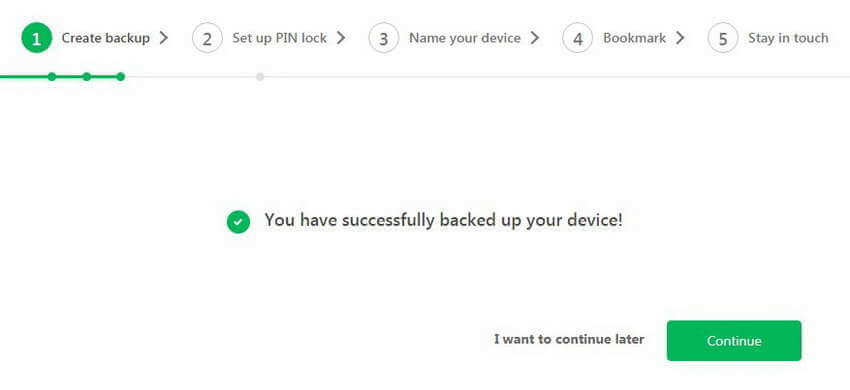 Now create and save a reliable PIN.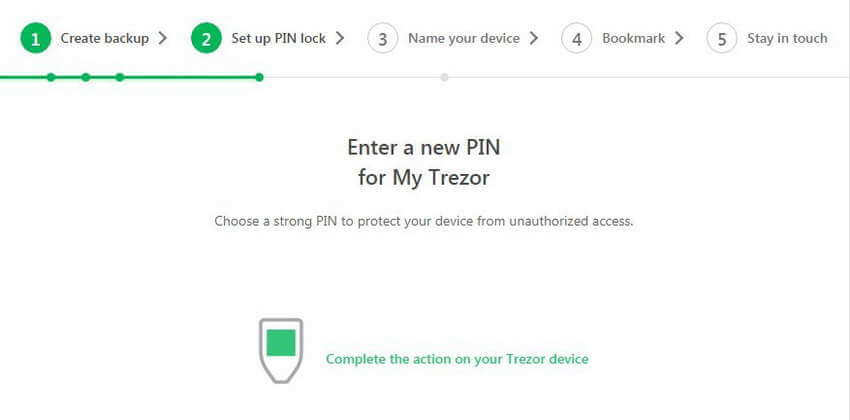 Confirm your action on the screen.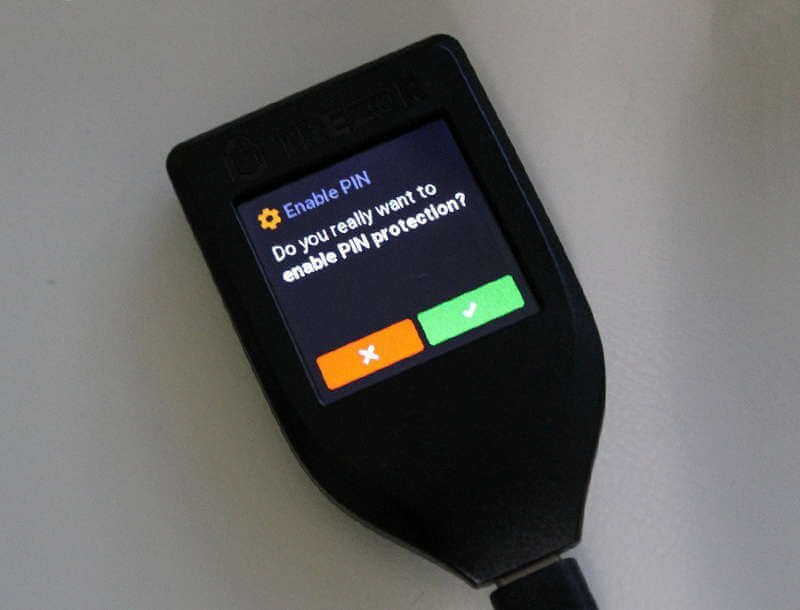 Good job!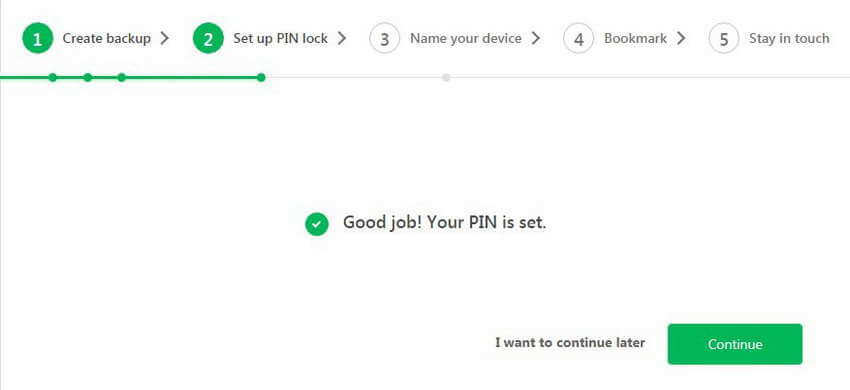 Next, the service offers you to come up with a name for your Trezor. It looks very cool!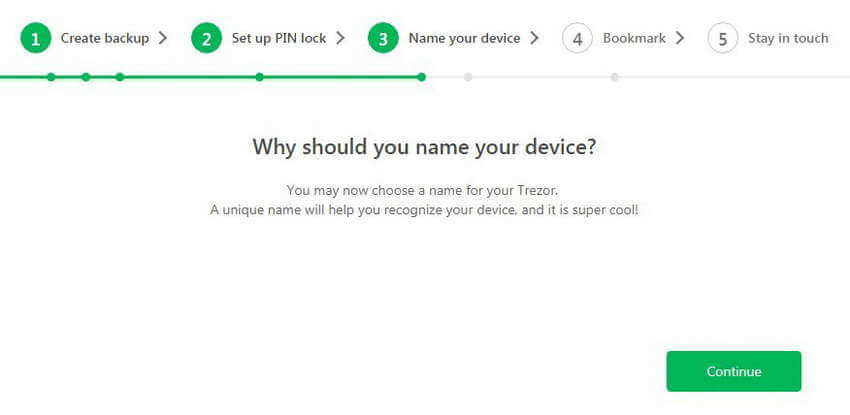 You can enter any name and change it at any time later.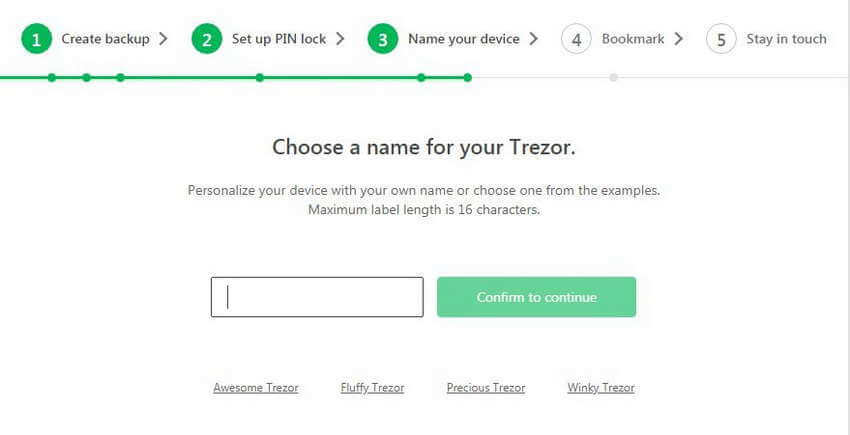 Click «Continue».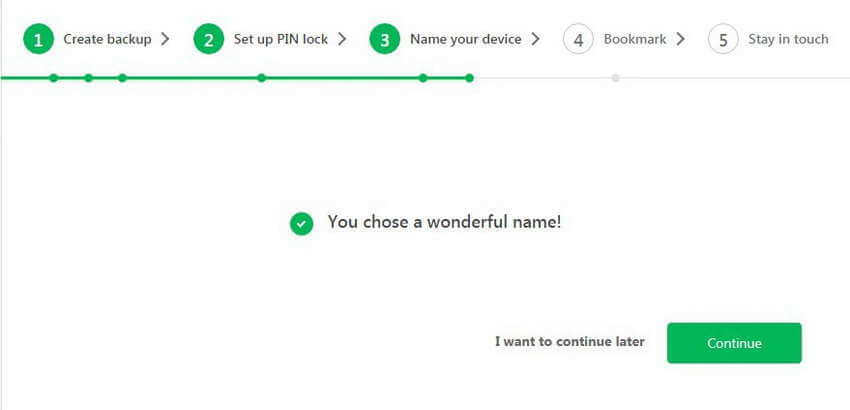 Our new "CryptoTotem" is ready to go.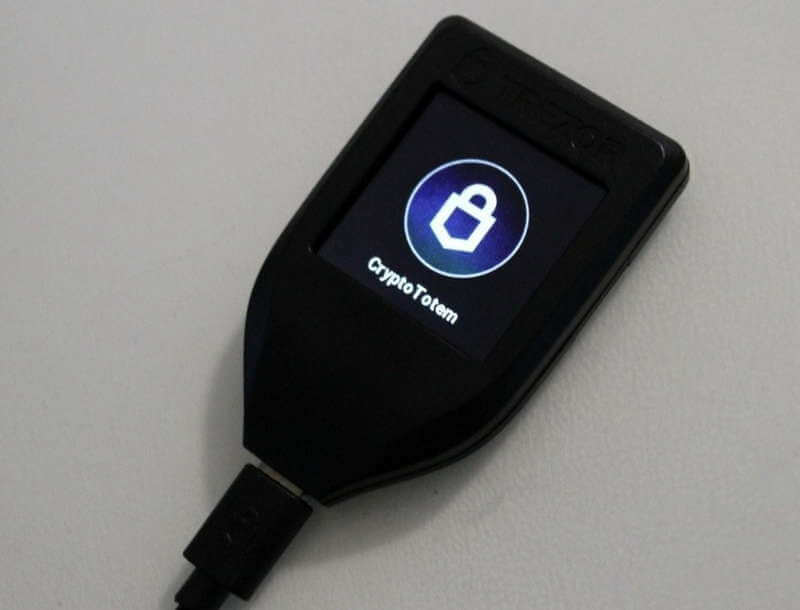 For convenience and safety add the Trezor website to your browser bookmarks (Press "Ctrl + D" for Windows or "Command + D" for Mac).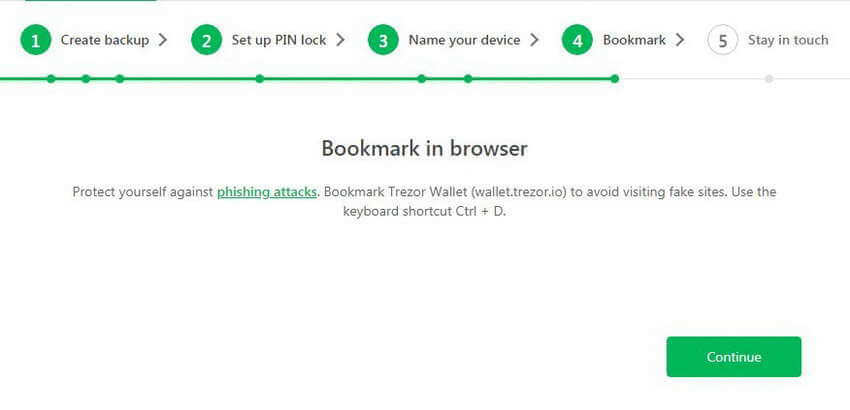 Add your email address to receive information about the new updates and security tips in time.
Subscription is optional. Trezor does not create a link between your wallet and your email address.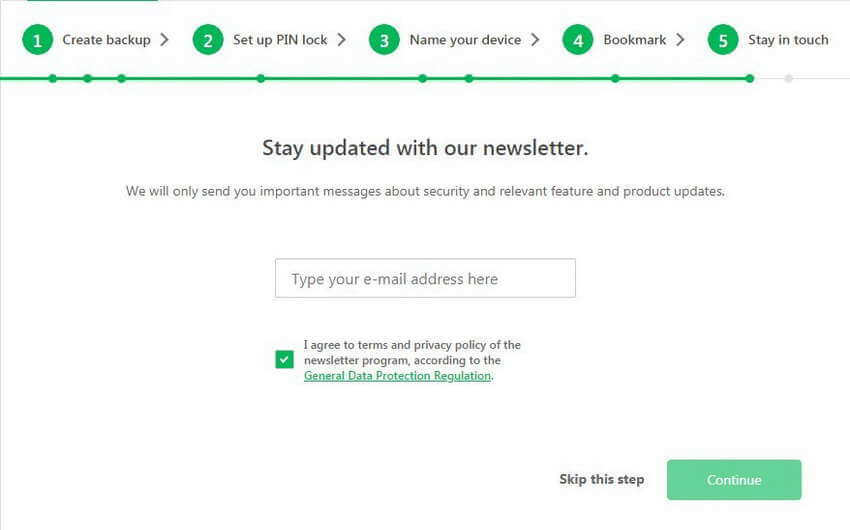 You can always unsubscribe later.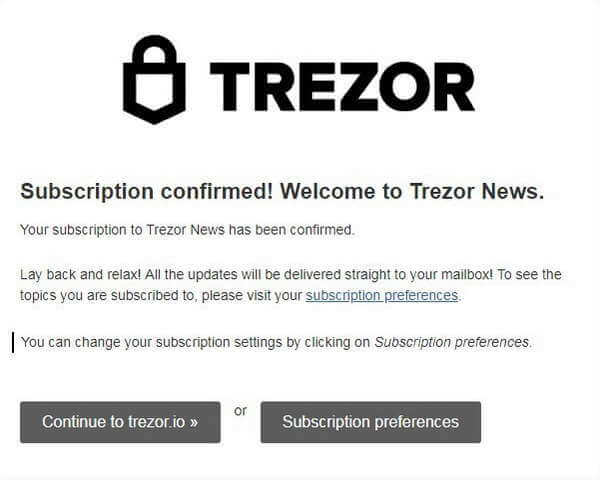 You can also follow the project news in social networks: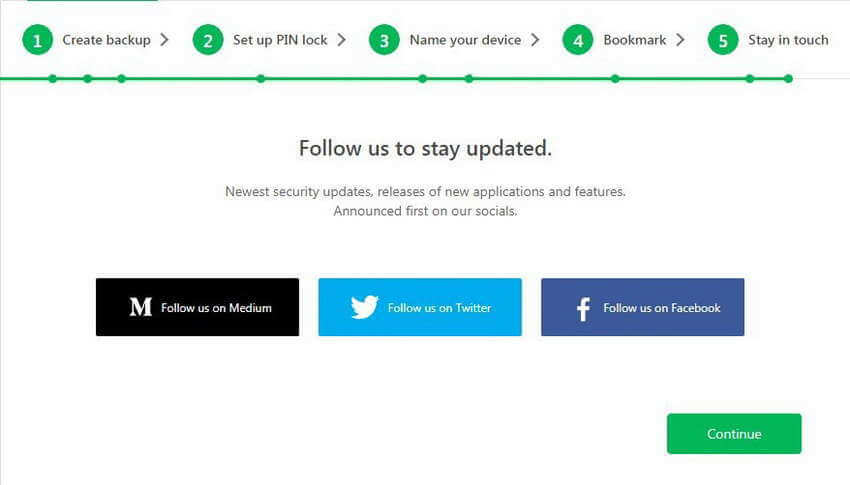 Congratulations! Now Trezor is ready to go.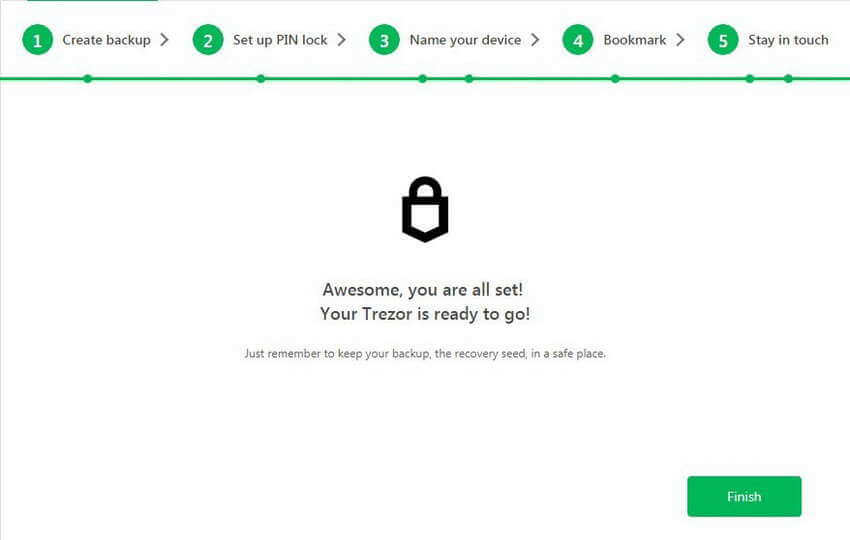 Connection and capabilities of Trezor
To get started, connect your Trezor hardware wallet to your computer, laptop or smartphone.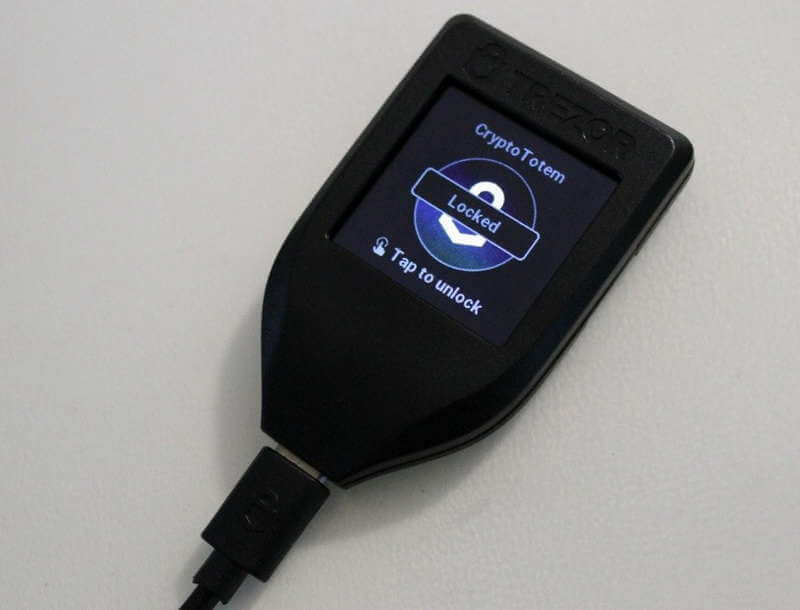 Tap the screen and enter your PIN.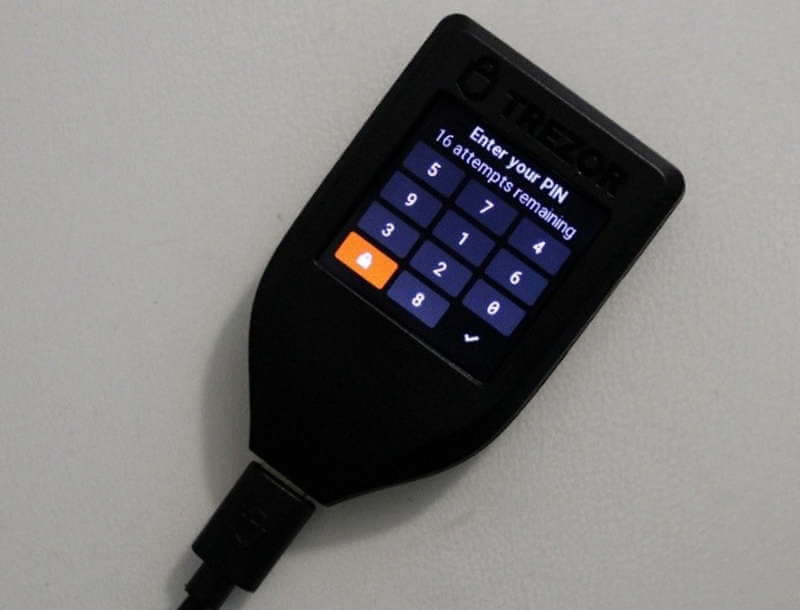 How to accept and send payments
For each transaction Trezor generates new addresses.
In this way the device helps you become more anonymous and avoid identification when you try to track your payments.
Every time you click "Show full address" in your account, the address is duplicated on the screen of the device itself which guarantees your safety. You can always confirm any action and be 100% sure that the address is not changed by anyone, since the device itself completely excludes any viruses.
How to receive cryptocurrency
Select "Transaction" and/ or click "Receive".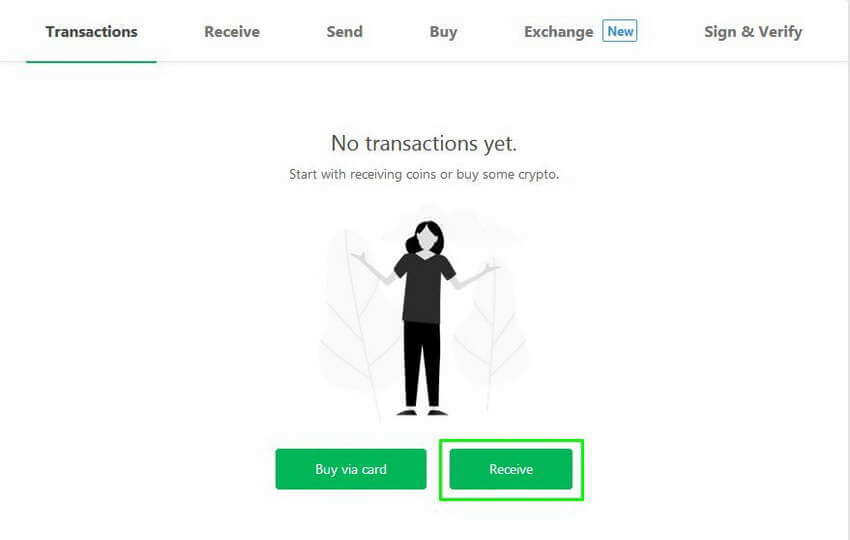 Automatically Trezor has already selected Bitcoin (BTC) wallet. It uses SegWit addresses, but it is also possible to use outdated addresses for transactions.
Click "Show full address" to see your new address for receiving Bitcoins. Carefully check if the address in the browser matches the address on your device.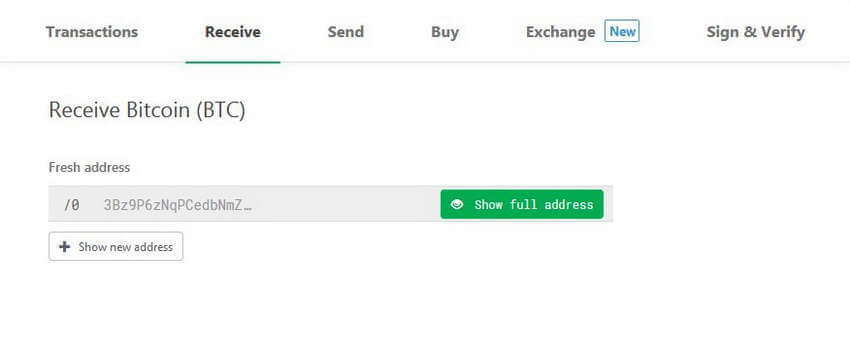 Confirm your address on the Trezor hardware wallet.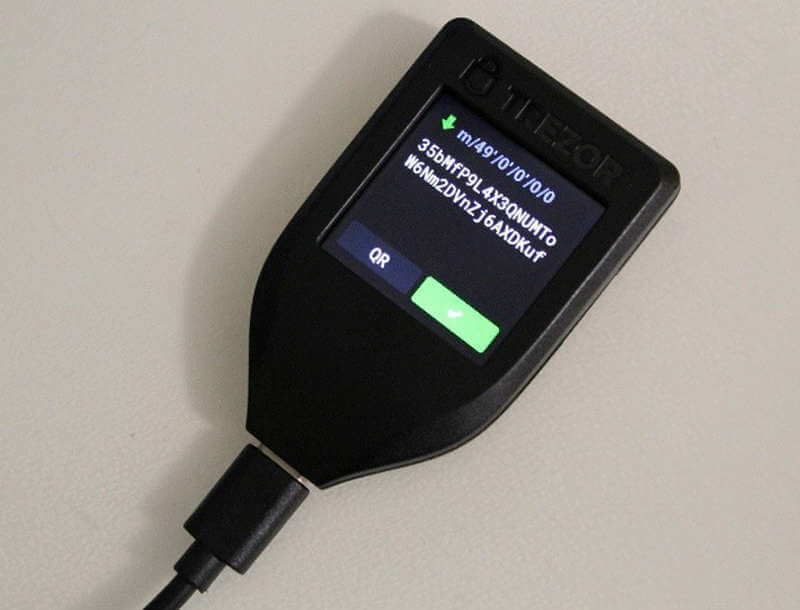 To receive funds, you can also use a QR code.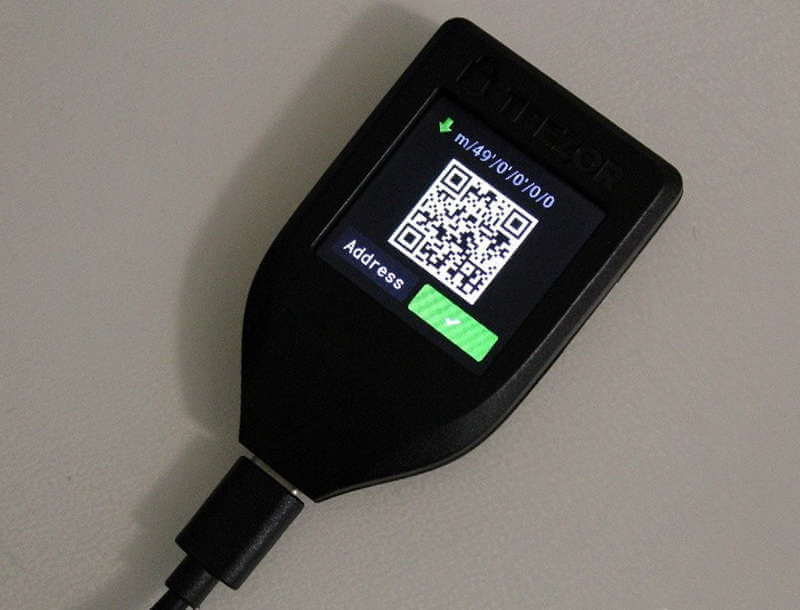 Now you can use this address to receive Bitcoins to your Trezor. The private key of this address is known only to you.
As an example we will send a few coins from our Electrum wallet. We strongly recommend not to keep large amounts on online exchanges.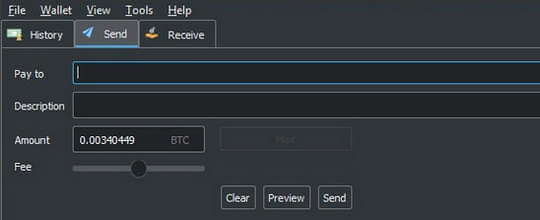 With Trezor you can create any number of addresses to receive funds, sign your transactions or label each address for different operations, for example, "for business" or "for personal purchases".
All your addresses remain effective.
The tab "Transactions" will show you a list of all your transactions: current account balance, incoming and outgoing transactions, coin exchange rate and graphical analysis. All this data can be exported in CSV or PDF format.
How to Buy Cryptocurrency with Trezor
You can also buy Bitcoins using your debit or credit card VISA or MasterCard on the services that are represented in your account.
Today, Trezor works with the following services:
Coinmama
Changelly
Paybis
Changenow
Coinswitch
CoinMate
BTCDirect
Shakepay
Coinberry
Bitpanda
Simplecoin
Coingi
Bittr
Go to the "Buy" tab and choose the most convenient way for you.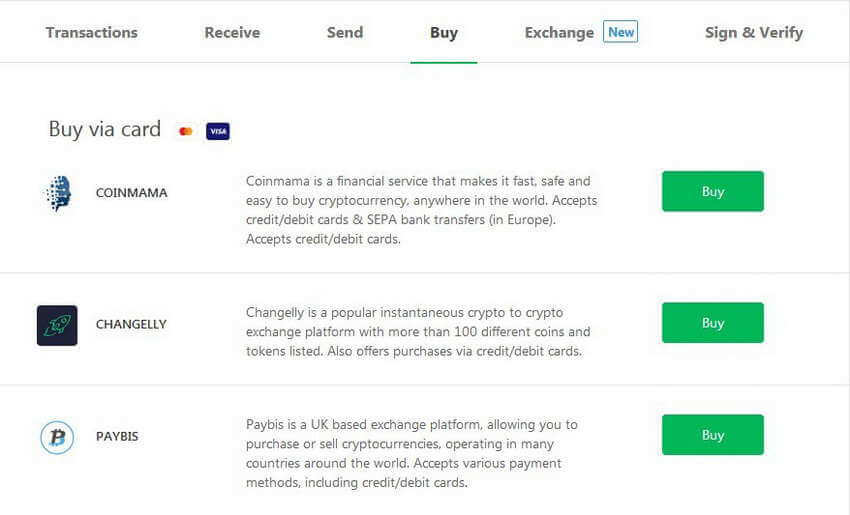 How to send Cryptocurrency
In order to send your Bitcoins and other cryptocurrency funds, go to the tab "Send".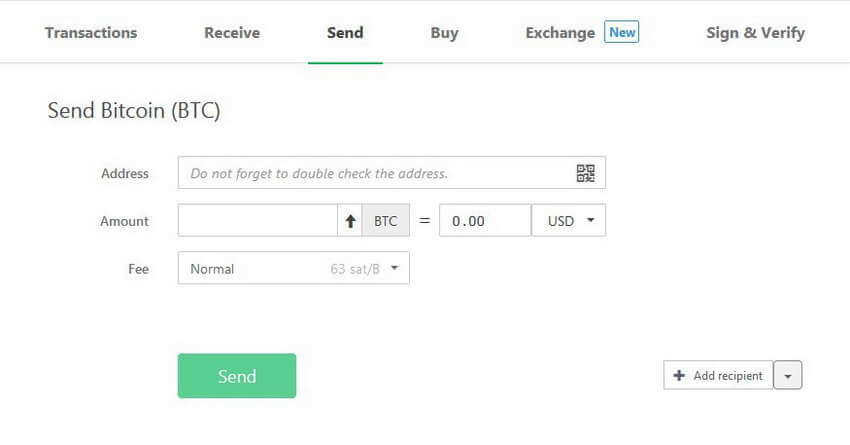 Do not forget to send and receive funds between accounts of only one cryptocurrency, otherwise you can lose your money.
1. Address – enter the destination address for your transaction (you can also use a QR code).

If you entered a non-existent address, Trezor will warn you about this:

2. Amount – enter the required amount (cryptocurrency rates are based on CoinMarketCap data).

Using the arrow you can send all your coins at once.
You can also send cryptocurrency to several addresses. This option is very convenient and saves you money when paying for transactions.
Click "Add recipient" or import the CSV file with addresses.

3. Fee – the commission that is charged for the transaction to pay the miners (Trezor does not charge you any fees).
The time of receipt of funds depends on the priority level.
Please note that the funds transferred by you are almost instantly displayed on the recipient's wallet, but they do not arrive immediately.
Priority levels for transactions:
4. If you have chosen the labeling, you can see the additional line "Comment".

Next, click "Send" and confirm this action on the screen of your Trezor. Carefully check the amount and address of the recipient's wallet.
If the amount of funds or the address does not match, be sure to contact the Trezor support service, as your computer may be infected.