Changelly Review

Withdrawal fee: 0.0004 BTC

Bank transfer

Credit Card

Cryptocurrency

Despite launching in just 2015, Changelly has gone on to position itself as by far the most popular instant cryptocurrency exchange platform today. Here's what you need to know before making your first exchange.
What is Changelly?
In a nutshell, Changelly is a simple cryptocurrency exchange that allows users to quickly swap between a huge variety of cryptocurrencies—without needing to understand the nitty-gritty of cryptocurrency trading.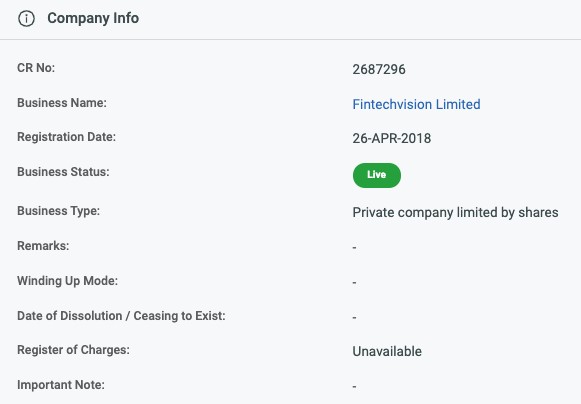 Changelly has been in operation since 2015 and quickly rose to become the leading instant crypto exchange platform. The platform is wholly-owned by Fintechvision Ltd, a private company registered in Hong Kong, and has its headquarters in Malta.
Changelly allows users to exchange between more than 150 different cryptocurrencies with just a few clicks, and also gives customers the option of directly purchasing cryptocurrencies using their debit or credit card.
Features
Unlike many exchange platforms, Changelly looks to keep things as simple as possible, making it easily accessible to both inexperienced and experienced traders.
Changelly's main feature is its simple to use instant exchange feature, which allows users to quickly convert between a huge range of cryptocurrencies in 30 minutes or less. This exchange functionality can be accessed from practically any device with an internet browser or through a dedicated Changelly mobile app, which is available for Android and iOS devices.
Though Changelly is easy enough for most users, customers have access to an extensive frequently asked questions (FAQ) page and a blog that contain useful insights regarding cryptocurrency exchanges, trading, and the cryptocurrency industry in general. For those that need more direct assistance, they have access to 24/7 live chat support, which typically provides a response within minutes.
Changelly users benefit from an affiliate program that can be accessed after creating an account. The affiliate program currently provides users with 50% of the revenue generated by anybody they invite to the platform. This fee-sharing model only applies during the first 90 days of a referral's registration, after which affiliates will no longer earn commissions from that referral.

The exchange even provides a range of promotional materials, to help users more easily advertise their affiliate link.
How Does Changelly Work
Thanks to the Changelly API, a large number of third party wallets and service providers have integrated Changelly's exchange feature. The firm also offers to integrate its white-label exchange solution with third-party wallets within 3 days and provides full technical support to API users.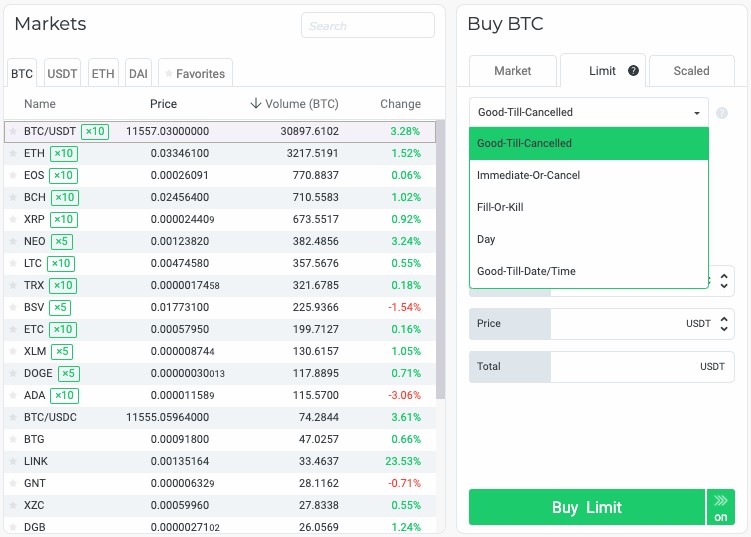 For those with more advanced trading needs, Changelly also operates a separate full-featured trading platform known as Changelly Pro. Through Changelly Pro, customers can trade dozens of cryptocurrencies with limit and market orders, as well as several more advanced order types, and can trade 13 different markets with up to 10x margin.
Changelly Fees
Like all exchange platforms, Changelly charges fees for its services.
Fortunately, the firm is extremely upfront and transparent about the fees it charges and keeps things simple by charging a flat 0.25% on all crypto-to-crypto trades. These fees are automatically factored into the exchange rate when creating an order, so users don't need to worry about manually accounting for this during the order process.
For much of its existence, Changelly charged a standard 0.5% fee. But this was reduced to 0.25% in August 2019, helping to position the platform as one of the cheapest instant exchanges around.
There are no specific deposit fees when using the platform, but customers may need to factor in the cryptocurrency transaction fee when making an exchange. Changelly covers the transaction fee for completing its side of the exchange.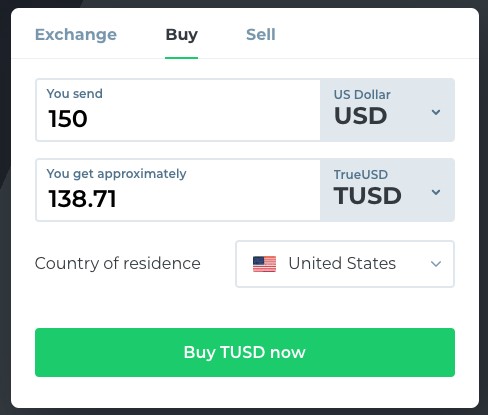 For those looking to purchase or sell cryptocurrencies to fiat, Changelly charges a 5% fee, which it claims is among the lowest offers in the industry. This fee 5% is irrespective of the cryptocurrency being exchanged or the recipient's country of residence.
Users of the Changelly Pro platform are subject to a completely different fee schedule, which is based on a maker-taker fee structure with volume-based discounts.
| Level | 30-days Trading Volume (BTC) | Taker fees | Maker fees |
| --- | --- | --- | --- |
| 1 | ≥ 0 BTC | 0.1% | 0.1% |
| 2 | ≥ 50 BTC | 0.1% | 0.09% |
| 3 | ≥ 500 BTC | 0.1% | 0.08% |
| 4 | ≥ 1500 BTC | 0.1% | 0.07% |
| 5 | ≥ 4500 BTC | 0.09% | 0.07% |
| 6 | ≥ 10000 BTC | 0.08% | 0.06% |
| 7 | ≥ 20000 BTC | 0.07% | 0.05% |
| 8 | ≥ 40000 BTC | 0.06% | 0.04% |
| 9 | ≥ 80000 BTC | 0.05% | 0.03% |
| 10 | ≥ 150000 BTC | 0.04% | 0.02% |
At the basic level, customers are charged a flat 0.1% taker and maker fee, but this gradually decreases if a user achieves more than 50 BTC in 30-day trading volume. At the maximum end of the scale (for a trading volume above 80,000 BTC), trading fees reduce to just 0.05% for takers and 0.03% for makers. Customers need to verify their Changelly Pro accounts to unlock volume-based fee discounts.
Withdrawal Fees
Beyond this, since Changelly Pro is a custodial exchange solution, customers will also need to pay a small withdrawal fee for most cryptocurrencies—this is currently set at 0.0004 BTC for Bitcoin and 4 USDT for Tether (USDT) withdrawals.
Deposit and Withdrawal Methods
Unlike many other crypto exchange platforms, Changelly is non-custodial. As a result, customers cannot fund their accounts to conduct exchanges at a later date.
Instead, the platform provides a new payment address each time a user wants to perform an exchange, and will automatically send the corresponding exchanged funds to an address the user provides. In most cases, the entire trade can be completed in just minutes.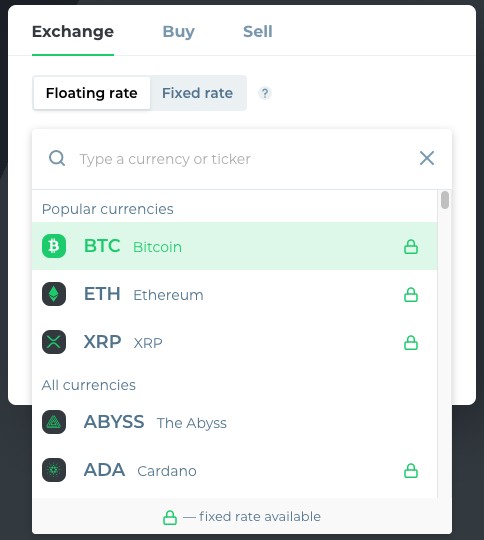 As we previously touched on, Changelly accepts exchanges between well over 150 different cryptocurrencies, including Bitcoin (BTC), Ethereum (ETH), XRP, in addition to a range of other popular and no-so-popular coins and tokens.
For fiat to crypto purchase, Changelly accepts Visa, Mastercard, Apple Pay, and Bank Transfer—but these may be region dependant. Customers in the EU can also sell their BTC for a SEPA payment.
How to use Changelly
Using Changelly is an extremely simple process and even complete trading novices shouldn't experience any difficulty conducting exchanges.
Users can begin creating a trade on the site before opening an account but will need to create their account before they are able to finalize the process. After creating an account, users will be able to see a complete history of their previous exchanges, including the date and values of the exchange.
Create an account
Creating an account is as simple as clicking the 'sign up' button and entering an email.

Changelly will then automatically generate a secure password, which users can use to log in to their newly created account. The platform is available to users in over 180 countries, but nationals and residents of Cuba, Iran, North Korea, and a handful of other countries are not allowed to use Changelly services.
Users can trade more than any supported cryptocurrency by simply choosing the cryptocurrency pair they'd like to trade, picking an amount, and entering their receiving address.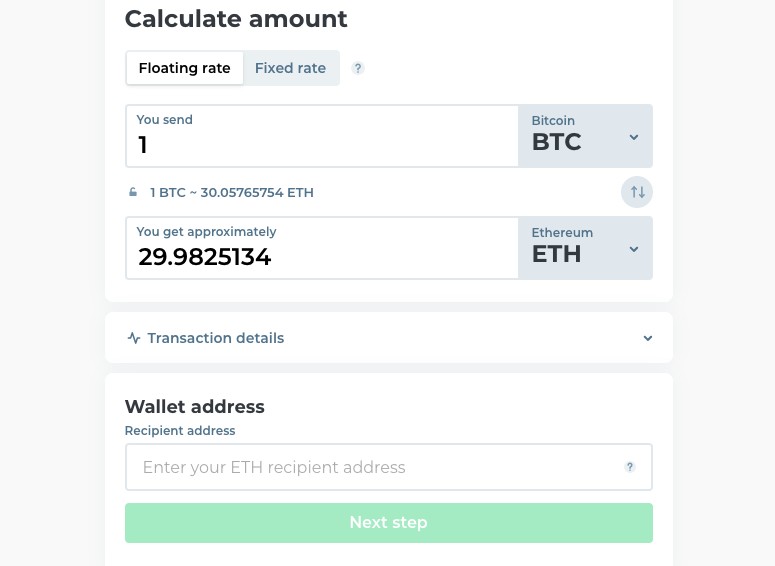 Users then need to deposit the correct amount of cryptocurrency to the address Changelly provided. Once received, Changelly will then deposit the agreed cryptocurrency to the deposit address provided.
Customers in more than 30 countries can also perform fiat to crypto transactions—and can buy crypto with 3 fiat currencies (USD, EUR, and GBP), and sell BTC to EUR (for EU customers only).
Security
When it comes to security, Changelly does what it can to ensure both private user data and funds remain secure at all times. The website encrypts all traffic with SSL and selectively enforces KYC practices to detect and prevent fraud.
Is Changelly Safe?
As far as instant cryptocurrency exchange platforms go, few have managed to equal the spotless reputation and track record that Changelly boasts. In its half a decade of operation, it has never been hacked and is regarded as one of the safest exchanges around.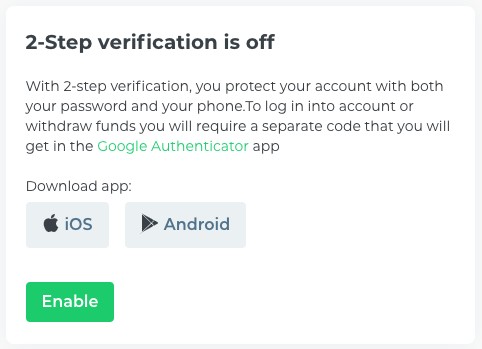 Since Changelly is a non-custodial exchange platform, it doesn't hold user funds, and as such is not a major target for hackers. Nonetheless, customers have the option of enabling two-factor authentication to their accounts to add an additional security layer.
This unblemished security record has helped Changelly rack up more than 2 million customers worldwide.
Changelly Verification Requirements (AML/KYC)
For the vast majority of trades, Changelly does not ask users to pass any KYC or AML checks. However, KYC may be required on rare occasions—such as when a transaction is flagged by its automatic risk scoring system.
In most cases, customers will only need to complete KYC if the transaction is flagged as suspicious or to prevent illegal activity. Fortunately, the KYC process is relatively straightforward and can usually be completed in just minutes.
Users required to complete KYC will need to upload a picture of their passport or other valid identification and provide proof of the origin of their funds. They may also be asked to provide other applicable documentation. Once this is completed, the transaction will be processed.
Conclusion
Overall, Changelly represents a simple exchange platform that is best suited towards cryptocurrency novices and those that lack the time to manually trade markets.
It has an extremely intuitive user interface and its relaxed KYC requirements and lack of exchange limits make it extremely accessible.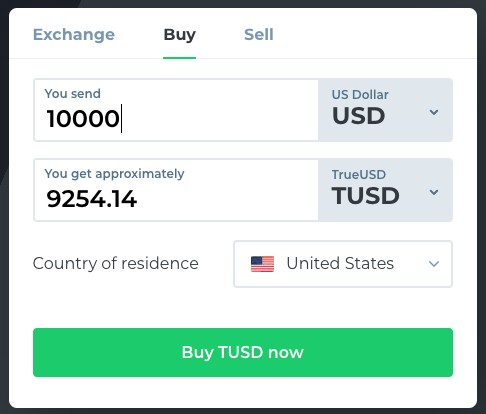 However, although Changelly bills itself as the cheapest instant exchange solution on the market, it also often uses less than favorable exchange rates for many cryptocurrencies—reducing the return for customers.
Despite this, when it comes to speed and efficiency, it's hard to beat Changelly's 30 minute maximum processing time.
Visit Exchange >>>
Social media