HitBTC Review

Withdrawal fee: 0.0015 BTC

Taker fee: 0.09%

Maker fee: 0.09%

Bank transfer

Credit Card

Cryptocurrency

Founded in 2013, HitBTC has become one of the popular cryptocurrency exchanges operating internationally. HitBTC is currently placed under the management of the Ullus Corporation, and is known for providing retail traders, institutional investors, and merchants with crypto and fiat exchange services.
The company is based in the Seychelles, and although not much information is available about its team, we expect that over a dozen people are involved with the operations of HitBTC.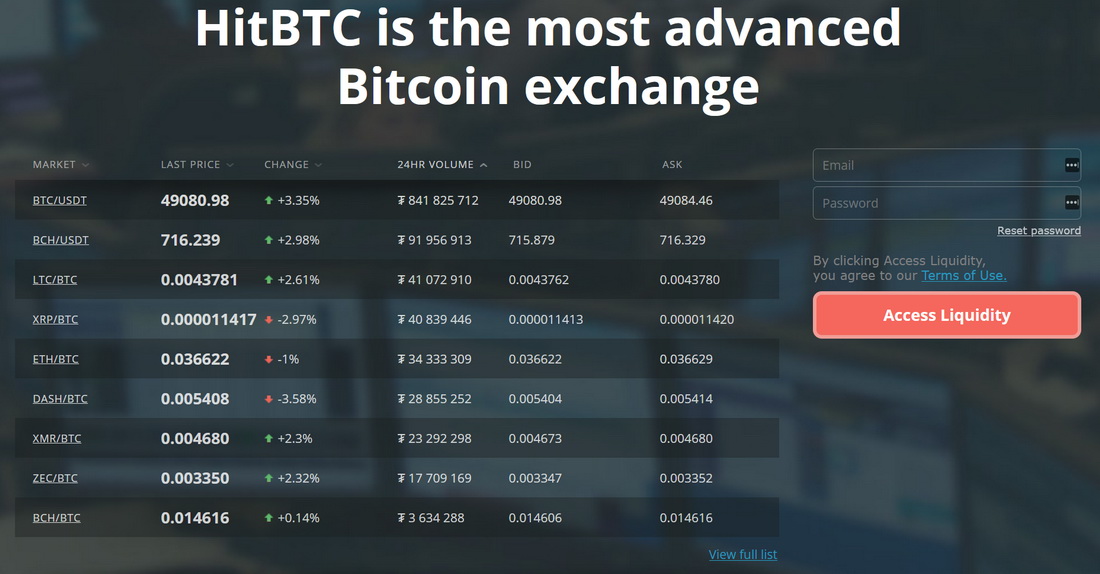 Some of the exchange's main selling points include smooth order execution, limitless liquidity, but also a simple, yet powerful trading terminal. Featuring over 800 trading pairs and more than 500 spot instruments, it's no surprise that thousands of users worldwide leverage HitBTC's trading services.
This review will focus on highlighting everything there is to know on HitBTC, including but not limited to its trading fees, trading view, API, security, and more.
HitBTC Trading and Withdrawal Fee Schedule
Trading fees
Like many other cryptocurrency exchanges, HitBTC has opted for trading fee tiers, meaning that fees are directly dependent on the trading volume of each user. However, there are three account types, these being starter, general, and upgraded. It's only the upgraded account type that provides variable trading fees, granted that starter and general account holders must pay a standard 0.1% maker fee and 0.25% taker fee.
Trading fees for upgraded accounts
| Tier | 30-Day Volume (BTC) | Maker Fee | Taker Fee |
| --- | --- | --- | --- |
| 1 | ≥ 0 | 0.09% | 0.09% |
| 2 | ≥ 10 | 0.07% | 0.08% |
| 3 | ≥ 100 | 0.06% | 0.07% |
| 4 | ≥ 500 | 0.05% | 0.07% |
| 5 | ≥ 1000 | 0.03% | 0.06% |
| 6 | ≥ 5000 | 0.02% | 0.06% |
| 7 | ≥ 10000 | 0.01% | 0.05% |
| 8 | ≥ 20000 | 0% | 0.04% |
| 9 | ≥ 50000 | -0.01% | 0.03% |
| 10 | ≥ 100000 | -0.01% | 0.02% |
In the case of upgraded accounts, users with a 30-days volume under 10 BTC are expected to pay a 0.09% maker and taker fee. Tier 5 users with a 30-days trading volume ranging between 1,000 BTC and 5,000 BTC can expect to pay a maker fee of 0.03% and a taker fee of 0.06%. Lastly, tier 10 users with a monthly volume exceeding 100,000 BTC must pay a 0.01% maker fee and a 0.02% taker fee.
Professional traders are encouraged to contact HitBTC in order to obtain more advantageous trading fees.
Margin trading entails the payment of interest rates, that vary from 0.03% per day, up to 0.081% per day.
Withdrawal fees
As expected, HitBTC does not charge unnecessary fees for cryptocurrency-based deposits. On the other hand, the exchange charges variable withdrawal fees, depending on the coin that's being withdrawn. At press time, for instance, bitcoin withdrawals entail a fee of 0.0015 BTC.
A quick analysis showcases that while HitBTC provides great trading fees, it unfortunately charges some of the highest fees for withdrawals amongst competing cryptocurrency exchanges.
| Cryptocurrency | Withdrawal Fee |
| --- | --- |
| Bitcoin | 0.0015 BTC |
| Bitcoin Cash | 0.08438 BCH |
| Ethereum | 0.0428 ETH |
| Ethereum Classic | 0.866 ETC |
| XRP | 6.38 XRP |
| Tether | 20 USDT |
| Litecoin | 0.053 LTC |
| Monero | 0.1006 XMR |
| EOS | 0.01 EOS |
| Tron | 372.5 TRX |
| Zcash | 0.13583 ZEC |
| Tezos | 4.953 XTZ |
| Chainlink | 2.192 LINK |
| NEO | 1 NEO |
Exploring the HitBTC Trading View
Demo trading
HitBTC exchange allows users to experience real-time professional trading without depositing a single cent. This is possible thanks to the exchange's demo account system, which provides free access to most of the platform's services. Designed as an educational and training platform, users can seamlessly try out new strategies or cryptocurrencies without exposing themselves to any risks whatsoever.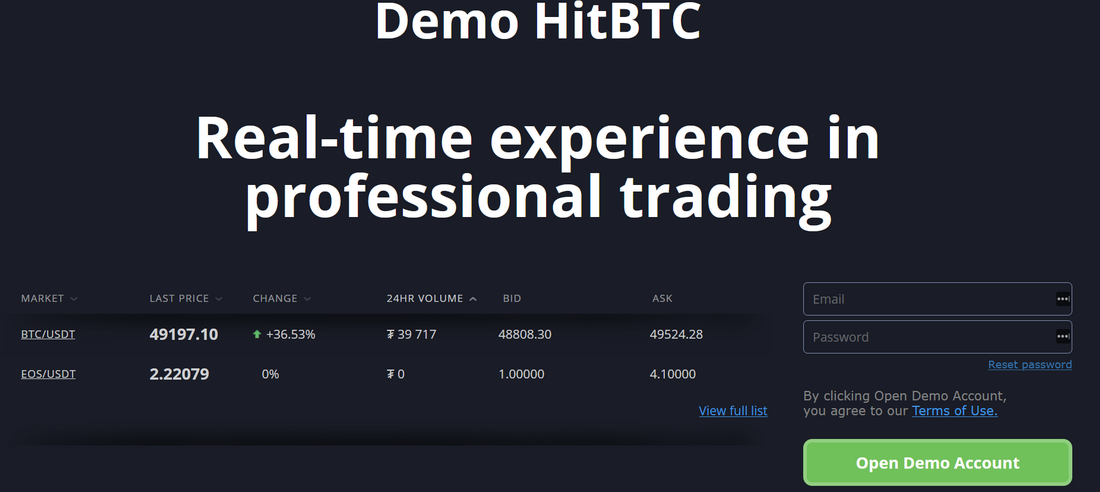 Standard
HitBTC's trading view is all-inclusive, and includes most of the relevant data sets that traders rely on to make smart and profitable transactions. The interface is simple enough, and contains most of the necessary tools required to explore price trends and make future predictions. The exchange supports market orders, limit orders, scaled orders, stop orders, and post only orders.
Margin trading
Users are able to enhance their exposure to the crypto market by placing margin-backed trades, which entail trading via borrowed funds. Through this strategy, traders can increase the value of their deposit through the means of collateral, thereby accessing a higher profitability potential. Margin trading is extremely risky however, as users must cover any loss caused by falling crypto prices. For the BTC/USDT margin trading pair, users can expect a 1M USDT borrowing limit for long positions.
OTC trading
Customers looking to purchase or sell high amounts of cryptocurrency, may prefer going through HitBTC's OTC trading interface. Through this service, users can unlock easy and fast access to deep pools of crypto liquidity, thus enabling transactions that are kept off the public order books. In other words, OTC purchases and sales do not have a considerable impact on crypto prices, allowing high-volume buyers and sellers to get the best deal possible.
According to the exchange, the OTC service is opened for users looking to trade above $100,000 worth of cryptocurrency. Through the OTC layer of insulation provided by HitBTC, price fluctuations will have little to no impact on prices. HitBTC currently charges a 0.1% commission on OTC trades. Those who are interested in the service, must apply via the exchange's partner website, TrustedVolumes.
HitBTC API
HitBTC has an awesome Rest & Streaming API interface, providing programmatic access to the exchange's trading engine.
The API has often been advertised as robot-friendly, meaning that algorithmic trading bots can easily take advantage of the low latency data, execution feeds, and powerful trading engine, to make quick transactions when predetermined conditions are met. A well-designed AI trading bot can easily rake up profits via the HitBTC API, providing multiple functions like margin trading, market data, sun-accounts, secure authentication, account management, and more. HitBTC also provides a development guide for its API, thus making it easier for programmers to develop supportable trading systems.
HitBTC also features the FIX API, which is an electronic protocol that's used to securely and instantly transfer financial information between market participants. As an internationally-recognized standard, the HitBTC FIX API is suitable for brokers, corporations, rating agencies, hedge funds, investors, and other user types.

Supported Countries and Cryptocurrencies
HitBTC was designed to function as a worldwide exchange, but national regulations make it inaccessible in specific countries and territories. Some of the most notable examples of regions where HitBTC is unavailable include the United States, Iran, Syria, Crimea, North korea, Sudan, and more.
However, the exchange is fully functional in most other European, Asian, South American, and African nations.
As mentioned earlier on, HitBTC supports hundreds of trading pairs and cryptocurrencies. Some of the most notable ones include BTC, BCH, LTC, ETH, ETC, EOS, DASH, XMR, ZEC, PAX USDT, and many others.
Deposit and Withdrawal Methods
While HitBTC was initially designed to serve as a fiat-enabled cryptocurrency exchange, it has removed many of its fiat integrations due to regulatory concerns. Nowadays, fiat deposits are only possible if users rely on the Changelly integration, which allows the purchase of crypto via debit cards and credit cards.
Other than this, users can deposit and withdraw to HitBTC using most of the supported cryptocurrencies. Deposits are processed after at least once confirmation is received, whereas withdrawals are theoretically processed instantly. Deposits and withdrawals may be delayed if the HitBTC security system is triggered. This is not meant to happen often, but some users have reported encountering issues with withdrawing on-demand. Eventually, all payments are processed as long as they're not fraudulent.
How to Use HitBTC Exchange
Account creation
To create an account on HitBTC, simply click the red 'sign up' button placed in the upper-right corner of the page. Then, enter an email, password, and any other data that is requested. HitBTC is not known for forcing know-your-customer verifications on its users, but it'll be necessary if you're planning to use fiat or exchange large amounts of digital currencies.
KYC Verification
To carry out the KYC procedure, users will have to submit some personal information. This includes: name, surname, date of birth, nationality, address, city, country, phone number, but also a picture of an identifying document, a selfie, and potentially proof of address. KYC is generally carried out rather quickly, and its main benefit is that users who have been verified will almost never encounter deposit or withdrawal issues.
HitBTC's Security Protocols
So far, HitBTC claims it has never been hacked, albeit some rumours have emerged back in 2015. However, it looks like no user has lost money due to improper security measures taken by HitBTC, which is excellent news!
Some of the platform's main security features include address whitelisting, two-factor authentication, cold storage, auto logouts, strong password requirements, and more. Of course, HitBTC also has other security protocols running behind the scenes, and destined to intervene in case suspicious activity is detected.
Bottom Line
Based on everything that has been highlighted so far, HitBTC is a solid and established exchange that can be used to access super low trading fees, as well as an unparalleled trading engine and API. The exchange is best suited for advanced users, but beginners can also get the hang of it in due time.
Some of HitBTC's disadvantages include its unregulated status, limited support for fiat payment methods, and high withdrawal fees.
Visit Exchange >>>
Social media