KuCoin Review

Withdrawal fee: 0.0005 BTC

Taker fee: 0.10%

Maker fee: 0.10%

Bank transfer

Credit Card

Cryptocurrency

KuCoin is a worldwide digital assets exchange, boasting a series of advanced trading tools, investment instruments, and powerful features. KuCoin's ecosystem was launched in September 2017 and it currently provides Spot trading, Margin trading, P2P fiat trading, Futures trading, Staking, and Lending services to over 10 million users in 207 countries and regions around the world.
In November 2018, KuCoin announced $20 million (USD) round A funding from IDG Capital and Matrix Partners. According to CoinMarketCap, KuCoin is a top 5 crypto exchange. In 2021, Forbes Advisor named KuCoin as one of the Best Crypto Exchanges.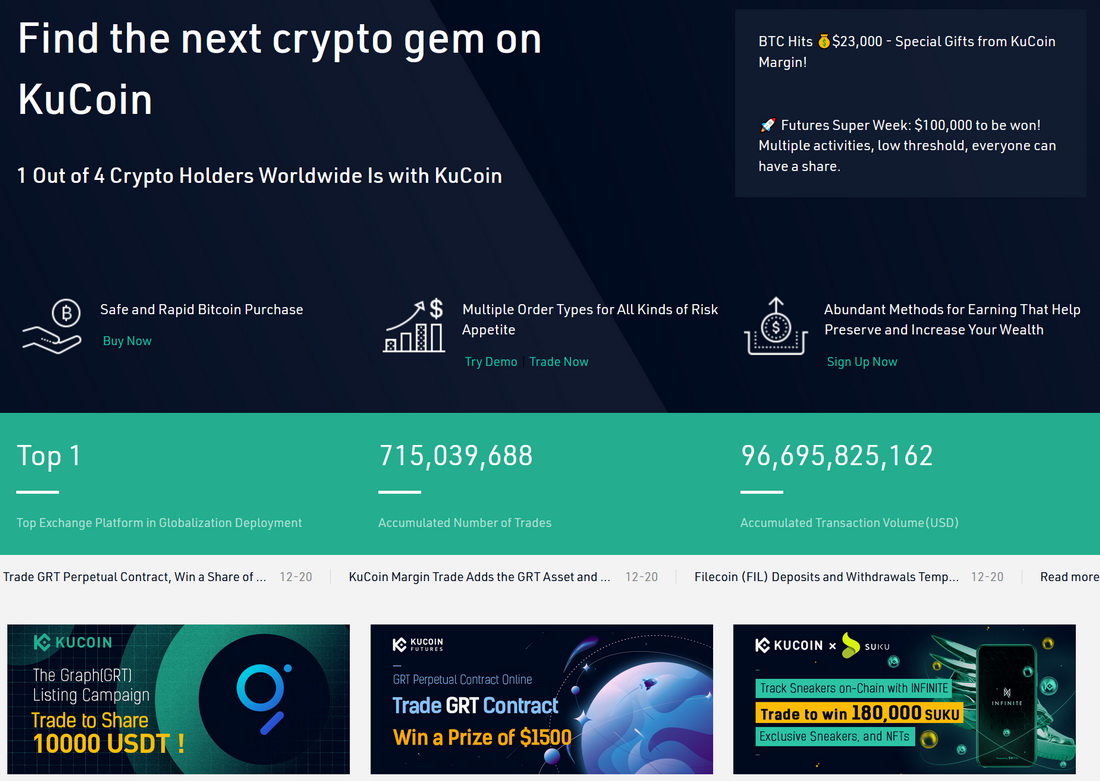 Since then, the exchange has attracted more than 10 million users from over 200 countries. KuCoin is based in the Seychelles. However, the exchange holds local offices and communities in multiple regions, like South Korea, Spain, Russia, Italy, and India. Reports indicate that KuCoin has over 700 employees throughout the world.
At this point in time, KuCoin advertises itself as the top 1 altcoin exchange platform. With over 600 tradable assets and more than 1000 trading pairs, it only makes sense that traders worldwide choose KuCoin as their crypto trading and investment infrastructure.
This article will provide readers with a thorough review of KuCoin's service catalogue, trading interface, fee schedule, supported payment methods, market depth, mobile app, security, and more.
KuCoin Trading and Withdrawal Fee Schedule
KuCoin has opted for a level-based fee schedule. With this in mind, spot and futures trades are assigned a level ranging from 1 to 12, depending on their 30-day trading volume or 30-day KuCoin Token(KCS) holdings. In addition, if you pay fees with KuCoin Token (KCS), which offers a 20% discount.
Spot Trading Fees
Level 0 customers (with a 0 KCS holding or a 30-day trading volume below 50 BTC) must pay a standard maker/taker fee of 0.1% on each trade. If paid via KuCoin's KCS token, the maker/taker fees are reduced to 0.08%.
Level 5 customers (with a 40,000 KCS holding or a 30-day trading volume between 2,000 BTC and 4,000BTC) must only pay a taker fee of 0.07%. No maker fee applies in this case. The taker fee is further reduced to 0.056% if paid via KCS.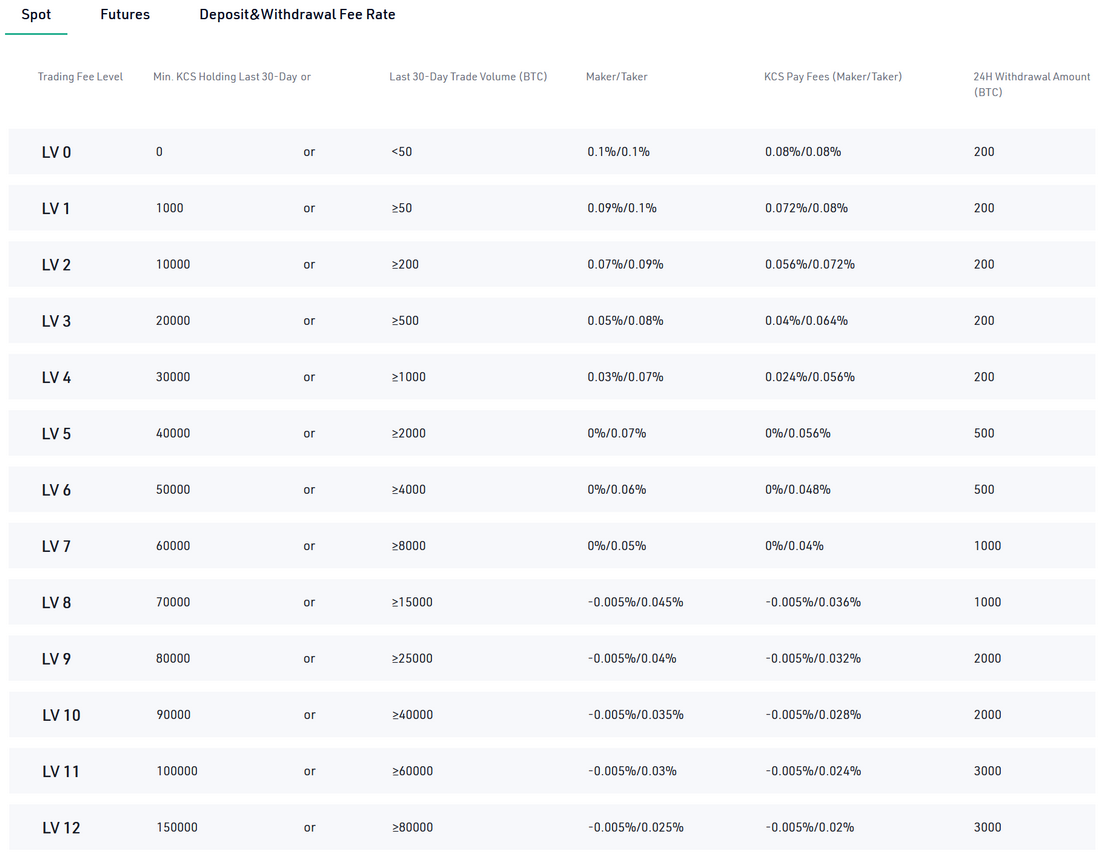 Lastly, level 12 customers (holding over 150,000 KCS or with a 30-day trading volume above 80,000 BTC) will have to pay a taker fee of 0.025%. In this case, the maker fee is negative and entails a -0.005% rate. KCS payments unlock KuCoin's lowest taker fee of 0.02%.
KuCoin has imposed 24H withdrawal limits, variable based on user levels. Customers with a level ranging between 0 and 4, have a 200 BTC 24H withdrawal limit, whereas level 12 users must abide by a 3,000 BTC 24H limit.
Futures Trading Fees
The futures trading fee schedule adopts the same design as the spot fee schedule. With this being said, level 0 customers (with a 30-day volume below 100 BTC) must pay a 0.02%/0.06% maker/taker fee. Advantageous fee schedules are present for higher levels. A level 12 futures trader will face -0.015%/0.03% maker/taker fees.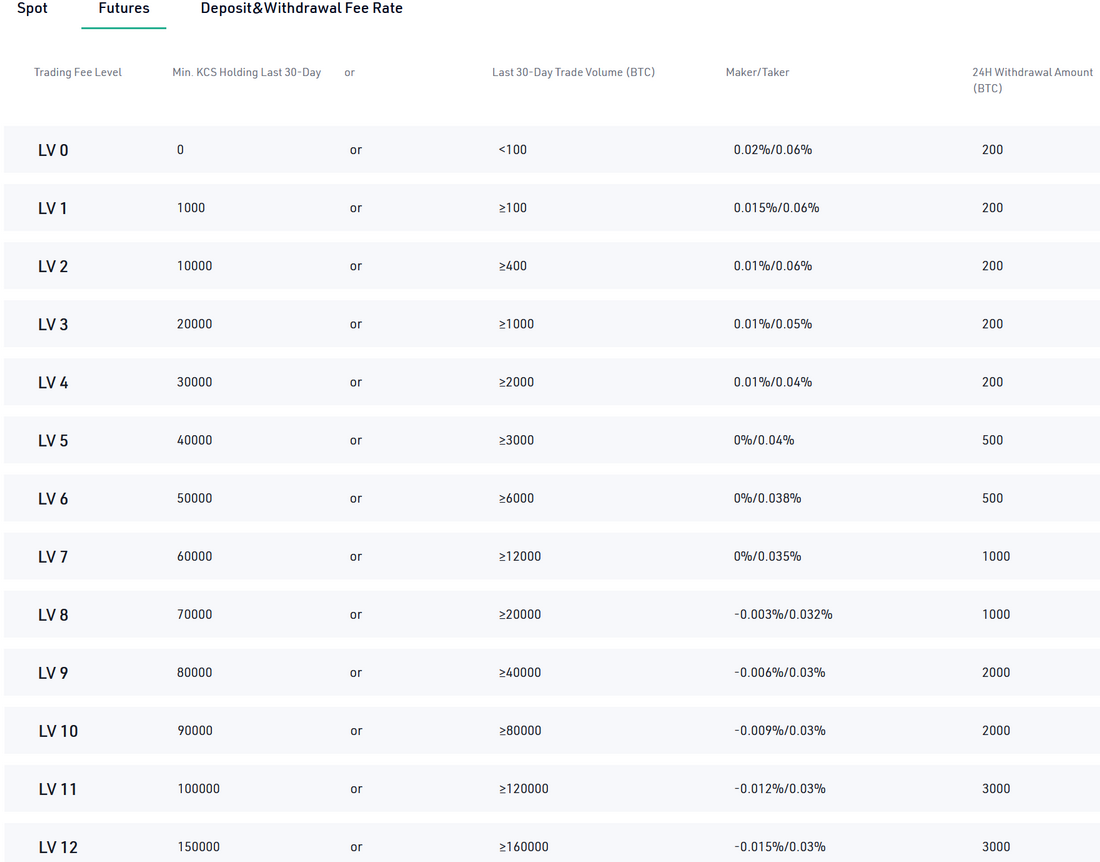 Deposit and Withdrawal Fees
All KuCoin-based deposits are processed free of charge. Users are only subject to pay the blockchain transaction fee. In the case of withdrawal fees, the actual amount depends on the cryptocurrency that's being transacted. For instance, BTC withdrawals entail a 0.0005 BTC fee, whereas ETH withdrawals cost 0.006 ETH.
| Cryptocurrency | Minimum Withdrawal | Withdrawal Fee |
| --- | --- | --- |
| Bitcoin (BTC) | 0.0008 | 0.0005 |
| Ethereum (ETH) | 0.01 | 0.006 |
| Monero (XMR) | 0.002 | 0.001 |
| Litecoin (LTC) | 0.002 | 0.001 |
| Tron (TRX) | 2 | 1 |
| NEO | 1 | 0 |
| EOS | 1 | 0.1 |
| XRP | 20.1 | 0.1 |
| DASH | 0.004 | 0.002 |
Exploring the Trading View
Spot Trading
The spot trading interface is aesthetically pleasing, featuring just about every tool required in the modern trader's arsenal. With support for tons of trading pairs, including USD, BTC, KCS, NFTs, DeFi, Alts, and Polkadot, profits can be easily attained on KuCoin. Readers must bear in mind that this interface is slightly complex, so beginners may need to go through a learning curve before being able to trade efficiently.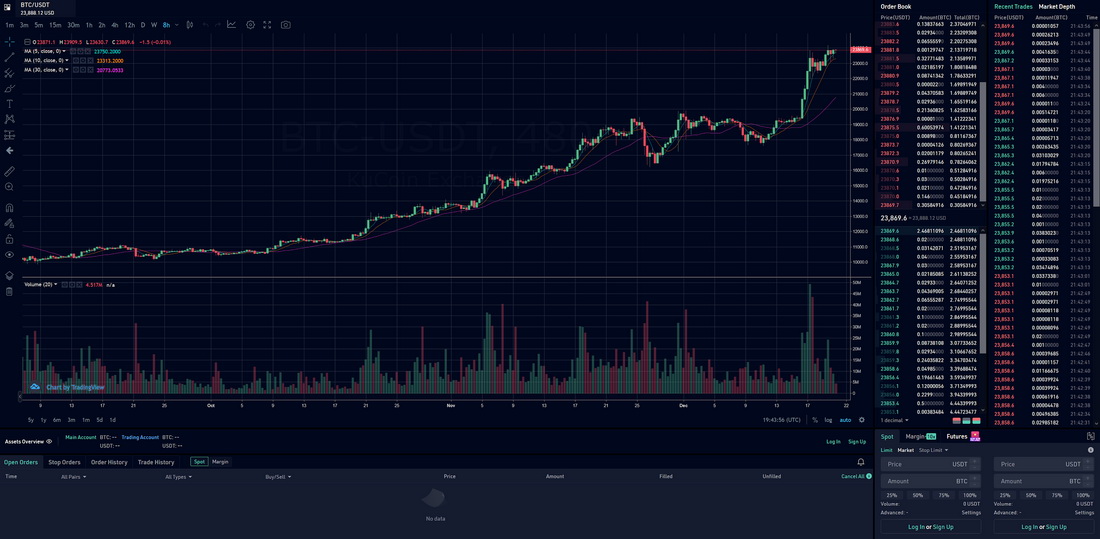 Margin Trading
With margin trading, an initial investment can earn ten times the return. While opening the way for considerable profit, margin trading is not free of risk. Traders can lose their funds by opening a wrong position. KuCoin advertises up to 10x returns on successful margin trades.
Futures Trading
On KuCoin, futures trading comes along with two separate interfaces – lite and pro. As the name suggests, the lite interface provides fewer features, as its core purpose is to efficiently serve beginners. On the other hand, the pro interface includes professional tools for experienced futures traders. KuCoin promises up to 100x returns on futures trades.
API
By integrating KuCoin's API into other platforms and trading strategies, users unlock trading fee discounts, interest-free loans, access to SandBox trading competitions, referral bonuses, and quantitative trading strategies. API customers are treated as VIP users, so they gain access to a series of other benefits, including offline meetups, on-going promotions, and more.
Supported Countries and Cryptocurrencies
As a globalized exchange, KuCoin strives to provide its services to users worldwide, regardless of their country of residence. Unfortunately, this isn't always possible due to regulatory policies. As such, the exchange cannot serve customers who reside in countries where KuCoin is unable to carry out KYC procedures, such as the United States. Users can still create an account without KYC verification, but they'll have a lower daily withdrawal limit. At this point in time, KuCoin is fortunately operational in most of the world's countries, with a few exceptions.
KuCoin's Deposit and Withdrawal Methods
While it started out as a crypto-to-crypto exchange, KuCoin has added support for fiat-based payment methods. With this in mind, deposits can be made via any of the supported cryptocurrencies, but also via fiat-based means of payment.
Through the simple crypto purchase interface, users can buy any supported digital currency using third party card integrations, like Simplex, Banxa, PayMIR and BTCDirect. These third parties support their own additional payment methods, like credit cards, debit cards, and SEPA transfers.
P2P traders can utilize PayPal, Interac e-Transfer, and wire transfers to purchase crypto as they'd like, thereby accessing convenient means of payment that entail quick processing and relatively-low fees. Indeed, each payment method comes along with its own limits, so users will need to do their due diligence to verify the minimum and maximum limits applicable to all transactions.
In addition, KuCoin allows users to deposit fiat currencies like USD, AUD, CAD, GBP, and EUR to their KuCoin accounts using a credit card or debit card, then follow an easy step to purchase crypto assets such as BTC, ETH, USDT, and other cryptocurrencies. For Europe users, KuCoin integrated the SEPA payment to allow its user to buy crypto with EUR directly, which is the easiest way to buy crypto with EUR.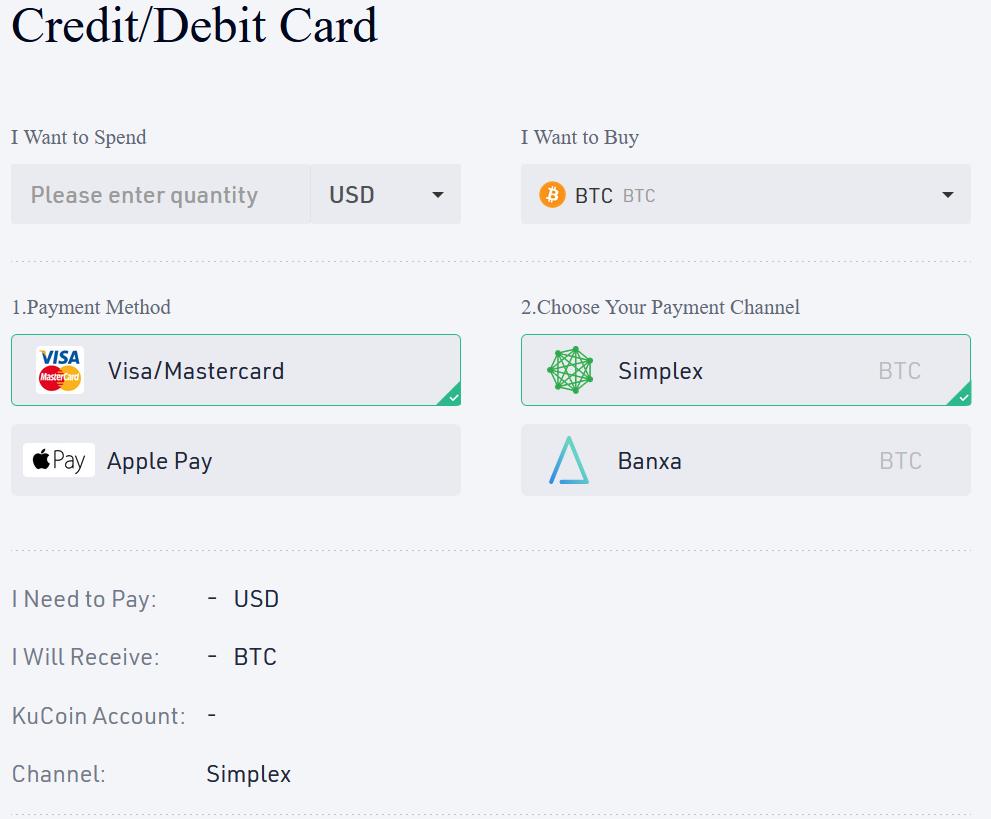 Crypto-based withdrawals are not only easy to use, but also quick and efficient. The system was designed to automatically identify the applicable chain, based on the cryptocurrency being used. Withdrawals are generally processed within 30 minutes, whereas larger transfers will require a manual request approval for increased user security.
Overview KuCoin Token (KCS)
As explained earlier on, KCS tokens were given to KuCoin's ICO participants in exchange for their crypto investments. These tokens hold numerous benefits and represent an integral part of KuCoin's ecosystem.
To reward ICO investors and KCS holders, KuCoin shares 50% of its trading fee revenue with KCS holders. Thus, dividends are paid out depending on the proportion of KCS that's held by each participant. Furthermore, KCS holders can also obtain trading fee discounts. Users no longer need to have a huge BTC trading volume to unlock reduced maker and taker fees. But this is not all, as KCS tokens serve a series of other purposes. For instance, KuCoin customers can leverage the Pool-X service to obtain high yields on their KCS holdings. The current KCS staking beta promises a reference annual yield of 1.44%, backed by a redemption period of 14 days. KuCoin has also announced that it's working on a KCS ecosystem that's bound to further diversify the benefits that KCS holders can access. More details will likely be released in the near future.
Customers who are looking to get their hands on some KCS tokens to reap the associated benefits can easily leverage the 'Convert to KCS' feature, within their trading dashboard to seamlessly buy KCS via their crypto balance. KCS can also be obtained by referring other users through affiliate links.
KuCoin's Mobile App
In an effort to serve its customers on-the-go, KuCoin has launched its very own iOS and Android application. The mobile app includes most of the features present on the web-based exchange, with a few exceptions. With a minimalist interface, simple crypto trading, real-time market trend view, asset interface, and a series of other settings and tools, the KuCoin mobile app is currently used by hundreds of thousands of customers. Its user interface is highly responsive and easy to use, so there's little to no learning curve associated with this app. Anyone who understands the web interface will have no issues when using the app.
An Overview of KuCoin's Other Services and Options
P2P Fiat Trade
Many would argue that peer-to-peer trading is the future of cryptocurrency exchanges. In response to this growing trend, KuCoin has launched its very own P2P platform. By using it, customers can efficiently exchange a series of popular cryptocurrencies using notable means of payment. The main P2P pairs include USDT, BTC, KCS, ETH, USDC, CADH, and PAX, all of which can be purchased or sold via payment methods like PayPal, Interac e-transfers, and Wire Transfer.
Fast Buy
With the help of this function, customers can seamlessly purchase crypto with a single click. The supported list of assets includes BTC, ETH, USDT, and PAX, all of which are purchasable at a low fee. Numerous payment methods such as debit/credit cards and banlance are supported for the Fast Trade feature.

Spotlight
The Spotlight features a wide variety of cool and innovative tokens, each with its very own use case scenarios. Some of the most popular examples include Velo, Bitbns, LUKSO, Tokoin, Coti, Chromia, Trias, and others. With the Spotlight Center, traders can learn more about these coins, and register for the token sales. Generally, all featured tokens include relevant details concerning token allocation, the token sale plan, and more.
KuCoin Earn
The KuCoin Earn feature is divided into a number of sub-categories, including Staking, Saving, and Promotions. The purpose of KuCoin Earn is to provide the platform's users with a lucrative means of earning an income using their cryptocurrencies.
Staking comes along with some of the market's best annual percentage yields for staking several cryptos. The list of coins that can be staked includes AMPL, EOS, KAY, LINK, KCS, TRX, and a few others. The Saving feature allows users to redeem and save your assets whenever you want And the Promotion feature offers high annualized yields with flexible staking products and the fixed staking products.

With KuCoin Lending, platform users can easily lend out their crypto in exchange for hefty annualized rates. As expected, the same feature can also be utilized to borrow secured crypto from other users. Lenders and borrowers gain access to a simple interface that also offers a beginner's guide, just to make sure that all policies are crystal clear.

How to Use KuCoin Exchange
Account Creation
Customers can create an account on KuCoin within a few minutes. To do this, simply access KuCoin's homepage, and click on the sign up button that is present on the upper right hand side of the screen. Sign-ups can be made either via your phone or email address. Initially, the exchange does not require users to submit too much personal information, but a KYC verification procedure has been implemented due to regulatory requirements. It's always best to efficiently handle all security-related aspects of account operation when registering. As such, users should consider setting up two-step authentication. A look into the security questions and anti-phishing protocol is also recommended.
KYC Verification
While KuCoin can be utilized without completing a KYC procedure, this entails living with a 1 BTC withdrawal limit. For most users engaging in crypto-to-crypto trades, this is sufficient. However, if you wish to trade and withdraw more, but also if you're interested in integrating fiat-based payment methods, KYC verification is mandatory. By submitting identifying documents and a proof-of-address, trading and withdrawal limits can be drastically increased. As expected, institutional accounts have higher limits when compared to individual accounts.
Exploring KuCoin's Security
Most of the world's cryptocurrencies pool considerable resources into building effective security measures, designed to keep user assets safe. Unfortunately, KuCoin's hot wallets were penetrated in 2020, leading to the disappearance of $150 million in crypto assets. Luckily, these coins were fully insured, so users did not end up losing their own funds. In fact, reports suggest that a large percentage of these funds have been recovered through the means of judicial procedures, on-chain tracking, and exchange contract upgrades. KuCoin's cold wallet storage remained unaffected. Following the incident, KuCoin introduced additional security measures, meant to protect its hot wallets from further disturbances. Since KuCoin is a custodial platform, the exchange controls all private keys associated with customer funds, so hacks are a significant security risk.
As expected, KuCoin utilizes a number of security protocols for protecting user accounts. These include safe words, security questions, and two-factor authentication.
KuCoin has also launched a bug bounty program, where whitehat hackers, cybersecurity experts, and users can report potential vulnerabilities, in exchange for KCS rewards.
Bottom Line
Based on everything that has been highlighted above, KuCoin represents an excellent choice for cryptocurrency enthusiasts looking for a one-stop-shop for numerous digital asset-related operations. Thanks to KuCoin's support for 600+ cryptocurrencies, 1,000+ trading pairs , futures trading, margin trading, P2P trading, low fees, IEO investment capabilities, profit-sharing philosophy, and much more, Kucoin provides just about everything you would expect from a fully-fledged crypto trading ecosystem.
Visit Exchange >>>
Social media