Binance Review

Withdrawal fee: 0.0004 BTC

Taker fee: 0.10%

Maker fee: 0.10%

Bank transfer

Credit Card

Cryptocurrency
As of April 2018, Binance represents the world's largest cryptocurrency exchange by trading volume. The company was founded by Changpeng Zhao [LinkedIn] in 2017, using $15 million raised via an initial coin offering. Initially, Binance operated in China, but it later moved to Malta due to regulatory concerns.
Binance [Wikipedia] has a $2 billion daily trading volume and actively processes around 1.4 million transactions per second. Over the years, Binance has focused on extending its service catalog, thereby launching multiple related services, including a debit card, charity, trust wallet, knowledge base, research lab, and startup accelerator.
This article will provide readers with an in-depth overview of Binance's main features, tools, and protocols. Thus, we will analyze components such as margin/futures/options trading, staking, lending, trading fees, supported coins, security protocols, and more. Furthermore, we will also discuss account creation, alongside a series of advantages and disadvantages regarding Binance.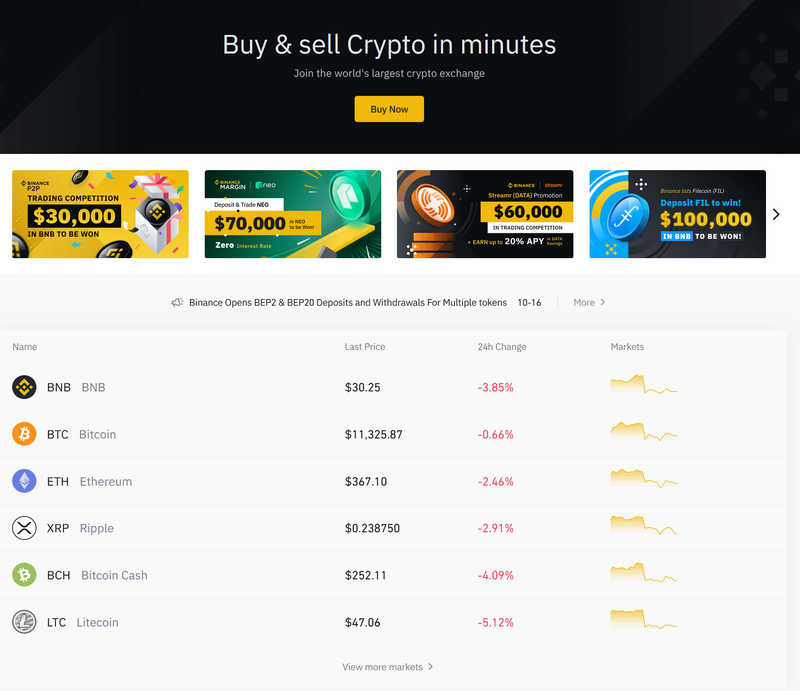 Trading and Withdrawal Fees Schedule
Binance employs a complex fee schedule, meaning that fees are variable based on multiple factors. As such, the standard fee can be reduced based on your 30-day trading volume, BNB token balance, and referral efforts. The fee schedule is level-based; therefore, the higher your VIP level, the lower fee you'll be paying.
To put this into perspective, a first-time user who does not leverage any fee reduction opportunities can expect to pay a maker and a taker fee of 0.1% per transaction. On the other side of the spectrum, a high-volume trader with a 30-day threshold above 150K BTC and a BNB balance over 11K, who joined the platform as a referral, will only pay a fee of 0.012% per transaction.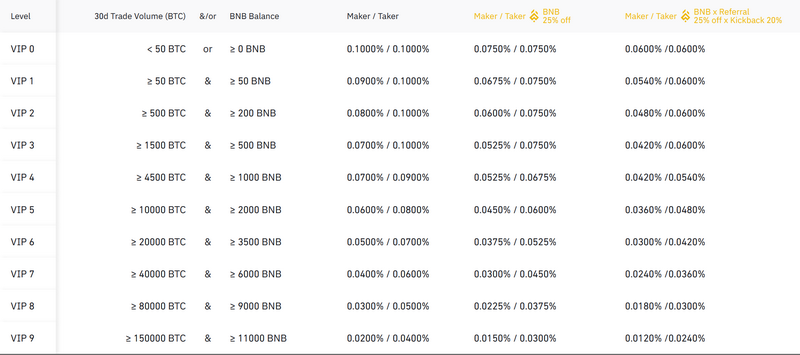 While trading volume requirements are straightforward, readers might want to learn more about the BNB deduction and referral kickback.
With this in mind, BNB represents Binance's native token. It's generally used to pay transaction fees but has a series of other purposes, as highlighted in the article's subsequent section. To encourage the BNB economy, Binance has opted to give a 25% discount to users who pay their fees via BNB. If you'd instead hold BNB, rest assured as fee levels are also determined based on BNB balances.
Affiliate marketers can choose to provide potential referrals with a cool incentive. The marketer can lower their standard commission rate and give users a 5% or 10% fee discount.
In terms of withdrawal fees, the costs vary depending on which coin is being transferred. Here are the fees associated with some of the most supported currencies: 0.0004 for BTC, 0.001 for BCH, 0.005 for ETH, 0.001 for LTC. Do keep in mind that the fees may be lower if you choose to process the withdrawal via BEP2, BEP20 (BSC), or NEAR blockchains.
| Cryptocurrency | Network | Minimum Withdrawal | Withdrawal Fee |
| --- | --- | --- | --- |
| Bitcoin (BTC) | BTC | 0.001 | 0.0004 |
| | BEP2 | 0.0000052 | 0.0000026 |
| | BEP20 (BSC) | 0.0001 | 0.000005 |
| Ethereum (ETH) | ERC20 | 0.01 | 0.005 |
| | BEP2 | 0.00016 | 0.000081 |
| | BEP20 (BSC) | 0.001 | 0.0002 |
| DASH | Dash | 0.004 | 0.002 |
| XMR | Monero | 0.0002 | 0.0001 |
| IOTA | MIOTA | 1 | 0.5 |
While there are no maximum withdrawal limits, high-value transfers may entail an additional wait time. There are, however, minimum withdrawal limits for several cryptocurrencies. There's a minimum limit of 0.001 per transfer in BTC's case if you use the standard blockchain network. Lower limits apply for BEP2 and BEP20.
Deposits are free, regardless of the coin.
Exploring the Trading View and Main Features
This section will provide readers with a brief presentation of Binance's main features, with a focus on the trading view.
With this in mind, the platform has opted to design three different trading views: basic, classic, and advanced. Thus, each type caters to a specific type of user. The classic interface is extremely minimalist and easy-to-use, whereas the advanced UX includes highly-relevant data on market movement alongside a series of powerful tools. Furthermore, chart data can be mapped, analyzed, and drawn on to facilitate a smarter and more intuitive technical analysis of current pricing. Thanks to this implementation, Binance is usable by both novice and experienced traders.
Simple vs Advanced trading view
Now, it's time to present the main features that are encompassed by the Binance ecosystem:
Margin Trading
Margin trading is well-known for its considerable profitability potential, given that transactions are made via other user's funds. Thus, higher capital investments allow for efficient position leveraging. Binance's margin trading service facilitates quick trades and leverage management through a simple interface. Smart traders can unlock significant profitability, especially during times of price market volatility.
Futures Trading
Futures trading is great for risk management and profit generation. Future contracts work by obliging the parties to transact specific assets at a preset date and price. The Binance futures service offers incredible leverage of 125x margin, thereby creating a highly-competitive market. Traders can take advantage of the platform's robust risk management system, liquidation model, and insurance funds. Platform usage is straightforward – users must deposit/buy/transfer crypto, select a contract, place an order, and proceed to manage their positions in real-time.
Options Trading
The American-style option trading service was designed to serve as a simplified version of traditional options. At this time, Binance Options tracks the BTCUSDT perpetual contract. Contract expiry dates vary from 10 minutes up to 1 day.
Launchpad
The Launchpad service is responsible for holding a series of fundraising events every month. Account-holders can choose to invest in multiple high-potential initial exchange offerings (IEOs). Moreover, Binance also provides these projects with knowledge and networking opportunities. While the Launchpad does not serve as a traditional accelerator, it does a great job helping startups achieve their financing goals. High-quality projects are hand-picked, thus creating an extra degree of safety for investors.
Binance Savings
Binance also provides users with a lucrative method of earning interest on assets that are not currently used. As such, the Binance Savings product has four primary services: flexible savings, locked savings, activities, and locked stacking. The general idea behind these products is that users deposit funds locked away for a flexible or determined timeframe. Flexible staking allows customers to deposit and redeem at any time but entail a lower annual percentage yield (APY). Locked savings are, therefore more profitable, while also providing users with flexible deposits. Activities have a limited supply and higher demand for assets, with variable annualized interest rates. Lastly, the locked stacking product works by paying an APY for staking coins for a preset time frame.
DeFi Staking
DeFi products are built to provide users with smart contract-based financial services. Investments in DeFi products can yield considerable profits, but often, entry barriers are high. With this product, Binance participates in staking on behalf of its users. Profits are then distributed based on the initial deposits. The DeFi staking service is easy to use, ensures fund safety, and has a higher earning potential.
Debit Card
Binance empowers cryptocurrency usage through its debit card. Binance aims to increase cryptocurrency mass adoption by increasing its usage as a payment method. The platform's debit card can be easily topped up using bitcoin or the BNB token. Transfers are nearly instant and once complete, the coins are exchanged to fiat. Hence, the card can be used to make payments to millions of merchants worldwide. A virtual card is currently available while the company is preparing the launch of a physical card. The key difference here is that the virtual card can only be used to make online payments.
An Examination of the Binance Chain and Binance Coin (BNB)
To further enhance its status as an all-inclusive cryptocurrency platform, Binance has created its very own blockchain.
The Binance Chain is based on a dual-chain architecture, therefore empowering new decentralized applications and their afferent tokens. The dual-chain design also facilitates fast trading performance via the integrated decentralized exchange (DEX). The team has linked the Panama bridge service to make inter-blockchain liquidity possible. This is bound to benefit all ecosystems that base their operations on the Binance Chain.
Furthermore, the Binance Smart Chain is also compatible with the Ethereum Virtual Machine (EVM) – in other words, this allows cross-chain communication in a native state, meaning that tokens can migrate from one chain to another.
There are, of course, multiple use case scenarios. Users can send/receive BNB, issue new tokens, digitalize assets, burn/mint tokens, create trading pairs, send buy/sell orders, explore transaction history, run full nodes, extract data, serve as validators, or develop integrative tools and applications.

BNB represents Binance's native token. It is an integral part of the platform's ecosystem due to its multiple use case scenarios. First off, it serves as fuel for transactions that occur on the proprietary Binance chain. It's also used to pay transaction fees on the standard exchange and make a series of in-store payments. Of course, since it has an inherent value, the coin is also tradeable for profit-making purposes.
An Overview of Binance's Other Platforms and Services
Binance US
For compliance purposes, the standard Binance exchange is not accessible to US-based users. Customers that reside within the United States jurisdiction will have to use the Binance US platform, which offers similar services.
Binance Jersey
This platform was created to serve people who find themselves under the Jersey Financial Services Commission's jurisdiction, with which the platform is fully compliant.
Binance DEX
The Binance decentralized exchange is based on the company's native chain. Its goal is to provide users with lightning-quick performance while allowing developers to create next-gen dApps and tokens.
Binance JEX
The JEX platform leverages server clusters, high-speed memory trading, distributed storage, and a series of other components to facilitate cryptocurrency futures and options trading.
Binance P2P trading
Unbeknownst to many, Binance also features a P2P trading platform. In P2P trades, customers purchase and sell coins to one another, whereas the governing platform only serves as an intermediary. Users can choose from a series of payment methods, including SEPA bank transfers in Europe, Revolut, Skrill, Payoneer, and more. The advantage of P2P platforms is that users can negotiate and set their rates.
Binance OTC Trading Portal
OTC portals facilitate large coin movements, which are kept off the public order books. In return, this grants partaking users an increased degree of privacy. Additionally, price markets remain mostly unaffected by these trades and transactions, which are rapidly settled.
Binance's OTC portal also supports unlisted cryptocurrency pairs.
Binance Fiat Gateway
Most cryptocurrency exchanges only accept a handful of fiat currencies for deposits. Due to logistic concerns, accommodating a higher number of currencies is often very difficult. However, Binance has implemented a fiat gateway, meaning that it collaborates with a trusted third-party custodian to increase its support for deposits made in traditional currencies. With this in mind, users can deposit AED, AUD, CAD, CHF, CZK, EUR, GBP, HKD, DKK, HUF, MXN, NOK, NZD, PLN, and SEK, directly on Binance.
Binance USD (BUSD) and Binance GBP Stablecoin
Price volatility can wipe millions of dollars' worth of value from the crypto market within a few seconds. Admittedly,  it can also boost prices to record highs, making people rich overnight. This risk is a part of what makes crypto so unique, but how does one go about mitigating price uncertainties while remaining involved with cryptocurrencies? Here's where stablecoins come in. These digital assets are pegged to a specific fiat currency, like the USD or GBP.
On Binance, users can quickly deposit, convert, trade, and earn interest from BUSD and GBP stablecoins.
Binance Academy
The Binance Academy is meant to act as a fully-fledged knowledge base. Customers can rely on the academy to learn valuable information on multiple topics, like cryptocurrency trading, blockchain development, asset management, DeFi, technical analysis, and others.
Binance Charity
Binance is very passionate about giving back and making the world a better place. The charity was created to enable crypto-based donations to humanitarian causes worldwide. So far, it has raised approximately 1,072BTC from 1,740+ donors, which have helped 106K+ end beneficiaries.
Binance Info
This service is meant to provide essential data on coin prices, trading volumes, and market caps. Moreover, the company also uses this service as an outlet for market reports.
Binance Labs
This is the venture department for Binance. It incubates and invests in promising projects while empowering crypto and blockchain entrepreneurs worldwide.
Binance Research
Binance's research platform focuses on providing readers with in-depth market insights and a thorough analysis of market trends and opportunities. It strives to be a source of unbiased information for crypto enthusiasts.
Trust Wallet
Binance facilitates digital asset storage via its Trust wallet. The platform supports multiple cryptocurrency tokens and a series of other wallets. It provides users with complete control over their funds.
Binance Cloud
The Binance Cloud is an appropriate solution for market players looking to launch their very own cryptocurrency exchanges. By leveraging this service, exchange developers can access Binance's security, liquidity, and technology.
Supported Countries
Due to a series of unsupportive regulations, Binance is unable to conduct its business worldwide. For instance, the company had to create a separate platform for US residents. Binance's exchange service is unavailable in several countries, including Albania, Belarus, DRC, DPRK, Croatia, Iran, Iraq, Lebanon, Libya, Libera, Josobo, Moldova, Macedonia, Serbia, Sudan, Venezuela, etc.
Supported Digital Currencies
At this point, Binance supports hundreds of different spot markets while actively adding new listings weekly. With this in mind, any coin that you're interested in will likely be supported on the exchange.
Trading on Binance
Binance caters to both novice and experienced users. Beginners will get to access a simple exchange that's designed to make cryptocurrency purchases and sales as easy as possible. On the other hand, experienced customers can access an all-inclusive trading platform featuring dozens of valuable tools and hundreds of trading markets.
How to buy on Binance?
To purchase crypto on Binance, you'll first need an account. After completing the registration process, simply click on the 'buy crypto' tab on the screen's upper left side. Choose the fiat currency that will be deposited, select the coin you're interested in, and enter the afferent amount. Binance will now present the supported payment options. Pick one, make the deposit, and wait for the buy order to be processed. Your coin will be credited a few moments later.
How to set a stop loss on Binance?
A stop-loss order is an essential tool in the strategic arsenal of traders worldwide. To do this on Binance, head over to the advanced exchange, and choose your market. Now, navigate to the 'stop-limit' tab present on the order interface. Enter your desired amount and place the order. Now, navigate to the limit tab and set a price.
If the stop price is reached, the exchange will now place an order at the price point set up in the limit tab.
Deposit and Withdrawal Methods
Cryptocurrency deposits and withdrawals are easily processed via the wallet interface. Simply send funds towards or from your desired coin address.
Regarding fiat deposits, Binance supports multiple payment options, including SEPA bank transfers, Visa, MasterCard, iDEAL, Advcash, and Etena. More deposit and withdrawal methods can be unlocked by accessing the P2P exchange.
Mobile and Desktop Apps
While Binance is fully accessible via standard web browsers, it has also developed a series of apps meant to provide users with an in-depth trading experience. The mobile app can be downloaded on iOS and Android devices. A desktop-based program is also available for Windows, macOS, and Linux.
Binance allows and encourages the integration of trading applications within the platform. This is easily doable via the API. Comprehensive API documentation for Binance is available on GitHub.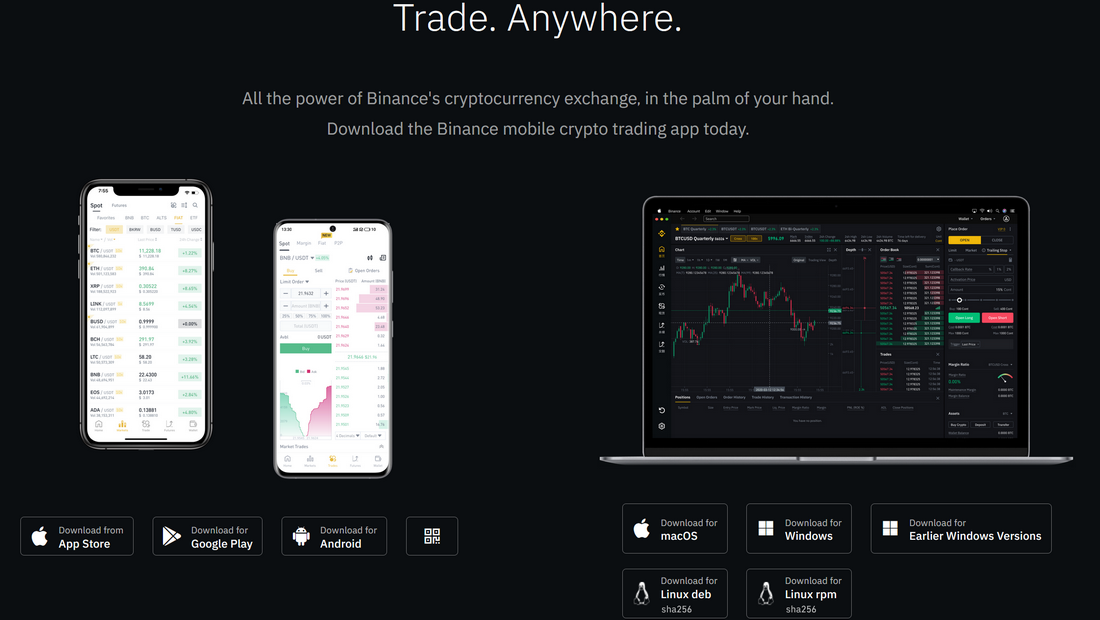 Account Creation and Know Your Customer Checks
Creating your account is easy and only takes a few seconds. Depending on what you're planning to do on Binance, you may also need to complete a KYC verification. These checks are legally required by multiple jurisdictions to help prevent fraud, terrorism financing, money laundering, and other illegal transactions. Usually, KYC checks entail different verification levels. Expect to submit a government-issued identification document alongside proof of address. Some KYC checks may require a face photo or video verification.
Security Protocols
Binance relies on multiple security protocols meant to ensure user security and fund safety. However, cybersecurity threats still exist – in fact, $40 million was stolen from the exchange in a breach in 2019.
As such, users need to take precautionary steps to enhance their security further. It's recommended that customers keep their crypto holdings on a non-custodial platform or hardware wallet. Similarly, users should set up strong passwords and always use two-factor authentication via email and SMS.
Bottom Line
Based on everything that has been highlighted so far, Binance has managed to create an all-encompassing cryptocurrency ecosystem that's difficult to challenge. Its exchange service may just be the best in the business, especially given its diverse trading tools and numerous markets. Indeed, the ecosystem is overwhelming at first, but thankfully easy to become accustomed with. While Binance has dealt with a series of cybersecurity incidents and legal issues, the company is serious about its long-term goal of creating a solid, customer-oriented, and all-inclusive cryptocurrency platform.
Visit Exchange >>>
Social media