Huobi Global Review

Withdrawal fee: 0.0001 BTC

Taker fee: 0.20%

Maker fee: 0.20%

Bank transfer

Credit Card

Cryptocurrency
Huobi Global one of the largest and most recognized online digital asset exchanges internationally, best known for its vast array of features and high liquidity. Founded in 2013 and headquartered in the Seychelles, it now has over 1,300 employees and has created subsidiary and partnership companies in 12 different countries such as the United States, Japan, Thailand, Gibraltar and more; they also provide services to over 170 countries [Wikipedia].
The Huobi team is a well-oiled machine, managed primarily by Leon Li [LinkedIn] (Chairman, Founder & CEO), Robin Zhu (COO), Simon Wu (CSO), and Roy Zhu (CTO). Huobi Token (HT) is its native token which provides rewards such as invitations/rebates, fee discounts, rewards of sub-tokens, and more. The exchange continues to expand its global footprint and cement itself as a leader amongst its competitors.
Huobi Global Fees
Trading Fees
For spot trading, Huobi has two different tiered ranking systems – one for ordinary users, and the other for professional users. Your ranking is determined by the amount of Huobi Tokens you hold in addition to your total 30-day trading volume in BTC – the more Huobi Tokens you own, the higher the discount will be. Overall, the fees are quite standard compared to other exchanges. The tiers for both user types are noted below:
| Level | HT Holding | Maker fees | Taker fees |
| --- | --- | --- | --- |
| 1 | ≥ 0 | 0.2% | 0.2% |
| 2 | ≥ 10 | 0.18% | 0.18% |
| 3 | ≥ 100 | 0.16% | 0.16% |
| 4 | ≥ 500 | 0.12% | 0.12% |
| 5 | ≥ 1000 | 0.09% | 0.09% |
| 6 | ≥ 2000 | 0.08% | 0.08% |
| 7 | ≥ 5000 | 0.07% | 0.07% |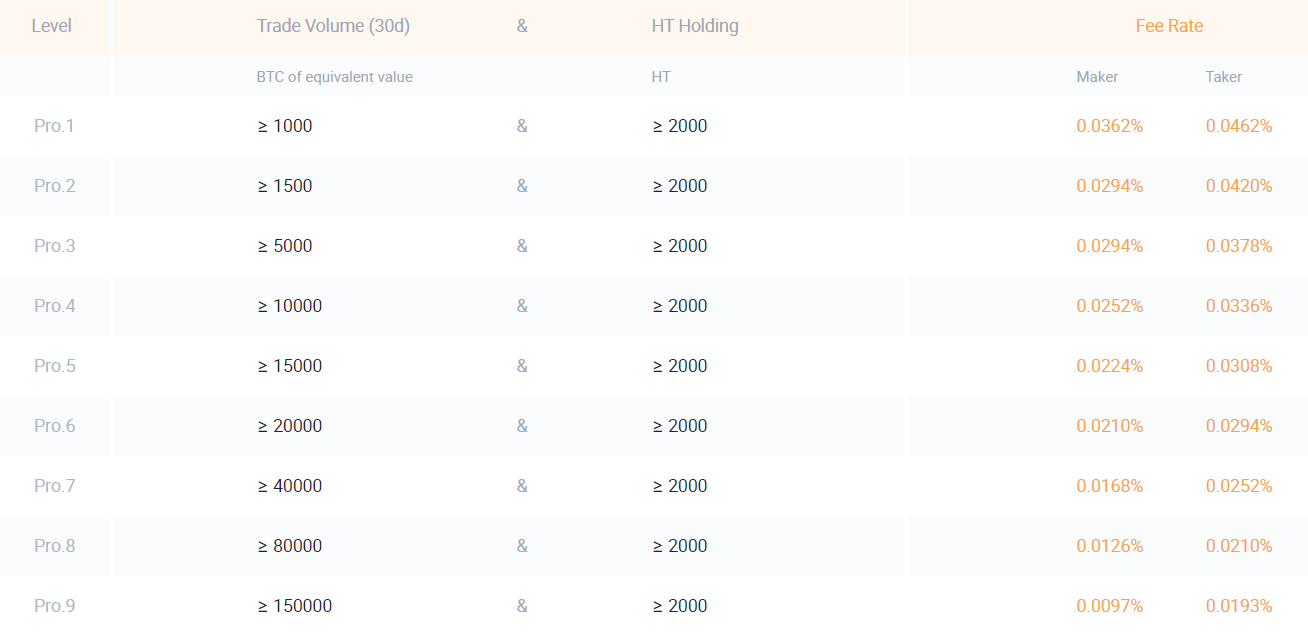 Margin interest and fiat trading fee rates are calculated by the same two-user tiered system, and additional details regarding the actual fees can be found on their website.
Withdrawal fees
Any withdrawal fees can be found by logging into your account and going to the Deposit and Withdrawal section. From there, you are able to view the associated fee in the denomination of the token you want to send off the exchange – most of these fees are standard across the industry.
Huobi has a "Fast Withdrawal" option that allows you to send tokens to anyone internally at Huobi without charge. This is a nice feature that provides flexibility and encourages users to trade within the platform as opposed to sending funds to other exchanges.
Trading View
Spot
Huobi has a very clean overall layout, as it's simple and intuitive with a color palette that is easy on the eye – nothing jaw-dropping, but it gets the job done. On the left are the different tradable tokens and pairings; the price chart is in the middle with the buy/sell options below it; on the right is the order book and market trades. Everything here is at your fingertips and quite comprehensive, making it a simple yet effective user interface.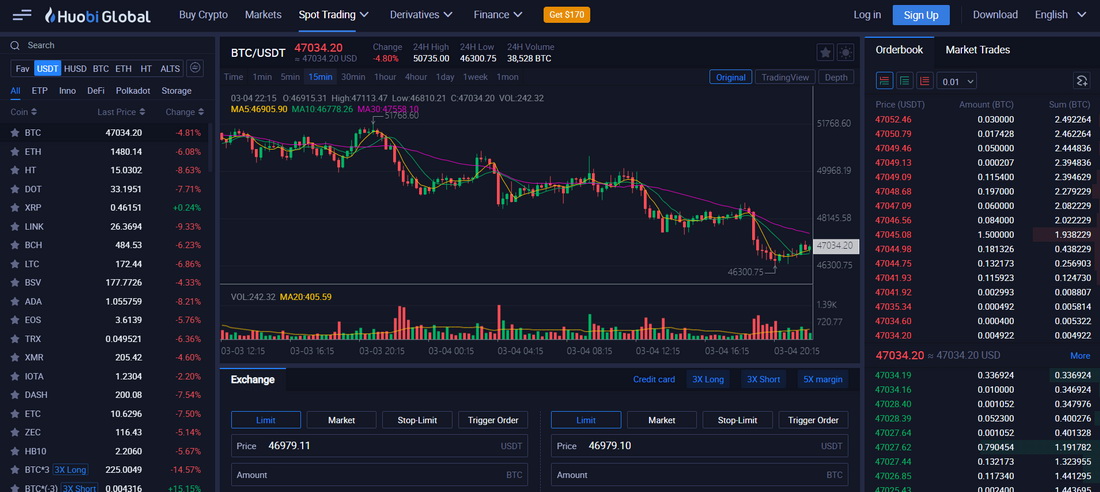 Margin Trading
The margin trading interface is almost exactly the same in regards to look and feel when compared to the spot trading view; the main differences are that there are fewer pairings to choose from on the left and loan options on the bottom of the screen. Again, a fairly straightforward design that makes margin trading easy.
You are allowed up to 3x leverage for margin trading across most tokens, which is quite low relative to other exchanges, which often offer at least 5-10x and even up to 100x.
Huobi Futures
The futures trading view is also similar to the spot and margin trading views, except the left hand side contains all of the various contract details you can select from. Below the price chart, there are limit and trigger order options to initiate your trades: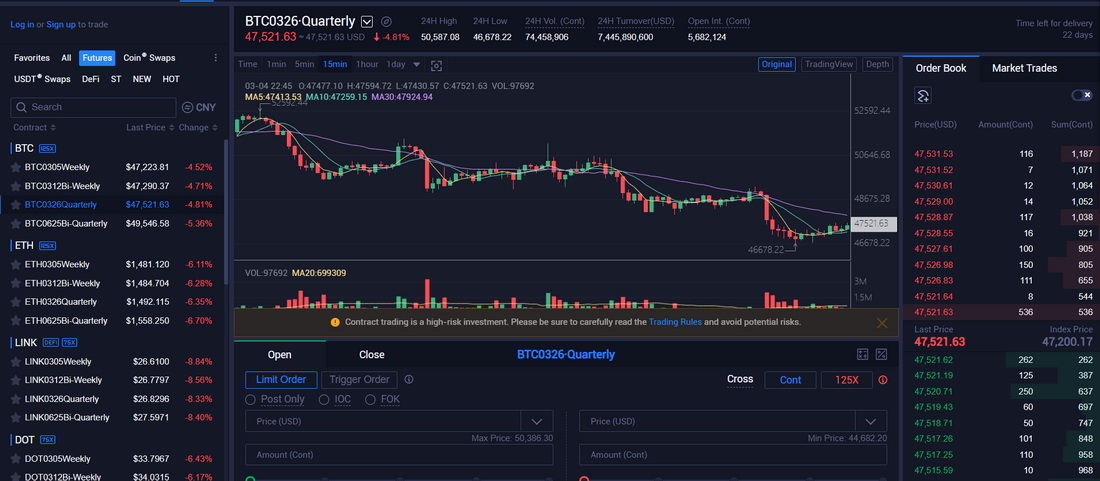 Options
The options trading layout provides the call and put option data, with the order book on the right-hand side and the ability to make trades on the bottom of the screen. Overall, the page is quite busy but provides all of the information you need in one place. Options are currently only available in BTC and ETH.
Coin and USDT Swap
Huobi allows you to trade coin and USDT swaps as a form of futures trading – regardless of which option you choose, you will be given a large pool of tokens and trading pairs to choose from. Most of these tokens are mostly well-known large and mid-cap ones, with the exception of a few smaller-cap ones as well. These swaps are crypto derivatives that have no delivery date and allow you to make money going long or short.
Brokerage (OTC)
In 2020, Huobi launched a brokerage platform to provide additional services to institutions and high-income clients. Their over-the-counter trading program is designed to provide clients with the best price and ensure seamless trading execution. Other features include aggregation, customized lending and financing, custodian services, and interest rate/alpha products. Orders/trades on their brokerage platform are usually high volume orders and are executed separately from a traditional exchange trading app to ensure it does not disrupt trades.
Trading Bot
There are many investors and traders who don't want to deal with the stress or hassle of sitting and constantly monitoring the market to execute trades – that's where Huobi's trading bot comes in. With a simple design and strong technology, the bot can automatically execute trades based on predefined parameters and algorithms.
On the right-hand side of the main trading interface, you can see the parameters that are based on the 7-day backtest data of the trading pair – this will give you a good idea of the possible returns that can be generated, but is by no means a guarantee. There is also an option to manually enter certain parameters, so the bot can be tailored to your liking.

The different pairs that the bot can trade are limited to mostly large to mid-cap coins, all via the USDT pair.
Supported Countries and Cryptos
Based on its terms of service, only the United States and Japan are excluded from trading on the platform, making it easy for almost anyone across the world to register and have access to their platform and associated services. There is still light at the end of the tunnel for US customers, though – in late 2020 it won a Nevada Trust License, which will allow it to offer custodial and compliance services to US citizens in early 2021.
For supported cryptos, it offers 394 different digital tokens for users to trade – this is quite impressive and provides a wide range of options for investors, more than almost any other exchange in the industry.
Deposit and Withdrawal Methods
Deposits and withdrawals are relatively standard in relation to other exchanges. To deposit cryptocurrency, navigate to the token you want to import and copy your deposit address, which will then need to be entered on the exchange you are withdrawing from. The same applies for withdrawing tokens – just enter the deposit address of the external exchange and send it away.
Huobi does support fiat deposits and withdrawals as well. Currently, supported fiat currencies are AUD, EUR, GBP, and USD. To get your fiat on the exchange, you will need to initiate a wire transfer (options will vary) depending on which currency you choose.
Buying and selling with fiat (via a credit card) is also supported, which will be discussed in the next section.
Buy/Sell Cryptocurrency with VISA or Mastercard
Huobi OTC gives you the ability to purchase crypto with even more fiat options using a VISA or Mastercard, including PHP, VND, CNY, HKD, and more. The interface and design are extremely simple and allows you to purchase crypto instantly with a click of a button. Please note that the amount of cryptos you can buy utilizing this method are more limited than on the main exchange itself, as mostly large to mid-cap tokens are offered.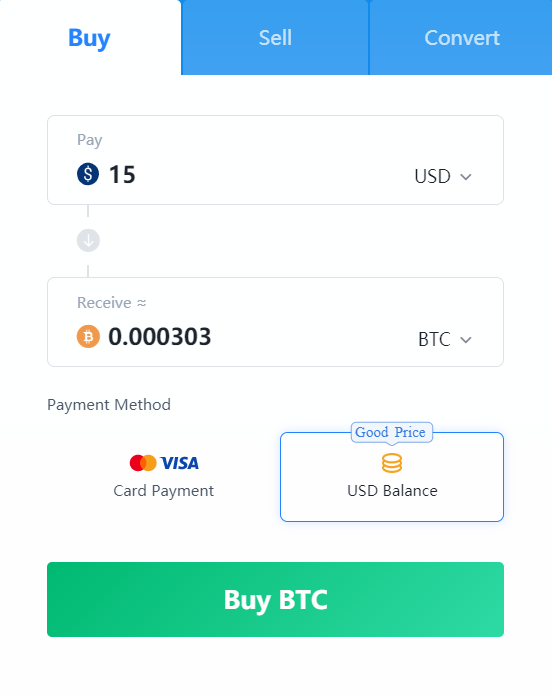 P2P Market
The P2P market is where you can buy/sell cryptocurrencies with other users based on individual agreements. You have the option to choose what currency the prices are displayed in and can view the advertisers, the amount available (which is denoted in each respective cryptocurrency, depending on which one you select), limits, payment methods, etc. It's easy to use and allows users to facilitate transactions between one another as opposed to purchasing/selling on the traditional trading platform.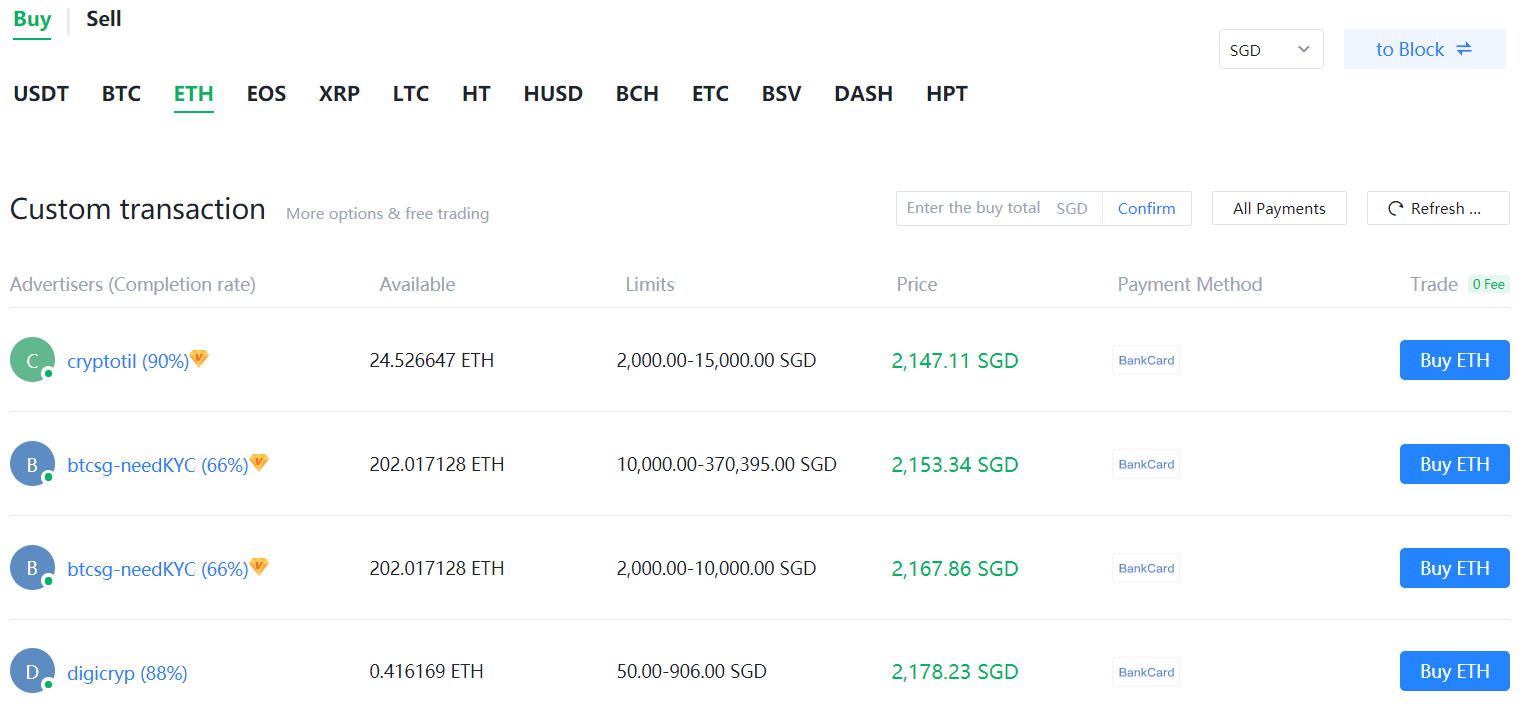 HUSD Stablecoin
HUSD is a ERC20 stablecoin issued by Stable Universal that is pegged 1:1 with the US dollar; it is held in a U.S. trust company and receives monthly audits from independent firms, building a reputation of safety and security.
You can deposit USD and purchase HUSD through stcoins.com, and then deposit that HUSD into your account on a supported exchange (i.e. Huobi, Nexos, HotBit, Uniswap) to begin trading; there are no fees and 1:1 minting and redemption are a huge benefit. It can be directly swapped with PAX at a 1:1 ratio on Huobi Global and BUSD at a 1:1 ratio on PAXOS. As the stablecoin market is quite competitive, they have created these features and offered appropriate incentives to make HUSD a top market across major exchanges.
Earnings
Huobi offers an earnings platform where you can earn various interest rates for depositing your tokens. They offer flexible and fixed terms in regards to the duration that you hold your tokens. The tokens that you can earn interest on are mainly large-cap coins, and the interest rates are relatively average to below average in comparison with other similar programs across exchanges. The fixed-rate is currently limited to only USDT – there are also featured rates that are extremely high, but these sell out quickly so you need to spot them and move fast in order to claim.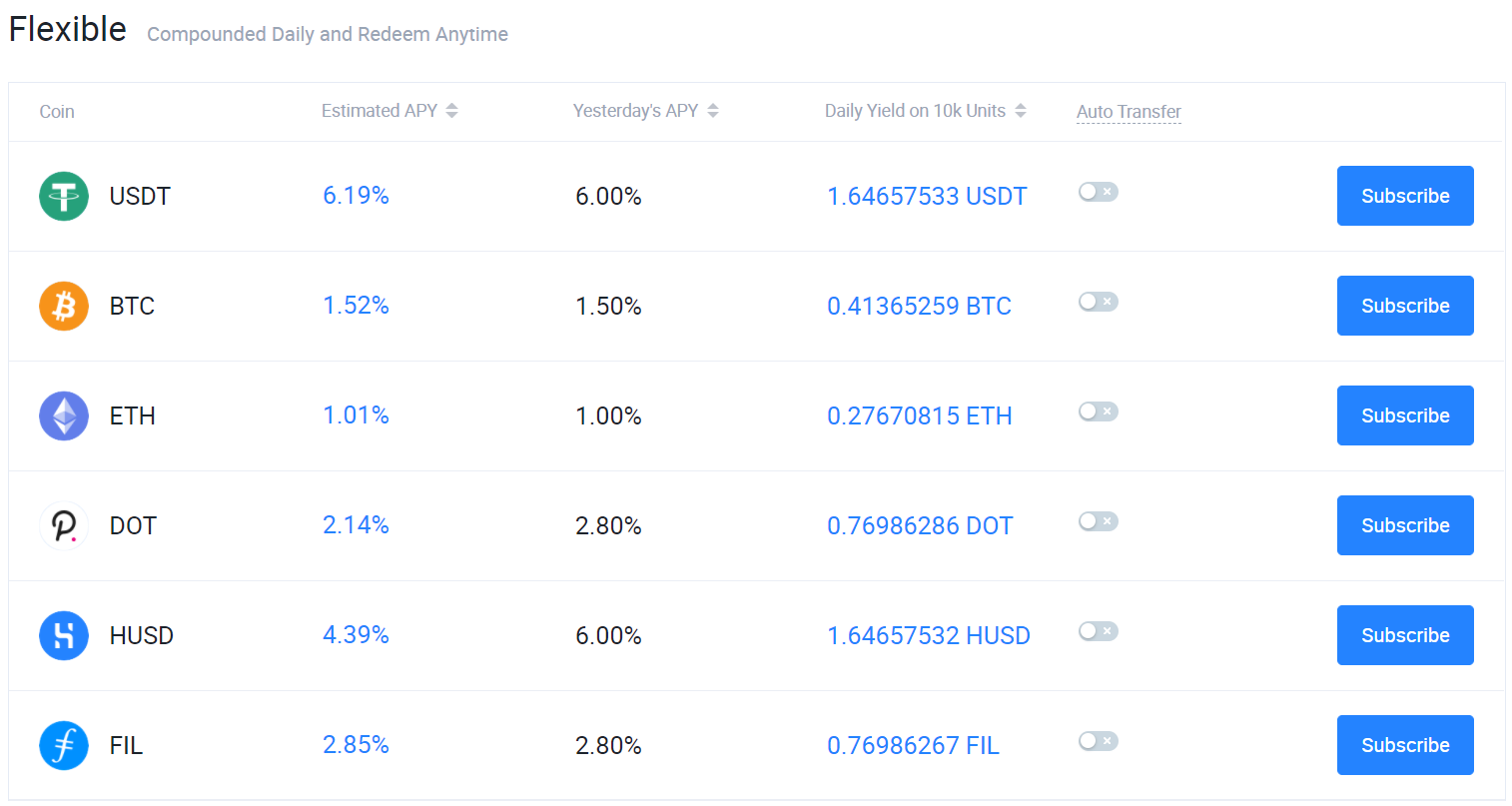 C2C Lending
C2C lending allows users to loan crypto to other users, and in return, they will receive a certain amount of interest. To do so, you will need to enter your loan cycle and the total loan amount – the daily rate will then be displayed and you can then initiate the transaction. Daily annual rates are also shown on the right of the screen. Currently, coins you can loan are restricted to BTC and USDT only.
Crypto Loans
Huobi's crypto loans program was designed to provide individuals with easy access to loans; on their website they mention that there is guaranteed approval and instant arrival of the funds.
Getting started is straightforward – just enter your desired loan amount (which can be received in a variety of tokens), the collateral amount, and then the loan term. Your total interest rate will be displayed, and then you can proceed with borrowing the funds if you choose to do so.
API
In order to begin using the API, log in to the website to create your API Key with the permissions you would like. The API key is shared for all sections of exchange, such as spot, futures, swap, and options. Each user is permitted to create a maximum of 20 API keys, which can have the following permissions:
Read: for querying data (i.e. order and trade queries).
Trade: for making, cancelling, transferring, and other orders.
Withdraw: for creating withdraw, cancel withdraw, and other orders.
Huobi uses two types of interfaces, which are REST and WebSocket APIs. The REST API can be used for things such as trading and withdrawals, whereas the WebSocket API can be used for receiving updated data, such as market and order update data. Their API is quite advanced and provides many other options for users looking to customize their experience.
Other Features and Services
Huobi Pool
Huobi's mining pool was created to benefit large communities of miners in the crypto space. It offers mining and trading services and is connected to the trading platform, so the miners can withdraw their earnings while depositing/trading them on the main exchange or OTC platform. Miners can benefit from this platform, and Huobi offers services for BTC, ETH, BCH, BSV, ETC, and DCR.
Huobi Chat
Huobi Chat is an innovative social media app that consists of communities, e-commerce, and more. There are thousands of Huobi users who are constantly engaging in chats on the app, offering a great opportunity for anyone to ask questions, share ideas, etc.
You can download the app via the QR code, as displayed below, and it is available for both iOS and Android devices.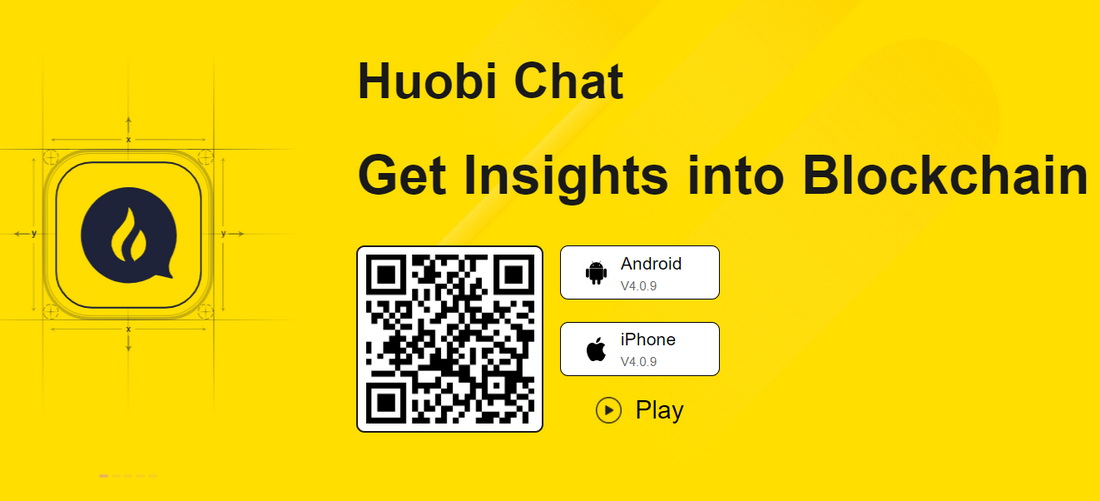 Huobi Wallet
Huobi Wallet is a mobile cryptocurrency wallet that provides multi-currency support along with a simple and easy-to-use interface. Supported currencies and stablecoins include BTC, ETH, XRP, USDT, BCH, LTC, EOS, BSV, ADA, TRX, DASH, TOM, ETC, ONT, DOGE, IOST, KLAY, HUSD, TUSD, USDC, GUSD, PAX, EURT, DAI, and EURS.
Individuals have the ability to manage their own private keys via the app; the app is secure as Huobi has obtained several data security patents and supports multi-signature. There is also no registration required to use the app, so it's simple and easy to buy and sell crypto.
Huobi Capital
Huobi Capital is the investment entity of the exchange, looking to support projects and ventures specific to blockchain and digital assets with financial resources to help drive further innovation in the space. Their resources are provided to projects such as Huobi exchanges, Huobi News, Huobi Labs, Huobi Mining Pool, Huobi Eco Fund, and more.
Huobi Eco (Global Ecosystem Fund)
Huobi Eco is a fund that was $200 million in assets under management – they invest primarily in blockchain projects and provide strategic resources to them. From the get go, a project is incubated and then connected to Huobi's partners, fostering growth potential. They are backed by a strong team consisting of international investment banks, investment funds, listed companies, internet companies, entrepreneurs, and more.
Huobi Cloud
Their cloud service is meant for global digital asset exchanges, designed to help them improve and build upon themselves. They support OTC, crypto to crypto trading, platform tokens listing and more. In addition, they provide risk control and supporting documents – on top of this, Huobi's high liquidity will help ensure that public cloud exchanges are able to provide their users with appropriate volumes.
Huobi Eco Chain
Huobi Eco Chain (also known as Heco) is a decentralized public chain that is Ethereum- developer-friendly and possesses compatible smart contracts – it is also extremely efficient from a cost perspective. It also supports yield farming for certain projects, giving you a flavor of DeFi.
Creating decentralized applications on Heco normally takes around 3 steps, and users can pay as little as $0.001 USD in transaction fees. Heco also has created a Defi ecosystem containing wallets, assets, and applications rankings. Below are a few examples of some of their public chains: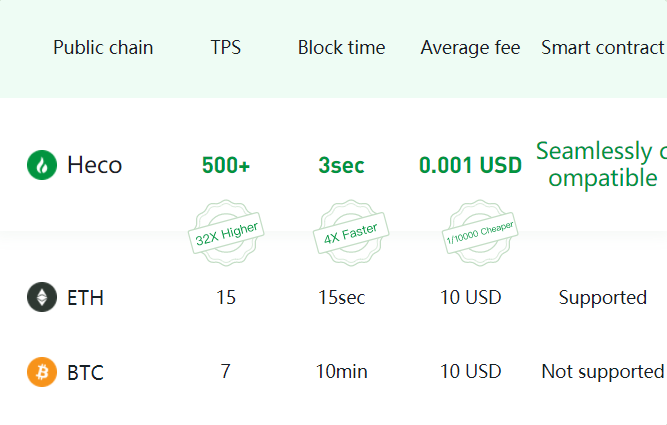 How to use Huobi Global Exchange
Huobi is well known for its easy setup process. In order to sign up for an account, navigate to the homepage and click the Sign Up button on the top right. You will then be directed to the sign up page, where you will be prompted to enter your nationality, email or phone number, and password. Check the box to accept the user agreement, and click Sign Up at the bottom.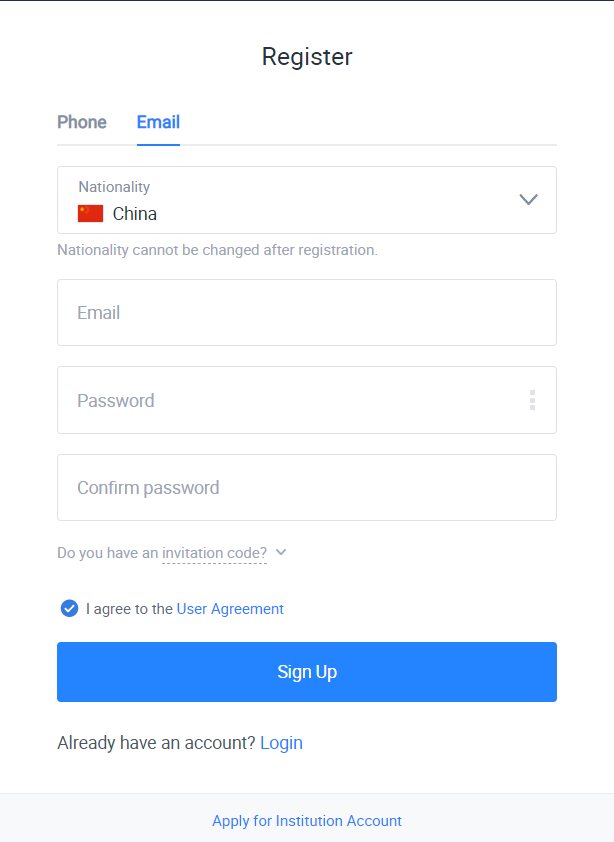 You now have an account on Huobi – it's as easy as that! Note that for some tokens, the withdrawal limits are very low, so you will need to complete KYC verification in order to increase your overall limits. In order to complete proper KYC verification, you will need to enter your personal details and upload an ID (such as a passport, driver's license, etc.).
Security
Huobi has a very reputable and strong security history, ensuring they maintain top security measures in order to protect themselves and their users' funds. 98% of their funds are kept in a cold-storage multi-signature wallet, and 2% of the funds are kept in a hot wallet to ensure the exchange and trading operate smoothly. It also has a fund that will cover users who lost funds due to a hack or an event that was out of their control.
In terms of personal security, Huobi provides 2FA to increase security measures and protect your account. It also offers email confirmation when withdrawing, retrieving password information, changing your security settings, and API management – you can set either one of these on your account to activate depending on what degree of security you would like.
Oftentimes, if you withdraw a substantial amount of crypto, Huobi's team may give you a call and ask you specific questions surrounding your current location, withdrawal amount, etc. The purpose of this is to ensure extra security, and it does not always happen but is a possibility.
Conclusion
Being one of the largest and most trusted exchanges, Huobi has many features and services that are appealing to investors and traders everywhere. Its presence has become so large in the crypto space, and they continue to innovate and offer more products and solutions that adapt to current trends. Below are some of the main takeaways in terms of the advantages and disadvantages of using Huobi:
Pros
300+ supported cryptos for trading, meaning investors have more convenience and don't have to move funds as often to other platforms
Margin, futures, and spot trading views are straightforward and easy-to-use
Seamless sign-up process – you can begin trading within minutes of creating an account
Offers plenty of support for early projects to launch or receive an investment
Trustworthy and regulated stablecoin HUSD
Opportunities for consumers to trade peer to peer and receive instant loans
Relatively low fees, with plenty of opportunities to receive discounts and rewards via their native token
Transparency on team and history
Security measures are top-notch
Cons
Margin trading only supports up to 3x, which is disappointing compared to other platforms
Withdrawal limits are extremely small if your account is unverified
The help center is difficult to navigate for the information you need – there is simply too much information to bury through to find what you're looking for
Complex website – as it is such a large exchange, there are so many components that it can often get confusing
Customer service may sometimes call you and request information if your withdrawal is deemed too large or suspicious – for traders who are into crypto for anonymity, this may be a drawback
Visit Exchange >>>
Social media