BitMEX Review

Withdrawal fee: 0.00

Taker fee: 0.075%

Maker fee: -0.025%

Bank transfer

Credit Card

Cryptocurrency
BitMEX is a cryptocurrency exchange and derivatives platform established in the Republic of Seychelles. Operating since 2014 under its parent company named HDR Global Trading Limited, BitMEX has processed hundreds of billions of dollars in cryptocurrency trades for customers worldwide [Wikipedia].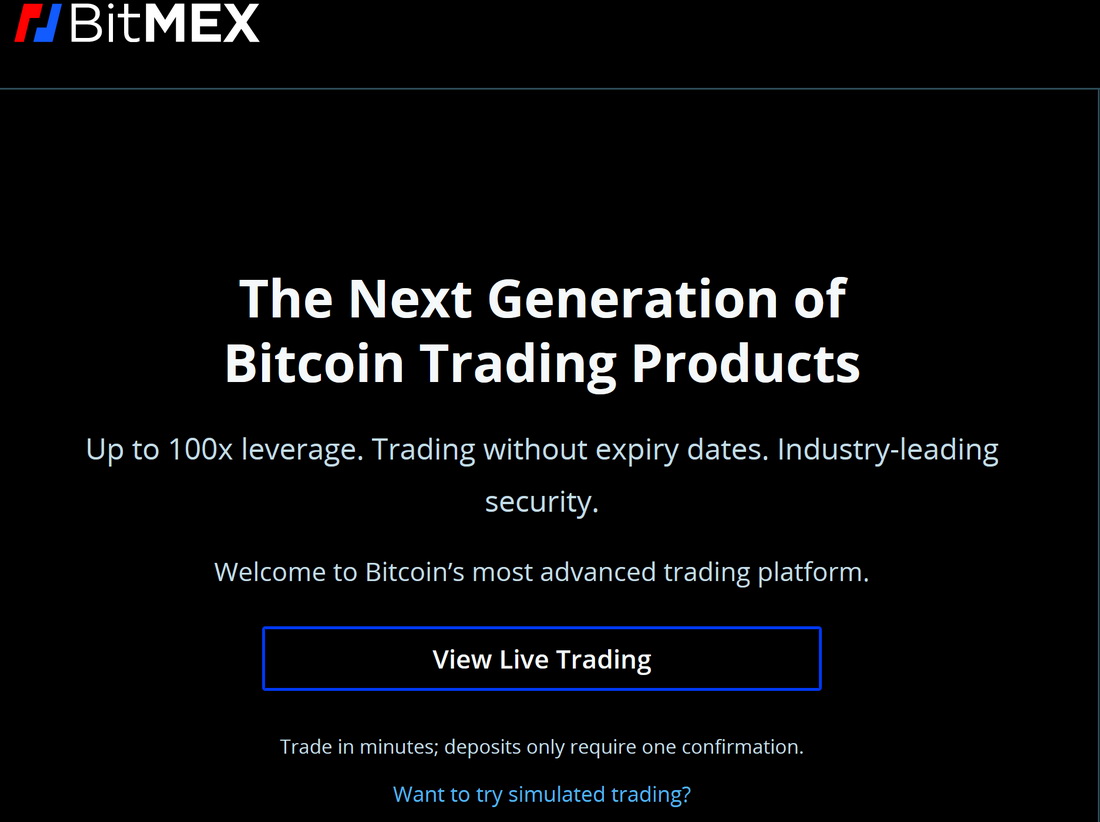 The exchange was initially founded by Ben Delo, Samuel Reed, and Arthur Hayes [LinkedIn], using capital derived from their friends and family. Despite facing its fair deal of legal challenges, BitMEX remains one of the world's most popular cryptocurrency exchanges by trading volume. Its popularity is mostly based on its favourable fee schedule, alongside the BitMEX support for margin trading and derivatives trading.
BitMEX Exchange: Trading and Withdrawal Fee Schedule
Trading Fees
BitMEX exchange is well-known for having some of the market's lowest trading fees. The fee schedule is different for each of the exchange's main products, these being perpetual contracts, traditional futures, and quanto futures. Each of the supported cryptocurrencies entails a different leverage margin and slightly differentiating maker, taker, and settlement fees.
For bitcoin perpetuals running at 100x leverage, customers can expect to pay a maker fee of -0.025%, a taker fee of 0.075%, alongside 0.0458% for long funding and -0.0458% for short funding.

For bitcoin futures running at 100x leverage, BitMEX charges a maker fee of -0.025%, a taker fee of 0.075%, and a settlement fee of 0.05%.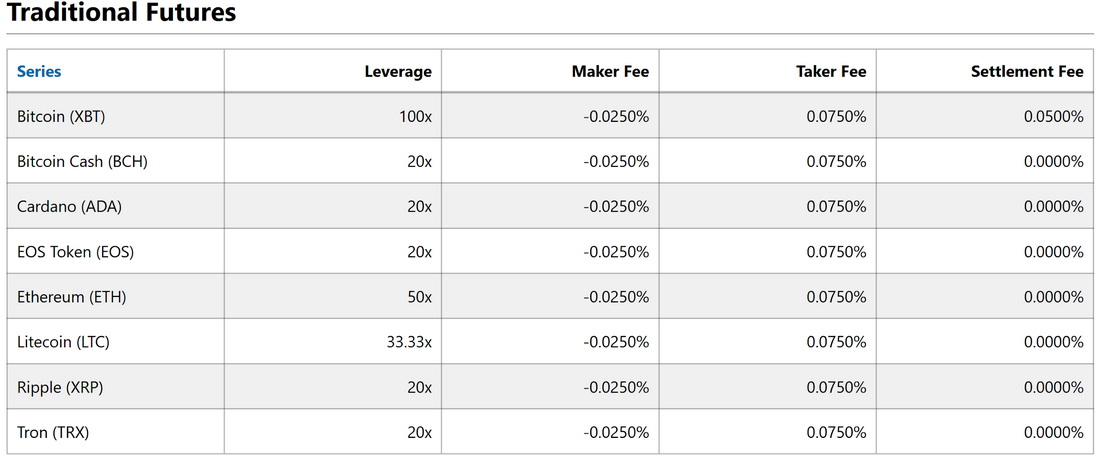 In the case of quanto futures running at 33.33x leverage, customers can expect to pay a maker fee of -0.025%, a taker fee of 0.075%, and no settlement fees.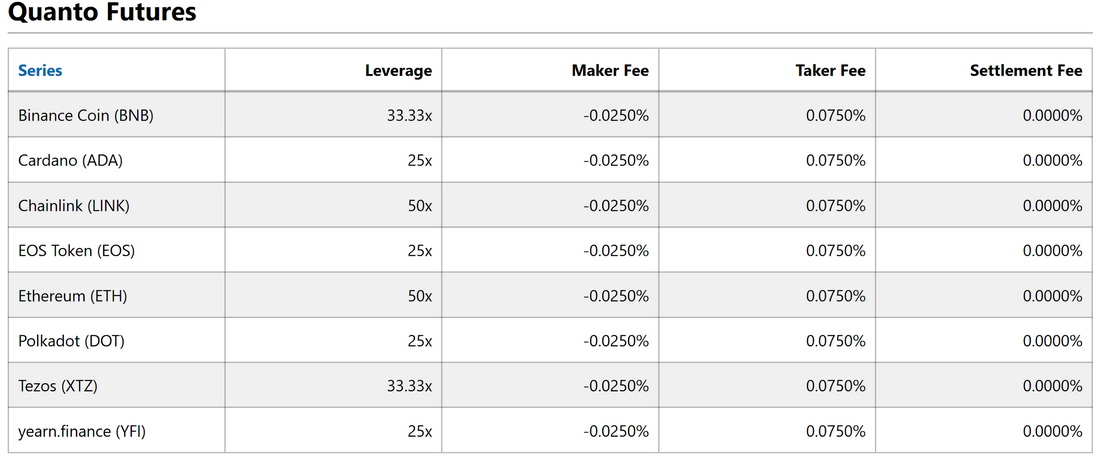 Deposit & Withdrawal Fees
At this point in time, deposits and withdrawals in bitcoin are free. Traders must only pay the blockchain miner fee that remains dynamic based on network load.
Exploring the BitMEX Trading View
Futures Trading
Before exploring the trading view, we ought to mention that futures contracts represent P2P agreements to purchase or sell an underlying asset at a predetermined price and data in the future. BitMEX therefore supports cash settlement for all futures contracts, while also facilitating margin-based trading up to 100x. To access margin trading, users must deposit 100% in collateral.
In the case of futures trading, BitMEX supports quanto contracts, linear contracts, and inverse contracts, all of which are advanced means of derivatives trading.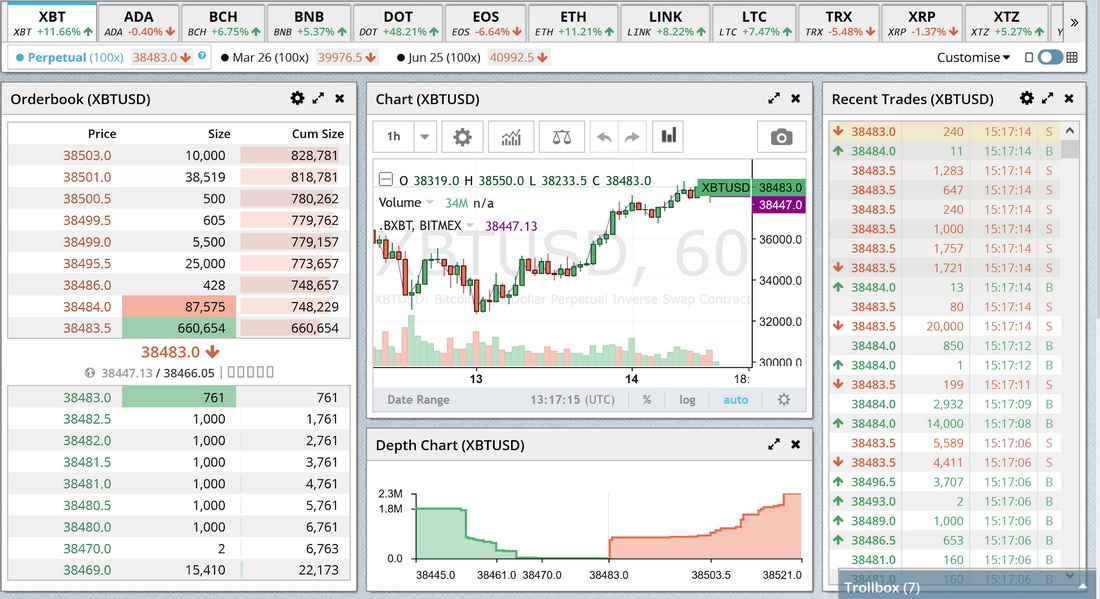 The trading view is simple enough for well-versed derivatives traders, albeit a bit difficult for beginners. Anyhow, those who are just learning the basics of cryptocurrency trading should probably stray away from dealing with leverage-based derivatives due to their higher risk ratio. Inopportune margin-based traders, especially when shorting, can lead to loss of assets; caution and industry knowledge are advised when dealing with complex crypto trading products.
Perpetual Contracts
Perpetuals are relatively similar to futures, with the only noticeable difference being that there is no expiration date for the contracts. With this being said, the trading view interface is very much similar, including all of the tools that derivatives traders require to make profitable transactions. The charts featured on the platform are easy to navigate through, while providing clear data that helps traders make the right transactions.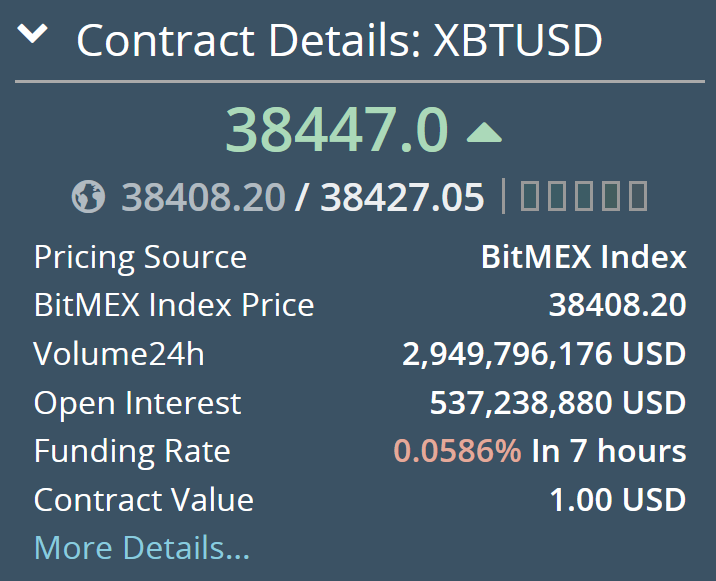 API
BitMEX has also launched its API interface, allowing users access to real-time market data across other websites. BitMEX's API service has been dubbed as one of the best and most unique within the derivatives exchange market. API deployment is relatively easy and shouldn't pose much challenge to someone who's accustomed to API usage. BitMEX also provides the UDF API that was first released by TradingView.
BitMEX Testnet
Users who are new to derivatives trading are encouraged to start off using the BitMEX Testnet interface. This feature was released to help traders simulate derivatives trading without depositing and risking actual capital. Through the testnet, users can seamlessly place, execute, and cancel different types of orders. The testnet functions as a separate entity, so its usage entails the creation of a separate account. It functions exactly as the main interface, so it's also suitable for those who are new to BitMEX, but not to derivatives trading.
Supported Countries and Cryptocurrencies
BitMEX exchange is available to customers worldwide, with the exception of a few countries, as highlighted in its terms of service. With this in mind, customers located in the following countries are unable to use any of the platform's services: the United States, Ontario Canada, Quebec Canada, Hong Kong China, Seychelles, Cuba, Crimea, Iran, North Korea, Sudan, Bermuda, and Sevastopol. Each user must carry out their due diligence to understand whether local laws prohibit engaging in cryptocurrency derivatives trading.
In terms of its supported cryptocurrencies, many of BitMEX's products are available for Bitcoin (BTC), Bitcoin Cash (BCH), Chainlink (LINK), Ethereum (ETH), Litecoin (LTC), XRP, Tron (TRX), Tezos (XTZ), Cardano (ADA), Binance Coin (BNB), Polkadot (DOT), and Yearn.Finance (YFI). As mentioned earlier on, crypto deposits and withdrawals are cost-free, yet all other transactions require that users pay below-average processing fee.
Deposit and Withdrawal Methods
BitMEX exchange is not a fiat trading platform, so the only method of funding one's account is via cryptocurrency. The platform only supports bitcoin-based deposits, but exchanging to other supported coins is easy via the built-in exchange. The same principle applies for bitcoin withdrawals. When depositing, BitMEX uses a multi-signature address for optimal fund security. Deposits are confirmed after receiving one confirmation from the network of miners.
How to Use BitMEX Exchange
Account Creation
To get started on BitMEX exchange, customers will first have to register an account. The process is very simple and only takes a few minutes to complete. First off, users will have to select their country of residence and type in some personal data. After the registration process is completed, a deposit address will then be created, allowing bitcoin deposits for trading on BitMEX.
Customer Verification
As a legally-compliant exchange, BitMEX requires that users complete the know-your-customer (KYC) verification. Depending on user residency, traders will have to submit a picture of their ID document and proof of address. A selfie is also commonly requested to verify that users are not using fake or stolen IDs. In some cases, users will have to answer a list of questions regarding their overall trading experience and the source of the deposited funds. This process is mandatory for depositing funds on the platform, so BitMEX is unusable without a KYC verification.
Since the testnet entails no usage of real capital, there's no verification required for play-trading.
Security and Safety Protocols
Regarding its security site-wise, it's important to mention that BitMEX has never been the victim of a successful cyber attack.
User funds are kept safe via the multisignature cold wallets, so any and all attacks are unable to get through all layers of security to successfully access and steal user funds. To further enhance its security, all withdrawals are reviewed by actual employees of the company. Private keys are never kept online, but rather in air-gapped devices that facilitate optimal security. BitMEX runs via Amazon's Web Services, with sufficient security protocols put into place to reduce the likelihood of attacks that would otherwise compromise user data. Despite this, BitMEX does not have non-custodial wallets put in place, so the exchange is responsible for assuring user fund security.
Some of its other security protocols include PGP-based communication, constant risk checks, daily audits, and the usage of secure tools that world-class financial institutions rely on.
While not a security issue per se, it is important to keep in mind that BitMEX has faced legal issues. Its founders were legally accused of failing to prevent money laundering on the platform. Now, its entire user base has been verified through KYC protocols, so money laundering should no longer be a concern for the exchange. The company also had to settle a $540 million lawsuit initiated by two of the platform's early investors.
Introducing BitMEX 100X
BitMEX has faced considerable success thanks to its numerous selling points. With cryptocurrency derivatives trading enjoying significant popularity, the company decided to continue working on its goal of transforming the worldwide financial market through the means of blockchain technology.

The 100x project represents the brainchild of the BitMEX team, via which they are attempting to create an ecosystem of 100 companies leveraging the benefits of blockchain technology. As part of the project, BitMEX will provide startups in the industry with strategic investments, thereby fostering innovation and creating a more inclusive financial landscape.
Bottom Line
Based on everything that has been outlined so far, BitMEX exchange has consolidated its position as one of the market's best platforms for P2P crypto products trading. Although it faces several disadvantages, such as no support for deposits via other cryptocurrencies apart from bitcoin, BitMEX remains easy to use, secure, and a sure-fire way of earning a profit through derivatives trading.
Visit Exchange >>>
Social media