ProBit Review

Withdrawal fee: 0.0005 BTC

Taker fee: 0.20%

Maker fee: 0.20%

Bank transfer

Credit Card

Cryptocurrency

ProBit is a professional online cryptocurrency exchange founded in 2018 – it is divided into two parts, ProBit Global and ProBit Korea; they are incorporated in the Seychelles and South Korea, respectively. They have over 1 million active users and offer over 450 different tokens for trading, including over 900 different markets. They have a strong team, led by Ronald Chan [LinkedIn] (CEO of global exchange) and Hyunsu Do [LinkedIn] (CEO of Korean exchange); alongside them are Steve Woo [LinkedIn] (CTO) and Esmond Hwee [LinkedIn] (Head of Business Development), and more. PROB is the exchange's native token, where users who hold it are given incentives and rewards based on the amount they keep on the platform.
ProBit Fees
Trading Fees
Trading fees on ProBit are dependent on your tier system of membership levels  – there are 12 different membership levels, which range from Standard to VIP11. The more PROB you stake in your account, the higher your level and greater the discount you will receive on trading fees. In addition to the initial discount for staking, if you pay transaction fees with PROB, you can receive an extra 0.02% discount. If you activate trade mining and trade BTC, ETH, and/or XRP, the respective trading fee from the transaction(s) will be converted into PROB – then it will be mined and provided to you as a reward.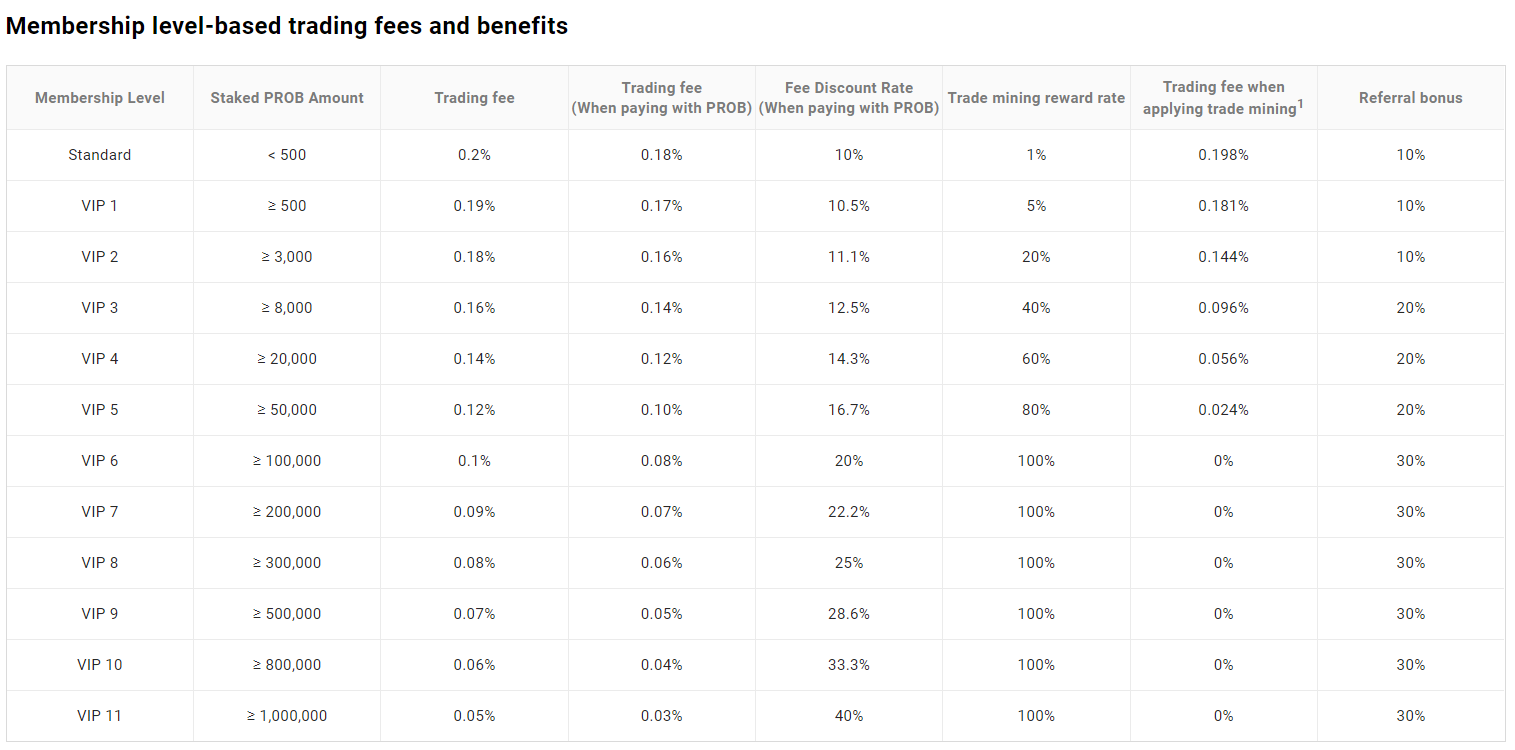 Withdrawal fees
Transfer/withdrawal fees are relatively standard compared to other exchanges – in order to move funds off the exchange, you will pay the fee in the denomination of the crypto you have selected. A highlight of some of the withdrawal fees can be seen below:
| Cryptocurrency | Minimum Withdrawal | Withdrawal Fee |
| --- | --- | --- |
| Bitcoin (BTC) | 0.0005 | 0.0005 |
| Ethereum (ETH) | 0.02 | 0.01 |
| DASH | 0.005 | 0.005 |
| NEO | 1 | No fee |
| XRP | 22 | 1 |
| USDT | 1 | 20 |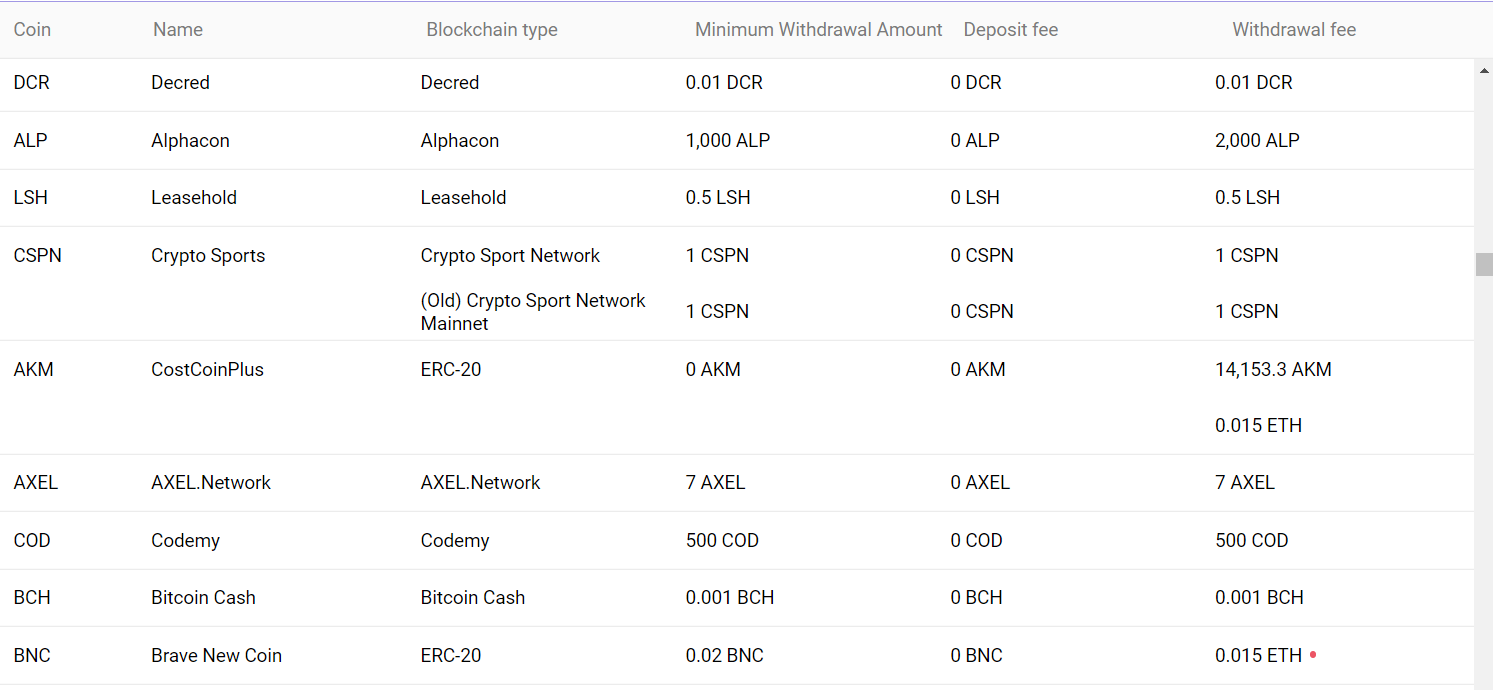 Trading View
The user interface for the trading app is comprehensive yet easy to use. You have your trading pairs and token offerings on the left hand side, followed by the price chart in the middle, and then the order book and buy/sell options on the right hand side. A unique and interesting feature of this particular interface is that it allows you to customize the layout (on the top left of the page), so you can move the information wherever you like.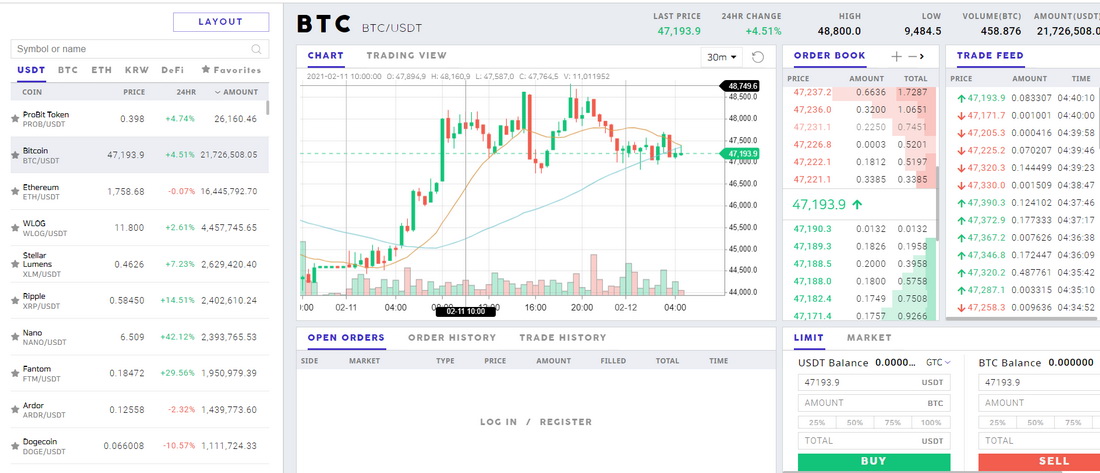 Although futures trading isn't available per se, ProBit does offer leveraged tokens, which are extremely similar to leveraged trading but exclude the liquidation risk. Examples of leveraged tokens available for trading are ETHBULL and ETHBEAR, leveraging Ethereum on whether you want to bet against the price going up or down.
API
ProBit uses a HTTP/WebSocket API to capture and fuse data. Their WebSocket API communicates in JSON string, and allows you to subscribe to several changes like market data, open orders, trade/order history, and balance. If you want to access your account through any of these APIs, you will need to specify and acquire OAuth Access Tokens pertaining to your request.
You can also register a withdrawal address in the API – by doing so, you have more control as you can limit the function of every API key. The ProBit API Document can be found on their website.
Listing and IEO
Over 600 projects have been listed on ProBit and completed the application process. In order to apply to participate in a listing and IEO on ProBit, you need to complete a verification form. The form will require specific details, such as your personal name, telegram ID, project information (name, website, token ticker) etc. You also need to select if your token is a utility or security, and whether you want an IEO + listing combined, or just a listing.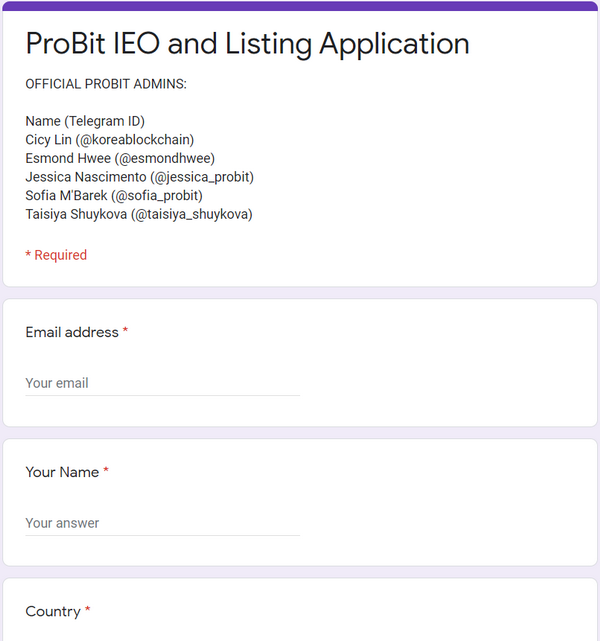 Supported Countries and Cryptos
ProBit exchange appears to allow anyone from any country to make an account – however, if you want to complete KYC verification, you are not allowed to if you are from the following countries in compliance with local regulations: Albania, Algeria, Bangladesh, Barbados, Bolivia, Botswana, Cambodia, Cuba, Ecuador, Ghana, Iran, Iraq, Jamaica, Mauritius, Morocco, Myanmar, Nepal, Nicaragura, North Korea, North Macedonia, Pakistan, Panama, Seychelles, Singapore, Sri Lanka, Syria, United States, Uganda, Venezuela, Yemen, and Zimbabwe.
They offer an extremely large variety of over 600 different cryptocurrencies on over 1000 different markets, larger than most exchanges; these range from your top market cap cryptos to the smaller and micro cap as well.
Deposit and Withdrawal Methods
ProBit Global currently does not support deposits of fiat currencies – however, ProBit Korea does offer fiat deposits in the Korean Won (KRW). Credit/debit cards are also not supported as of this writing, so the only way to deposit funds is via a traditional crypto-to-crypto deposit to your ProBit wallet. With ProBit's growing global presence, availability of credit card purchases may be expected in the near future.
Withdrawing is similar in nature – to send tokens off the exchange, select your crypto of choice and enter the deposit address of your external exchange and wallet. Although KYC is not required, you will need to complete it if you want to withdraw IEO tokens.
Other Features and Services
ProBit Exclusive
ProBit Exclusive is a platform that allows users to buy certain tokens at a discount. You are required to stake a certain amount of PROB (depending on your membership level, VIP1-VIP5) and can only subscribe with PROB within the subscription period. The subscription amount depends on the membership level, the higher it is, the higher the maximum amount that you can subscribe to. Some examples of previous token sale events were Bitcoin (BTC), Polkadot (DOT) and Polygon (MATIC).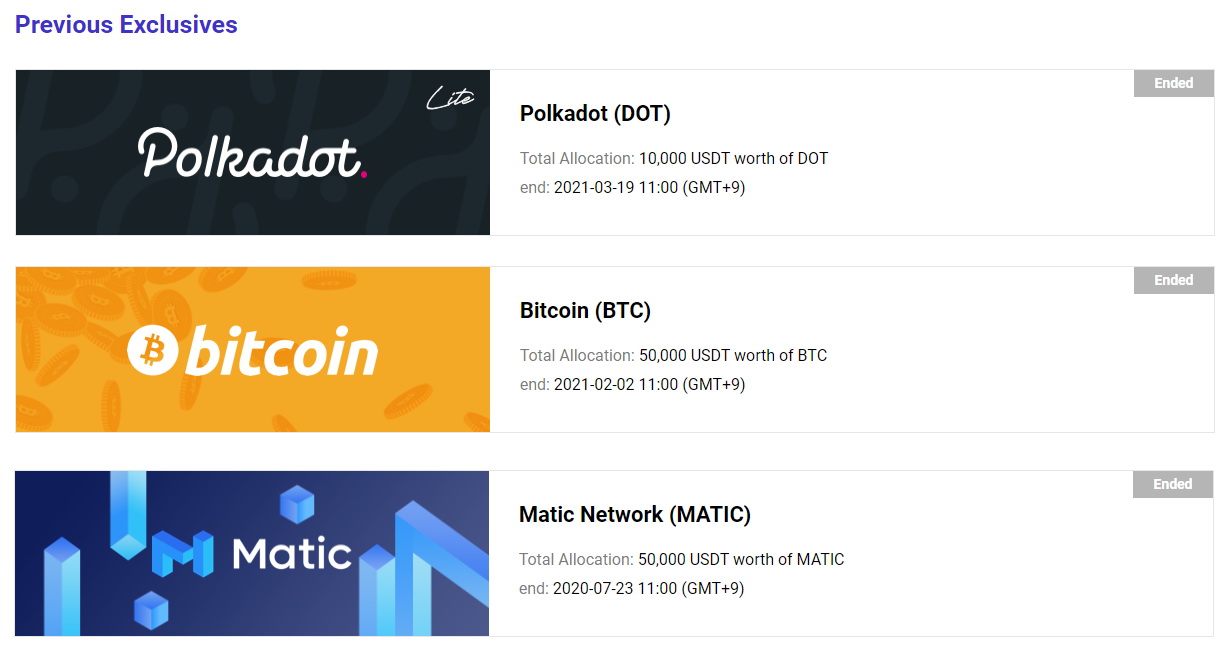 Trading Competition
ProBit's trading competition is where you can trade new and exciting projects and receive prizes based on your leaderboard ranking, determined by how much of the token you've traded. Note that in order to be eligible to participate, each event requires a certain amount of PROB to be staked.
Staking
There is a nice selection of staking offerings on their platform. Some of the tokens available for staking have a fixed date range, so you can only unlock the tokens at a certain date. You can view any upcoming and running events on their website.
PROB stake mining is featured on their website, where you can not only earn rewards but also receive lower trading fees and referral bonuses.
Auto Hold
Auto Hold campaigns are offered as incentive for simply depositing tokens to the platform – users will receive a percentage of their deposits as rewards. The rewards are automatically distributed at a per annum rate. There are ranges for each event, and ProBit sends out announcements to keep people updated on any important information.
Exchange's Events
Their events page features some of their most exclusive event offerings, pooled together from their ProBit Exclusive, IEO offerings, and Staking among others. Essentially, it's a snapshot of everything in one place, so you can select the ones that appeal to you the most and navigate directly to the offering.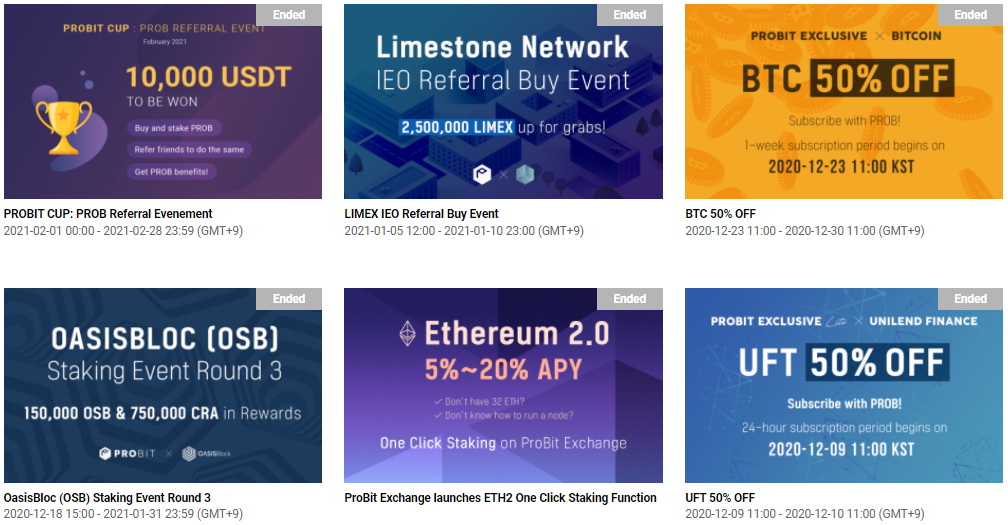 How to use ProBit exchange
Creating an account on ProBit is very simple and easy. First, navigate to the top right of the homepage and select Register. Enter your email address and desired password – then re-enter your password to confirm once again. Agree to the terms and conditions, plus the collection of personal data – the remaining choices are optional. Once you are finished, click Register at the bottom of the page.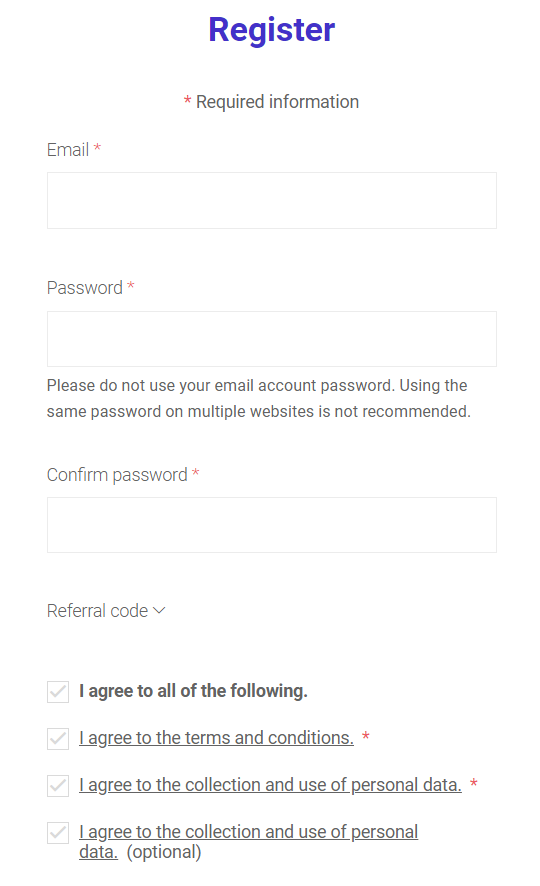 Security
ProBit exchange offers standard security measures – mainly 2FA to protect your account. This extra layer of protection ensures that you can only login with the physical device you have installed the Google Authenticator on. If you choose to reset your password, withdrawals will be locked for 72 hours – this also applies if you change your 2FA security, so it helps protect your account on both fronts. When you reset your password, you will receive an email and you need to complete the steps outlined in order to verify and successfully change your password.
Conclusion
ProBit is a unique exchange that provides a diversified range of product offerings that are attractive to investors. Below we will explore our thoughts on the pros and cons of this exchange, so take a look below prior to creating an account:
Pros
Easy to navigate; they have links to the different sections of their website on virtually every page, so you don't have to backtrack often
Extremely large variety of cryptocurrencies and trading pairs
Lots of exclusive features and opportunities to earn rewards through staking and buying tokens at large discounts, in addition to a generous referral program
Creating an account is extremely simple and can be done within minutes, only requiring an email address and password
No KYC needed to perform normal daily activities of buying, selling, etc.
Cons
Not many options for depositing or transacting fiat unless you use Korean Won
Limited transparency on security outside of the standard 2FA
No futures trading, but they offer leveraged tokens as an alternative
Visit Exchange >>>
Social media