BitMart Review

Withdrawal fee: 0.0005 BTC

Taker fee: 0.25%

Maker fee: 0.25%

Bank transfer

Credit Card

Cryptocurrency

BitMart is an online cryptocurrency exchange founded in 2017 and launched in 2018. They support over 180 countries, have served over 2 million customers, and have a team that comes from 13 different countries. Sheldon Xia (LinkedIn) is the current CEO and founder. Headquartered in the Cayman Islands, they also have several offices located globally, in New York, Singapore, Hong Kong, and South Korea. BitMart Token (BMX) is the exchanges native token – it is an ERC20 token that helps support and drive its overall ecosystem. Their platform also offers purchasing of over 150 different cryptocurrencies.
BitMart Fees
Trading Fees
In regards to spot trading fees, their fee schedule is determined by a tiered system, based on if you are an "ordinary" or "professional" user. If you are an ordinary user, your fee schedule is based on a tiered system of Level 1-8; if you are a professional user, your fees are also based on tiers, but they are labeled Pro1-9. The different structures are tiers can be seen in the images below: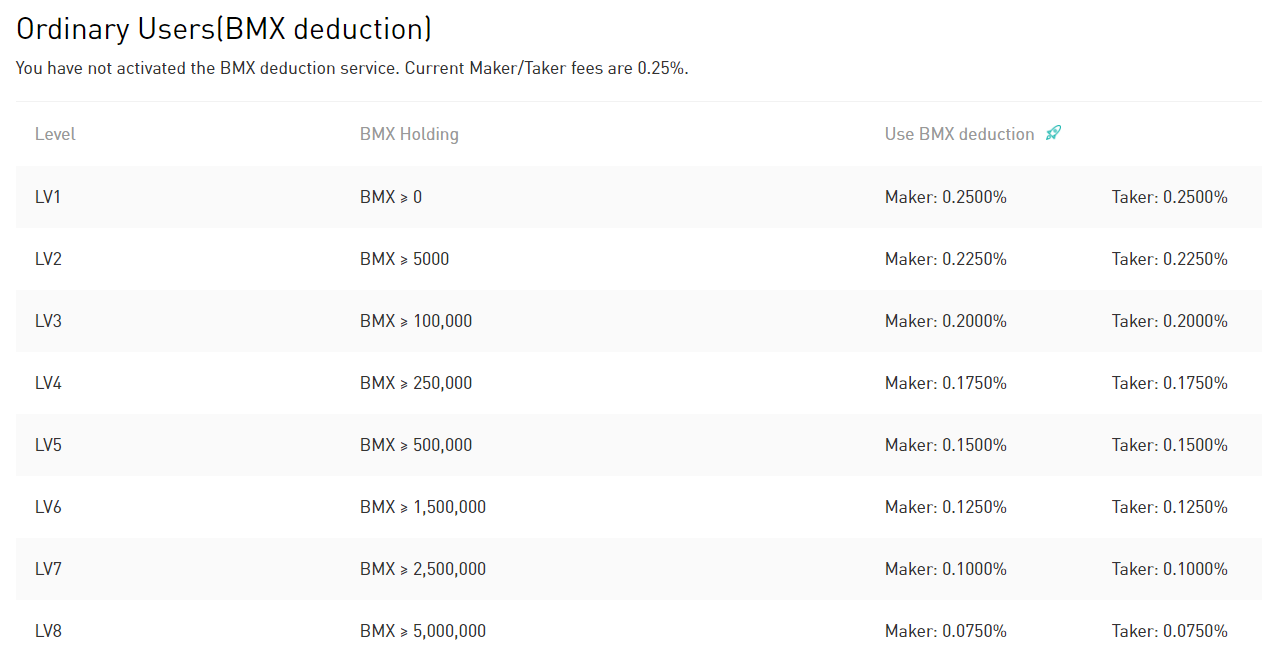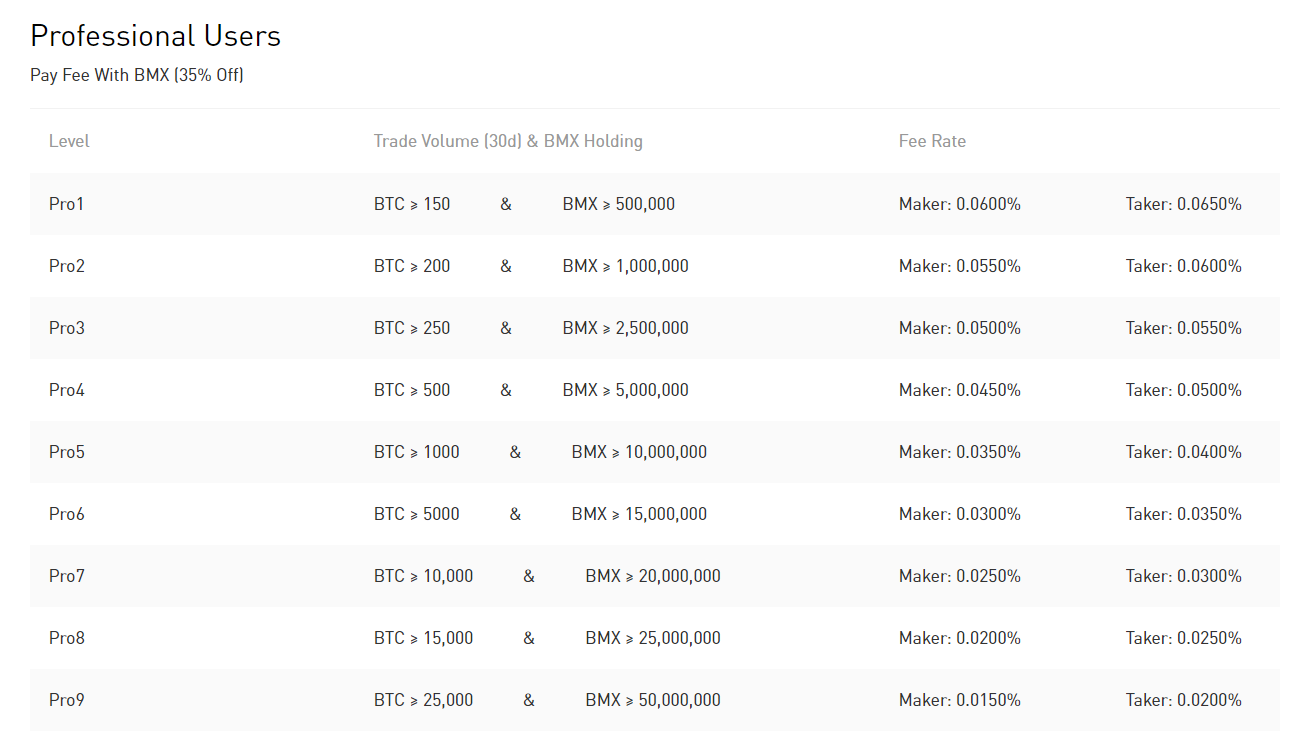 Using BMX to pay your transaction fees reduces them by 25%, providing users with an incentive to hold the token. Note that all trading fees are calculated based on a user's trading volume over the last 30 days and overall BMX balance in their account.
Withdrawal fees
While deposits are free, there are fees for withdrawing tokens depending one which one you choose to send off the exchange – an initial list of some of withdrawal fees are indicated below. Please note that all withdrawal fees you see below are denominated in the token price and not a fiat currency. The fee rate depends on users' levels.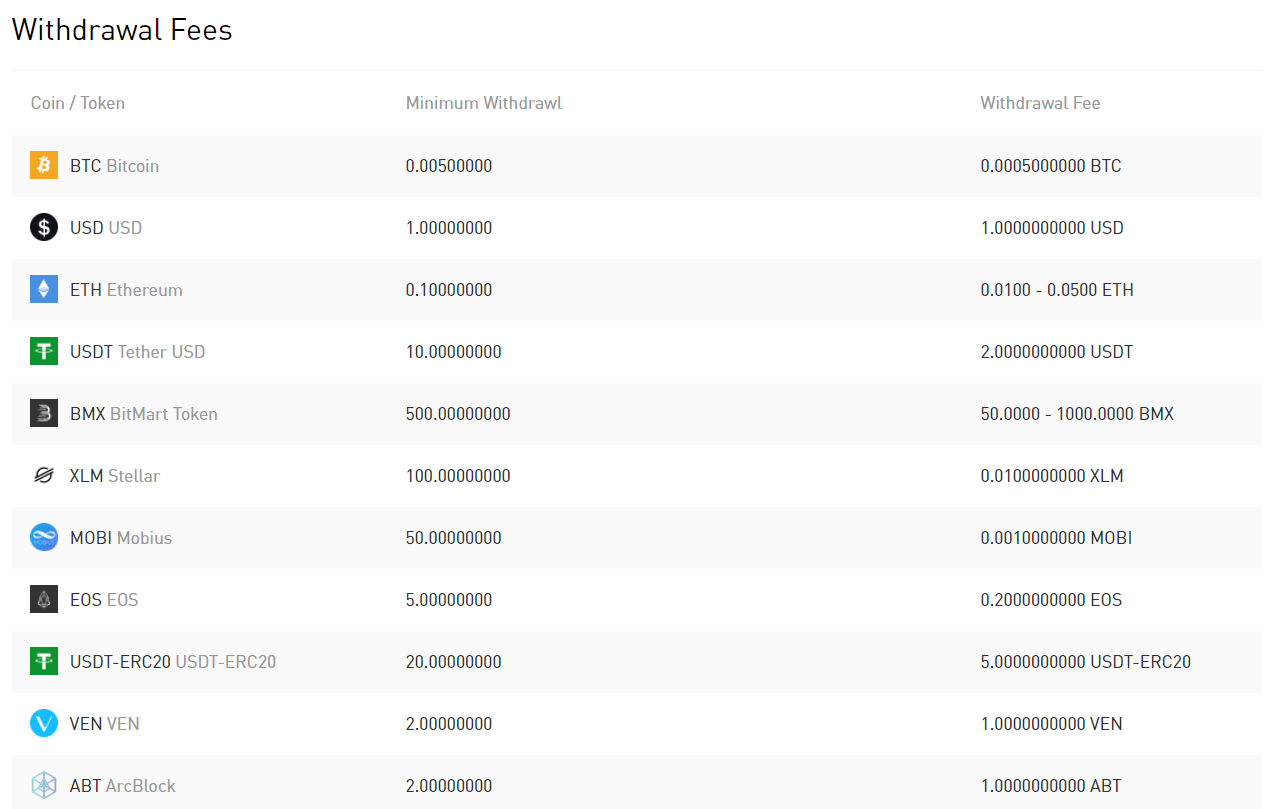 Trading View
Futures trading
BitMart exchange has a relatively straightforward trading view page. On the top of the screen, you have the percentage change over the last 24 hours for some of the top cryptocurrencies. To the left, you can select your trading pair with your buttons to buy/long or sell/short. The order book is next on the right, followed by the price chart graph in the middle of the page.
BitMart Futures is a market for futures trading with perpetual swaps – these perpetual contacts don't expire or settle; they offer up to 100x leverage for futures trading. The initial margin required is typically 1% of the value of the entire position when opened, and will increase if the position amount goes up. The maintenance margin is 0.5% of the position when opened, and will also increase as the position value rises.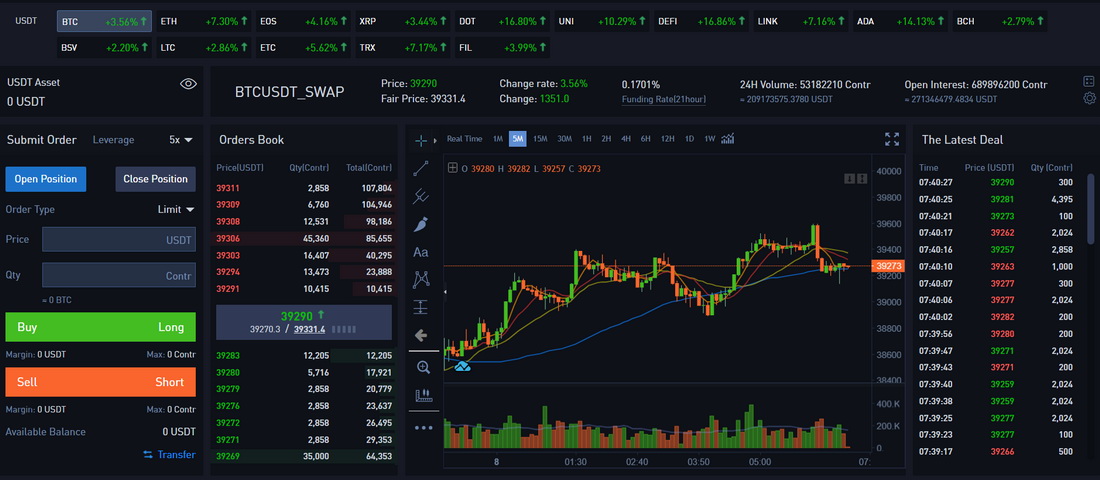 Simulation
Simulation futures trading is a feature on BitMart that allows you to use artificial funds to practice real trading. Once you have logged in, navigate to the Futures tab and click Simulation. From there, you will be taken to the main page, and the system will automatically send you 15,000 BUSD to utilize and trade with.
BitMart API
You can apply for an API key on BitMart's website – the API allows developers to customize their preferred method to analyze, trade, or withdraw the market. The responses of all interfaces are in JSON format.
Their API can be used for system status, funding account, spot trading, contracts, websockets, and change logs. They also provide a Telegram group for users with questions and comments on the API. Through their REST and WebSockets APIs, there is also enhanced security and flexibility throughout the system for more advanced features.
BitMart Shooting Star
Shooting Star is an ordinary listing and IEO combined; the intention of the program is to simplify the listing process for cryptocurrency projects and provide users with more beneficial rules. In order to participate in the various sessions/sales that are offered, you need to have completed KYC verification and be from a supported country, which will be discussed in the next section. Below is a sample of some of the tokens that have been offered for sale by the Shooting Star program: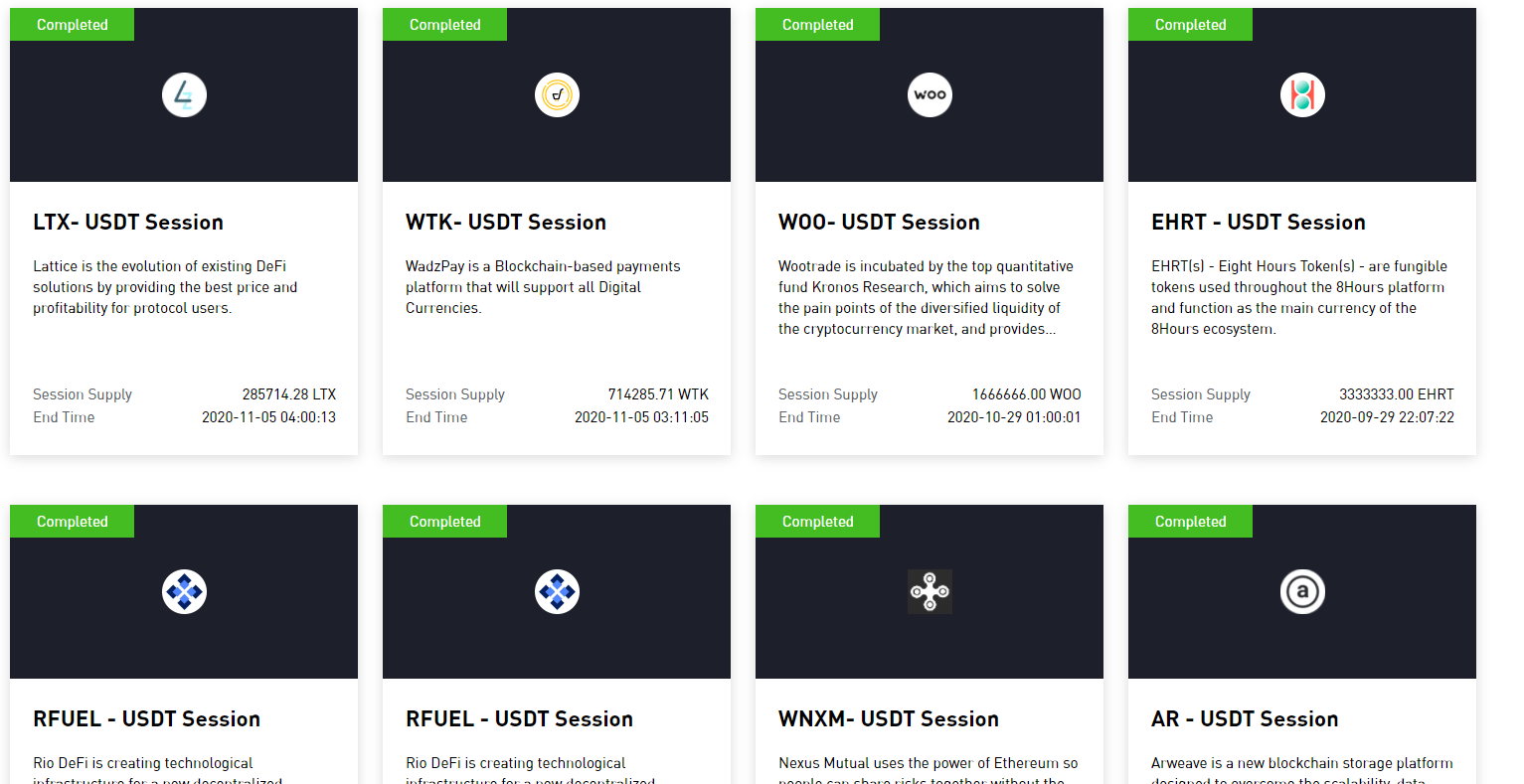 Supported Countries and Cryptos
Per their terms of service, BitMart exchange offer services to US persons and citizens, except New York state. For other US states, residents can access products and services.
The unsupported countries are Afghanistan, China, Congo, Cote D'Ivoire, Cuba, Democratic Republic of the Congo, Democratic People's Republic of Korea (North Korea), Eritrea, Iran, Iraq, Japan, Kyrgyzstan, Lebanon, Libya, South Sudan, and Sudan.
For their Shooting Star launchpad/platform, there are additional countries that are restricted, as this deals with the launching of new projects and can have more sensitivity depending on different government policies.
In regards to crypto offerings, you are able to buy over 150 different tokens on their exchange platform with a variety of different trading pairs. Below is a snapshot of some of the available tokens: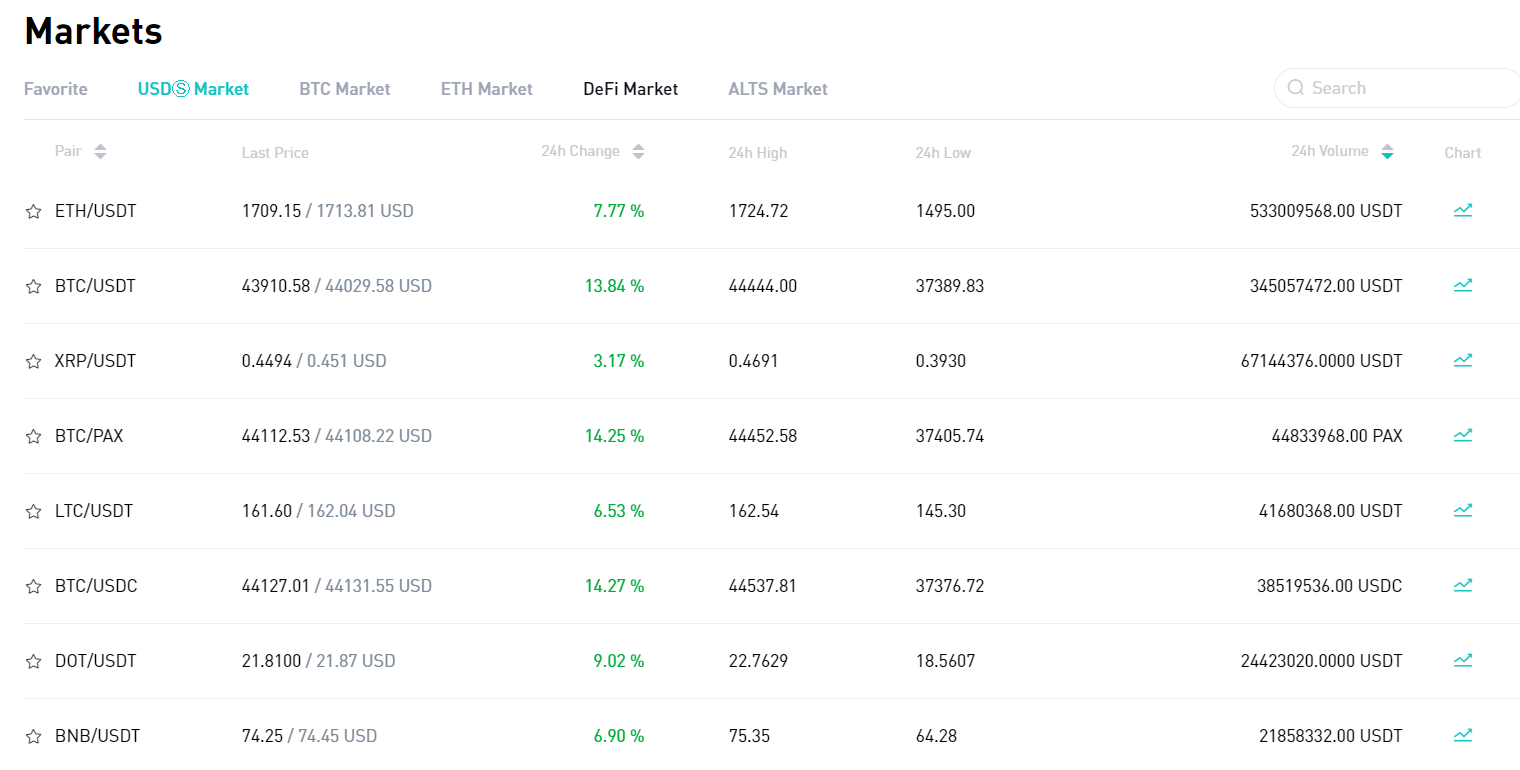 Deposit and Withdrawal Methods
You can deposit cryptocurrency by clicking Buy Coins on the top of the homepage – this will introduce you to a variety of options. The first is by credit or debit card – most VISA and Mastercards are accepted at BitMart. Other options include standard bank transfers and even PayPal, with up to 42 different fiat currencies supported. BitMart exchange allows three methods for depositing (outside of regular crypto deposits), which are MoonPay, Simplex, and Paxful.
For withdrawing, simply navigate to your assets overview/balance, select the crypto you want to withdraw, and enter the deposit address of the wallet you want to send to.
Other Features and Services
Staking
BitMart offers staking on their platform for users to earn interest on the crypto assets they choose to deposit. While staking, you are allowed to freely trade and move your tokens around the exchange without restriction and earn rewards that are distributed monthly – they also do not charge any fees for staking. Current supported tokens for staking are quite limited – there are only 6 available, and these are EUM, BHD, ALGO, ATOM, QTUM, and DASH.
Lending
Lending on BitMart is straightforward – every project/token has an investment term and yield, and once you buy, the interest will be unlocked and distributed to your wallet on the redemption date. The lock up period for tokens varies between 15, 30, 90, 180, or 365 days across many different cryptos. On their website, there is a list of current, upcoming, and ended lending offerings.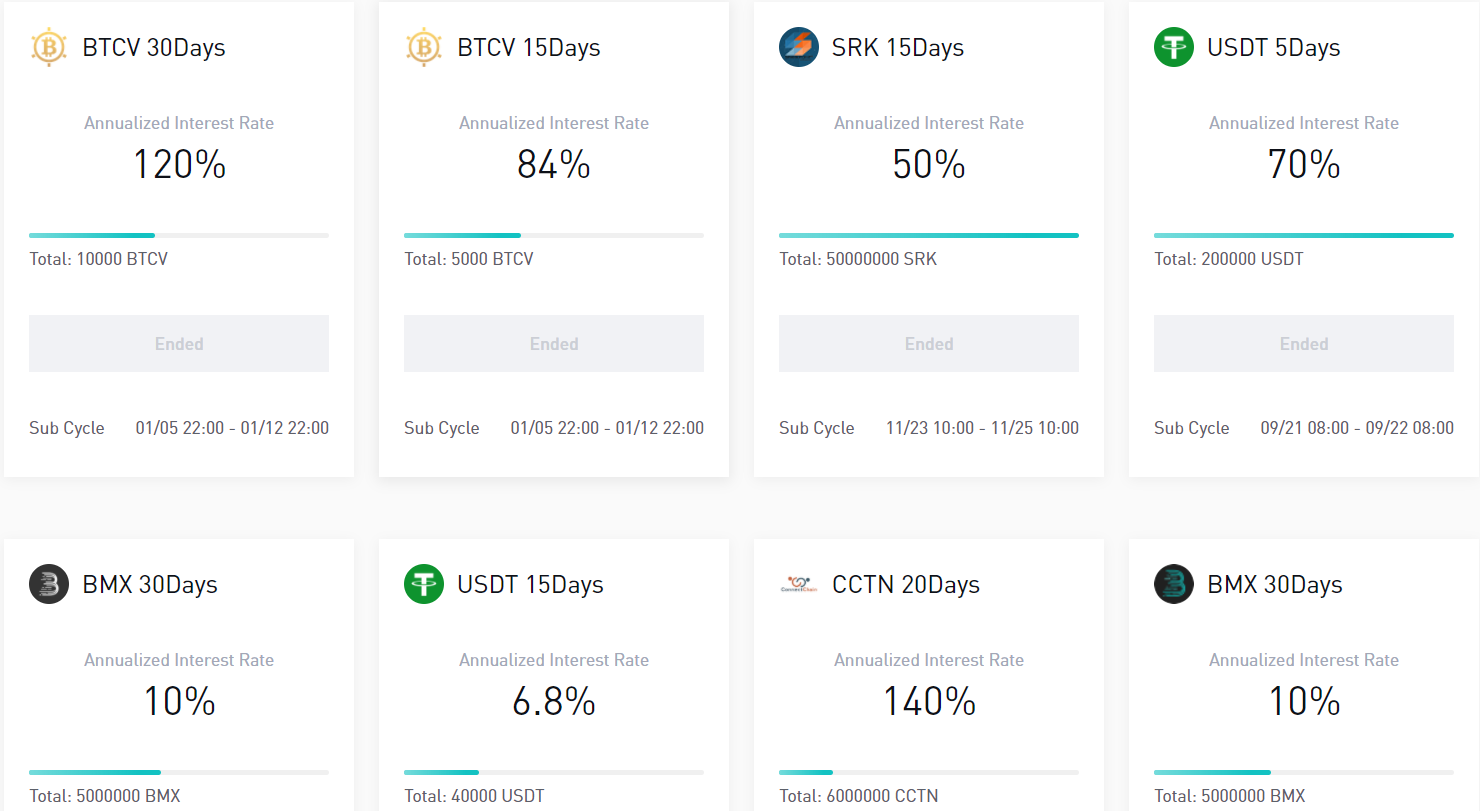 Mission X
BitMart's Mission X is a platform that provides users with the opportunity to invest in new and exciting projects. You start by investing in the project of your choice and locking in BMX tokens to begin earning trading fee dividends. Once the project reaches 1 million BMX invested, it will be listed on the BMX market. After it is listed, 100% of all trading fees are distributed amongst the investors in the project based on how much they contributed.
How to use BitMart Exchange
To make an account on the exchange, go to their homepage and click Get Started on the top of the page. It will then allow you to choose between entering your phone number or email, and then your password. Once completed and you've read and agreed to the terms of service, click Register.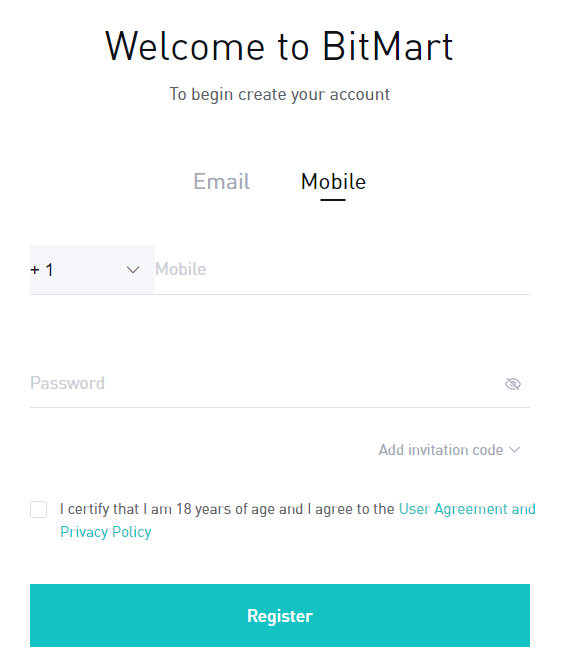 BitMart exchange does have the option for KYC, but you don't have to verify yourself for looking at markets, depositing, and trading. However, if you want to withdraw assets, you will be required to complete the identity verification through KYC. In addition, if you have successfully verified your identity, there are special promotions and events that are only offered to KYC users.
Level 1 signifies an unverified account, which is the lowest tier where you will not be able to withdraw assets.
The next tier is Intermediate level status, where you will need to provide information such as your country, name, gender, birthday, ID card, and document number; this includes uploading pictures of your ID card and a selfie of yourself with specific writing on a piece of paper to ensure it's really you.
After you've completed all the steps, it usually takes around 3-5 minutes to receive confirmation, but can sometimes take up to 24 hours.
Security
BitMart's team places a heavy emphasis and importance on the security of their customers' funds. For account security, they offer 2FA enabling that provides a one-time code that only you can access on your phone, allowing for increased security. For withdrawals, no one has the ability to withdraw from a wallet without confirming through email or SMS verification first; all personal information that you provide is also encrypted. The IP address of each login is watched and recorded by BitMart to protect user accounts, and they allow users to create API keys with advanced read/write permissions for further protection.
For system security, they offer protection against DDOS attacks, an automatic backup of the database every few minutes, and SSL-secured (https) protection. For security of your funds, over 99% of user funds are held offline in cold storage and less than 0.5% of funds are held in the hot wallet to help with normal operations.
Conclusion
BitMart exchange has a very unique platform with product offerings not seen on many other exchanges, however there are some things to consider when using the platform and whether or not it's the right one for you.
Pros
Simple and easy trading view and user interface – it looks like any normal exchange
Large amount of features and product offerings, including staking and investments in new projects
Generous leverage (up to 100x) for futures trading, and simulation options to give users a flavor of leverage trading if they are hesitant
High lending rates
Strong security protocols and measures in place, with a verified team that has undergone a background check
Cons
Lending rates are high but limited in terms of frequency
Tokens available for staking are extremely limited, with interest rates being very low compared to other platforms on the market
KYC is required before you can withdraw any assets
Visit Exchange >>>
Social media