Paxful Review

Withdrawal fee: 0.0005 BTC

Bank transfer

Credit Card

Cryptocurrency

Paxful is a US-based cryptocurrency trading platform that has its headquarters in the Greater Philadelphia Area.
It's currently one of the longest-standing peer-to-peer Bitcoin exchange platforms and was founded by finance aficionado Artur Schaback [LinkedIn] and developer Ray Youssef [LinkedIn] in 2015. Since then, it has established itself as one of the top five P2P exchange platforms for Bitcoin by trading volume.
Unlike brokers and order-book based cryptocurrency trading platforms, Paxful is a simple peer-to-peer cryptocurrency exchange platform. This means buyers and sellers directly interact to buy/sell Bitcoin (BTC) and Tether (USDT). Users can either buy or sell Bitcoin by selecting vendors/buyers from the list of available options, or can create their own offer to find a suitable counterparty.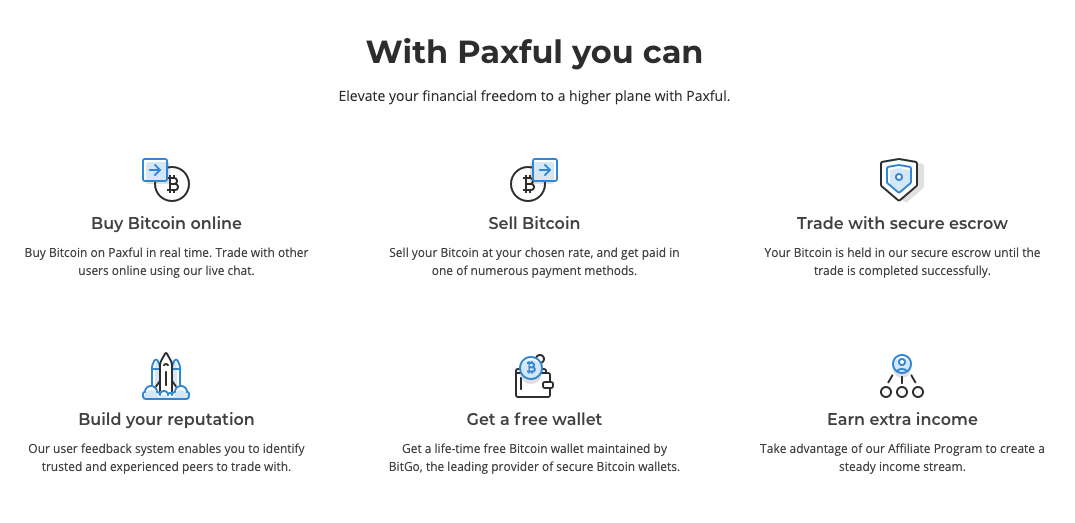 The platform supports users in well over 100 countries and currently boasts more than 12,000 trusted vendors, and 4.8 million users.
Paxful allows users to sort and arrange offers by a huge number of parameters, helping to find the right buyer or seller based on specifics like payment method, reputation, trade size limits, and a variety of offer tags. This makes it ideal for those looking to find the best rates available in their region.
For newer users, Paxful's useful tour guide feature can be used to easily get to grips with the platform.
Paxful fees
Like the vast majority of cryptocurrency exchange platforms, Paxful charges a range of fees for its services. These can be broken down into three major categories: trading fees, sending/receiving fees, and conversion fees.
First off, cryptocurrency purchases are free on Paxful. You will not pay a specific fee for buying cryptocurrency—regardless of which payment method you use. However, cryptocurrency sellers will be charged between 0.5% to 5% of order total for each sale.
It is cheapest to sell cryptocurrencies for a bank transfer with just a 0.5% fee, whereas sales for gift cards will attract a 3-5% fee depending on the type of gift card. All other supported sell methods have a flat 1% fee.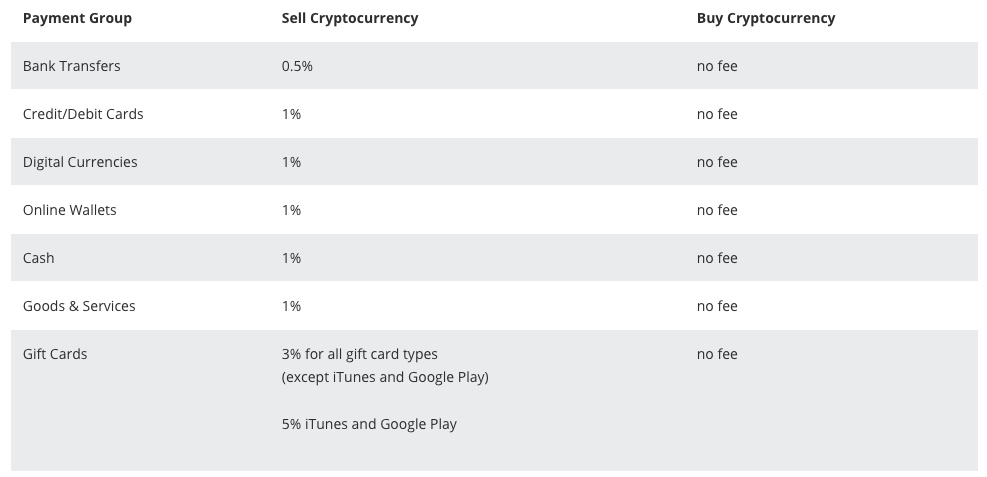 On top of this, receiving cryptocurrency is free, whereas cryptocurrency withdrawals (transfers) will be charged a variable fee, relating to the size of the transaction. As an indicator, BTC transfers of $20+ will be subject to a 0.0005 BTC fee, whereas transfers of $20+ worth of Tether cost 5 USDT. Paxful users also get five free BTC and USDT transfers per month to other Paxful wallets.
Lastly, there are the exchange fees. Converting from Tether to Bitcoin is free, whereas Bitcoin to Tether transfers are subject to a 0.1% fee (paid in BTC).
Overall, these fees are roughly in line with competing platforms like Coinbase and LocalBitcoins—both of which also offer free internal transfers.
Deposit and Withdrawal Methods
Paxful is available to users in the vast majority of countries—but there are some exceptions. Users from any OFAC banned countries are unable to use the platform, this includes Iran, Iraq, Venezuela, and Cuba (among others).
In total, there are more than 350 ways to pay using Paxful, but each region will vary in the type of payment methods that are available to use, and based on the merchants currently active. Some of the most widely available payment methods include bank transfer, cash, PayPal, Skrill, Neteller, Amazon gift cards, and various cryptocurrencies—like Ethereum (ETH), Litecoin (LTC), and XRP.

The platform only supports the sale of two different cryptocurrencies: Bitcoin (BTC) and Tether (USDT)—both of which can be sold for any of the wide variety of payment methods supported by the platform.
When it comes to buying and selling limits you will need to complete various levels of identity verification to access higher and higher limits.

Almost anybody is free to create an account to create a receiving wallet, but to transfer cryptocurrencies elsewhere, you will need to complete at least level 1 verification by providing your email address and phone number.
The maximum limits available are $50,000 per trade, and unlimited trade and transfer volume—this requires level 4 verification.
Lastly, users in some countries may be subject to slightly different verification rules, the full breakdown of which is explained here.
How to use Paxful
Like most cryptocurrency trading platforms, you'll need to create an account before you can start buying or selling Bitcoin or Tether on Paxful.
Fortunately, Paxful doesn't charge any fees to register, and creating an account and getting started with trading on the platform usually takes just minutes. Here's how to get started.
Creating a Paxful Account
To begin, you'll need to head over to the Paxful account registration page. Here, you'll be asked to enter your email address and choose a password—make sure it's long and complicated to keep it secure.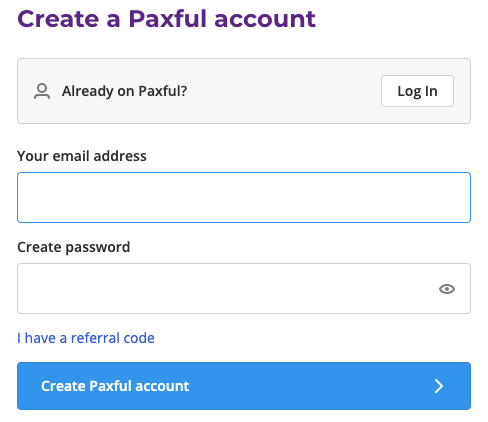 You will then be automatically logged in, but will need to verify your account by copying and entering the six-digit code sent to the email address you selected.
Lastly, you'll be prompted to enter your phone number. Paxful will send another verification code to your phone—enter this on the subsequent screen to complete the account creation process.

Once your account has been created, you'll be able to see what your purchase/sell limits are in your Paxful dashboard. As you can see below, we have a 731 GBP purchase limit, but a 0 GBP selling limit.

Depending on your requirements, you may need to complete ID verification to increase your limits and unlock new features. You can do this by clicking the 'Increase Limits' button. This might involve providing proof of identity and address, and completing a video verification procedure.
Once you're at your desired verification level, you can navigate to the buy or sell section of the site, and use the left-hand panel to find the best offers based on your chosen location, payment/selling method and more.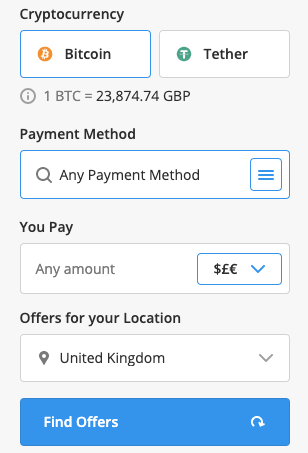 After you've entered your order parameters, you'll be able to click the 'Find Offers' button to pull up a list of offers, which you can then arrange using the sort options.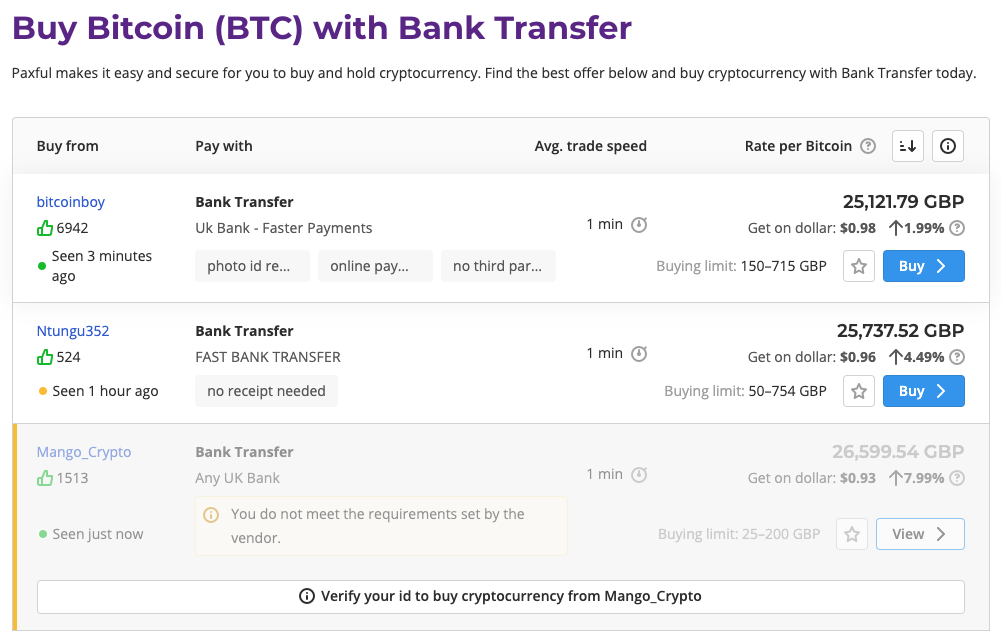 Once you've found your desired merchant, simply click 'Buy' or 'Sell' to complete the checkout process with the counterparty.
Paxful wallet
Although Paxful is primarily known for its cryptocurrency trading platform, it also offers a simple web-based Bitcoin and Tether wallet.
As a cloud-based wallet option, the Paxful Bitcoin wallet can be accessed from anywhere, using any device with a web browser. Depending on your location, you may need to complete identity verification before you will be able to make a deposit or withdraw your BTC—this makes it one of the few web wallets that require ID verification to use.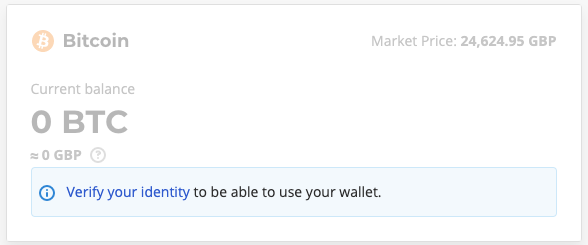 This wallet is directly connected to the Paxful exchange platform, meaning users can easily sell or receive BTC from/to their Paxful Bitcoin wallet. Beyond this, it's only other feature is a simple transaction history tool, to help you keep track of your deposits and withdrawals.
Security
When choosing a cryptocurrency trading platform, security should be at the top of your priority list—after all, with cryptocurrency exchange hacks relatively commonplace, using only secure, battle-tested platforms could save you from an expensive loss.
Fortunately, Paxful is about as secure as they come. In its more than five years of operation, it has never been hacked. Paxful uses BitGo as its wallet service provider, and uses industry-leading server security to keep your funds safe at all times.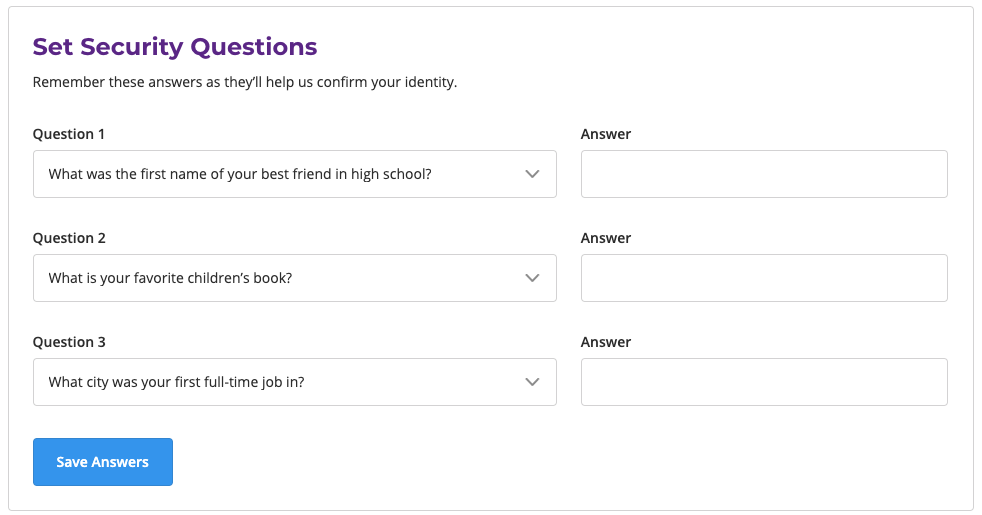 It also offers a variety of account-side security features, which are used to protect your account from unauthorized access. These include 2FA via Google Authenticator or Authy, or SMS-based 2FA. There's also an active sessions feature, which lets you track any devices logged into your account, and forcibly log them out if needed.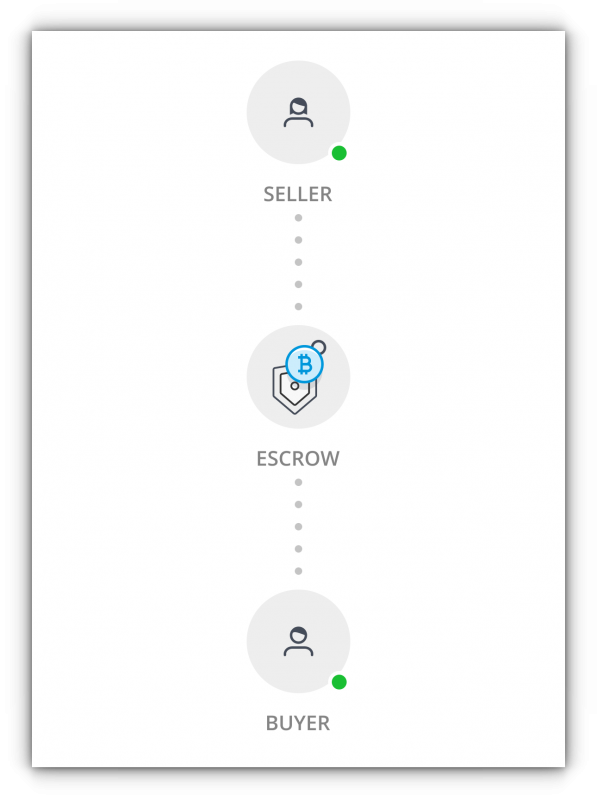 With that said, Paxful is a peer-to-peer trading platform. As a result, there are undoubtedly both buyers and sellers on the platform looking to scam unwitting users. The platform includes a built-in escrow system to help ensure trades are completed securely—but be wary of anybody looking to circumvent the escrow system by trading outside of the platform.
Conclusion
Choosing a P2P cryptocurrency exchange platform often requires compromises. You usually get either a wide range of available offers, payment methods, and features, but have to pay expensive fees for the privilege, or you get low fees, but the features are lacking.
Paxful breaks this mold. The platform features an extensive array of offers and features one of the widest selections of payment methods available, but manages to keep the fees down. With a minimum 0.5% fee, while selling through bank transfer, Paxful can be one of the cheapest places to trade cryptocurrencies P2P.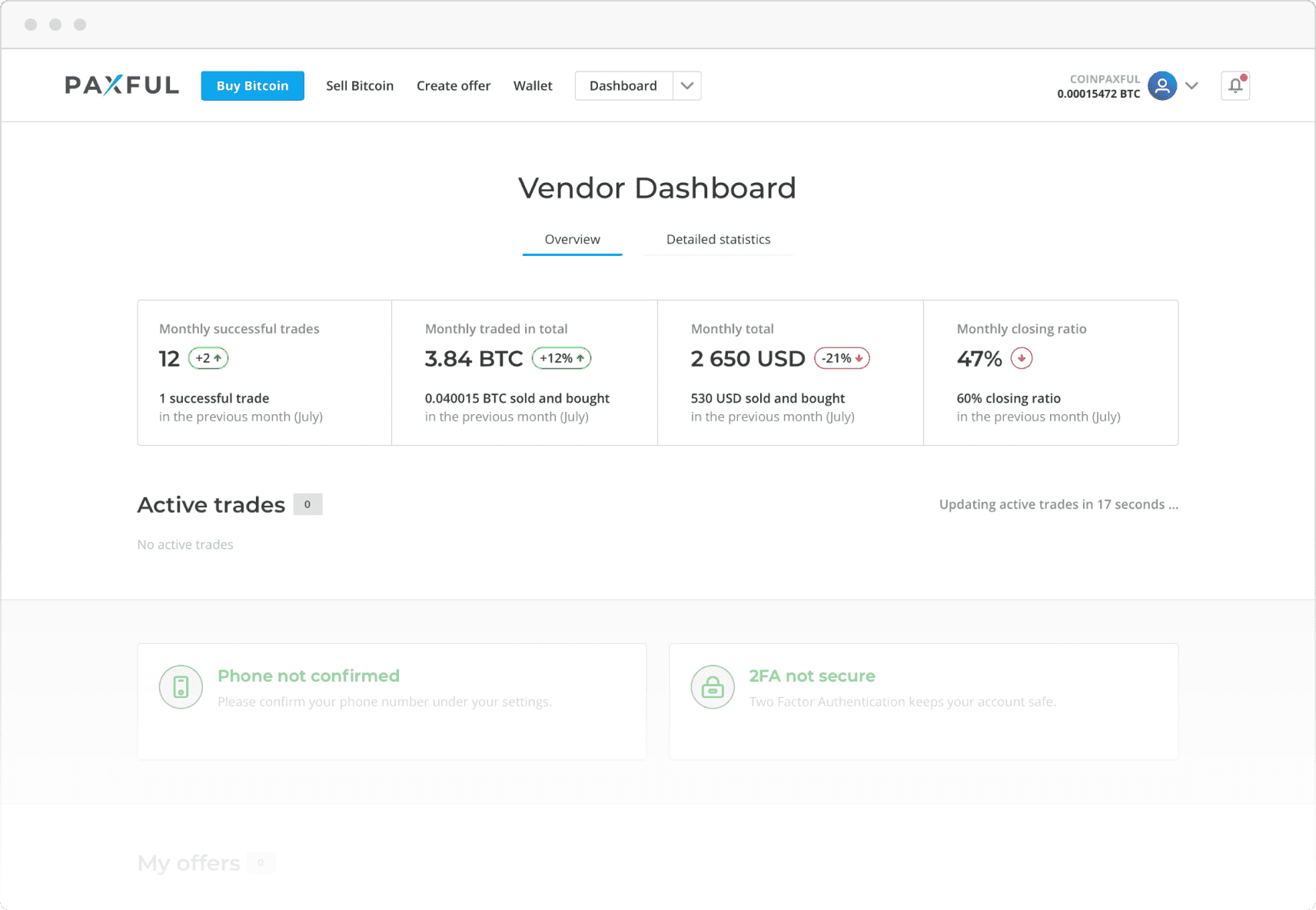 But it's not perfect. The exchange enforces KYC verification for most accounts, and currently only supports the buying and selling of BTC and USDT—though you can use a variety of altcoins to purchase these. You will also need to watch out for the up to 5% fee for selling cryptocurrencies for gift cards.
It also doesn't offer any additional features outside of the regular P2P exchange options—such as Coinbase's Earn platform. Nonetheless, it serves its purpose well and is an ideal exchange for those simply looking to trade their cryptos with local vendors.
Visit Exchange >>>
Social media