Kraken Review

Withdrawal fee: 0.0005 BTC

Taker fee: 0.26%

Maker fee: 0.16%

Bank transfer

Credit Card

Cryptocurrency

Kraken is one of the oldest and most notable online exchanges worldwide for buying and selling cryptocurrencies. Founded by Jesse Powell [LinkedIn] in 2011, they are known for their wide array of features and product offers, as well as their security and trustworthiness in the industry. They have the advantage of being a legacy exchange, having withstood the test of time from cryptos humble beginnings while many other exchanges fell apart. Their team consists of Kaiser Ng (CFO), David Ripley [LinkedIn] (COO), Jeremy Welch [LinkedIn] (VP Product), and more. They are headquartered in San Francisco, CA and do not have a native token [Wikipedia].
Kraken Fees
Trading Fees
Their trading fees are pretty standard across the board relative to their competition. On their website, they have many different fee schedules for the different types of transactions you want can engage in – these are Instant Buy, Kraken Pro, Stablecoin & FX Pairs, Margin, and Futures. The fees are dependent on your 30-day trading volume, and a sample of the Kraken Pro fees can be found below:
| 30-Day Volume (USD) | Maker Fee | Taker Fee |
| --- | --- | --- |
| $0 – $50,000 | 0.16% | 0.26% |
| $50,001 – $100,000 | 0.14% | 0.24% |
| $100,001 – $250,000 | 0.12% | 0.22% |
| $250,001 – $500,000 | 0.10% | 0.20% |
| $500,001 – $1,000,000 | 0.08% | 0.18% |
| $1,000,001 – $2,500,000 | 0.06% | 0.06% |
| $2,500,001 – $5,000,000 | 0.04% | 0.14% |
Kraken exchange also issues Kraken fee credits (KFEE) to users for a variety of different reasons, such as receiving a voucher – these credits are internal tokens that can be used to pay or offset trading fees. As an example, 1,000 KFE is equivalent to $10 USD on the exchange. They never expire, so you can keep them as long as you want in your account until they are fully utilized.
Withdrawal fees
Each withdrawal requires a minimum requirement based on the token equivalent and is subject to change. Below is a list of some of the withdrawal fees:
Trading View
Kraken Pro is the platform on the exchange where you can make traders with an advanced view of charts and prices. The user interface is well-designed and provides all of the information you need in an organized fashion, although it may be overly complex to the average trader. On the left hand side you have the price graph, in the middle is the depth chart, and on the right is the order book and buy/sell options.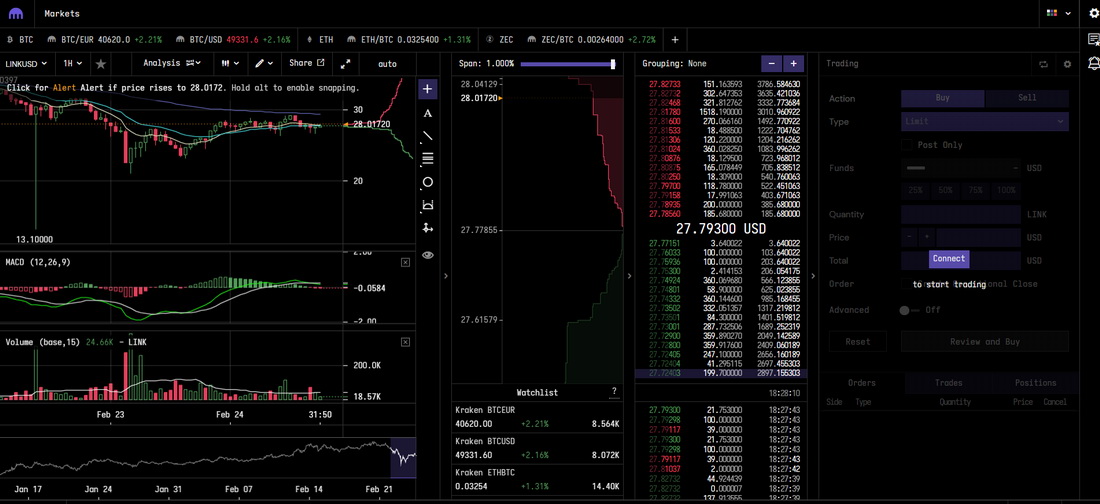 Margin Trading
Kraken offers margin trading with up to 5x leverage on a variety of cryptocurrencies. Some of the benefits of their margin trading offering are low rollover fees, high margin limits of up to $500,000, and advanced API access. You can currently margin trade with the following cryptocurrencies:
Futures Trading
Kraken offers Ethereum, Litecoin, Bitcoin Cash, XRP and Bitcoin as available cryptos to trade futures with. Below is a chart with additional details for each crypto: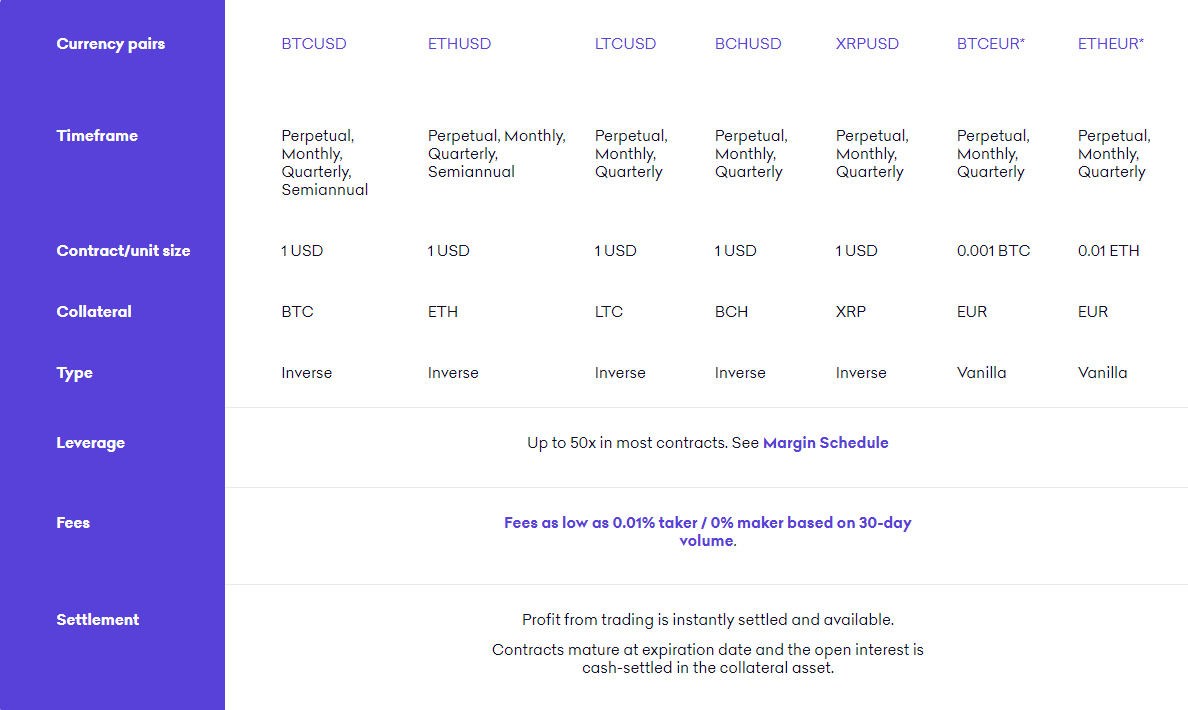 You can trade futures by taking positions with up to 50x leverage, as long as you use collateral of at least 2% of the notional amount.
Funding Options
Kraken happens to be one of the most flexible and convenient exchanges in regards to funding your account. Their website has a general overview of the different funding options available in each fiat currency – supported fiat currencies are USD, EUR, CAD, JPY, GBP, CHF, and AUD. The majority of deposit fees are very low, and depositing in CAD and EUR through SEPA is free. Of course, you can also fund your account with cryptocurrencies by depositing them, limited to the ones that Kraken offers.
Corporate-level clients have other options for funding, including international wire transfers in USD.
OTC Desk
The Over-the-counter (OTC) Desk is separate from the regular Kraken exchange, where they offer higher liquidity and customized service to institutions and large net-worth investors; this is meant to execute large trading orders that may cause large fluctuations on the normal exchange. The OTC Desk brings users the benefit of interacting with members with extensive trading experience, personalized service, and global around-the-clock coverage.
Supported Countries and Cryptos
Kraken exchange supports over 50 different cryptocurrencies, ranging from your large cap to mid-cap tokens; there are several smaller-cap coins, but you won't find too many of those on this exchange.
Its services are available to most countries worldwide, with minimal restrictions. Currently, residents of Afghanistan, Republic of Congo, Democratic Republic of Congo, Cuba, Iran, Iraq, Libya, North Korea, Syria, and Tajikistan are not allowed to use their services. Citizens of the following countries can create an account but may not be able to trade: Central African Republic, Eritrea, Guinea-Bissau, Lebanon, Mali, Namibia, Somalia, South Sudan, Sudan, and Yemen.
Deposit and Withdrawal Methods
As mentioned earlier, there are several ways you can deposit funds into your account. For deposit cryptocurrencies, simply enter your Kraken deposit address when you are sending your funds off your external wallet/exchange. In regards to fiat, there are several wire and bank transfer options to select from when you deposit your fiat currency of choice. They also offer a "Buy Crypto" tool that allows you to purchase a variety of different cryptos, although there are some fees and verifications required.
Withdrawing is easy – you can withdraw cryptos as you normally would off any other exchange, and send fiat to your external bank account via wire or transfer.
Staking Coins and Fiat
For investors and traders who want to earn interest on their crypto and fiat, Kraken offers an attractive stalking platform with a nice selection. Below are the currently supported cryptos and fiat currencies (USD, EUR) that you can stake to begin earning interest: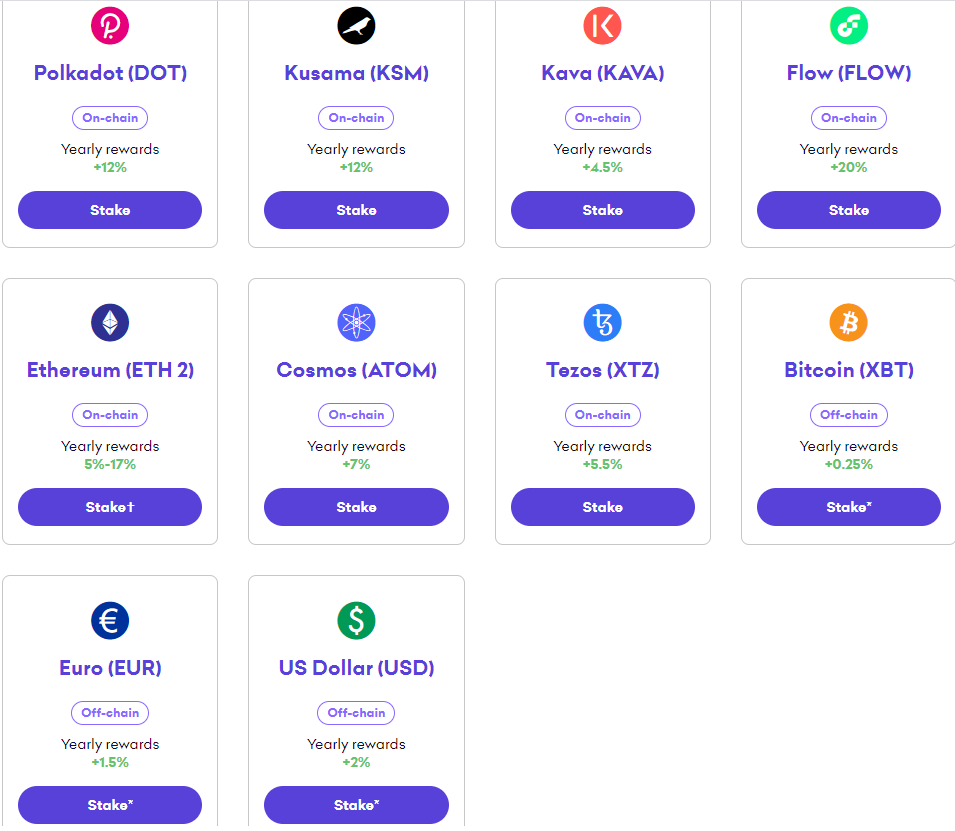 Cryptowatch
Cryptowatch is a trading terminal where you can trade multiple cryptocurrency exchanges from a single platform – you can view your portfolio and thousands of different markets in one place, helping you more easily analyze and quickly get the information you need; they even have a desktop app for convenience. It is a very nice feature that helps distinguish Kraken from its competitors.
Kraken Bank
Kraken has opened a crypto bank based in Wyoming named "Kraken Bank." Occurring in 2020, they were the first crypto company to have been given a US state banking charter (an SPDI). A phased launch will occur in 2021, which will be provided first to former Kraken users before it is extended to mainstream consumers. It will be launched in the US first with the potential to expand internationally.
With their newly formed bank, they are looking to provide digital-first traditional and crypto banking products as well as USD deposit accounts and crypto funding/payment options. In addition, they are anticipating the launch of institutional custody products (qualified custody for advisors and broker dealers), IRAs, and more.
This news made major headlines in the crypto industry, and could be just the beginning of more banking licenses to come!
Bitcoin and Grant Developer Program
This open-sourced program provides developers with grants for the amazing work they do. Opportunities for grants are considered in these protocols: Bitcoin, Ethereum, Lightning, Monero, Rust, and other public cryptos. Developers who receive grants will submit quarterly updates on their work, and even speak about their work at Kraken events and social media platforms.
API
Kraken uses a Websockets and REST API. The Websockets API provides real-time market data updates (public/private/general messages) and allows you to build real-time applications. The REST API provides public market data and private user data, trading, and funding information.
How to use Kraken Exchange
Creating an account is easy – navigate to the homepage and click Create an Account on the top right. Enter your personal details (as noted in the image below) and click Create Account. You will be sent an email verification code – once you've verified, you're all set!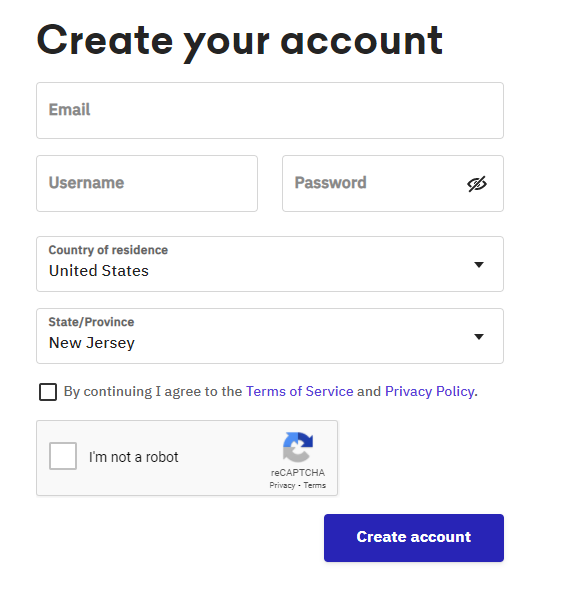 Kraken has different verification levels (Starter, Intermediate, Pro). For the Starter level, you will need the information above in addition to your full name, physical address, phone number, and date of birth; the other two levels offer more features and benefits but require further verification such as identification numbers, KYC, etc.
Security
Kraken has some of the best security measures in the industry. 95% of all assets are held in geographically distributed cold storage wallets. Their servers are housed in secure cages with around-the-clock surveillance by armed guards and video monitors. Any sensitive account information is encrypted, keeping your personal details safe from hackers.
Additional security features include 2FA, email confirmations for withdrawals, configurable account timeout, SSL encryption, no settlement risk or chargeback fraud when trading crypto, and much more!
Conclusion
Kraken is a truly impressive exchange – they've been in crypto ever since it really began, and have worked out the nuts and bolts to provide a truly amazing trading platform. Below are some of the pros and cons to using Kraken:
Pros
Extremely eye-appealing website design, allowing for a seamless navigation experience
Top-notch security features and industry credibility, especially considering its US banking license
Staking on USD and EUR fiat currencies, plus a few cryptos
Great and attentive customer support team
Low trading fees, plus generous leverage for margin/futures trading
Cons
Kraken Pro user interface can be complex for beginner traders
Fees (although relatively low) for deposit via certain methods (i.e. wire)
Limited amount of small-cap cryptocurrencies
Visit Exchange >>>
Social media