Coinbase Pro Review

Withdrawal fee: 0.00

Taker fee: 0.50%

Maker fee: 0.50%

Bank transfer

Credit Card

Cryptocurrency
Coinbase Pro is a market leader in professional and institutional trading.
The platform has played a large role in providing a stepping stone to advanced cryptocurrency trading for both beginner and experienced traders, while at the same time offering a smooth transition to and from Coinbase—a platform mostly targeted towards beginner traders.
Geared towards more experienced traders, Coinbase Pro offers all the tools and features necessary to succeed in today's cryptocurrency market. Here's what you need to know.
What is Coinbase Pro?
Formerly known as GDAX, Coinbase Pro [Wikipedia] is a cryptocurrency trading platform that offers a secure and easy way to buy, sell, and trade cryptocurrencies online instantly.
It is owned and operated by the cryptocurrency exchange Coinbase and designed for the more experienced retail, institutional, and professional traders.
Through Coinbase Pro, traders can access a wide array of markets with live charts and have granular control over their orders to allow for advanced trading strategies.
Moreover, high-frequency and institutional traders will also benefit from the Coinbase Pro APIs—which are divided into trading and feed categories. The trading APIs require authentication and offer access to order placement and account information, while feed APIs are public and offer market data only.
Coinbase Pro Fees
Users will need to pay a variety of fees for using the different services offered on the platform. Most commonly, traders need to pay fees for buying or selling cryptocurrencies.
Coinbase Pro uses the maker-taker fee model to determine the trading fees—with taker trades typically being higher than maker trades. The exact fee charged depends on the pricing tier of the user's account, which is based on their 30-day trading volume.
Taker trades (e.g. market orders) typically charged at 0.5% per trade, but can go to as low as 0.04% per trade for users in the lowest pricing tier. Conversely, maker trades (e.g limit orders) are charged at 0.5% but can go to as low as 0% for anybody that exceeds $50 million in 30-day trading volume.
| Pricing Tier | Taker Fee | Maker Fee |
| --- | --- | --- |
| <$10K | 0.50% | 0.50% |
| $10-50K | 0.35% | 0.35% |
| $50-100K | 0.25% | 0.15% |
| $100K-1M | 0.20% | 0.10% |
| $1-10M | 0.18% | 0.08% |
| $10-50M | 0.15% | 0.05% |
| $50-100M | 0.10% | 0.00% |
| $100-300M | 0.07% | 0.00% |
| $300-500M | 0.06% | 0.00% |
| $500M-1B | 0.05% | 0.00% |
| $1B+ | 0.04% | 0.00% |
Customers are not charged a fee for cryptocurrency deposits, but there will be a small withdrawal fee based on the current network charge.
For fiat deposits and withdrawals, the current fee schedule is outlined below:
| | Deposit Fee | Withdrawal Fee |
| --- | --- | --- |
| ACH | Free | Free |
| Wire (USD) | $10 USD | $25 USD |
| SEPA (EUR) | €0.15 EUR | €0.15 EUR |
| Swift (GBR) | Free | £1 GBR |
Deposit and Withdrawal Methods
Just like Coinbase, Coinbase Pro is designed to be accessible to a wide range of individuals and businesses. As such, it offers a wide array of different deposit and withdrawal methods.
The deposit and withdrawal process is relatively straightforward for account holders. Euros can be deposited and withdrawn using a SEPA transfer, whereas US dollars (USD) can be deposited using an ACH deposit or standard bank wire. For customers in the UK, SWIFT can be used for GBP deposits and withdrawals.
Beyond this, users can easily move their funds between the Coinbase and Coinbase Pro platforms free of charge. This is achieved by simply selecting the "Coinbase USD Wallet" as the option in the Deposit USD section of Coinbase Pro.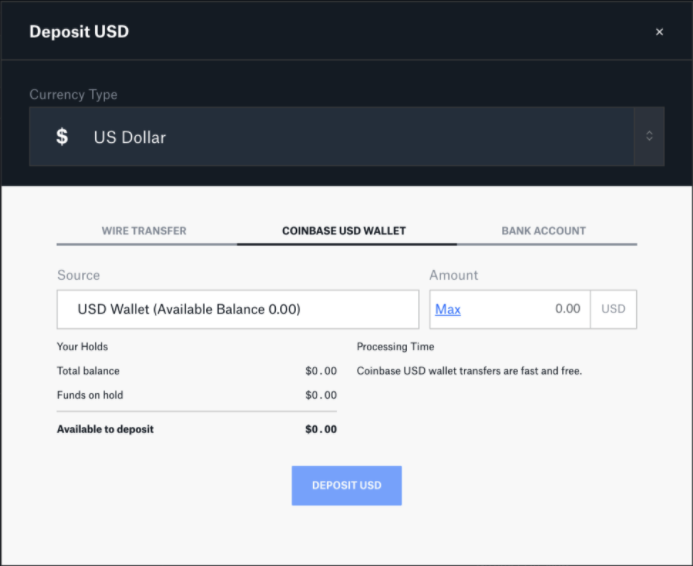 Additionally, all the cryptocurrencies supported by Coinbase can also be traded on Coinbase Pro—except for Bitcoin SV (BSV).
The full range of supported cryptocurrencies and currently available trading pairs are outlined below*:
Create An Account
Opening an account and getting started on Coinbase Pro is a straightforward process that should take just minutes.
To get started, you will need to create an account by providing your first and last name, as well as your email address and a selected password. After which you'll need to click the confirmation link sent to the email address you supplied.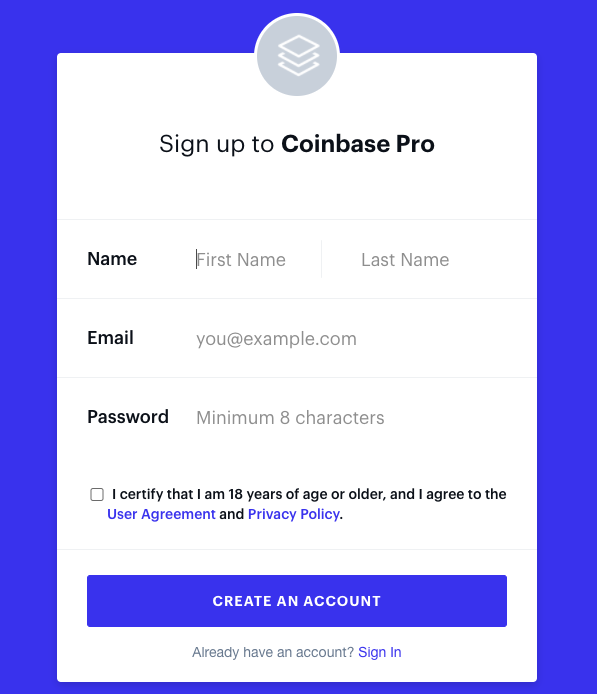 Since two-factor security is mandatory on Coinbase Pro, you will be prompted to provide and confirm your phone number, which will then serve as a second layer of security for your account.
You'll then be asked to provide some basic information, including your name, date of birth, and address, in addition to your source of funds, and occupation.
Finally, you will be asked to upload a photo of your government-issued identification document, such as a passport or driver's license, as well as proof of your address. Once submitted, it may take several hours or days before these are verified—you will receive an email when this process is complete.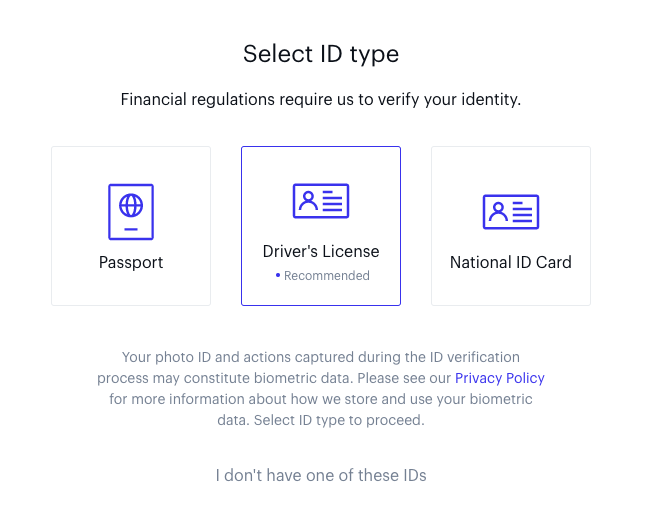 Once complete, you will then be able to log in to both Coinbase and Coinbase Pro using the same credentials and will be free to start trading on either platform. Once logged into Coinbase Pro, you will have access to the full suite of features.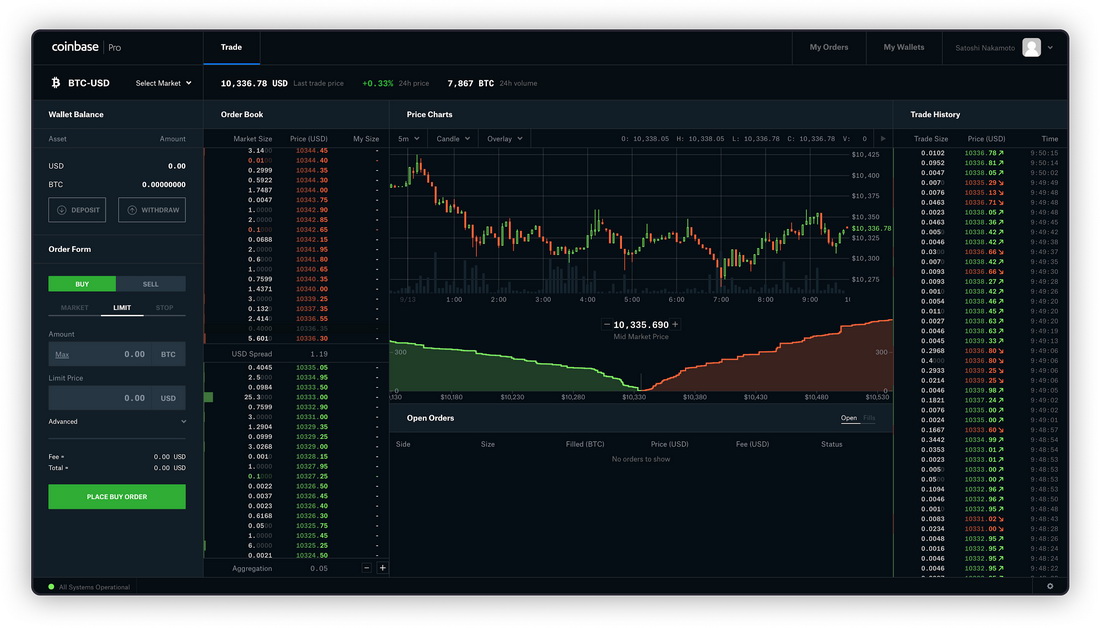 To begin trading Bitcoin on Coinbase Pro, you can select one of the various Bitcoin trading pairs from the drop-down menu.
This will load up the chart and trading interface for the selected trading pair, and you will be able to set your order specifics using the order panel on the left. Thanks to its powerful charting functionality, users can apply a range of indicators and overlays like exponential moving averages (EMA 12 and EMA 26) to assist with trading strategy.
Supported order types include market, limit, and stop-limit orders.
Supported Countries
Coinbase Pro is currently available to users throughout much of the United States and Europe. The current list of supported European countries is detailed below: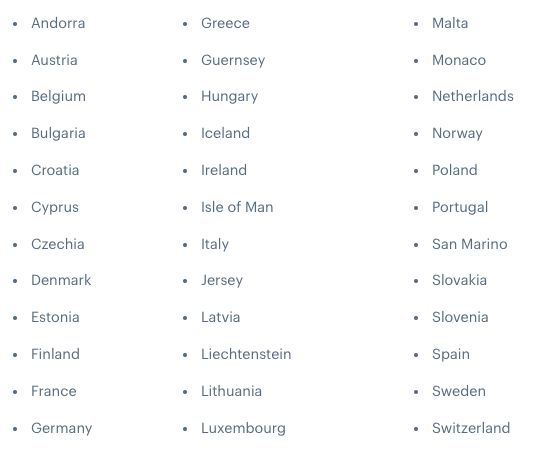 Coinbase Pro is currently unavailable to users in Africa, Asia, Oceania, or Russia.
Margin trading
Eligible customers can also trade on margin under the same platform, this requires a separate onboarding process which is only available to eligible users.
Margin trading is the process of borrowing funds to trade—allowing traders to open larger trades than they could otherwise afford by using their BTC, USD and USDC as collateral for a temporary margin loan.
The maximum available margin is 3x on USD-quoted order books.
The more collateral one has, the more they can borrow. All margin traders are required to maintain their margin score at or above 33% to prevent a margin call and potential automatic liquidation. All margin loans must be paid off within 25 days to comply with applicable laws.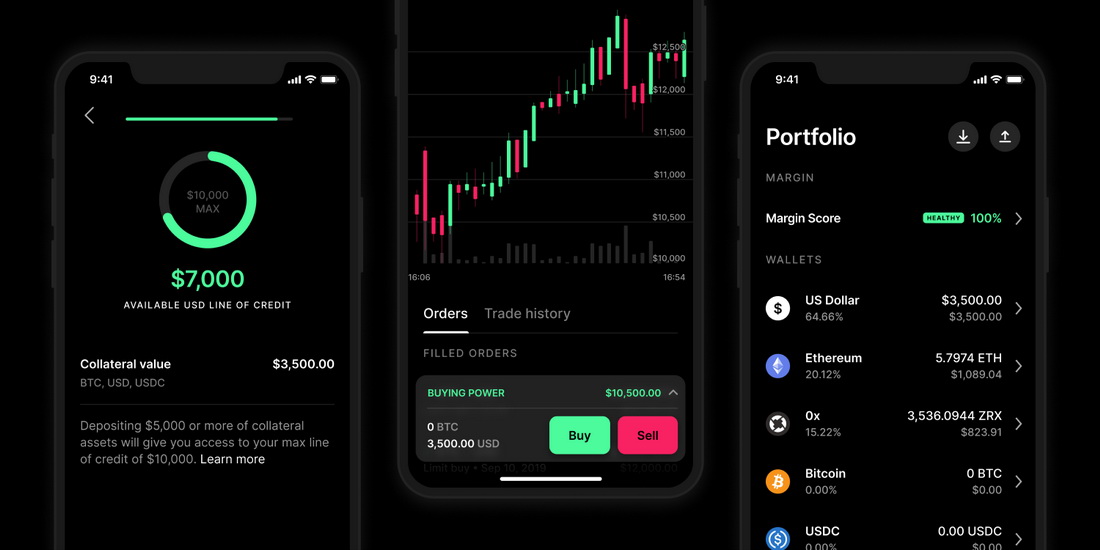 Coinbase Prime
While Coinbase Pro is designed for more experienced traders, Coinbase Prime is custom-built for institutions, brokerages, asset managers, hedge funds, and other firms with high-volume trading needs.
The platform offers deep and diversified liquidity, low cost execution with the availability of a dynamic fee structure based on volume, and powerful API solutions for managers to programmatically manage assets. It's also fully regulated and compliant.
In terms of security, Coinbase Prime offers cold storage services protected by insurance making it the largest and arguably the most trustworthy institutional trading solution for digital assets.
Coinbase Custody
Coinbase's custody platform is a standalone, independently-capitalized business that provides secure, institutional-grade offline storage solutions to institutions and large businesses with significant exposure to cryptocurrencies.
Coinbase Custody operates like a traditional custodian service by offering solutions to the unique challenges that come with storing crypto assets like Bitcoin (BTC) and Ethereum (ETH), as well as a huge variety of other popular cryptocurrencies.
Through Coinbase Custody, institutions can easily manage their assets through a simple web app, with the confidence that their assets are both secure and fully insured.
The platform currently supports more than 90% of all cryptocurrencies by market capitalization, and offers customers a range of additional services beyond simple offline storage, including cryptocurrency staking and decentralized governance features.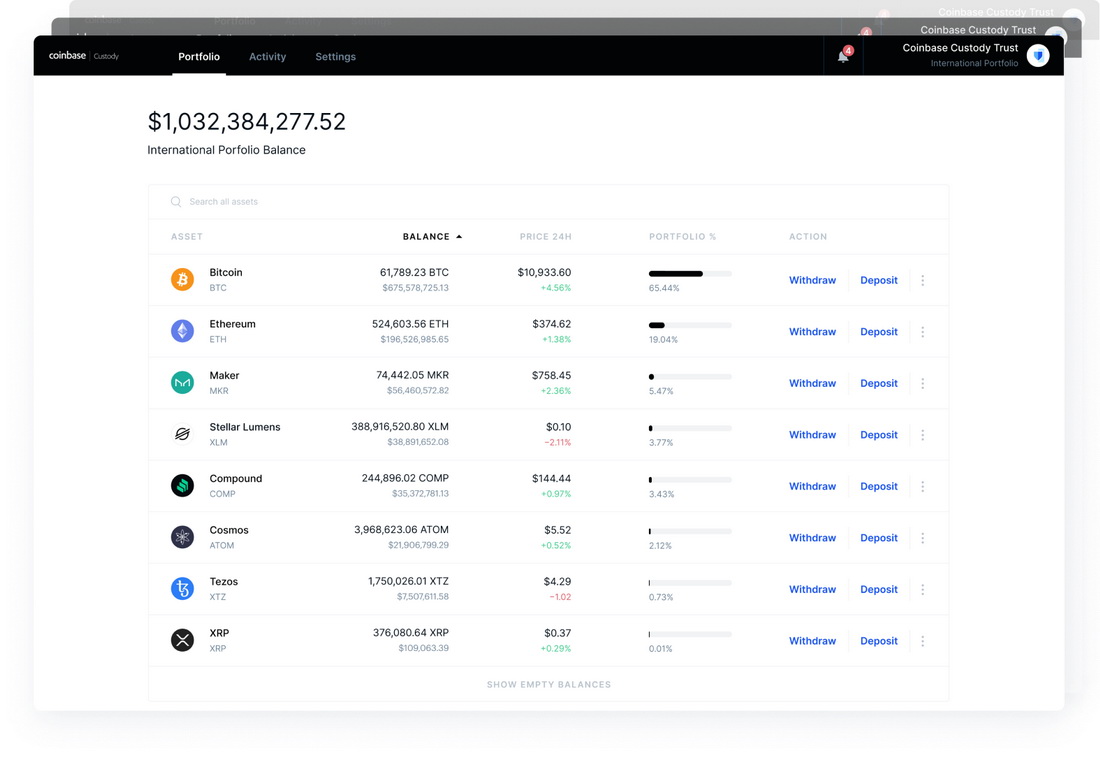 Regulation
The platform is operated by Coinbase, Inc. which is a licensed money transmitter in most US jurisdictions.
Most of its money transmission licenses cover USD wallets and transfers. But in certain states, its licenses also cover crypto wallets and transfers on the platform. A full overview of the functions allowed under its licenses here.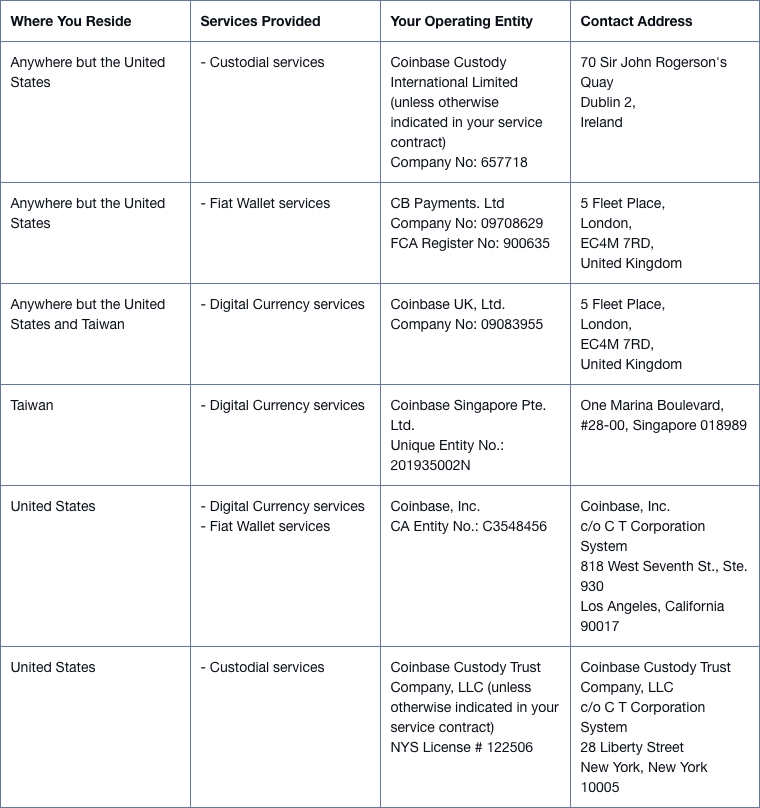 In the United States, Coinbase Pro has to comply with different financial services and consumer protection laws. These include:
The Bank Secrecy Act.
The USA Patriot Act.
Money transmission laws and any corresponding regulations.
Outside of the United States, the exchange operates under CB Payments LTD which is authorized by the Financial Conduct Authority for the issuance of electronic money.
Security
As one of the most secure exchange platforms around, Coinbase Pro has a gauntlet of security measures in place to ensure both customer data and funds are kept safe.
At the base of its security stack is its geographically distributed cold-storage solution, which combines safety deposit boxes, vaults and AES-256 encryption to secure customer funds.
Coinbase Pro enforces mandatory two-factor authentication for all accounts, helping to protect against phishing attacks. On top of this, the site is secured with an SSL certification and HTTPs encryption.
Coinbase Pro has never been hacked and it further protects users by insuring all the assets stored in its hot wallet—a rarity in the industry.
Conclusion
Although Coinbase Pro is designed for professional traders, its ease of use and intuitive layout make it accessible to beginners.
The platform supports a wide array of popular digital assets and allows users to transfer these assets between Coinbase and Coinbase Pro with ease. Likewise, its margin trading functionality and impressive charting tools make it ideal for those looking to tackle the market with advanced strategies.
Although it is an extremely popular, secure and accessible platform, its trading fees for retail investors are higher than many competing spot exchanges. But it does somewhat make up for this by providing complimentary insurance and market-leading customer support.
For those that value security above all else, Coinbase Pro is difficult to beat.
Visit Exchange >>>
Social media