OKCoin Review

Exchange

Withdrawal fee: 0.00

Taker fee: 0.20%

Maker fee: 0.10%

Bank transfer

Credit Card

Cryptocurrency
OKCoin is a global exchange headquartered in San Francisco, with additional offices in Malta, Hong Kong, Singapore, Japan, and Korea; they currently have over 100 employees, serve over 190 countries, and have over 100,000 active investors and traders. It was founded in 2013 by Minxing (also known as Star) Xu. They allow their users access to many popular cryptocurrencies through spot trading with US dollars, Euros, and Singapore Dollars. Their main executive team consists of Hong Fang (CEO), Haider Rafique (Global Chief Marketing Officer), Megan Monroe-Coleman (Global Chief Compliance Officer), and more.
OKCoin Fees
Trading Fees
Fees for trading cryptocurrencies are based on 11 unique tiers, P0 to P10. These fees are determined by your 30-day trading volume and are charged based on the cryptocurrency that you buy. For example, P0 is the bottom tier for individuals who trade less than $100,000 USD – users would incur a 0.10% maker and 0.20% taker fee, respectively. The P10 tier is the highest, requiring over $500,000,000 USD in 30-day trading volume, where the marker and taker fees would total 0.00% and 0.02%, respectively.
| User Tier | 30-day Trading Volume (USD) | Maker Fee | Taker Fee |
| --- | --- | --- | --- |
| P0 | < 100,000 | 0.10% | 0.20% |
| P1 | ≥ 100,000 | 0.09% | 0.18% |
| P2 | ≥ 500,000 | 0.07% | 0.16% |
| P3 | ≥ 1,000,000 | 0.04% | 0.14% |
| P4 | ≥ 5,000,000 | 0.02% | 0.10% |
| P5 | ≥ 10,000,000 | 0.00% | 0.08% |
| P6 | ≥ 25,000,000 | 0.00% | 0.06% |
| P7 | ≥ 50,000,000 | 0.00% | 0.05% |
| P8 | ≥ 100,000,000 | 0.00% | 0.04% |
| P9 | ≥ 250,000,000 | 0.00% | 0.03% |
| P10 | ≥ 500,000,000 | 0.00% | 0.02% |
Withdrawal fees
Fees for withdrawing fiat currencies are mainly free, with a few exceptions which can be seen in the table below. They offer a variety of different bank and account transfers, giving you multiple options to withdraw your funds securely. Bank transfers are the cheapest and most standard methods of transferring funds, and they also offer Epay and Prime X account transfers.
Channel
Deposit Fee
Withdrawal Fee
Deposit Minimum
Signature Bank (Bank Transfer)
Free
Free
Corporate: from USD 100
Individual: from USD 50,000
Silvergate Bank (Bank Transfer)
Free
Free
From USD 100 (US users only)
Prime Trust (Bank Transfer)
Free
USD 35/transaction
From USD 100
Epay Account Transfer
OKCoin charges 1%
Free
None
Prime X Transfer
Free
Free
From USD 100
Go to OKCoin >>>
Trading View
Margin trading
OKCoin exchange offers margin trading as one of their primary services – please note that this feature is not available to customers based in the United States, Europe, or Singapore. When you borrow margin to trade with, only the asset you borrowed and contained solely in your margin account becomes the collateral. They use a tiered margin ratio system dependent upon the amount borrowed; the more you borrow, the higher your maintenance margin ratio, thereby reducing your leverage (and vice versa). The table low provides more detailed information:
| Tier | BTC borrowing limit | USD borrowing limit | Max. leverage | Maintenance margin ratio |
| --- | --- | --- | --- | --- |
| 1 | 5 | 50,000 | 10.09 | 5.0% |
| 2 | 10 | 100,000 | 9.33 | 6.0% |
| 3 | 15 | 150,000 | 8.69 | 7.0% |
| 4 | 20 | 200,000 | 8.14 | 8.0% |
| 5 | 25 | 250,000 | 7.67 | 9.0% |
| 6 | 30 | 300,000 | 7.25 | 10.0% |
| 7 | 35 | 350,000 | 6.88 | 11.0% |
| 8 | 40 | 400,000 | 6.56 | 12.0% |
| 9 | 45 | 450,000 | 6.26 | 13.0% |
| … | … | … | … | … |
In regards to interest rates, the daily interest rate for loans is updated each hour; the rate for every asset is bucketed into 6 tiers based on the ratio of the total margin lending amount and the total savings deposit amount, which is noted as B/L below.
| Base rate | USD | Digital Assets |
| --- | --- | --- |
| 0 ≤ B/L ≤ 20% | 0.00005 | 0.00005 |
| 20% < B/L ≤ 40% | 0.0001 | 0.0001 |
| 40% < B/L ≤ 60% | 0.0001 | 0.0001 |
| 60% < B/L ≤ 80% | 0.00015 | 0.00015 |
| 80% < B/L ≤ 90% | 0.0002 | 0.0002 |
| 90% < B/L ≤ 100% | 0.00025 | 0.00025 |
OKCoin Premier
OKCoin Premier is a special trading program designed for experienced traders and business partners. Individuals with a Premier account receive instant funding and liquidity options, lower transaction fees, 24/7 customer service, and more.
OKCoin API
APIs on their exchange are separated into three different categories: account, trading, and market trends. The account and trading APIs need an APIKey for verification and allow you to make/cancel orders and view your order status and account information; the market data API can be accessed by anyone and provides market data like previous prices of trading pairs. Once you create an account, you will have the option to create APIKeys with different permissions, so you can have each of them perform distinct functions as desired. They also provide REST and WebSocket APIs, which you can use to see market data, trading, or withdrawals.
Start Trading Now >>>
Earn
OKCoin's Earn is a product that aims to simplify the use of DeFi protocols. It has a simple interface and gives you access to DeFi without any fees – so you don't have to worry about paying network gas or service fees. You can deposit STX tokens (Blockstacks) and earn BTC in interest – there are also several options to deposit tokens such as DAI, USDT, and USDC on lending protocols like Yearn Finance, Curve, and Compound for high interest rates.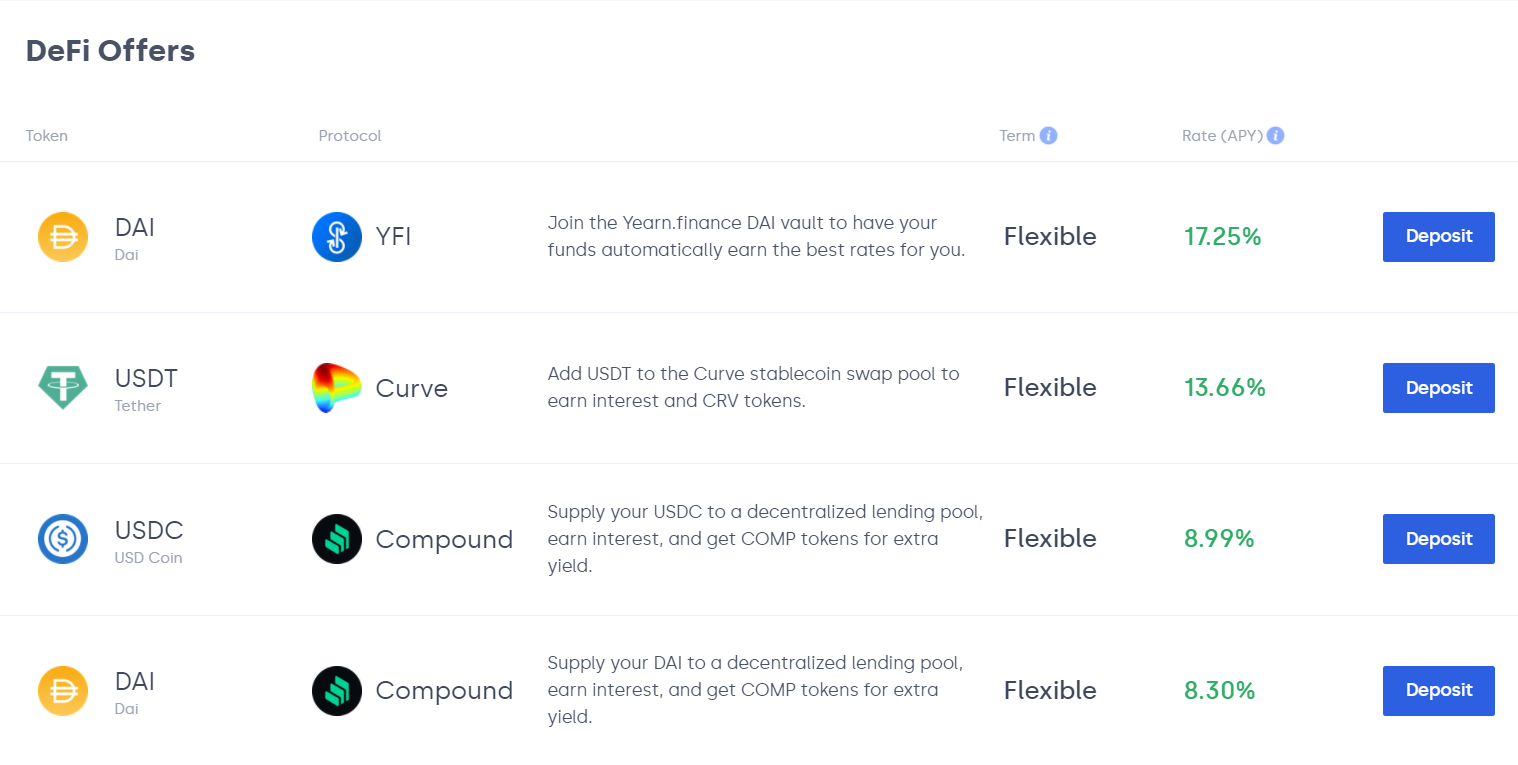 Supported countries and cryptos
OKCoin provides services to all countries globally with the exception of Crimea, Cuba, Bangladesh, Bolivia, Ecuador, Iran, Kyrgyzstan, Malaysia, North Korea, Sudan, and Syria. If you happen to be living in the United States, they offer token-to-token and fiat (USD) token services, depending on which state you live in – some states offer one or both services, or nothing at all for the time being (coming soon).
Deposit and Withdrawal Methods
There are a variety of options for depositing funds into your account – the first step is to link your bank account. ACH transfers are supported via your local currency from your bank account; if this method is used, you will be restricted from withdrawing your funds for 10 days, however your funds will normally be available to you immediately. Wire transfers are also supported for bank accounts, SEPA, or Prime X; the transfer needs to be initiated from your bank account with OKCoin's wire details found under your account information.
Please note that each of these methods is subject to your deposit limits. They also support credit and debit cards as means of purchasing crypto. Depositing via a crypto deposit address (crypto to crypto) is also available from your OKCoin wallet.
How to use OKCoin exchange
You can create an individual account via OKCoin's website or mobile app. Once you've navigated there, click the blue "Sign Up" button, and you will be prompted to enter your email and desired password; there is also an option of using Telegram or Google to make an account as an alternative. A verification code will be sent to the number or application you used to sign up in order to complete the sign-up process.
It's essentially the same process to create a corporate account, although these are specifically meant for businesses with 20+ traders managing the account.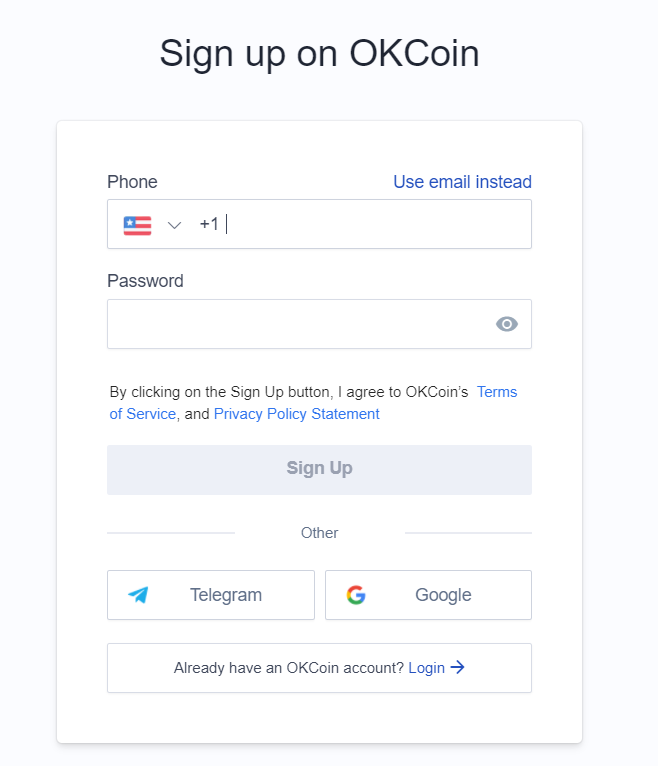 Once you've made an account, you'll need to become verified. Once you are signed into the app or website, click on the profile icon and select "Identity Verification" from the dropdown menu. The next page will provide you with the choice to open an individual or corporate account. There are three different levels of verification, all requiring different information:
Level 1
This is the first tier that requires basic personal information for verification purposes, including:
Nationality
Full legal name (can be found on government issued ID)
Date of birth
Country and state of residence
Street address
Government-issued Identity document information (passport, drivers license, identity card)
For individual accounts, you can trade up to $2000 when you've completed your Level 1 verification.
Level 2
After you've completed the first tier, Level 2 verification requires a photo ID; you will need to upload a picture of your government-issued passport, identity card, or drivers license. Once you've completed verification for this level, you will now be permitted to trade up to $700,000.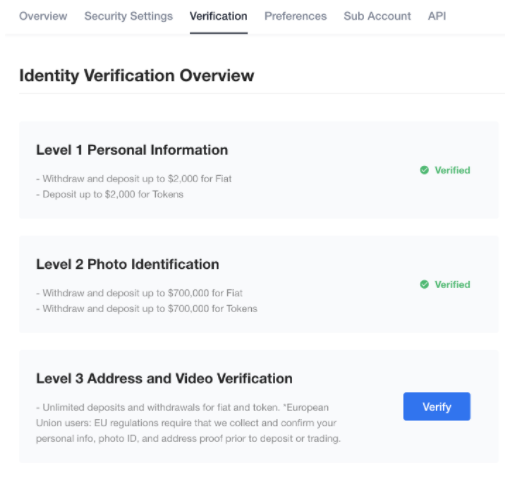 Level 3
If you choose to complete this third tier of verification, you will receive the benefit of unlimited trading on OKCoin's platform. In order to become Level 3 verified, you will need to provide a form of proof of your current address:
A government issued ID containing your current address
Voter ID
A valid utility bill
Bank statement
Property management invoice (issued within the last 3 months)
Document verifying your address, provided by your Human Resources or Finance department of your company (or by your university)
Create an account >>>
Security
OKCoin exchange takes security very seriously, partnering with external cybersecurity professionals to detect any weaknesses in their systems and conduct frequent internal audits. They also use a microservices architecture to verify and authorize every request made to gain access to your account, so that it remains secure and protects your identity. OKCoin also offers multi factor authentication, so every time you deposit/withdraw funds or make a trade, you will need to verify it's you.
They also mask data when collecting, use SSL encryption during transmission, and use AES encryption to protect your stored data; their end-to-end encryption ensures your data is securely held. Over 95% of your crypto assets on their platform are stored in offline wallets, or cold storage; the remaining assets are stored in a multisig hot wallet, which needs 3-5 signatures to be approved before they're processed.
Conclusion
OKCoin offers a multitude of attractive options to its customers, with a few normal drawbacks as well. If you're considering checking out OKCoin for yourself, below are the highlights of the pros and cons to using this exchange: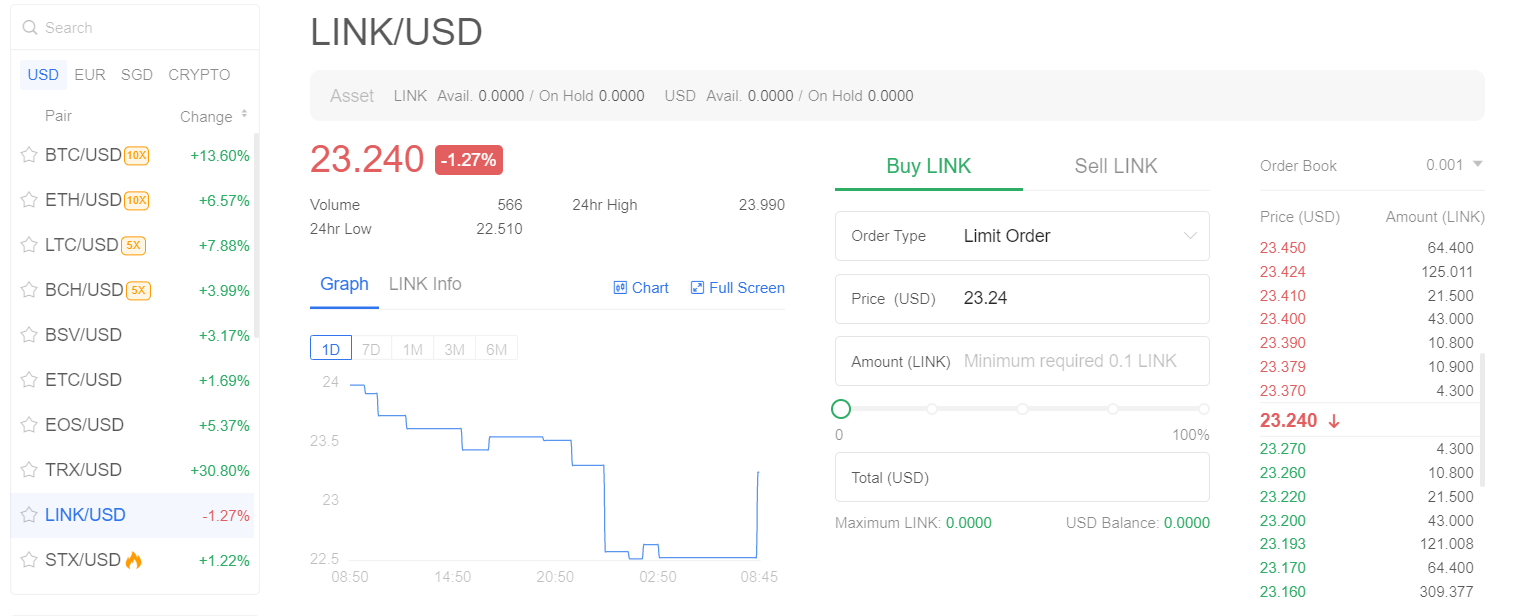 Pros
Offers some of the lowest trading fees among other crypto exchanges.
Earn platform is competitive with other lending protocols; there are no gas or service fees, which are extremely high on other DEX's and lending protocols.
Top-notch security systems and efforts.
Dedicated and friendly customer support team, including a detailed and simple FAQ section on their website.
Highly liquid trading platform, with the ability to deposit and withdraw in fiat currencies.
Cons
Not a regulated exchange – your funds are technically at risk if they happen to be compromised.
Earn platform has limited options for assets to earn interest on compared to other exchanges/DEX's.
No promotions or bonuses as rewards for trading, which are relatively common offerings from many other exchanges and companies.
Limited amount of cryptocurrencies are available for trading – they offer the majority of major cryptos and a few select smaller altcoins.
Visit Exchange >>>
Social media