Bitstamp review

Withdrawal fee: 0.0005 BTC

Taker fee: 0.50%

Maker fee: 0.50%

Bank transfer

Credit Card

Cryptocurrency

Bitstamp represents one of the market's first digital currency exchanges, facilitating the purchase and sale of cryptocurrencies via fiat and other coins. Founded in 2011, Bitstamp has processed tens of billions in cryptocurrency traders for customers throughout the world. On average, Bitstamp handles over half a billion dollars' worth of transactions on a daily basis [Wikipedia].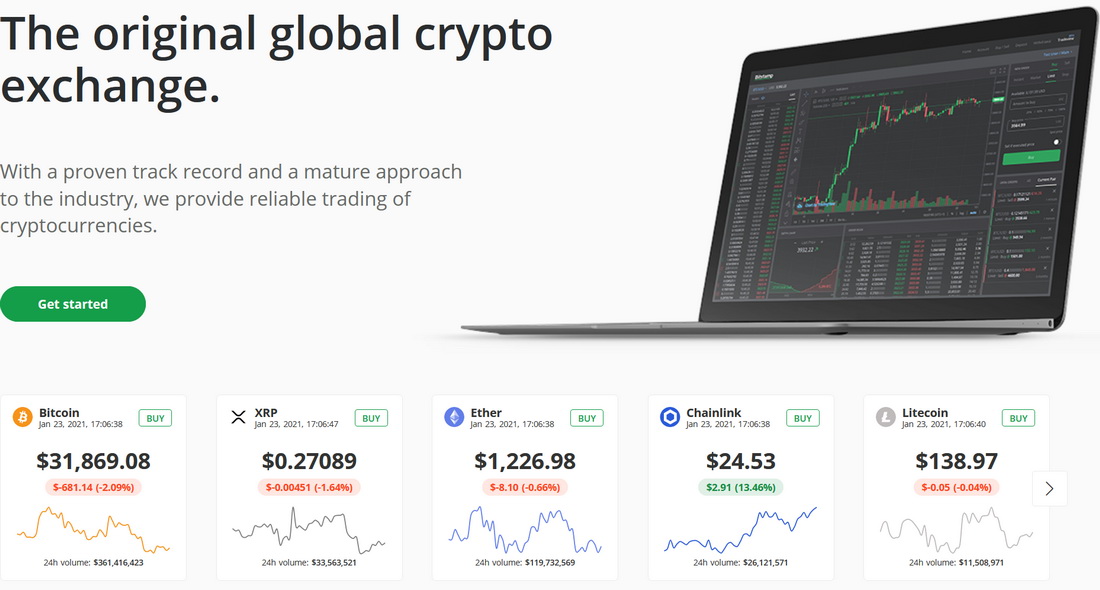 As reported on its website, Bitstamp's business entities are based in three different countries. As such, its payment institution is headquartered in Luxembourg, its exchange platform is based on the United Kingdom, and some of its offices operate in the United States. Bitstamp is led by a board of directors, including well-known cryptocurrency enthusiasts like Nejc Kodrič [LinkedIn], Hendrik Ghys, Jong Hyun Hong, and Oliver Blower. The company was acquired by the Belgian NXMH investment company in October 2018, but most of its services remained unchanged.
Bitstamp Exchange: Trading and Withdrawal Fee Schedule
Trading Fees
Bitstamp exchange includes a transparent fee schedule that highlights every cost that a consumer can expect to pay. The fees vary in size depending on the 30 days USD trading volume reported by each user. Unlike other exchanges, Bitstamp does not provide discounts in exchange for proprietary token holding or staking.
| Fee % | 30 days USD volume |
| --- | --- |
| 0.50% | < $10,000 |
| 0.25% | < $20,000 |
| 0.24% | < $100,000 |
| 0.22% | < $200,000 |
| 0.20% | < $400,000 |
| 0.15% | < $600,000 |
| 0.14% | < $1,000,000 |
| 0.13% | < $2,000,000 |
| 0.12% | < $4,000,000 |
| 0.11% | < $20,000,000 |
| 0.10% | < $50,000,000 |
| 0.07% | < $100,000,000 |
| 0.05% | < $500,000,000 |
| 0.03% | < $2,000,000,000 |
| 0.01% | < $6,000,000,000 |
| 0.005% | < $10,000,000,000 |
| 0.0% | > $10,000,000,000 |
A trader with a 30 days volume below $10,000 can expect to pay 0.5% per transaction in fees, regardless of which pairs are being traded. On the other hand of the spectrum, a whale trader with a 30 days volume above $10 million can expect no trading fee whatsoever.
Deposit & Withdrawal Fees
Most deposit methods have no fee whatsoever. It is important to bear in mind that each of the supported cryptocurrencies are subject to a withdrawal fee, varying depending on the coin that's being used. Bitcoin incurs a 0.0005 BTC fee, whereas Ethereum withdrawals cost 0.04 ETH. Some of Bitstamp's other withdrawal methods may incur a small flat fee.
| Cryptocurrency | Deposit Fee | Withdrawal Fee |
| --- | --- | --- |
| Bitcoin (BTC) | Free | 0.0005 BTC* |
| XRP (XRP) | Free | 0.02 XRP |
| Litecoin (LTC) | Free | 0.001 LTC |
| Ether (ETH) | Free | 0.04 ETH |
| Bitcoin Cash (BCH) | Free | 0.0001 BCH |
| Stellar Lumens (XLM) | Free | 0.005 XLM |
| Paxos Standard (PAX) | Free | 3 PAX |
| Chainlink (LINK) | Free | 0.25 LINK |
| OMG Network (OMG) | Free | 0.75 OMG |
| USD Coin (USDC) | Free | 3 USDC |
* BTC withdrawal fee using BitGo instant: 0.1%
Most of the fiat-based withdrawal methods also incur small fees, as seen below: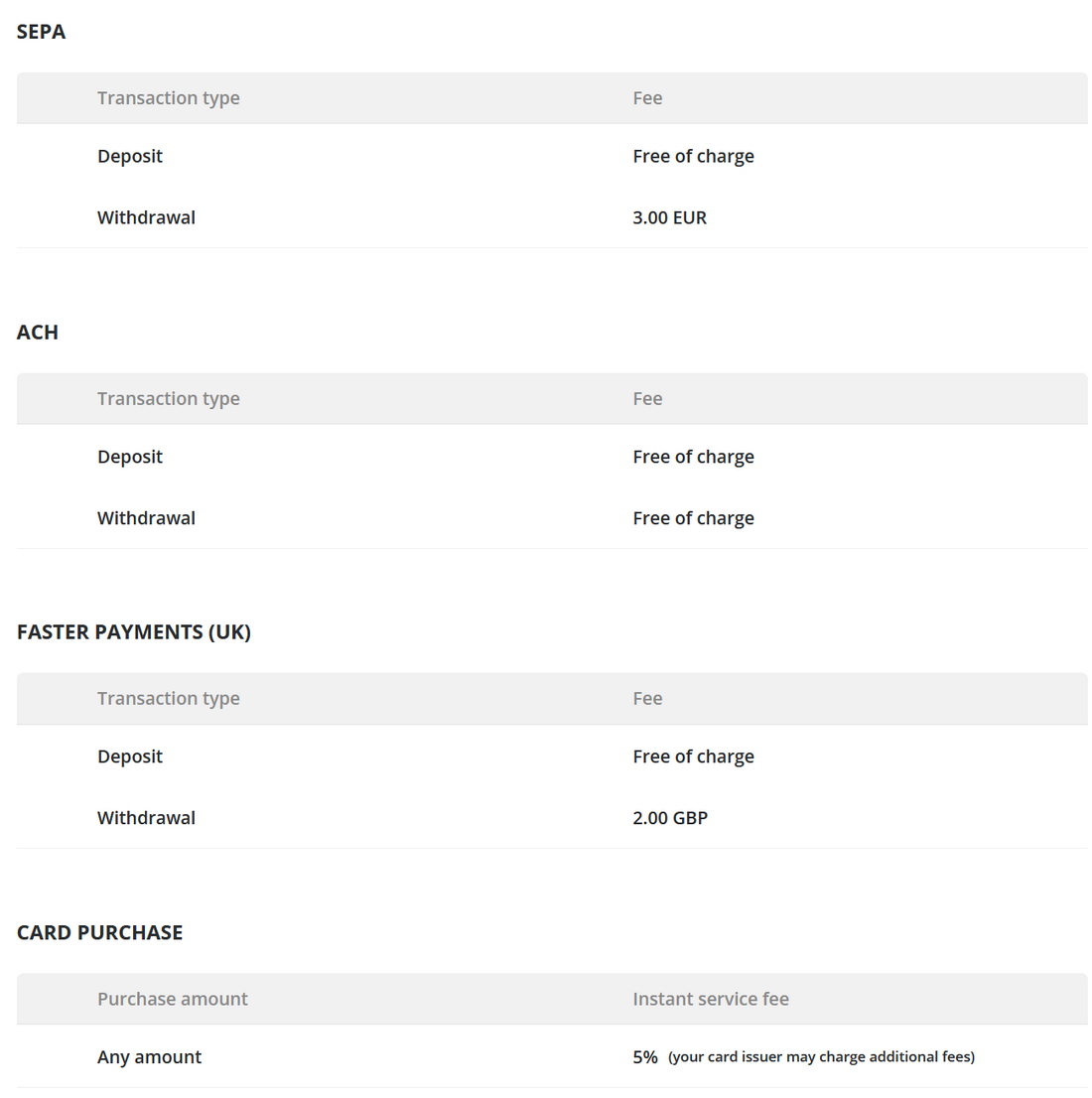 Exploring the Bitstamp Trading View
Bitstamp exchange employs a standard trading view interface featuring most of the features that traders require to analyse charts and make profitable traders. Thus, it is easy for users to find their way around the charts and consume data that leads to smarter buys and sells. Bitstamp advertises time-proven stability, alongside an inexhaustible level of liquidity, so there's always enough crypto available to purchase and sell. Orders are executed via a powerful matching engine built by Nasdaq and designed to make sure that trades are settled quickly and reliably regardless of the current market conditions.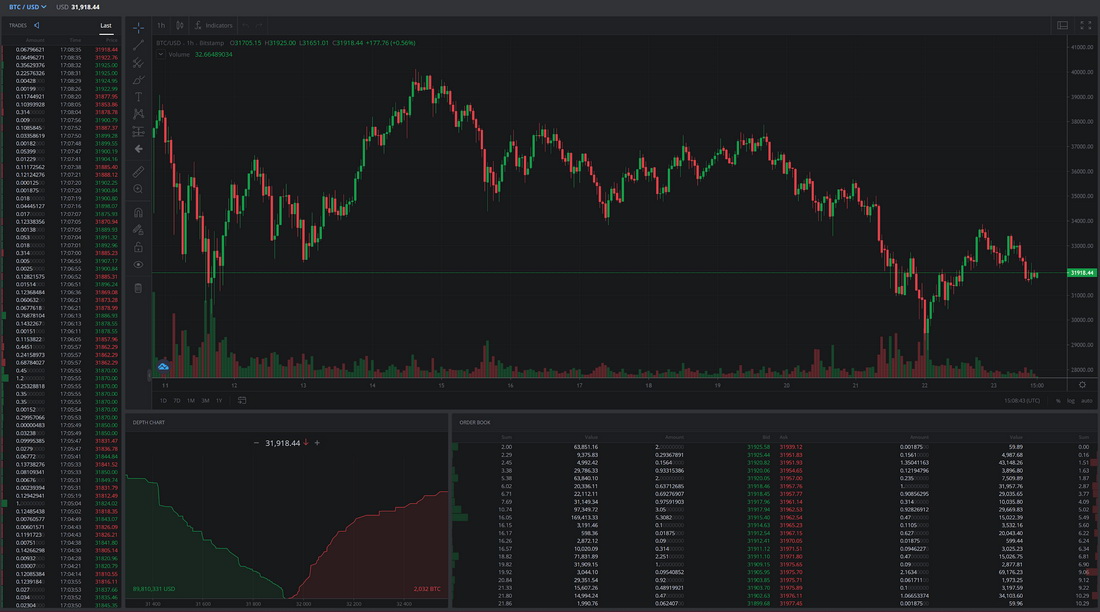 Institutional Trading
Institutions looking to leverage Bitstamp's services to purchase and sell cryptocurrencies should know that Bitstamp was designed to cater to brokers, neo banks, fintech projects, standard banks, hedge funds, prop traders, family offices, and even aggregators.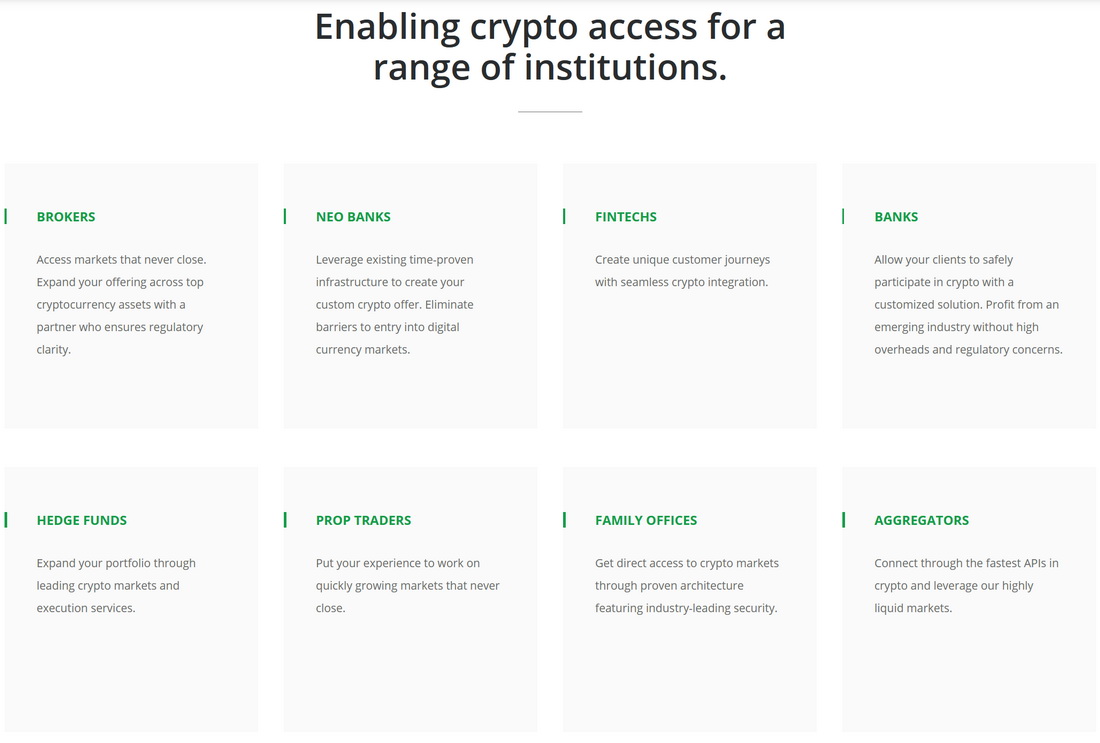 Bitstamp therefore provides enterprise-level access to the world's most popular cryptocurrency markets, alongside API connections that facilitate quicker and more efficient traders. Institutions must note that Bitstamp exchange is a licensed and compliant platform that fulfils all legal needs both in the European Union and in the United States. Institutional traders access premium and custom-tailored user support that's available 24/7.
API
Via the Bitstamp API, customers can easily leverage the advantages of custom-written software to easily access and control accounts. A series of additional API endpoints have been added to further extend the functionality of Bitstamp's application programming interface.
API users should note that Bitstamp has capped requests at 8,000 per minute. If access to real-time data is a desiderate, it is best to access it using the platform's websocket API.
Mobile App
Bitstamp is well aware of the fact that many traders prefer to purchase and sell crypto on the go via their smartphones. The company has therefore developed the Bitstamp mobile app, now available on iOS and Android and supporting most of the exchange's features and services. Users can seamlessly access the entire trading functionality of the platform, albeit it may prove more difficult to carry out in-depth chart analysis.

The mobile app features an intuitive interface, a simple exchange, the pro Tradeview interface, alongside support for secure cryptocurrency storage and transfers.
Supported Countries
Bitstamp can be accessed and utilized in most of the world's countries, with a few notable exceptions. It is worth mentioning that the service is available in the European Union, China, the United States, Australia, South Korea, Brazil, South Africa, and many others. The exchange has also recently expanded the list of countries where debit and credit card payments are supported, thereby including numerous countries in South America, Asia, and Africa.
Deposit and Withdrawal Methods
Bitstamp supports deposits and withdrawals both via fiat currencies and digital currencies.
Some of the main cryptocurrencies supported on the platform include, but are not limited to Bitcoin (BTC), Ethereum (ETH), Bitcoin Cash (BCH), Litecoin (LTC), XRP, Chainlink (LINK), Stellar (XLM), USD Coin (USDC), and a few others.
Regarding Bitstamp's fiat-based deposit and withdrawal methods, the platform supports SEPA bank transfers, ACH bank transfers, credit cards, debit cards, international wire transfers, and others.
As reported in a previous section, most fiat-based payment methods entail minimum and maximum transaction limits, alongside variable transaction fees.
Highlighting Bitstamp's Crypto-as-a-Service Product
The Crypto-as-a-Service product was designed by Bitstamp to grant financial institutions the possibility of allowing their users to purchase and sell digital currencies with ease. As such, the service can be easily deployed on a company's existing apps and platforms, thereby opening new revenue streams and growing clients' market share.
The Crypto-as-a-Service product provides quick and secure order matching and settlement via Nasdaq-based technology, advanced custody and insurance policies, cybersecurity controls, technical support, account managers, and a myriad of supported payment methods.
How to Use Bitstamp Exchange
Account Creation
To create an account on Bitstamp, simply access the website and click on register. Introduce your first name, last name, email, and a secure password. After verifying your email, your account will have been created. Depending on where you are located, you may have to complete the KYC procedure prior to being able to deposit funds via fiat currencies.
KYC Verification
Bitstamp's KYC verification is no different from the processes associated with most other compliant cryptocurrency exchanges. To access deposits, withdrawals, and high trading limits, users will have to submit their name, address, ID document, and proof of address. The verification process is fairly quick and normally takes less than 24 hours. It's important to keep in mind that Bitstamp has recently introduced withdrawal address whitelisting in the Netherlands, which means that users must perform a check to verify whether the address they are withdrawing to belongs to them. This policy is a result of regulations put forth by the Dutch Government.
Security and Safety Protocols
At this point in time, Bitstamp takes its security very seriously, relying on numerous security protocols designed to ensure the safety of user funds and accounts. As expected, a significant percentage of cryptocurrencies are stored within offline cold wallets, which makes user funds inaccessible to hackers that may penetrate the online platform's security. Bitstamp does, however, retain a good amount of liquid tokens that are needed to quick trade settlement, so traders can still expect fast order executions and withdrawals.
Furthermore, Bitstamp customers can utilize Google's 2FA Authenticator as an extra security measure. The code needs to be entered anytime users log in or proceed to withdraw funds. Bitstamp has recently introduced PGP signatures that encrypt all information associated with trader accounts. Users setting up their accounts are encouraged to utilize PGP key encryption to keep their files safe.
It is imperative to point out that while Bitstamp is a secure digital currency exchange, it has been hacked in the past. Back in 2015, hackers utilized phishing attacks to gain access to the platform's backend, which they used to access sensitive wallet information. The hackers reportedly stole approximately 19,000 BTC, worth $5 million back then. The company has switched up its security policies to prevent such attacks from happening again in the future. No other successful hacks have been reported since 2015.
Bottom Line
Based on everything that has been highlighted so far, Bitstamp is one of the market's oldest cryptocurrency exchanges. Featuring support for fiat currencies, reliable order matching, low fees, and quick crypto exchange transaction settlement, the platform is used to perform millions of dollars' worth of trades on a daily basis. Regarding its potential disadvantages, Bitstamp's support team has often been reported as slow, whereas some users have expressed their concern over the prolonged KYC verification wait times.
Visit Exchange >>>
Social media