CEX.IO Review

Withdrawal fee: 0.0005 BTC

Taker fee: 0.25%

Maker fee: 0.16%

Bank transfer

Credit Card

Cryptocurrency

Established in 2013, CEX.IO is a regulated online cryptocurrency exchange that currently serves over 4 million registered customers across the globe. They were one of the first exchanges to offer fiat trading in the cryptocurrency realm and give users access to credit card payments and bank transfers.
They are headquartered in London, UK and have offices in the United States, Ukraine, Cyprus, and Gibraltar. Their team is composed of over 250 employees.
CEX.IO is the ecosystem of interconnected products that serve various cryptocurrency market participants:
CEX.IO Exchange — a platform for buying, selling, storing, and trading crypto and fiat currencies
CEX.IO Broker — a margin trading platform, which allows users to trade contracts for difference on cryptocurrencies, and other assets with leverage
CEX.IO Staking — allows earning by simply holding stake-able crypto on your account
CEX.IO Loan — offers cryptocurrency-backed loans
CEX Direct – a fiat on- and off- ramp solution
Fees
Trading Fees
Trading fees on CEX.IO exchange are based on your 30-day trading volume for each cryptocurrency token pair. Below are the different trading fee tiers, denoted in BTC; the higher your trading volume is, the lower your maker and taker fees will be:
| 30-Day Volume (BTC) | Maker fees | Taker fees |
| --- | --- | --- |
| ≤ 5 | 0.16% | 0.25% |
| ≤ 30 | 0.15% | 0.23% |
| ≤ 50 | 0.13% | 0.21% |
| ≤ 100 | 0.12% | 0.20% |
| ≤ 200 | 0.10% | 0.18% |
| ≤ 1000 | 0.08% | 0.15% |
| ≤ 3000 | 0.04% | 0.13% |
| ≤ 6000 | 0.00% | 0.11% |
| > 6000 | 0.00% | 0.10% |
There are trading fees that also exist on the margin trading platform CEX.IO Broker. The fees vary for each of the trading assets. For the most of the cryptocurrencies it's 0.05% for both open and close fees. Rollover fees also vary.
Withdrawal fees
| Cryptocurrency | Minimum Withdrawal | Withdrawal Fee |
| --- | --- | --- |
| Bitcoin (BTC) | 0.002 | 0.0005 |
| Ethereum (ETH) | 0.02 | 0.01 |
| DASH | 0.1 | 0.01 |
| NEO | 1 | No fee |
| Tether (USDT) | 10 | 20 |
There are several different withdrawal fees depending on which option and currency you select – the different choices are through VISA, Mastercard, Epay, Advcash, Skrill, domestic and international bank transfers. The amount is generally consistent across all different currencies; an example is below in EUR:

Deposits are free with the exception of using a credit card or Skrill to place funds on the exchange. There are also daily limits on the amounts you can deposit and withdraw, as shown in the image below. The more verification details you provide, the more accessibility and features you will be able to have on the exchange.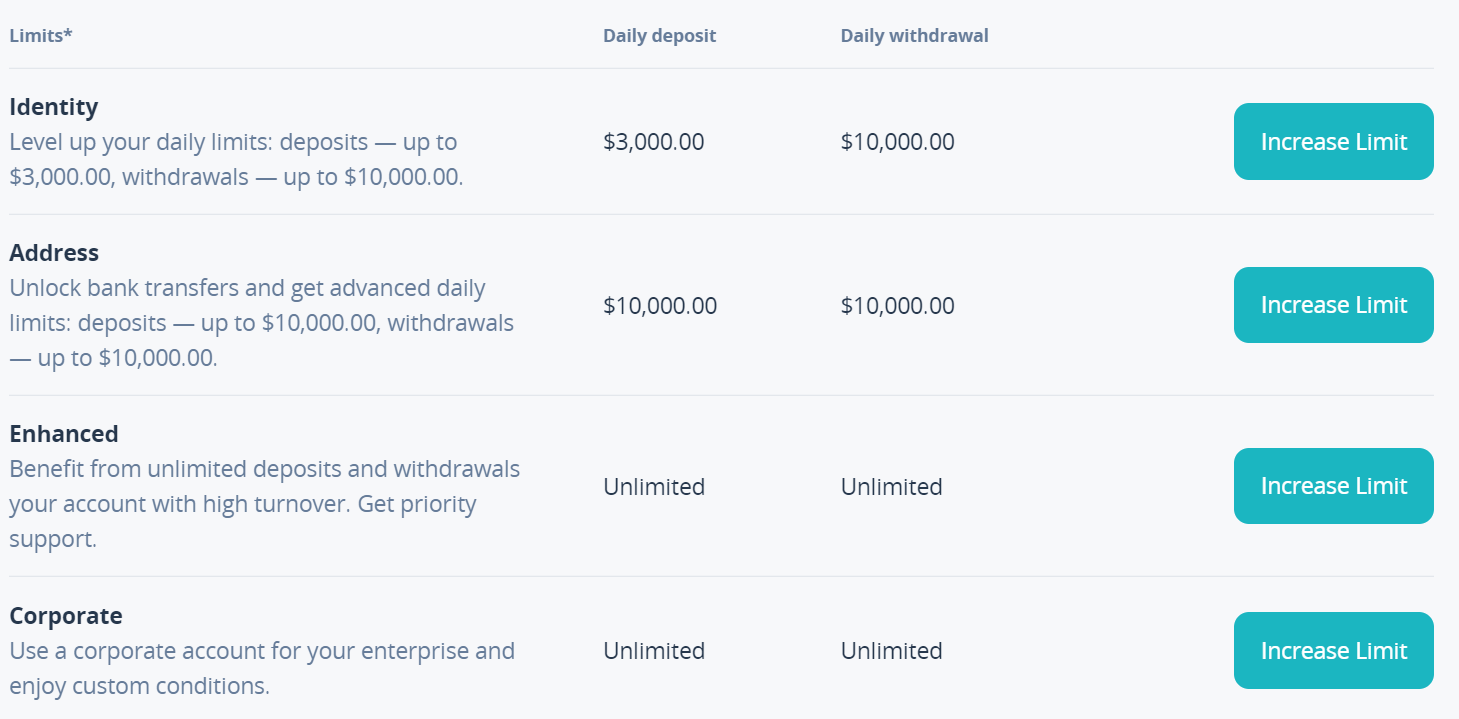 For the margin trading platform, deposits and withdrawals are completely free of charge.
Trading View
CEX.IO Exchange — Spot
The trading interface is very easy to follow and designed in a simple format. From a visual perspective, it offers a clear and enlarged visual price chart allowing you to view price movements and changes.
On CEX.IO Exchange, you can trade cryptocurrencies by placing market and limit buy or sell orders.
You can easily navigate the page, you just need to scroll down the page to see some of the more advanced details, such as the order book, depth chart, and buy/sell orders.
The exchange currently offers over 70 different cryptocurrencies for trading to. The list of cryptocurrencies is expanding over time.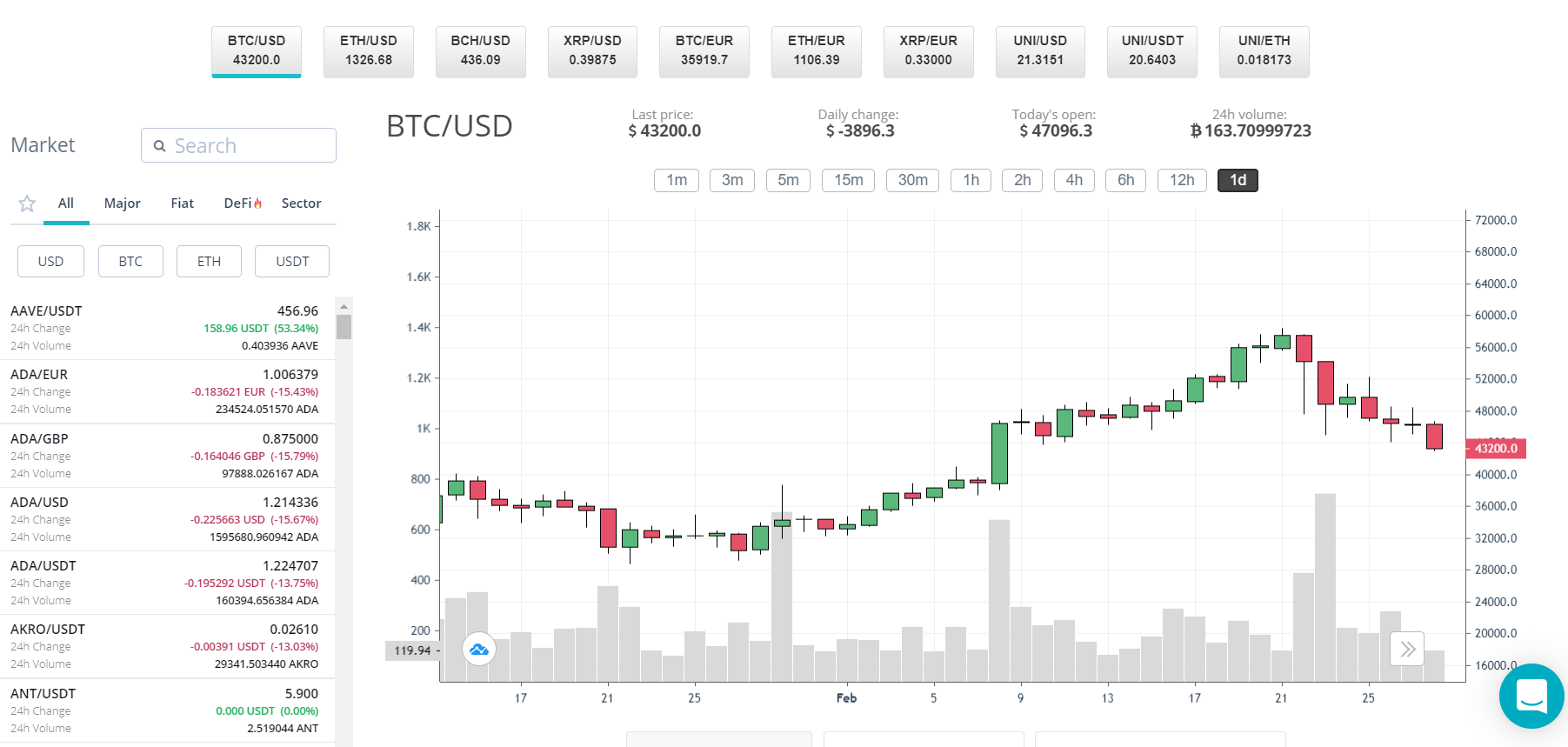 CEX.IO Broker — Margin Trading
Margin trading via CFDs is available on the CEX.IO Broker platform, offering using leverage on a variety of cryptos, stocks, metals, and traditional currency markets. The user interface is stylish with nice color contrasts and everything you need at your fingertips. The platform offers flexibility and rich functionality for traders:
Cryptocurrency and traditional markets on one platform
Up to 10 trading accounts in different account base currencies (BTC, ETH, USDT)
Liquid order book
Cross and isolated margin for all pairs
Built-in technical analysis indicators
Demo account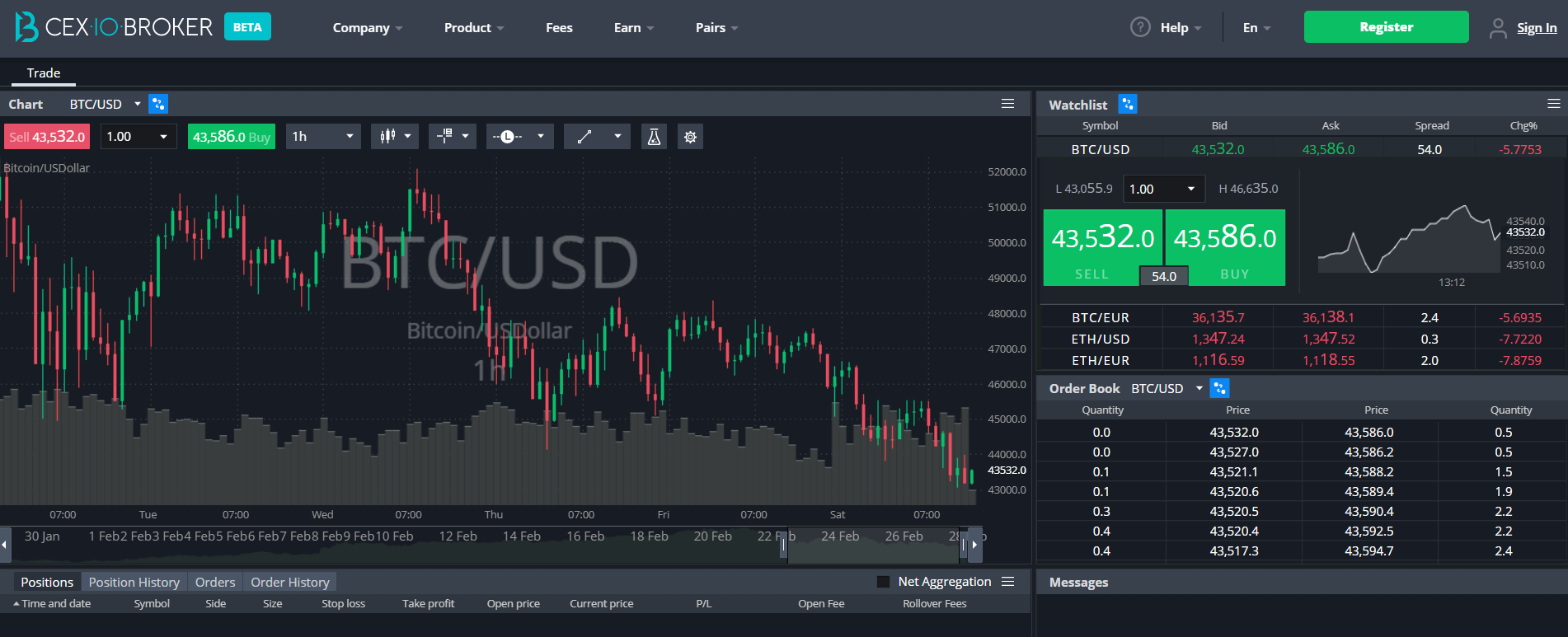 Supported Countries and Cryptos
CEX.IO supports the majority of countries worldwide, with some exceptions depending on the local regulatory rules and laws.
In addition, CEX.IO Exchange services extend to 48 out of the 50 US states, making their platform attractive and accessible to the majority of US investors who are fully restricted by many other global exchanges.
CEX.IO Broker's supported countries are here. The platform offers traders access to cryptocurrency and traditional financial markets in one place. Customers can trade other traditional assets funding their strategies with crypto.
Deposit and Withdrawal Methods
To deposit crypto to your CEX.IO wallet, navigate to the finance page and obtain the deposit address of the crypto you are trying to deposit or use the "Deposit" button in the top right-hand corner. As previously mentioned, you can also deposit via credit card (VISA or Mastercard), international bank transfer, or domestic bank transfer, and e-wallets like Skrill, Advcash, Epay, and so on. Fiat deposits are supported in USD, EUR, GBP, and RUB currencies. But it is also possible to deposit using other currencies. Funds will be automatically converted to the required currency at bank rates.
In order to withdraw your crypto, go back to the finance page and click the withdrawal button or use the "Withdraw" button in the top right-hand corner – then put in your external wallet address and send. Withdrawals are also available using the same methods of credit card and bank transfers for deposits, with associated fees that can be found on their website.
CEX.IO Staking
The staking program allows you to earn staking rewards on your crypto, simply for keeping them on the exchange. Available coins for staking are ZIL, TON, ADA, ATOM, MATIC, MHC, NEO, ONT, DOT, XTZ, and TRX – the annual estimated staking rewards vary by coin. Below is a sample of the different rates you can earn for staking each coin: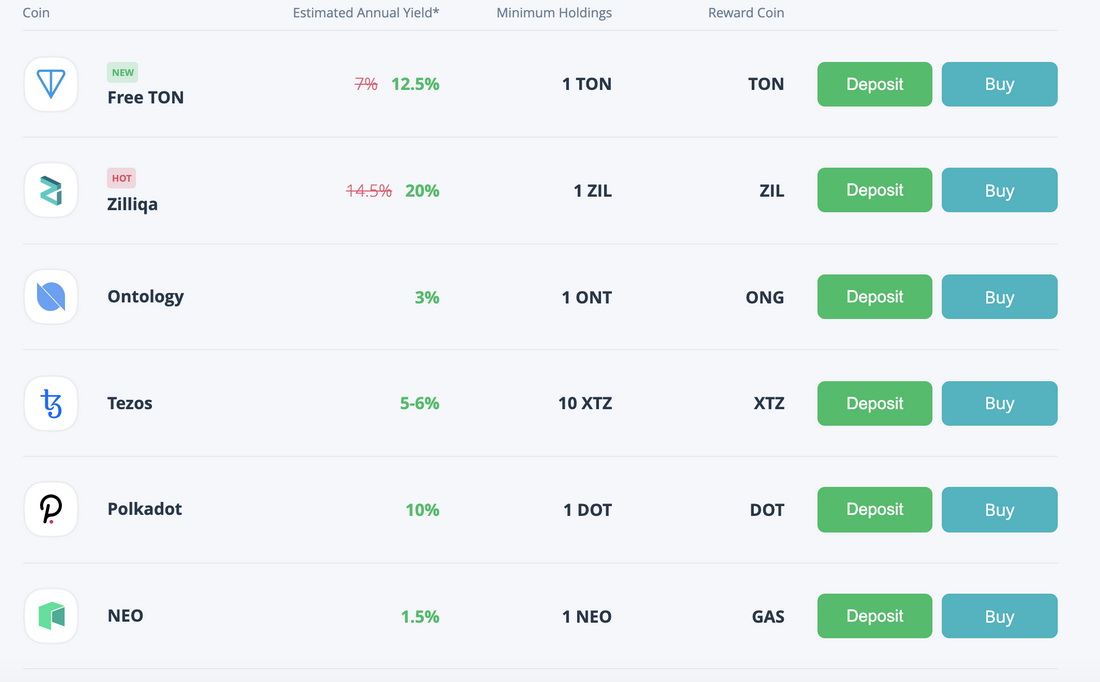 These interest rates are competitive to other exchanges, with many of them being higher than usual, making this an attractive option and incentive for investors to keep their tokens parked on the exchange instead of somewhere else.
Buy Bitcoin with VISA or Mastercard
CEX.IO provides users with the convenience of purchasing cryptocurrencies with credit cards using their Instant Buy service. Of course, doing so costs a certain fee, but it is easy and fast to do on their platform. Before you make your purchase, the algorithm will tell you how much of each crypto you will receive after purchasing with a credit card, fees included.
Crypto-backed Loan
CEX.IO Loan allows you to get cash loans using your crypto as collateral. In this way you can get quick cash and still keep your crypto and benefit from its potential growth. The process is fast and quite straightforward. Once you enter your desired loan amount, collateral, and loan term, it will generate your repayment amount and annual interest rate. To receive a loan, you just need to have a verified account and cryptocurrency on your account to use as collateral. No extra steps are required.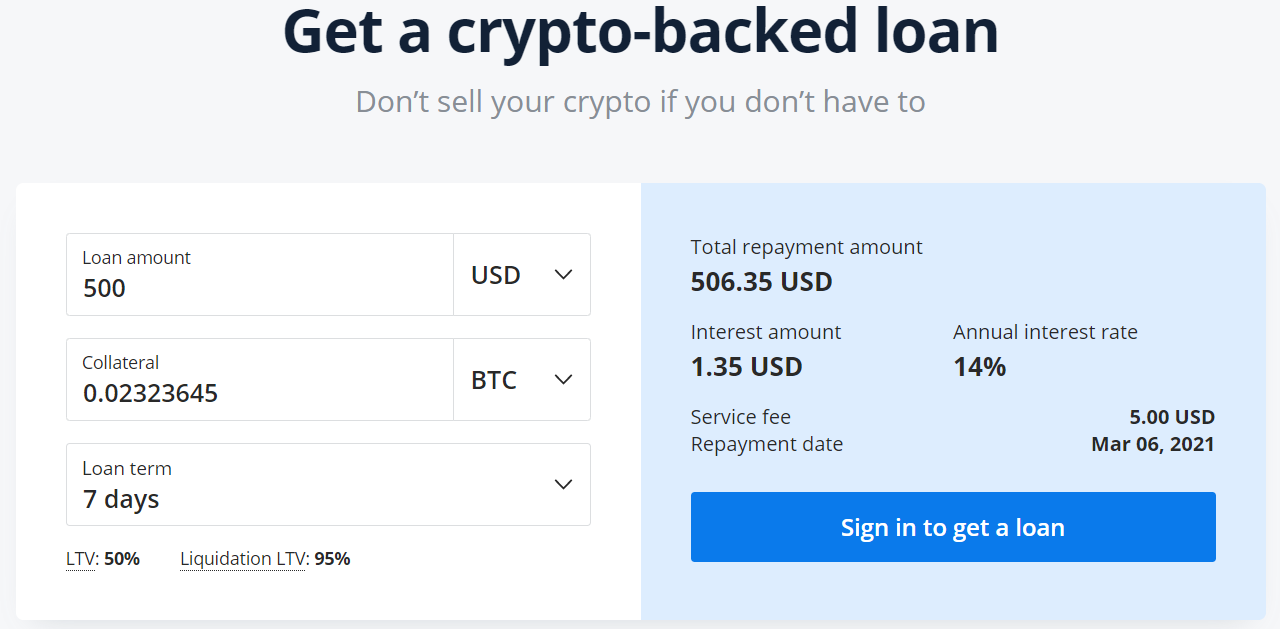 CEX Direct
CEX Direct is a b2b solution that allows businesses to provide their users with easy access to crypto. With the integrated CEX Direct, your customers will be able to purchase crypto on your website. CEX Direct verifies payment data, provides payment instruments, and delivers the selected crypto to customers.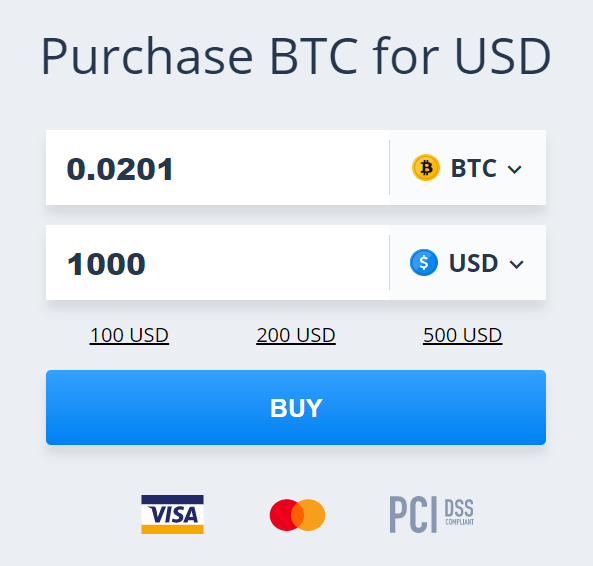 API
CEX.IO has REST, WebSocket, and FIX APIs. Their API is limited to 600 requests per 10 minutes, which can be increased by contacting their support team. The REST API allows you to access the exchanges market data and automated trade features. The WebSocket API gives you full trading functionality and lets you obtain real-time notifications without sending extra requests. The FIX API helps you communicate messages related to trading.
How to use CEX.IO Exchange
In order to create an account, go to the CEX.IO homepage and click the green Create Account button on the top right. From here, the process is straightforward – enter your email address, password, and country. Lastly, check the box on the bottom to accept the terms of service, and click Create Account.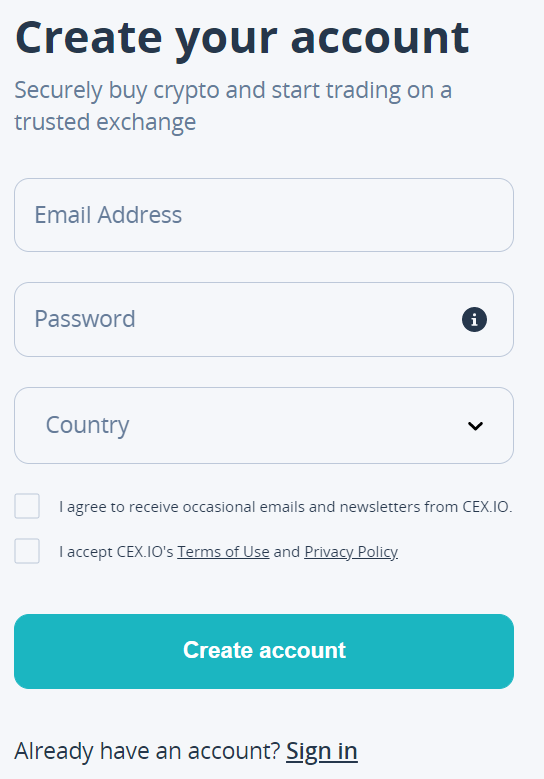 To start trading, deposit or withdraw fiat and crypto, you will need to complete the KYC verification process.
Security
CEX.IO has one of the best reputations in the crypto industry in regards to its security. They have never been hacked, and offer protection against DDoS attacks. Additionally, they provide full data encryption, cold storage for user funds in offline wallets, and compliance with PCI DSS standards.
What's important to mention is that CEX.IO is regulated in multiple jurisdictions, and takes KYC and AML processes seriously. This approach allows the platform to provide their customers a safe place to trade and store their funds.
Conclusion
As one of the pioneers in the crypto exchange space, CEX.IO has developed a strong reputation over the years given its regulatory compliance. They have built a trustworthy platform, offering some of the best and most desired features to their customers on a global scale. Take a look below at our opinions on the pros and cons of their exchange services:
Pros
High liquidity for large volume orders
Easy-to-use platform with a simple sign-up process
Beautiful website design
Transparency on their team, with all information easy to find on their website
Excellent reputation in regards to security and trustworthiness by top rating companies (i.e. TrustPilot,

CryptoCompare

)
The entire ecosystem of products and services (margin trading platform, staking, loans, etc.) that serve the needs of different customers – from entry-level investors to businesses
Cons
Spot trading view is not ideal for advanced traders – some information is scattered vertically along the page
KYC is required for depositing and withdrawing fiat currencies
The relatively average amount of digital asset offerings (small-cap cryptos are minimal)
Visit Exchange >>>
Social media