Bitfinex Review

Withdrawal fee: 0.0004 BTC

Taker fee: 0.20%

Maker fee: 0.10%

Bank transfer

Credit Card

Cryptocurrency

Bitfinex is a crypto exchange under Hong Kong-based iFinex Inc brand, with legal representation in the British Virgin Islands. Bitfinex exchange launched in December 2012, and since then it has faced many hurdles.
Regardless, it still strives to provide users with the best cryptocurrency trading experience. Through its use of state of the art trading tools, constant innovation, and supreme customer support, it has grown a loyal following of traders over the years.
Bitfinex exchange [Wikipedia] is a behemoth with a great deal of experience in custodial crypto management and is behind the most popular stablecoin Tether (USDT). Even after experiencing hacks, they've always found a way to reconcile with users and pay back damages.
Because of these mistakes, they've grown more robust and now deliver a high-security trading experience. Troubles are not over for Bitfinex, as it is the prime suspect for alleged Bitcoin manipulation schemes with its parent company iFinex in 2017.
Bitfinex Trading Fees
| 30-Day Volume (USD) | Maker Fees | Taker Fees |
| --- | --- | --- |
| >$0 | 0.100% | 0.200% |
| >$500K | 0.080% | 0.200% |
| >$1M | 0.060% | 0.200% |
| >$2.5M | 0.040% | 0.200% |
| >$5M | 0.020% | 0.200% |
| >$7.5M | 0.000% | 0.200% |
| >$10M | 0.000% | 0.180% |
| >$15M | 0.000% | 0.160% |
| >$20M | 0.000% | 0.140% |
| >$25M | 0.000% | 0.120% |
| >$30M | 0.000% | 0.100% |
| >$300M | 0.000% | 0.090% |
| >$1B | 0.000% | 0.085% |
| >$3B | 0.000% | 0.075% |
| >$10B | 0.000% | 0.060% |
| >$30B | 0.000% | 0.055% |
Bitfinex uses the maker/taker trading fee model. Makers receive better rates for trading, while takers pay a small premium of 0.10%. Beyond USD 7.5M in volume over 30 days, makers no longer have to pay any fees for their trades.
Bitfinex Withdrawal Fees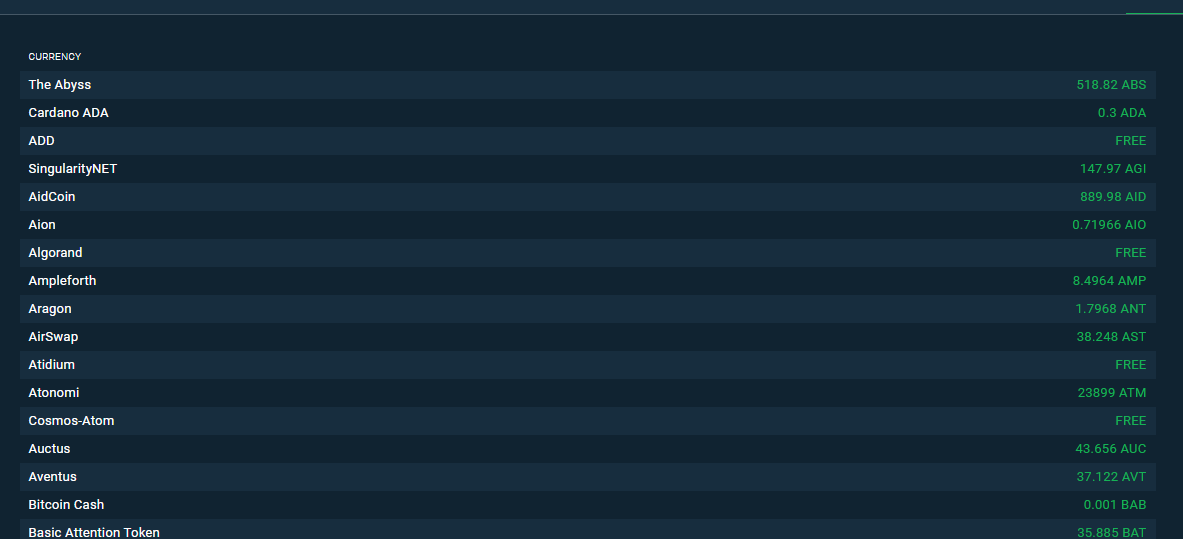 Bitfinex charges a flat fee for withdrawals. The actual price is dependant on the type of cryptocurrency you are looking to withdraw. For Bitcoin, the cost is 0.0004 BTC per withdrawal. For other's such as Cosmos (ATOM) and Algorand (ALGO) withdrawals are free of charge.
Bitfinex has an unusual policy in regards to fiat withdrawals. The exchange charges a flat 3% fee on all fiat withdrawals above USD 1million in 30 days or starting from the third withdrawal in 30 days.
Deposits

Cryptocurrency deposits are free, while wire transfers cost 0.10% with minimum deposit size of 60 USD or EURO. You can also purchase crypto using a credit card, through trusted third-party payment processors.
Buying crypto with a credit card on Bitfinex exchange
Through its partners, Bitfinex has made it simple for users to purchase crypto with a credit card. Available cryptos include Bitcoin, Tether, Ethereum, and other ERC20 tokens. The minimum buy amount is $25 USD.
The process is simple. Log in to your account, select deposit, and then Payment cards. From here, choose a payment processor and crypto, and enter the amount. Input the destination wallet and proceed to payment. Both of the providers at the time of writing require KYC verification.
To provide the credit card service, Bitfinex collaborates with Mercuryo and OWNR wallet. Both of them claim to offer a fair price, high security, and 24/7 customer support.
How To Trade on Bitfinex
The Bitfinex trading system works through segmented accounts. Once you make a deposit, it lands on your Funding account. To trade, you need to transfer it to your Exchange or Margin Trading account. The transfers are free and instant.
First, you need to ensure that your exchange wallet is funded. In Bitfinex, there exist three dedicated wallets for each of the site's functions: Exchange, Margin Trading, and Funding. The movement of your funds is instant between wallets.
To start trading, simply select a currency pair from the Trading page. Using IOTA/BTC as an example, let's go over the functions available to you.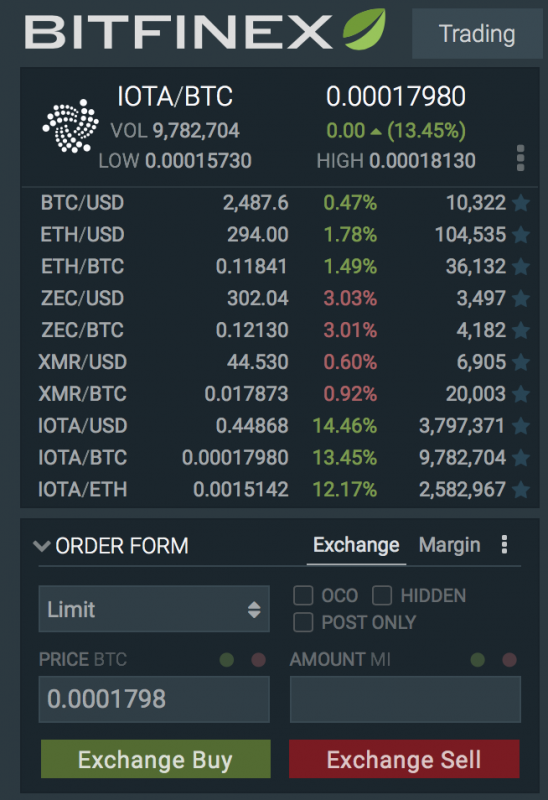 Using this form, you can set up the type, size, and pricing of your order. The following order types are available to all traders on the platform:
Limit
Market
Stop
Stop-Limit
Trailing Stop
Fill or Kill
Immediate or Cancel
Scaled order
Once you make an order, you will be able to find it in the Orders tab. The order will go to your trading history, and your wallets will be updated. You can cancel an order at any time for no cost, as fees are applied only on fulfilled orders.
Trading Platforms & Features

Spot Exchange
Bitfinex's order books with top tier liquidity that enables traders to easily trade their BTC, ETH, or other cryptos available on the platform. Comparable to other leading crypto exchanges, Bitfinex's trading engine is capable of providing a lot of value for the competent trader. Traders will appreciate the neat charts, deep order book views, extensive variety of order types, and reduced slippage on the exchange.
Margin funding
Liquidity providers are eligible to earn interest by making their assets available for margin trading. Asset trading is done on an order book at various rates and intervals, as determined by the condition of the market.
Liquidity providers charge a predetermined fee for borrowed funds. The system automatically uses the cheapest offers, creating a competitive liquidity offering. Providers select the amount of assets, the interest rate, and the length of time they are willing to lend, and Bitfinex takes care of the rest.
In the case of trader liquidation, all assets are covered by collateral, ensuring that the exchange and the lenders are risk-free.
Margin trading
Trade up to 5x leverage trading by accessing liquidity pools for using your cryptocurrency as capital. Compared to other platforms in the ecosystem, 5x leverage may seem humble. However, this also means less competition, which ensures that cheaper margin calls remain available for traders.
Advanced Pro Features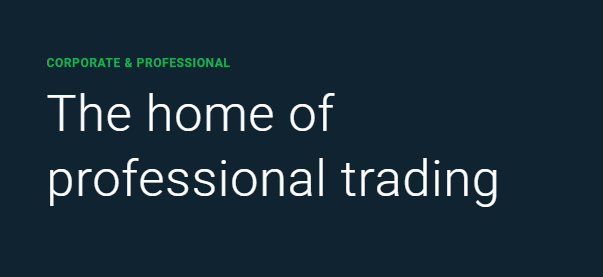 Bitfinex exchange caters to the institutional and professional trader through its specialised accounts. These accounts gain access to a variety of benefits ranging from faster trading speeds, more available access to an OTC desk.
Professional trading speeds
Through its partnership with MarketSynergy, corporate and professional traders can  benefit from the lowest trading latency. Through the use of a Cloudflare-like system, Bitfinex can provide a dispersed network of connection nodes, providing the fastest global trading speeds possible.
Improved chart tools
Professional traders can greatly benefit from next-level charting tools available on Bitfinex. Facilitating an advanced visual experience, fund managers can clearly see the big picture and execute changes with ease. Trading teams also benefit greatly from these tools, as the software enables internal annotation, boosting opportunities for effective communication.
API
The Bitfinex REST and Websocket APIs are designed to facilitate access to everything Bitfinex has to offer. Software developers in particular will appreciate the APIs power to completely integrate their solutions with Bitfinex's suite of products.
Bitfinex Mobile App
The Bitfinex mobile App adapts the full functionality of the Bitfinex platform for seamless on-the-go trading. The App is available on Apple's App Store and Google Play Store.
Using the mobile app, you can trade all cryptocurrencies available on the platform, from anywhere. Used for tracking your positions or actively creating new orders, the mobile app can be a handy trading tool. You can view your open positions, orders, and trading history at the click of a button.
Getting started with the App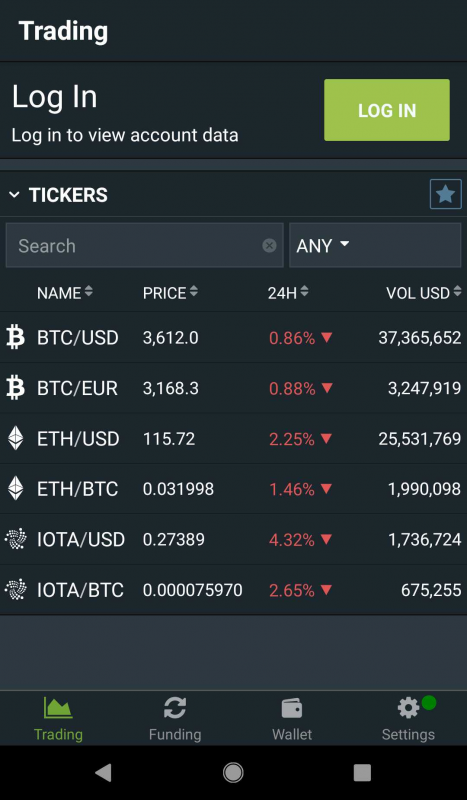 Download the mobile app either from the Google app store or iOS.
For additional security, create a new API key.
Setting up the API Key and Login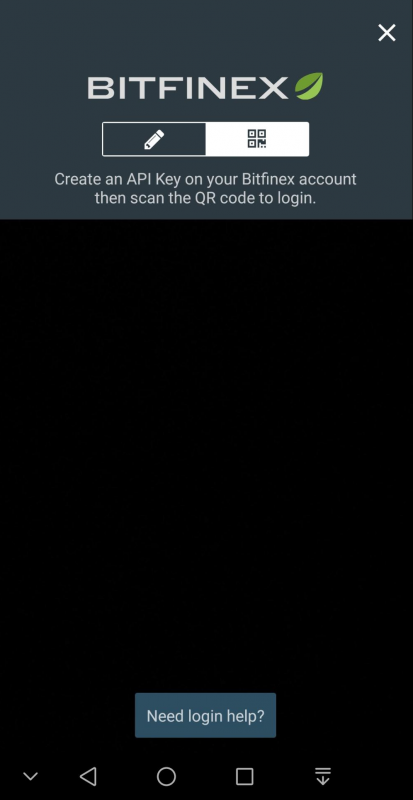 To create the key, visit bitfinex.com/api and choose only the permissions you desire to have within the App.
For instance, you may give the key read permission for orders but not write permissions. In such a case, while on the App, you may view orders but cannot place new ones. This ensures improved safety just in case your device is compromised.
Scan the QR code shown on your browser to login to your new account.

Alternatively, you can type in the API key yourself.
Before you continue, make sure that you securely write down your API key on paper and keep it secret.
Lastly, you will be prompted to create a PIN code. The app will offer you to activate face or fingerprint login, depending on your device.
Unus Sed Leo
UNUS SED LEO (LEO) is a Bitfinex's exchange and community token. It was launched in an effort to build the community and help mitigate some of the losses that the exchange has experienced over time. Bitfinex shares 27% of the profits with LEO holders when they sell their tokens to the exchange. There are a variety of benefits for LEO holders, such as lower commissions, monthly discounts, discounts on withdrawals and more.
The best source of information about the token is the official LEO whitepaper.
Bitfinex Security
Bitfinex has experienced enough hacks in its history making it hard to keep track of the losses, unless you are a crypto exchange historian. The most notable hack happened in 2016, when Bitfinex lost ~$60 million USD in Bitcoin at the time, that is, 120,000 BTC. Today, that same amount is worth $1.2 billion USD.
Since the start of 2020, Bitfinex has been trying to get the Bitcoin back to their accounts, offering up to $400m USD in rewards for information leading to the recovery of said BTC. They've even extended the offer to the hackers themselves. However, instead of giving back the Bitcoin, the hackers are moving it around, leading everyone involved to chase the transactions through the blockchain.
Bitfinex Affiliate Program

Bitfinex has a relatively generous affiliate program which can earn you up to 55% of trading fees, various incentives, and up to 3 connection levels. The upside is unlimited, especially if you have a website or a significant social following.
The system is equivalent to the industry standard. It uses unique links which you can share or embed and anybody that creates an account becomes your referral. The moment they start trading, you will begin to earn commissions on the trading fees charged by the platform.
Conclusion
Bitfinex does not have a spotless history. However, they've always managed to provide equivalent value for any losses back to their customers. These decisions help Bitfinex safeguard its reputation in the public eye.
Despite losing $74M due to hacks, Bitfinex has managed to reimburse users by providing a variety of different IOU tokens and actual company ownership.
However, even if Bitfinex is safe, it is not risk-free. Bitfinex's parent company iFinex is behind Tether. Both of them are involved in lawsuits regarding Bitcoin price manipulation allegations in 2017.
Should Bitfinex be found guilty, the courts are most likely to punish them financially instead of shutting down the business. In the worst-case scenario, you will experience a brief period of more expensive trading fees, at which point you can just migrate your trading capital to another exchange.
All in all, Bitfinex is a profitable and frugal company that spends little and makes a lot of profit for its shareholders. They made over $400M USD in net profits in 2018 alone and only spent $14M USD.
The platform is available in English, Russian, and the Chinese language. This exchange is open in 52 countries and supports Bitcoin, Bitcoin Cash, Ethereum, Ethereum Classic, Litecoin, XRP, among others. The fiat currencies supported on Bitfinex are USD, EUR, JPY, and GBP.
The services offered on this exchange are cryptocurrency exchange, margin lending, margin trading, and OTC desks.
Visit Exchange >>>
Social media