Bithumb Review

Withdrawal fee: 0.001 BTC

Taker fee: 0.25%

Maker fee: 0.25%

Bank transfer

Credit Card

Cryptocurrency

Bithumb is a global Korean online cryptocurrency exchange based in Seoul, South Korea. Founded in 2014 by BTC Korea.com, it has since established itself to be a top exchange with over 8 million registered users. They offer a wide range of services such as general trading, staking, lending, and more. Its executive team consists of Back Young Heo (CEO), Philip Makarti (Head of Marketing), Wu Lai Hung (Chief Marketing Officer), to name a few.
Bithumb Fees
Trading Fees
Trading fees on Bithumb exchange are simple – the fees vary between 0.04 – 0.25% for the KRW and BTC market. The 0.25% rate is the standard, but you can get a discount of up to 84% if you purchase commission coupons. Below are the different recommended coupons depending on the type of trader you are:

Deposit and Withdrawal fees
For the most part, deposits are free. However, if you want to make small deposits in certain cryptos, you will incur a small charge – these tokens and their associated fees are BTC (0.001), DASH (0.01), LTC (0.01), BCH (0.001), ZEC (0.001), and BTG (0.001).
Internal withdrawals within Bithumb exchsnge are free, and standard withdrawal rates apply in each crypto you want to send off the exchange – these are charged in the denomination of the crypto you select.
Trading View
In regards to the trading platform and interface, it is quite busy overall but has everything you need at your disposal; the white background and various colors lend themselves well to the look and feel. The different token markets are positioned on the left, with the current price chart and order book in the middle, and the options to buy/sell on the right.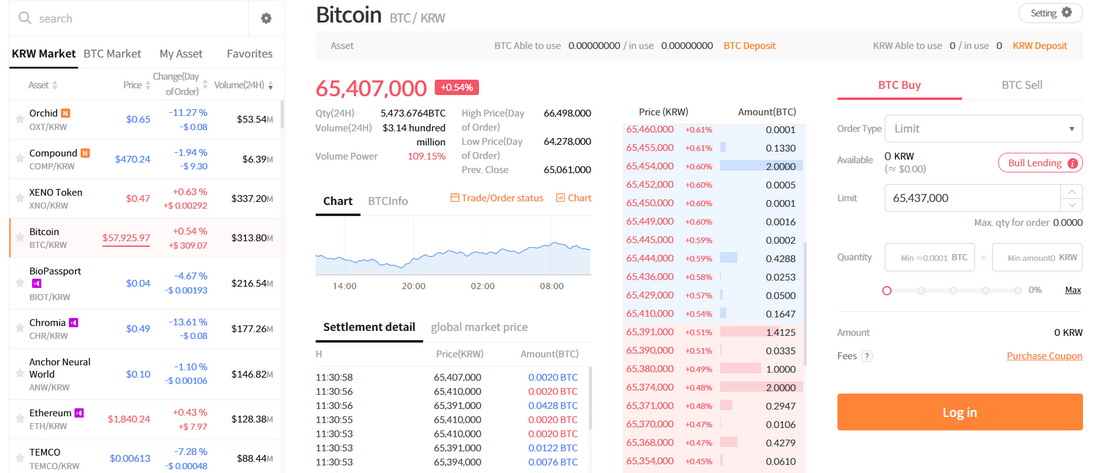 One drawback is that in order to view the full interactive price chart, you have to click on the orange Chart button displayed below the price of the token – this is somewhat inconvenient, as the chart on the main page displayed in the image below only allows you to see price action over a short timeframe.
Trading pairs are also limited to KRW and BTC across its 100+ offered tokens.
Supported Countries and Cryptos
Bithumb exchange offers support for most countries across the globe. Their terms of service specifically state that residents or citizens from FATF-listed high risk and/or non-cooperative jurisdictions are prohibited from using their services – based on publicly available data, these countries currently include:
Albania
Barbados
Botswana
Cambodia
Ghana
Iran
Jamaica
Mauritius
Myanmar
North Korea
Nicaragua
Pakistan
Panama
Syria
Uganda
Yemen
Zimbabwe
Deposit and Withdrawal Methods
Deposit and withdrawing are extremely simple for crypto-to-crypto. To deposit crypto, you will need to enter your Bithumb token deposit address on the exchange or wallet you are sending assets from. For withdrawals, you will need to enter your external withdrawal address on the Bithumb withdrawal page for the particular token you are attempting to transfer.
Purchasing crypto with your VISA or MasterCard is also an option, and transactions can be executed in most major fiat currencies.
Commission Coupon
Bithumb provides you with the option to purchase commission coupons, which give users special discounts on trading fees. Coupons are instantly applied once purchased and can be utilized across all of Bithumb's markets. Each coupon is valid for 60 days from the date it is purchased, and will expire immediately after the timeframe is up. These commission coupons can save you up to 84% on trading fees.
Lending Bitcoin and Ethereum
The virtual asset lending platform allows you to borrow Bitcoin and Ethereum for a specified rate and term. Lending offerings are separated into two options – bear and bull lending. These options are named to market them differently, but they are essentially the same, as both involve you borrowing virtual assets at similar rates and terms – it just depends what you do with them.
For bear lending, it recommends that you borrow BTC or ETH, then sell and buy back at a lower price. For bull lending, it recommends that you buy the asset and hold until it appreciates in value. Both options require different fees and amount of allowed KRW collateral, as seen below: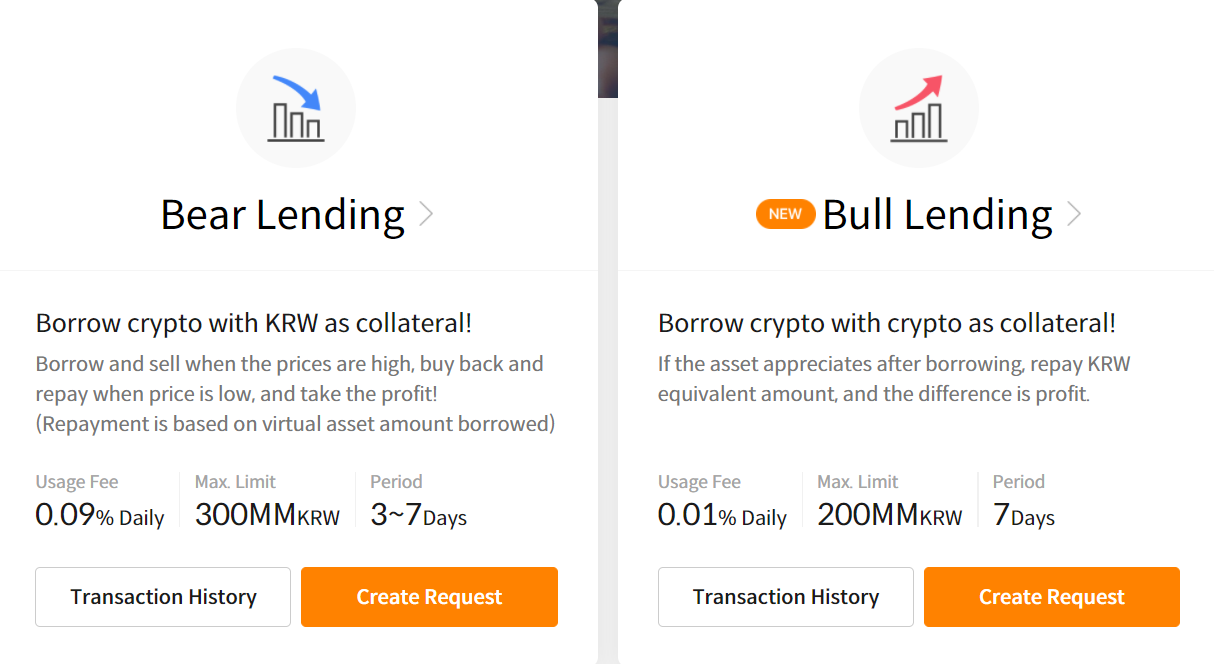 BithumbCash
BithumabCash is Bithumb's version of a payment service – it is composed of the total funds held by Bithumb users, converted into KRW. Payments can be made offline (duty-free shops, movies, convenient stores) or online from a desktop or phone. Additionally, the service is QR code and SMS friendly and can be used for sending and receiving funds for both methods.

Staking
Bithumb's staking platform offers a select few tokens with very generous interest rates. The tokens available for staking are ICX, VSYS, IOST, LUNA, TRUE, and IPX. These tokens can be bought or deposited directly on the staking page, and rewards are provided daily for the time period that you hold the tokens.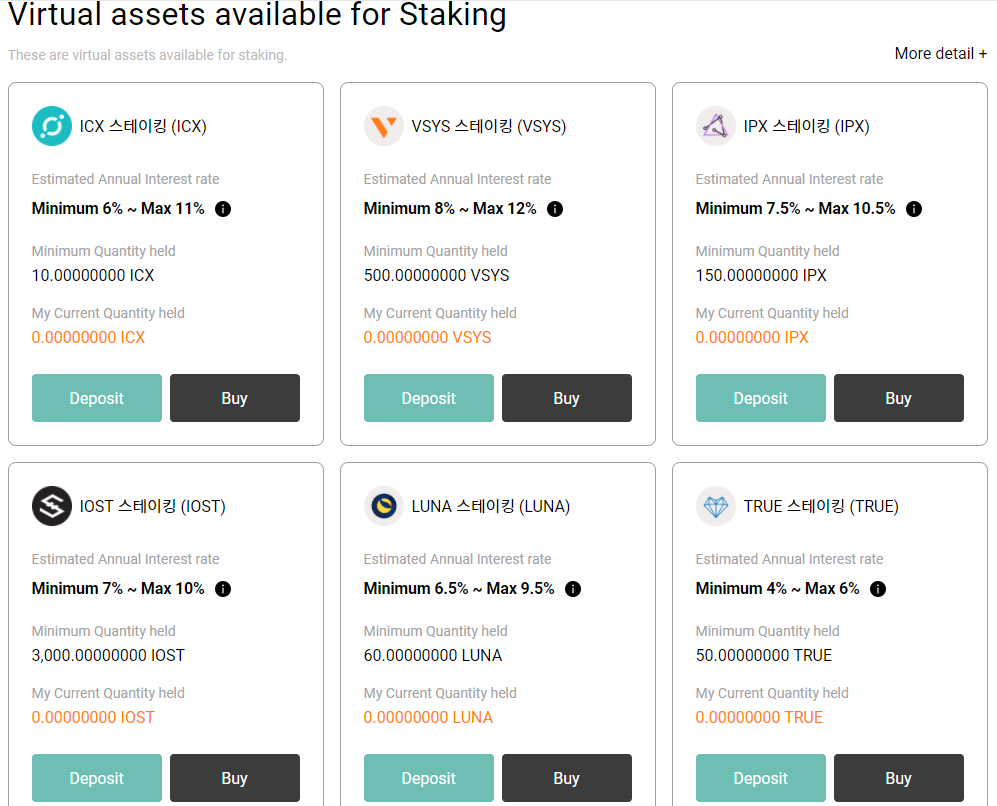 Ethereum 2.0 Staking
As Ethereum 2.0 staking has hit the ground running across the industry, Bithumb is allowing users to also earn interest on ETH through staking. Users who decide to stake ETH will be restricted from withdrawing or ending their ETH staking period until phase 1 of Ethereum 2.0 is completed. Any rewards will be distributed in BETH, which is a tokenized asset serving as a representation of the ETH you have staked at a 1:1 ratio on Bithumb.
Virtual Asset Deposit
The Virtual Asset Deposit platform is another way you can deposit your tokens and earn stable interest on the exchange. Some examples of tokens that can be (or have been) staked are BTC, ETH, COS, EOS, TRX, and more.
Any assets deposited are locked and cannot be traded or cancelled until the agreed-upon term is completed.
Auto Trading
Trading bots have become an integral part of exchanges, as adoption for them continues to rise. Bithumb provides a variety of different programs to help you maximize your auto-trading options, so trading can come at your convenience without you having to be there to monitor. The different bots that Bithumb offers are Arbibot, Hunterbot, Korbot, and Copybot.
Arbibot and Hunterbot use specific and calculated algorithms in order to execute trades, intended to maximize returns. Korbot and Copybot are slightly different, as they execute trades through data captured from analyzing your particular trading patterns, so it's almost like you're trading when you're not even there!
Bithumb API
Bithumb uses a REST API in order to allow users to develop services and applications, and customize their overall experience on the exchange. Their public API provides real-time price data, quotes, and signing details. Their private API allows users to program specific transaction executions, such as searching for a token (ticker symbols), buy and sell orders, cancelling orders, and signature confirmation.
Additionally, they offer a WebSocket API in order to receive ticker symbols, order book information, and transaction data.
Bithumb Prime
Bithumb Prime is a service specifically designed for institutions, allowing them to take the API to the next level. The API can be optimized to manage traders faster, fees are lower for trading, and dedicated customer/account support is available.
In order to apply, you need to send an application through email, which will then be reviewed, following a final decision if your application has been accepted. Eligible participants are algorithm trading firms, hedge funds and financial institutions. In order to apply, these institutions must have their account verified at a Level 3 or above.
How to use Bithumb Exchange
The sign-up page is a bit more complex than most, as it is longer than usual and somewhat text-heavy. Navigate to Bithumb's homepage and click Sign Up in the upper right-hand corner. If you are a corporation, there is a button on the top right-hand side of the sign-up page that you can click on.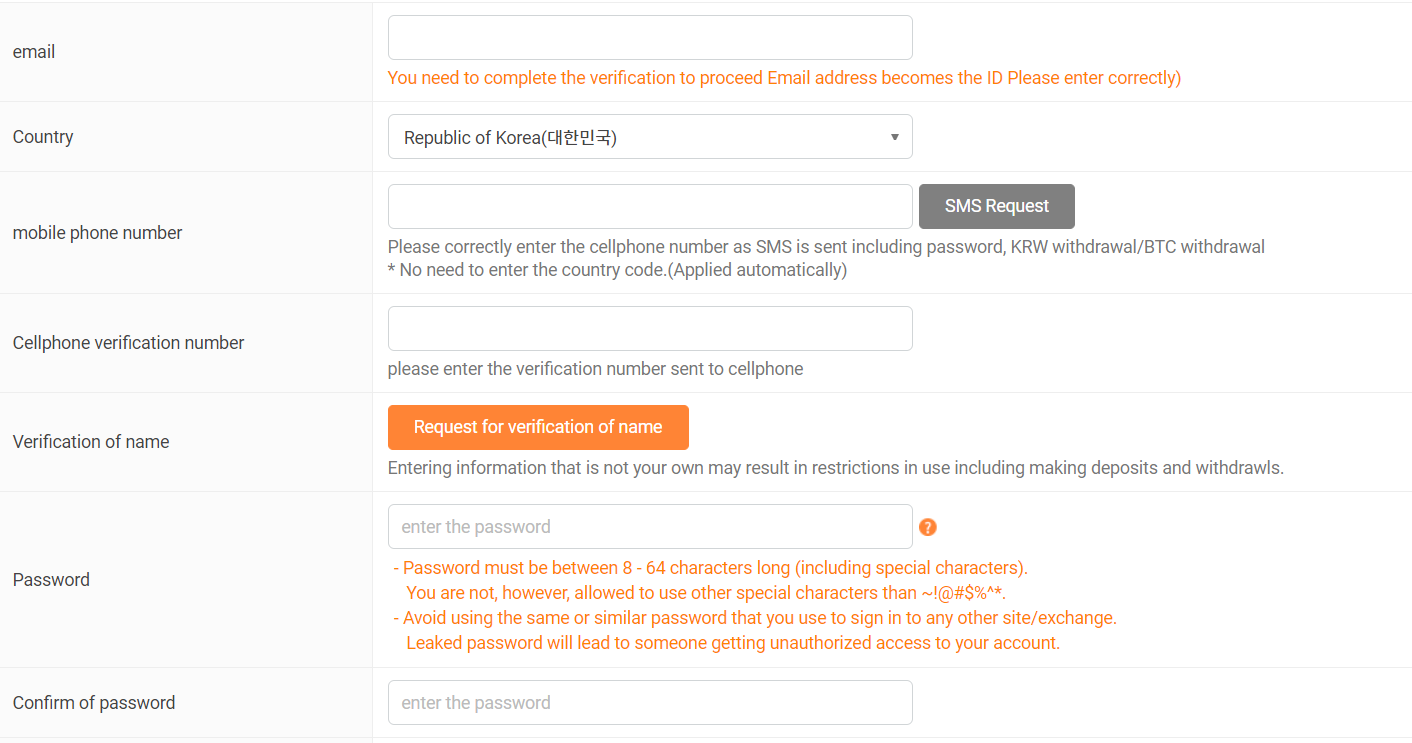 You will need to enter your all personal details as shown above. If you select a country that is restricted, a popup will immediately appear notifying you not to proceed. Once you have entered all the required information and selected the agreement items, scroll to the bottom of the page and click Sign Up.
Once you've created an account, you can opt to increase your verification level:
Level 1: This is the basic level that you automatically receive when signing up. You will be able to trade freely and have no restrictions on depositing or withdrawing.
Level 2: Cell phone authentication or an ID card (non-face-to-face) are required.
Level 3: Filling out a pledge form is required.
Level 4: A utility bill (that includes your name and address) is required, for corporations and individuals.

Security
Bithumb exchange has several security measures in place to ensure its individual and corporate clients' funds are safely stored. In order to protect against hacking, it has implemented an advanced security solution called "AhnLab Safe Transaction," which is utilized by commercial banks to increase safety and reduce risk.
It also has up to 6 billion KRW in cyber insurance coverage, special customer identification procedures, in addition to further advancing its KYC rules. Users also have the option to use SMS verification and Google OTP to add an additional layer of protection onto their accounts.
Although Bithumb is working to enhance its security features, it hasn't earned the greatest reputation. In June 2017 hackers stole user information, and June 2018, Bithumb exchange was hacked and $30 million worth of digital tokens were stolen – these assets were taken from its reserves, and all user funds were transferred to cold storage… The exchange also mentioned that any lost user funds would be covered. There are still a few unknowns surrounding the cyberattack, as Bithumb deleted their original tweet providing details around the incident.
Conclusion
Bithumb exchange started from the ground up in Korea but has expanded rapidly, continuing to provide many great services to customers across the globe. While it has many advantages, there are also several things to keep an eye on before creating an account and utilizing their services.
Pros
Over 100+ tokens available for trading
Great products like staking/virtual asset deposit and lending with high-interest rates and low fees, respectively
Easy to navigate website with an appealing design
Helpful user guide, with most FAQs at the forefront of the page
The vast majority of countries are supported
Cons
The website is poorly translated into English and somewhat disorganized in some sections
A lengthier sign-up process than usual, although still straightforward
Security is questionable but improving
No margin or futures trading
Trading pairs are limited to KRW and BTC
Visit Exchange >>>
Social media