OKEx Review

Withdrawal fee: 0.00

Taker fee: 0.10%

Maker fee: 0.08%

Bank transfer

Credit Card

Cryptocurrency

At this point in time, OKEx classes as one of the world's largest exchanges by features and trading volume, a title it has rapidly gained since its establishment in 2013. As a privately-held company, OKEx was founded in China, but is headquartered in Malta, and actively employs over 1,000 people. The exchange is led by Jay Hao [LinkedIn], who has been serving as its CEO for years. Jay is well-known for his prior involvement in building blockchain-based applications for mobile gaming and video streaming [Wikipedia].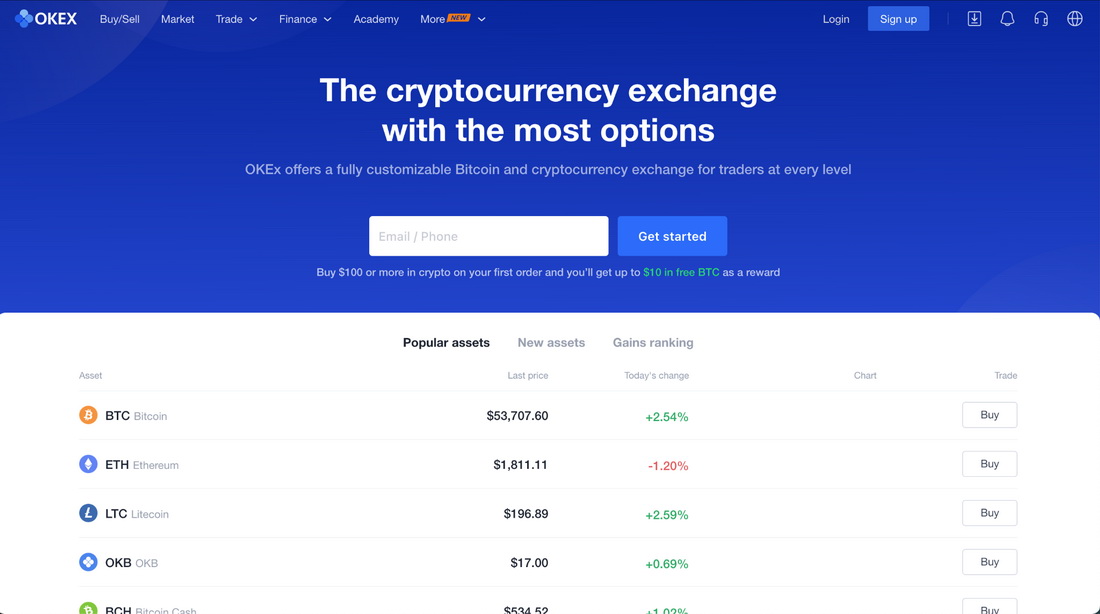 OKEx has invested considerable resources into building an all-inclusive platform, designed to serve most needs that digital currency enthusiasts may hold. Apart from facilitating instant trading between popular trading pairs, OKEx exchange also provides margin trading, futures trading, DEX trading, perpetuals trading, and options trading. Some of its other key selling points include the OKB utility token, the OKExChain, the OKT token, as well as services like Earn, Loan, Jumpstart, Academy, Mining Pool, Cross-Chain Gateway, Wallet, Cloud, Brokerage, and more.
This review serves the purpose of covering and evaluating everything there is to know about the OKEx digital assets exchange.
OKex Trading and Withdrawal Fee Schedule
Trading Fees
Like many other exchanges, OKEx has tiered fees, meaning that lower fees can be accessed by those with a higher trading volume, or by holders of the OKB utility token.
For spot trading, a tier-1 regular user with an OKB holding below 500 can expect to pay a maker fee of 0.08% and a taker fee of 0.1%. On the other hand, a regular user holding over 2,000 OKB will only pay a 0.06% maker fee and a 0.08% taker fee.
Regular user
| Tier (Lv) | Total OKB holding | 30-Day Volume (USD) | Maker fees | Taker fees | 24hr Withdrawal Limit (BTC) |
| --- | --- | --- | --- | --- | --- |
| 1 | < 500 | < 5,000,000 | 0.080% | 0.100% | 500 |
| 2 | ≥ 500 | < 5,000,000 | 0.075% | 0.095% | 500 |
| 3 | ≥ 1,000 | < 5,000,000 | 0.070% | 0.090% | 500 |
| 4 | ≥ 1,500 | < 5,000,000 | 0.065% | 0.085% | 500 |
| 5 | ≥ 2,000 | < 5,000,000 | 0.060% | 0.080% | 500 |
VIP user
| Tier (VIP) | Total OKB holding | Maker fees | Taker fees | 24hr Withdrawal Limit (BTC) |
| --- | --- | --- | --- | --- |
| 1 | ≥ 5,000,000 | 0.060% | 0.080% | 600 |
| 2 | ≥ 10,000,000 | 0.040% | 0.075% | 800 |
| 3 | ≥ 50,000,000 | 0.020% | 0.070% | 1,000 |
| 4 | ≥ 100,000,000 | 0.000% | 0.060% | 1,200 |
| 5 | ≥ 200,000,000 | -0.002% | 0.050% | 1,500 |
| 6 | ≥ 500,000,000 | -0.005% | 0.040% | 1,800 |
| 7 | ≥ 1,000,000,000 | -0.010% | 0.030% | 2,000 |
The highest tier VIP user with a 30-day trading volume above $1Bn can expect a maker fee of -0.01% and a taker fee of 0.03%.
Withdrawal Fees
For most digital assets, OKEx does not charge withdrawal fees. Of course, all transactions out of OKEx' wallets entail the payment of blockchain transaction fees, which are non-dependent on the exchange.
Exploring the OKEx Trading View
Spot Trading
OKEx exchange comes along with a simple, but advanced trading view. When engaging in spot trading, users have access to all relevant tools designed to carry out market analytics and to determine which coins should be purchased or sold.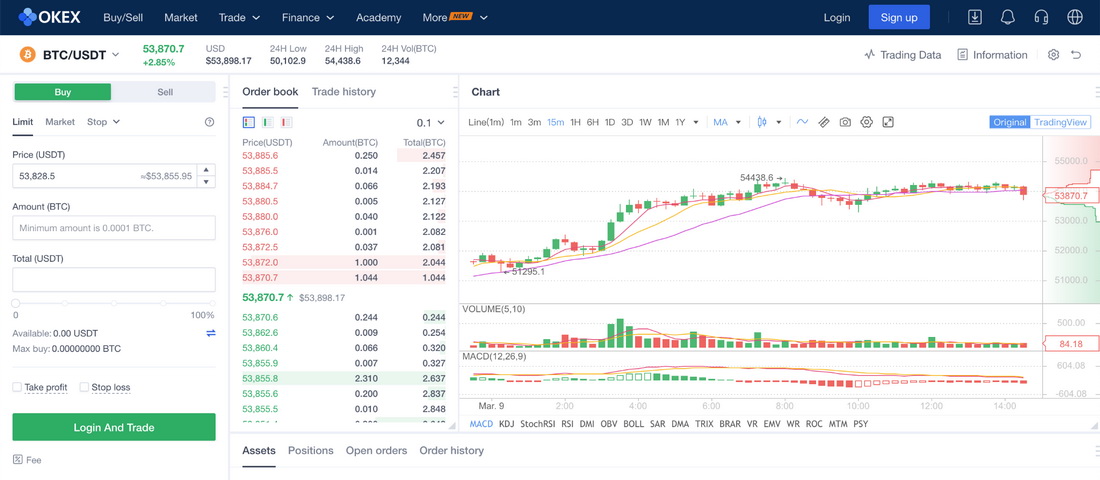 The platform currently supports multiple order types, including but not limited to limit, advanced limit, market, stop limit, trail, iceberg, and TWAP orders, allowing users to make the most out of their trades. Time-weighted average price (TWAP) orders and iceberg orders were first seen on OKEx, and they're commonly used by the platform's traders due to their benefits.
Margin Trading
OKEx exchange allows traders to buy and sell cryptocurrencies by using margin, giving them the chance to access leverage as high as 10x for spot, and 100x margin for futures. When engaging in margin trading, users increase their exposure to cryptocurrency volatility without having to purchase too much crypto out of their own pockets. Of course, any losses that incur on the higher exposure will have to be paid out by traders.
Margin trading on OKEx is self-explanatory and easy to use. Users will first have to activate margin trading by agreeing with the risks. Funds must then be transferred from spot wallets to margin wallets. Shortly thereafter, margin trading can commence.
Futures Trading
Futures contracts entail that traders agree to purchase or sell an asset at a predetermined time and date. OKEx's trading interface comes along with all tools needed to make smart and profitable futures trades. More so, up to 100x leverage is supported for futures trading.
Perpetuals
Perpetual contracts are similar to futures, with the difference being that there is no expiry date. OKEx perpetual traders will find an immersive interface that contains all necessary tools.
Options
Unlike futures and perpetuals, options trading contracts are not obligatory, meaning that bearers are given the choice to purchase or sell an asset at a predetermined price and date. The options trading interface is just as good, featuring all tools needed.
DEX Trading
While OKEx is a centralised exchange by definition, it has also launched decentralized trading through swaps. In this case, users can choose to add liquidity to a pool, which rewards them a percentage of the transaction fees incurred. Trading is instantaneous and anonymous, as the DEX trading interface can be accessed without an account.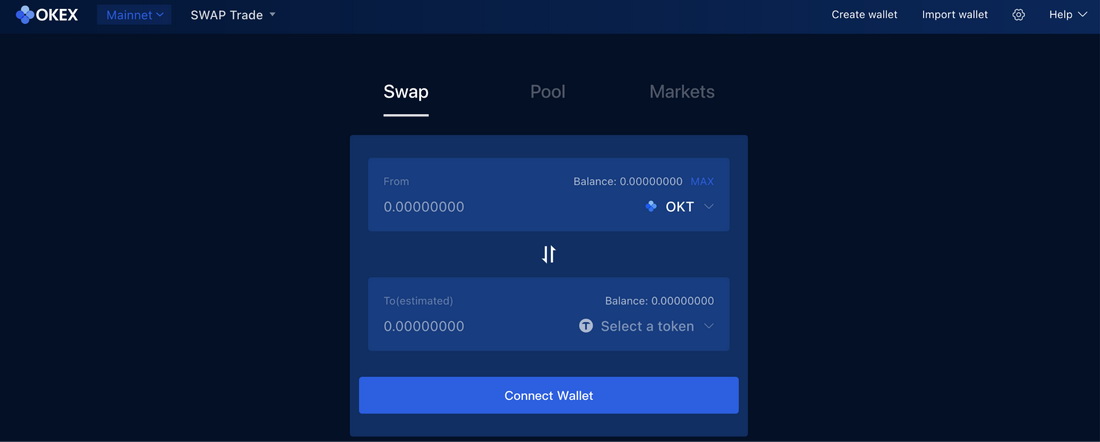 Customers only connect one of the supported wallets. Liquidity is always available, yet the number of supported pairs is fairly low. Users can expect to trade in OKT, USDT, ETHK, OKB, LTCK, and BTCK, directly on the native OKExChain.
Supported Countries and Cryptocurrencies
OKEx is available in most regions of the world, with a few exceptions. The most notable one is the United States of America, which has limited the activity of foreign crypto exchange platforms, which are now subject to regulatory approval.
OKEx supports many of the market's best known digital currencies, including but not limited to BTC, ETH, XRP, USDT, BCH, DOT, LINK, ADA, LTC, XMR, and YFI.
Deposit and Withdrawal Methods
OKEx exchange deposits and withdrawals are mainly done via digital currencies. Most of the assets that are freely tradeable within the spot wallet can be deposited and withdrawn with ease, and without having to pay unnecessary transaction costs.
OKEx does not have its own fiat on-ramp, but it has partnered up with a third party to accept fiat-based deposits as well. Now, cryptocurrencies can be purchased via Visa, MasterCard, Apple Pay, and others. Roughly 30 digital currencies can be purchased directly via USD, EUR, GBP, KRW, JPY, RUB, TRY, USH, and more.
Highlighting the OKB Utility Token
The OKB utility token is one of OKEx's native tokens, providing holders with significant benefits when using the platform.
First off, OKB holders are eligible to obtain up to 40% off their trading fees, depending on which tier users qualify for. OKB also opens up additional revenue streams in the form of passive income, via the OKEx Earn product. OKB is also usable for traders looking to take part in token sales promoted via the Jumpstart product. Lastly, OKB ownership allows users to join the OKExChain ecosystem, an open-source blockchain that allows users to obtain a larger number of tokens as soon as the mainnet is launched.
Of course, OKB can also be used as a means of payment. OKEx lists a series of companies that currently accept OKB in exchange for access to their services. At this point in time, holders can purchase technical services, financial services, and utility services.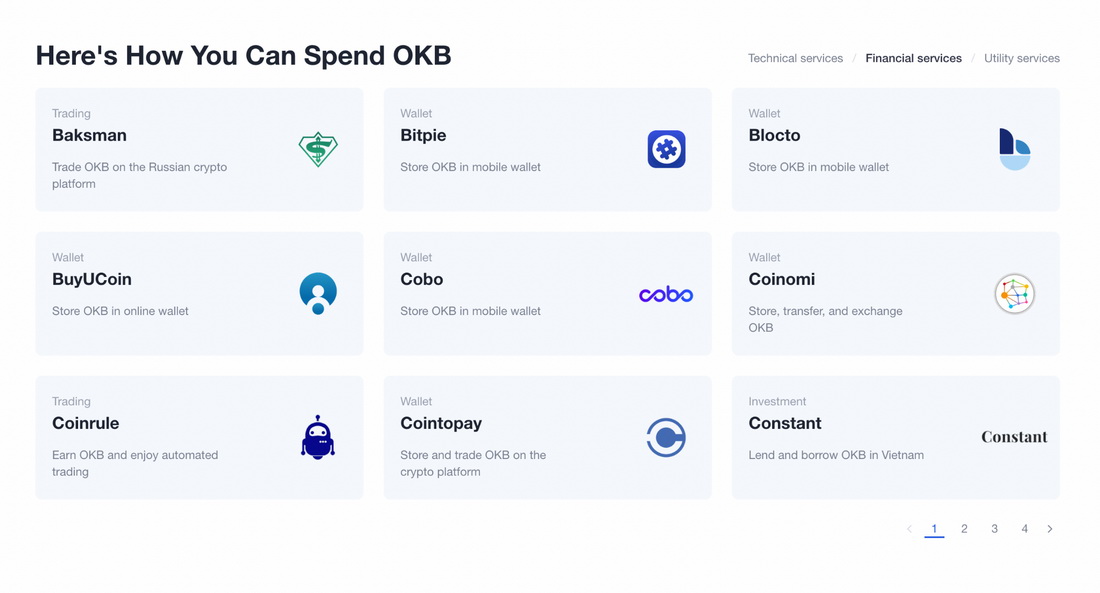 The token comes along with a deflationary mechanism, designed to reduce the circulating supply, thereby further boosting the token's value. OKEx conducts regular burns using 30% of the income obtained via the OKEx spot trading fees. Tokens are burnt every three months by having them sent to a non-access burning address. All burns are conducted transparently, and announced whenever they occur.
Exploring the OKExChain and OKT Token
Given the absence of trading-centric blockchains, OKEx has decided to further tap into the total blockchain addressable market by creating the open-source OKExChain. This native chain is described as the 'the next step in the development of decentralized trading', hence allowing people to easily trade any valuable asset directly on-chain, whilst retaining full ownership over the assets in question. The blockchain has proven fairly scalable so far, while also being efficient thanks to the low transaction fees. Safety is assured through blockchain immutability and transparency.

The OKExChain also supports smart contract integrations, thereby creating yet another ecosystem suited for the deployment of decentralized applications (dApps). Thanks to its cross-chain support and the value-exchange ethos, the OKExChain will hold significant popularity.
The OKExChain is marketed as a high-performance network that facilitates decentralized governance and community-driven consensus. Tokens can be seamlessly listed and integrated on the chain without seeking approval in a centralised fashion.
Lastly, OKExChain has announced compatibility for the Ethereum Virtual Machine, meaning that developers can leverage the tools and know-how they already hold to build next-gen dApps on this blockchain.
The OKExChain ecosystem makes use of OKT, its very own native token that fulfills multiple use cases. As such, OKT token holders obtain voting rights on team and community proposals, as well as staking privileges. As expected, the token is necessary to pay the fees associated with all transactions carried out on this blockchain network.
Overview of OKEx's Other Services
Earn
The crypto earn feature has become incredibly popular as of lately, especially in the decentralized finance space. Rather than just hodling cryptocurrency, users now have the possibility to earn significant interest rates from their coins.
There are multiple revenue streams accessible by simply owning cryptocurrency, including yield farming, staking, or lending interest. OKEx aggregates a series of earning opportunities within its earn product. These include yield farming on Sushiswap or Compound, but also locked savings and C2C loans. Annual percentage yields as high as 12.84% can be seamlessly obtained by taking part in the earn initiative.
Loan
OKEx's loan product allows traders to quickly obtain crypto-backed loans from the platform's other users. These are C2C loans that are facilitated through OKEx's matching engine. Quick borrowing and repayment are assured, but acceptable interest rates are provided as well. OKEx allows loans for a period ranging between 3 to 180 days, which are often priced at a 3.65% – 15.33% effective interest rate.
Jumpstart
Jumpstart represents OKEx's token sale platform, which innovative crypto and blockchain-based startups can leverage in order to easily sell their tokens to the public. Participating in public sales comes along with a larger profitability potential, as public sale buyers are often able to purchase tokens at significantly lower prices, as opposed to those which are bought from the token market. OKEx has recently finalised the OKT initial minting and distribution token event, but it has sold many other tokens, including MXT, FLM, RIO, ZYRO, and more.
Academy
OKEx aims to cater both to novice and advanced cryptocurrency traders and investors. To help bridge the knowledge gap, OKEx has started its very own academy, providing valuable knowledge on all things crypto. Users will not only learn how to use each of the services that OKEx provides, but also how to conduct technical analysis, how to understand bullish and bearish sentiments, and how to carry out industry analysis. Trading ideas, cryptocurrency fundamentals, and other technical knowledge is also readily available.
Mining Pool
Cryptocurrency mining can bring in considerable profits, but it often entails expensive investments in powerful hardware, as well as electricity consumption costs. Mining pools allow investors to pool their assets together in order to 'rent' server space, that's then used to mine a series of supported cryptocurrencies.
OKEx currently mines via the proof-of-work (PoW) consensus mechanism, and supports several algorithms, these being SHA256, Ethash, Scrypt, X11, Blake256, RandomX, Tensority, Anx Equihash. Users can therefore cloud mine BTC, BCH, EWTH, LTC, DASH, DCR, XMR, BTM, AND BTG.
The product markets itself as safe, stable, open, flexible, global and reliable. Although not every pool is currently being used, there are quite a few people mining BTC, ETH, LTC, and XMR. The rest are seeing little to no activity whatsoever.
Cross-Chain Gateway
By this point, it is common knowledge that many cryptocurrencies have their very own blockchains which they are exclusive to. This means that you cannot have ETH operating on the BTC blockchain. However, some assets are made interoperable, thereby living on a number of different blockchains. Without a cross-chain gateway, USDT operating on the Ethereum blockchain cannot be transferred to the Tron blockchain, for instance.
However, OKEx's cross-chain gateway product makes it possible for users to convert assets at a 1:1 ratio, even if one coin is not supported on a specific blockchain at all. For instance, BTC can be transferred to the ETH blockchain in the form of BTCK, a token that's 1:1 pegged to the price of BTC. The OKEx cross-chain gateway currently supports the Ethereum blockchain, yet both the OKExChain and the Tron chain will be added within the short-term future.
OKEx Wallet
The OKEx wallet makes it easy for cryptocurrency owners to store, send, receive, and manage their digital assets. With support for 36 cryptos, multiple direct integrations with the trading app, and a vault service, the OKEx wallet has attracted tons of users.
Thus, the app serves as an all-inclusive interface that allows both asset storage and trading. As a non-custodial wallet, users retain full security and ownership over their private keys.
OKEx Cloud
Those looking to build their very own cryptocurrency exchange might want to leverage the OKEx Cloud, an incredibly easy means of accessing the platform's world-class technology.
With OKEx Cloud, users can access OKEx's market depth, cutting-edge core technology, flexible token listing, cross-platform development, spot trading, P2P trading, and 24/6 global customer support. To access the OKEx Cloud, users will have to fill an application form and conduct an audit with a dedicated project manager.
Free Bitcoin
OKEx even provides access to free bitcoin incentives that are accessed through the completion of daily missions. Of course, this extra bitcoin doesn't amount up to huge rewards, but it does provide an incentive to learn more about the cryptocurrency market.
OKex Broker
OKEx brokers work by attracting users for their particular product which is based on the liquidity and market depth provided by OKEx. The exchange discusses the main benefits of its brokerage program, and these include high commissions, product performance boosts, and 24/7 support. To become an OKEx broker, applicants must own an independent product that supports API trading, over 500 BTC in monthly volume, and at least 2,000 monthly users.
OKEx API
Speaking of the OKEx API, access is easily obtained with the REST and WebSocket APIs. While the latter supports market data, the first one provides trading, withdrawals, and market data. Those looking to integrate the OKEx API within their own trading products and services can learn more on the API page.
How to use OKEx exchange
Account Creation
To create an account on OKEx, simply click on the sign-up button located on the upper-right corner of the screen, and proceed to enter your email and password. OKEx exchange gives you the possibility of creating sub-accounts used for crypto trading. These provide better portfolio optimisation, lower trading fees, trade segregation for transparency purposes, and access to API services designed to carry out algorithmic trading. Either way, the creation of sub accounts is easy, as highlighted in the official guide.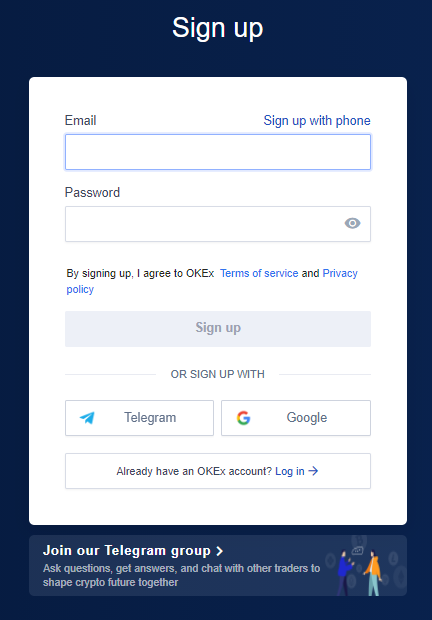 KYC Verification
To unlock full trading capabilities, users are required to complete the know-your-customer (KYC) procedure. Customers will have to use their passport to record a verification video according to preset instructions.
Security Standards
So far, OKEx has never faced a high-profile successful hack, in spite of the fact that some users reported that their accounts were accessed by attackers, leading to loss of funds. OKEx takes security very seriously, but fund security also depends on how careful users are.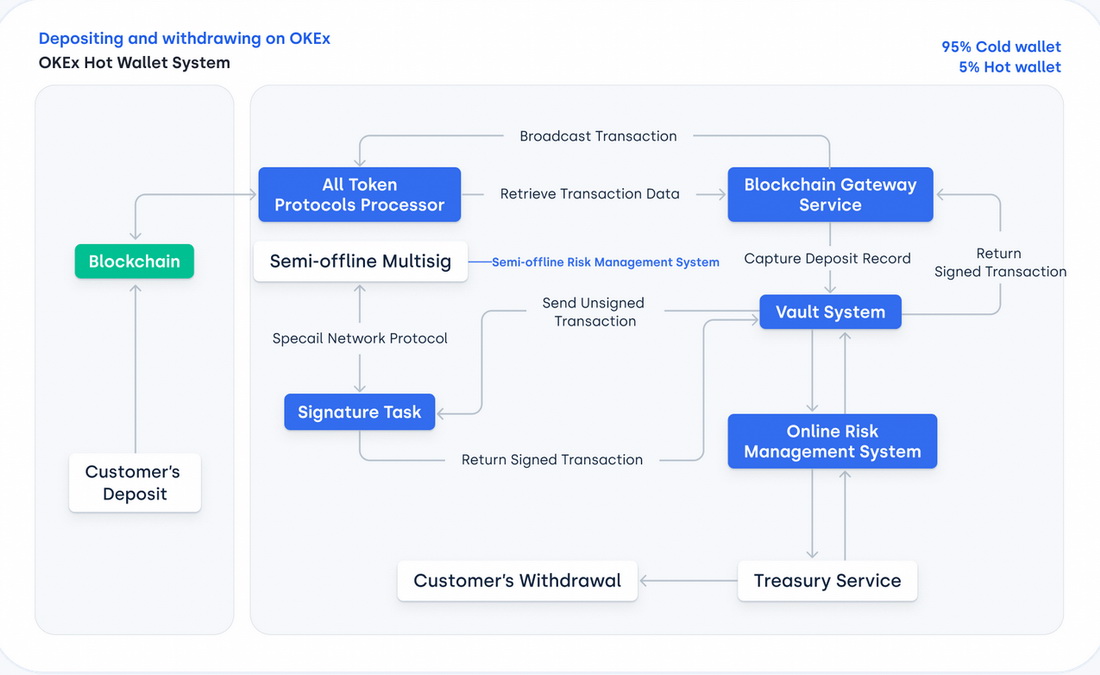 Either way, OKEx exchange employs a cold and hot wallet architecture designed to keep the majority of funds on air-gapped devices that are inaccessible from the outside. Additional measures are taken to make sure that no individual from within the company has free access to user funds, through the usage of multi-signature logins. Coins are also spread out across multiple private keys, which are encrypted and help in bank vaults. The hot wallet offers security of private key storage through semi-offline storage and signature services. By employing multiple authorization mechanisms and using emergency plans for private key backups, funds remain inherently safe.
Users can also set up security features on their accounts, such as email verification, SMS verification, and 2FA authentication.
Bottom Line
Based on everything that has been highlighted so far, OKEx has established itself as an all-inclusive cryptocurrency exchange, providing an array of services suited for digital asset enthusiasts worldwide. With military-grade security, unparalleled liquidity, quick order matching, and numerous other benefits, it's no wonder that OKEx reports billions of dollars worth of trading volume. Some of the cons, however, include no service to US-based customers and the lack of a demo trading account.
Visit Exchange >>>
Social media