Coinbase Review

Bank transfer

Credit Card

Cryptocurrency
Coinbase is a popular exchange platform that makes buying, storing, and selling a range of cryptocurrencies a simple and intuitive process.
With more than 35 million users spread across over 100 countries, and more than $220 billion in total trading volume, Coinbase is among the largest and most successful crypto companies today—and is now a household name for many cryptocurrency traders [Wikipedia].
Here's everything you need to know before getting started with one of the world's most successful crypto exchange platforms.
What Is the Сoinbase Exchange?
Founded in 2012 by former software engineer at Airbnb Brian Armstrong [LinkedIn] and Fred Ehrsam, a former trader at Goldman Sachs, Coinbase quickly grew to become known as arguably the most popular fiat on-ramp for retail investors, and one of companies most instrumental to the success of the cryptocurrency industry.
As a US-based cryptocurrency exchange, Coinbase has its headquarters in San Francisco, California. But it also maintains an international presence, and has offices in a range of countries, including Ireland, Japan, and the United Kingdom.
The Coinbase exchange platform and associated products are owned and operated by its parent company, Coinbase, Inc., which currently has yearly revenue exceeding $1 billion—earning it crypto "unicorn" status.
As a user friendly platform, Coinbase is designed to be accessible to casual investors and retail traders with little to no experience with cryptocurrencies. Because of this, navigating the platform and making purchases is a simple task that should pose no challenge to even complete beginners.
Purchasing Bitcoin (BTC) and other cryptocurrencies through the platform usually takes just a few clicks after setting up a payment method, and the platform is one of the few places where users can set up recurring buys—allowing them to purchase select cryptocurrencies at regular intervals.
Сoinbase fees
As a cryptocurrency exchange and broker, Coinbase charges a variety of fees for many of its services. Simply storing cryptocurrencies on the platform is free, but buying, selling, and withdrawing aren't.
For cryptocurrency purchases and sales, users are charged a spread of 0.5%. On top of this, there's the Coinbase Fee, which could be either a variable or flat fee, depending on the payment method, region of the user, and transacted amount—among other things. Customers will always be charged the greater of the flat fee or variable fee.
The flat fees are based on the transacted amount and are set out below:

Conversely, the variable fees are based on the region and payment method used, and can vary quite considerably. The fees for users in the US are outlined below:
| Payment Method for Purchase/Payout Method for Sale | Effective Rate of Conversion Fee (after waiver) |
| --- | --- |
| US Bank Account | 1.49% |
| Coinbase USD Wallet | 1.49% |
| Debit Card Buy | 3.99%*** |
| Instant Card Withdrawal | Up to 1.5% of any transaction and a minimum fee of $0.55 |
On the other hand, users in Europe are subject to the following variable fee schedule:
| Standard Buy/Sell | Instant Buys (debit card only) | Bank Transfers (SEPA) – in/out* | Instant Card Withdrawal |
| --- | --- | --- | --- |
| 1.49% | 3.99% | Fee/ €0.15 | Up to 2% of any transaction and a minimum fee of €0.55 |
Cryptocurrency withdrawals are subject to a network fee, which can vary based on the asset, network load, and the amount withdrawn. The exact fee will be disclosed at the time the transaction is made. Transfers to other Coinbase accounts are free.
Users that take advantage of the platform's staking service will also be subject to a 25% commission on any staking rewards received—this is a flat rate that remains the same regardless of which asset is staked.
Deposit and Withdrawal Methods
Coinbase is designed to be as open and accessible as possible, because of this it supports a wide range of different payment and withdrawal methods—but these can vary considerably by region.
The deposit and withdrawal methods for users in the US are shown below: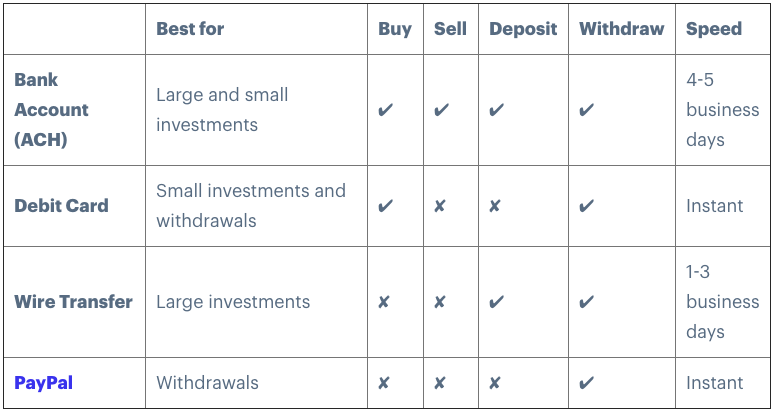 Customers in Europe have an increased range of deposit and withdrawal options, but just one purchase method known as 3D Secure Card—which allows users to pay with debit and credit cards offered by Visa and Mastercard: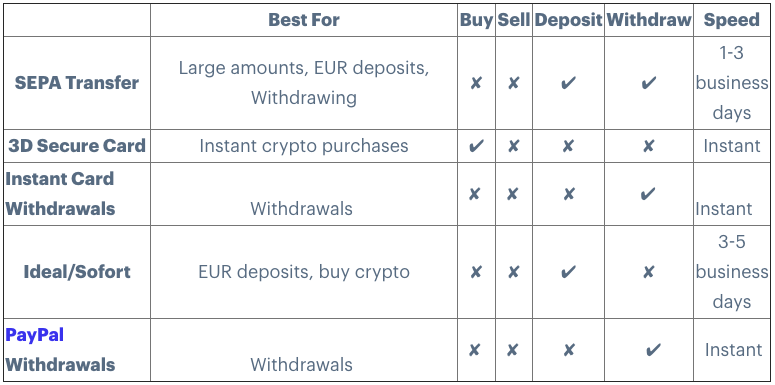 Coinbase is currently one of just a handful of cryptocurrency brokers to offer PayPal withdrawals in the US and Europe.
Account Limits
Like most exchange platforms, Coinbase uses a tiered account limits system, which allows users to increase their purchase limits by completing additional verification requirements. The exact limits and verification requirements vary by region.
As it stands, verified customers in the US will be subject to a $7,500 purchase limit when using their debit card, whereas verified customers in Europe can purchase up to €30,000 worth of cryptocurrencies per day. There are currently no maximum limits on cryptocurrency sales.

Supported Cryptocurrencies
When it comes to asset support, the platform currently supports 40 different cryptocurrencies—but more are added periodically.
In total, four of the current top cryptocurrencies by market capitalization are supported by the platform, including Bitcoin (BTC), Bitcoin Cash (BCH), Ethereum (ETH), Cardano (ADA), and Litecoin (LTC).
Create an Account
Like many cryptocurrency brokers, Coinbase enforces mandatory KYC verification on all accounts. Users will need to complete this before they are able to begin buying or selling cryptocurrencies on the platform.
Fortunately, customers also benefit from some of the quickest verification times in the business, so users can typically be up and running within hours after sending in their verification documents.
When creating an account, you will be immediately asked to complete KYC before you can access any of the site's features. This will involve uploading an accepted form of photo identification, such as a passport, driver's license, or national ID card.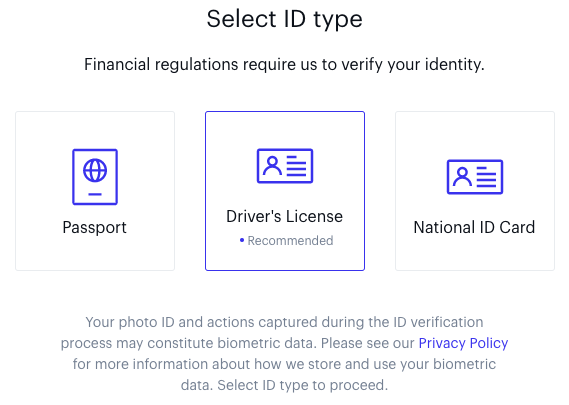 In addition to proof of identity, you will also need to provide proof of address, by uploading an image or scanned copy of your bank or credit card statement, or a utility bill.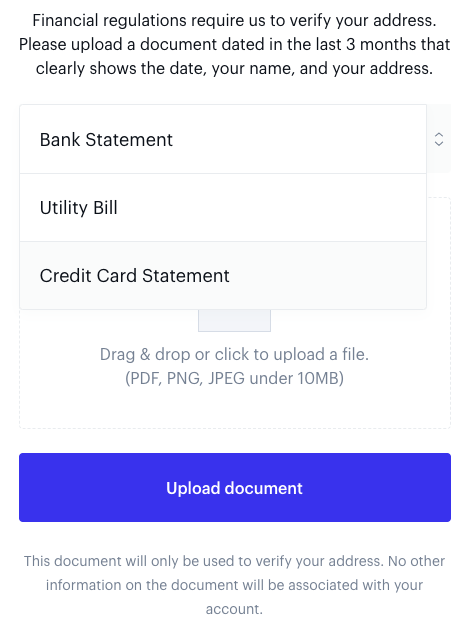 After these documents have been submitted, they will usually be verified within hours, but it can take several days in rare circumstances.
How To Use Coinbase
Once verified, you will then be free to access the full functionality of the site, and will be able to buy and sell Bitcoin and other digital assets through the 'Buy/Sell' tab, or top up your fiat balance using the 'Accounts' tab.
Customers also have access to a generous affiliate program, which allows users to earn 50% of the fees generated by any customers they refer to the platform for the first three months after they register. However, this program is generally reserved for individuals and organizations that own a website or popular blog—though anybody will be considered.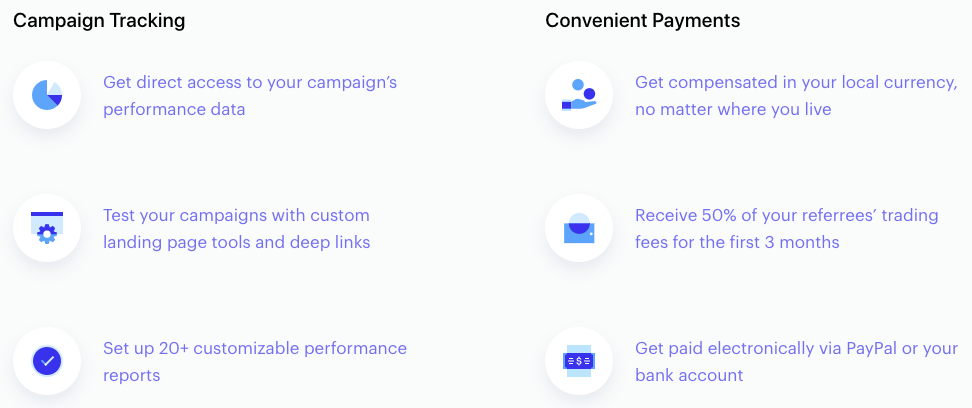 Coinbase is currently available in well over 100 countries and can be accessed in 15 languages—but the functionality it offers does vary by region.
Other Features and Services
Since it launched in 2012, Coinbase has grown its product offering considerably, and now features one of the most diverse product ecosystems around.
As it stands, Coinbase's product lineup consists of the following platforms:
Coinbase Pro
Though Coinbase is mostly designed for beginner investors, it also offers a sister platform known as Coinbase Pro—which is mostly targeted towards cryptocurrency traders and more experienced cryptocurrency users.
On Coinbase Pro, users can trade a variety of spot markets and place advanced order types, including market, limit, and stop orders, as well as access live charts to help with their trading strategy. Users can easily transfer their funds between the two main Coinbase trading platforms at no cost.
Coinbase Pro stands apart from most cryptocurrency spot exchanges since it offers insurance for funds in its hot wallet.
Coinbase Earn
As part of its ambition to help make cryptocurrencies more accessible to everyday users, Coinbase introduced Earn—a platform that allows registered users to earn small amounts of various cryptocurrencies for learning how they work.
Since its launch in 2019, Earn has grown considerably in both popularity and content, and users can now learn about over a dozen cryptocurrencies through a series of simple videos and quizzes.
Coinbase Card
Coinbase also offers its own cryptocurrency debit card, known simply as Coinbase Card.
As a Visa debit card, Coinbase Card allows holders to shop at any Visa-compatible payment terminal and use their cryptocurrency account balance for purchases and payments. It can also be used for ATM withdrawals.
Coinbase Card launched in Europe in 2019 and expanded to the US in October 2020, and works in combination with a dedicated mobile app—available for Android and iOS devices.
The fee schedule for using the card is outlined below: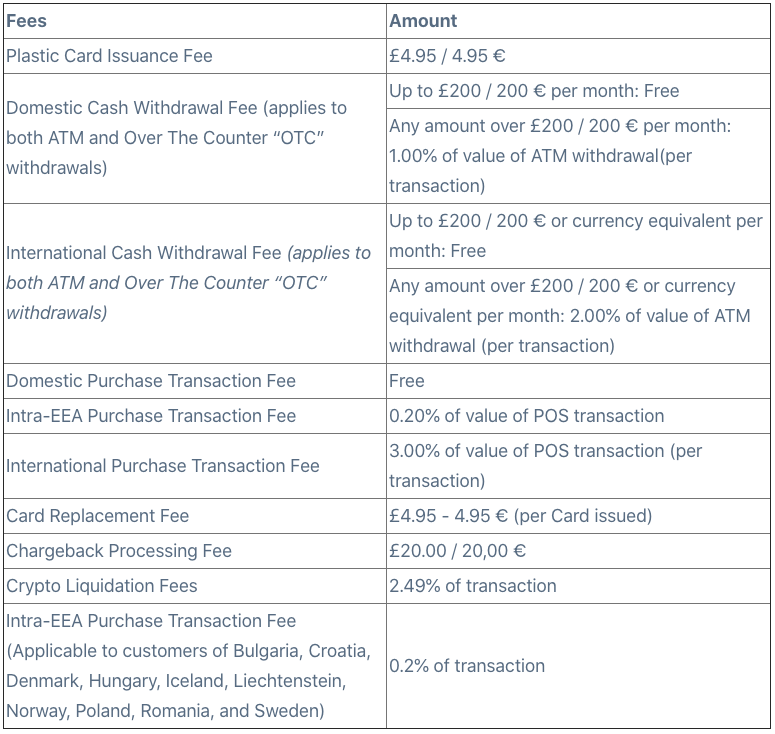 USDC stablecoin
USD Coin, also known simply as USDC, is a US dollar-pegged stablecoin that is backed by real US dollars held in a reserve bank account.
Customers are able to convert US dollars to USDC at a rate of 1 USD per 1 USDC through a simple online process. This USDC can then be transferred over the Ethereum blockchain as payment for goods and services, or can be converted back into USD at a 1:1 ratio.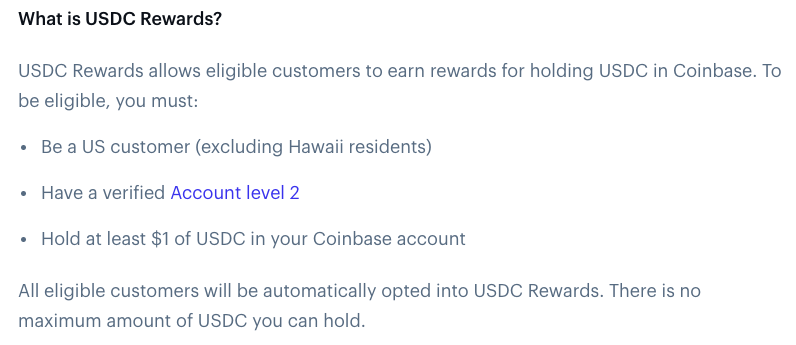 Eligible customers that hold their USDC on Coinbase may also qualify for USDC Rewards—which currently sits at 0.15% APY.
Coinbase Ventures
Besides helping the cryptocurrency industry grow through its simple to access cryptocurrency brokerage and trading solutions, the firm also has a hand in the grassroots development of the industry through its Coinbase Ventures arm—which invests in promising early stage crypto projects.
According to an announcement blog post, Coinbase Ventures aims to provide "financing to promising early stage companies that have the teams and ideas that can move the space forward in a positive, meaningful way."
Some of its most prominent investments include: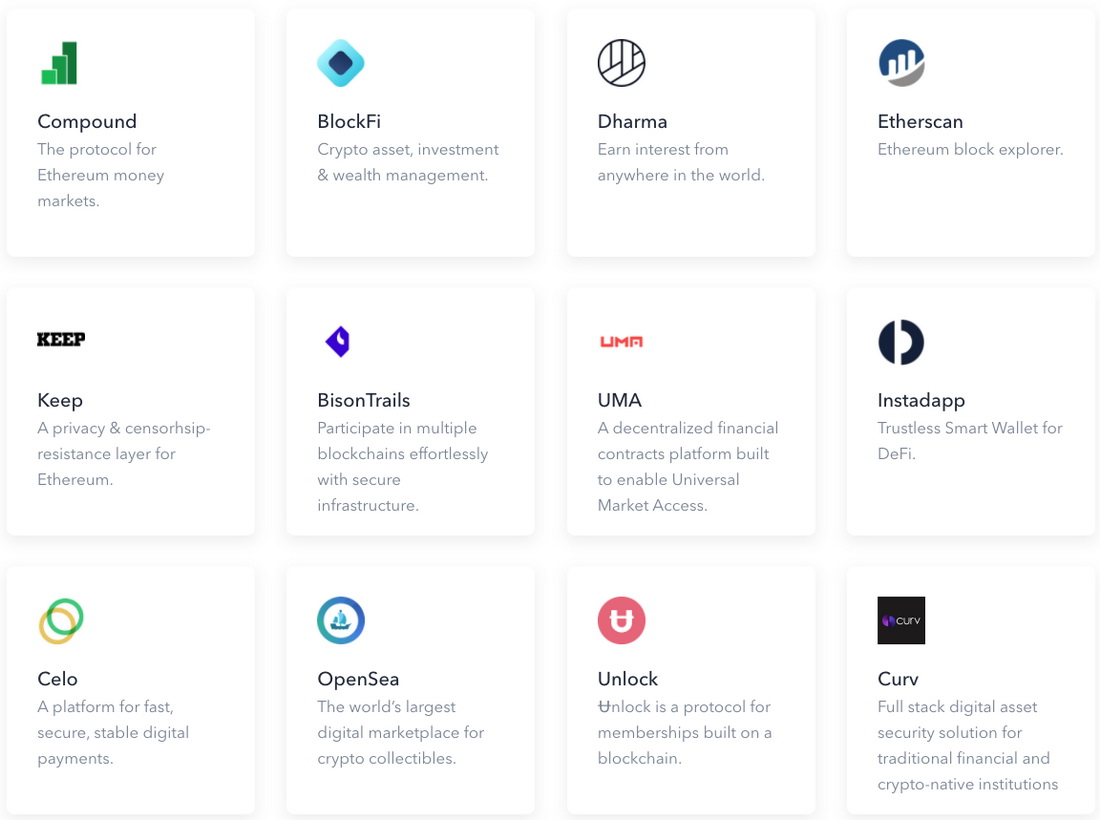 Coinbase Commerce
Coinbase Commerce is a digital payment service that allows merchants and retailers to easily accept cryptocurrency payments on their websites—without having to understand the nitty gritty details of how they work.
Through Coinbase Commerce, firms can begin accepting Bitcoin (BTC) and a range of other cryptocurrencies directly on their website, and can quickly convert their crypto balance to stable assets like USD Coin and DAI, or a variety of fiat currencies with ease to avoid volatility.
Coinbase Wallet
Last but not least, Coinbase Wallet is a non-custodial cryptocurrency wallet available for mobile devices.
As a multi-asset wallet, users can store a wide range of cryptocurrencies in a single place, including BTC, BCH, ETH, and all ERC-20 tokens. It's also compatible with crypto collectibles thanks to full ERC-721 support.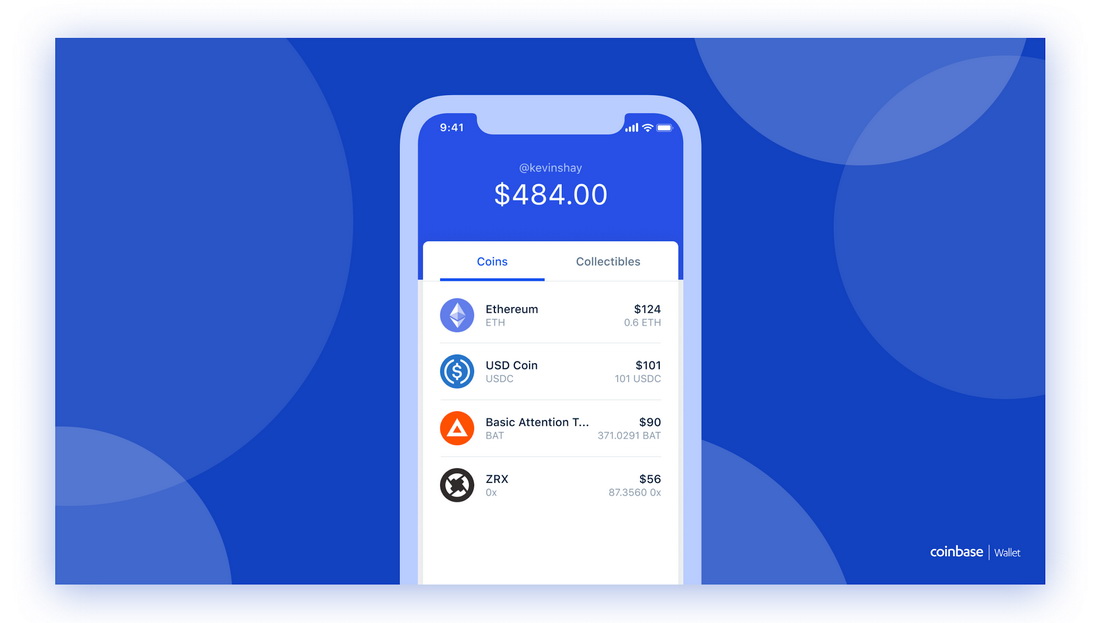 Coinbase Wallet features integrations with decentralized exchange platforms and other decentralized applications (DApps), and is one of the more user-friendly cryptocurrency wallets available.
Security
When it comes to security, Coinbase arguably sets the standard in the industry. For one, it is one of just a small handful of cryptocurrency exchanges that has insurance for user funds stored in its hot wallet.
But more than this, the platform has never been hacked, or suffered any kind of data breach—largely as a result of its extensive security setup. It keeps 98% of user funds in secure, geographically-distributed offline storage and also enforces mandatory two-factor authentication for all accounts, providing excellent security at the individual account level.
Coinbase is fully regulated in the US, and is registered as a Money Services Business with FinCEN, giving users the confidence that they are dealing with a platform at the forefront of regulatory compliance.
Conclusion
Coinbase has been built with a singular purpose—to make cryptocurrency purchases accessible to anybody. This purpose is made clear through its extreme simplicity and major focus on cryptocurrency adoption, awareness and education.
For beginners, it represents one of the simplest ways to invest in cryptocurrencies like Bitcoin and gain exposure to the wider cryptocurrency industry through its myriad additional products—like Coinbase Earn, the USDC stablecoin, and its dedicated mobile wallet.
However, this ease of use does come with one major downside—the fees. Coinbase is currently one of the most expensive cryptocurrency brokers around, with the fees sometimes reaching more than 4% of the total transacted amount. For infrequent investors, this may be acceptable, but better offers can typically be had elsewhere.
But when it comes to pure accessibility, range of features, and security, Coinbase is hard to beat.
Visit Exchange >>>
Social media