Coinmama Review

Bank transfer

Credit Card

Cryptocurrency

As one of the earliest players in the cryptocurrency brokerage industry, Coinmama has played a major role in promoting both the adoption and awareness of digital assets. Here's everything you need to know about Coinmama exchange before trying it for yourself.
What is Coinmama?
Coinmama is an OTC cryptocurrency exchange platform that allows users to buy and sell Bitcoin (BTC) and offers the purchase of additional cryptocurrencies such as Ether (ETH), Litecoin (LTC), Cardano (ADA), and several more using debit or credit card, ApplePay and bank transfers.
The exchange has its headquarters in Israel and the company is operated by Cmama Ltd in Dublin, Ireland.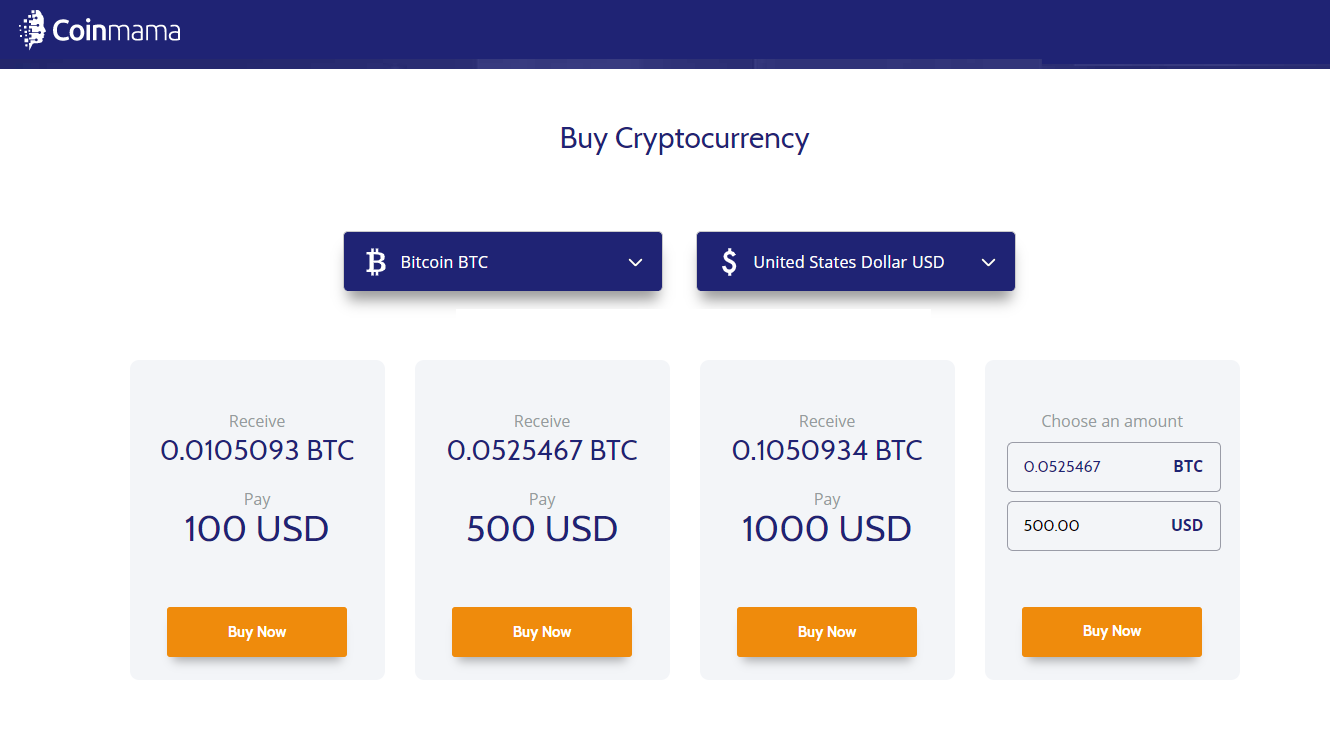 Like many OTC exchanges, Coinmama is designed to be a simple on-ramp to cryptocurrency and offers a simple user interface that makes purchasing cryptocurrencies a painless process. Coinmama achieves this by providing users with a guaranteed exchange rate for each purchase, which means users avoid the hassles of dealing with volatility when buying.
Since launching back in 2013, Coinmama has experienced meteoric growth and now counts among the world's largest cryptocurrency exchanges. To date, the platform has already served well over 2.5 million users across 188 countries.
Coinmama fees
Like all cryptocurrency exchanges, Coinmama charges a variety of fees for its services. This means you'll pay a small amount of commission for either buying cryptocurrencies or selling Bitcoin (BTC) through the platform.
The amount you pay varies based on a few factors, including your loyalty level and your payment method. For purchases, Coinmama charges both a markup of 2% on cryptocurrency prices as well as a maximum commission fee of 3.9% on orders. Credit and debit card buyers may also be subject to an additional 5% express fee, which is added to the order amount after selecting the payment method.
Selling is slightly cheaper on the platform, with a maximum and minimum commission of 2.9% and 2.1% respectively—depending on your loyalty level.
Purchase commissions can be reduced by as much as 25% by achieving Crypto Believer status, whereas this also drops the selling fee to just 2.1%.
Coinmama doesn't charge any pesky additional fees to withdraw coins, like some platforms.
Deposit and Withdrawal Methods
In a bid to make cryptocurrency purchases as open, accessible and pain free as possible, Coinmama has clearly put in the graft to make sure it has something for practically everyone—regardless which payment method they want to use. The platform currently offers a grand total of 7 different digital assets for sale, and accepts payments via credit and debit cards, ApplePay, Swift, Sepa and international bank transfers.
Coinmama adds new crypto assets based on demand, but the currently supported cryptocurrencies are:
Bitcoin (BTC)
Bitcoin Cash (BCH)
Ethereum (ETH)
Ethereum Classic (ETC)
Litecoin (LTC)
Tezos (XTZ)
Cardano (ADA)
Customers can make slightly cheaper purchases when using one of the in six different fiat currencies supported by Coinmama (depending on payment method), including the US dollar (USD), euro (EUR), and British pound sterling (GBP), but don't worry if you don't see your currency on the list, Coinmama accepts all currencies.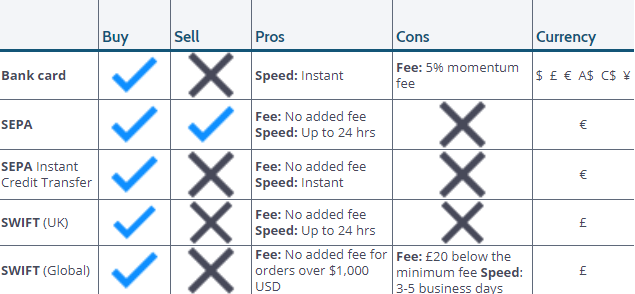 When it comes to selling cryptocurrencies, Coinmama only allows users to sell Bitcoin for a SEPA payment in euros.
Depending on your account's verification level, you will also be subject to both daily and monthly transaction limits. The standard limits for the majority of users is shown below.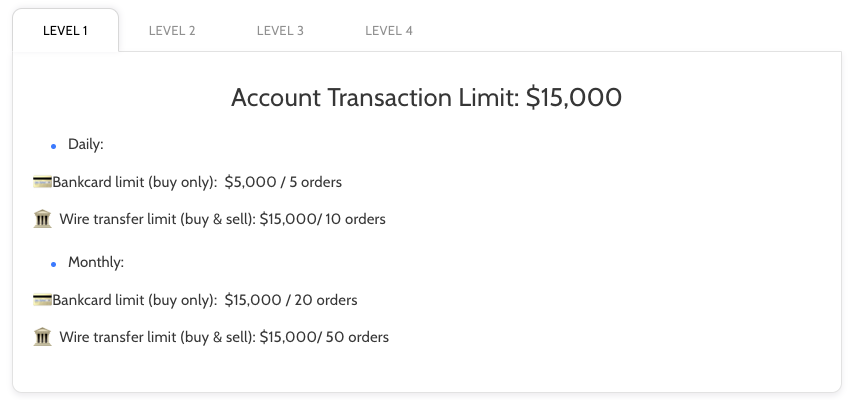 Users are also given the option to upgrade their account to verification Level 2, 3, or 4 to further boost their transaction limit. This will require completing additional verification measures.
Note that all transaction limits are based on a 30-day rolling window, not per calendar month.
Create an account
Getting started on Coinmama exchange is a relatively simple process and most users should be up and running within minutes.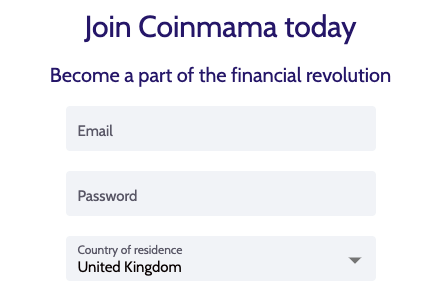 To begin, you will first need to create an account.
This involves providing your email address, selecting a secure password, and then passing through a few short verification steps.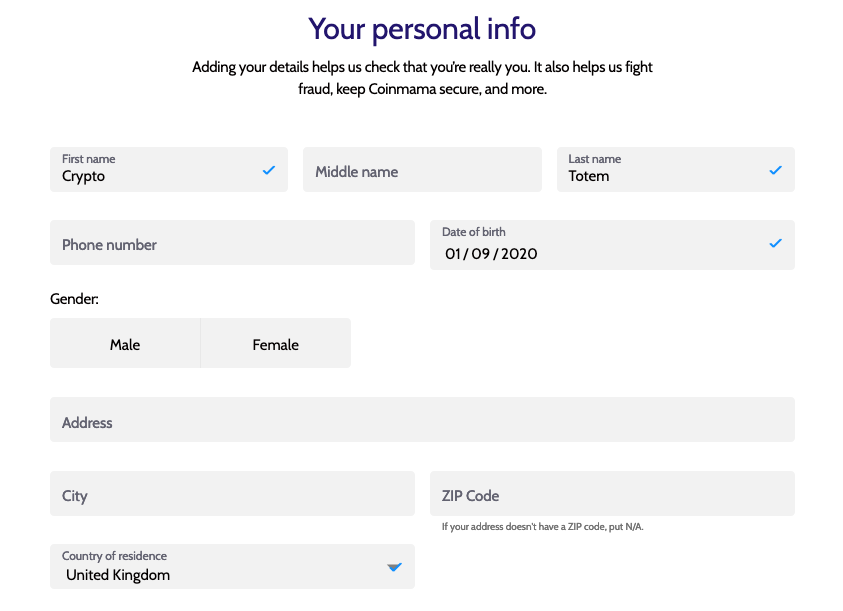 The first step involves filling in some basic personal information, such as your name and address. Following which you will be asked to upload proof of identity documentation. This can be an image or photo of your passport, license or your government issued ID.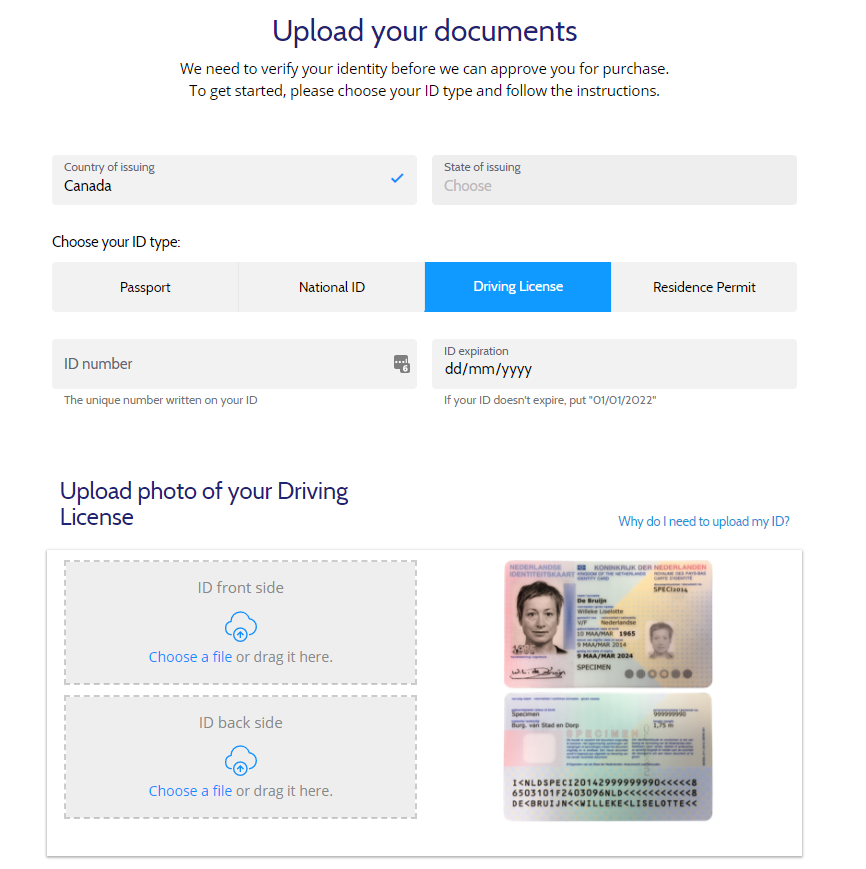 Once this has been uploaded, you will be able to move to the final step, which entails uploading a selfie showing your identification document and a note.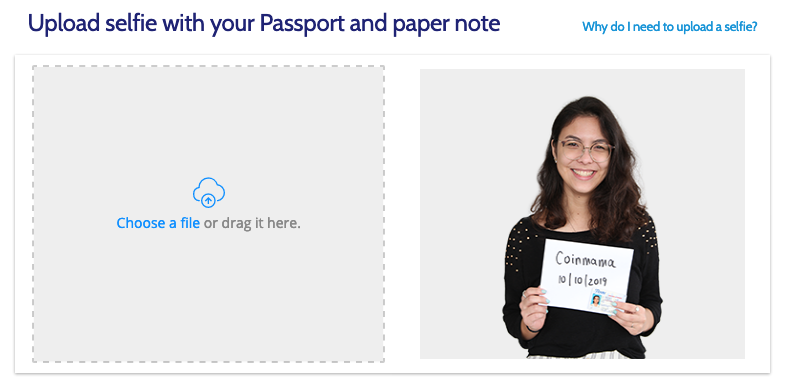 Once this has been submitted, your documents will then be queued for verification. Since Coinmama boasts some of the fastest verification times in the business, most users will be verified within just minutes.
As it stands, customers in 188 countries can purchase Bitcoin and other cryptocurrencies through the platform. Restricted countries include Cuba, Iran, Israel, Lebanon, and Syria.
Coinmama also doesn't currently offer its services to residents of the following US states: Hawaii, New Mexico, Oregon, Vermont, Washington, or New York.
How Coinmama Is Regulated
Coinmama is operated by NBV International s.r.o. which is a regulated Money Services Business registered with FinCEN. As part of its responsibilities under relevant regulation, Coinmama carries out certain Know Your Customer (KYC) and Anti-Money Laundering (AML) procedures. These regulations are why you need to have your account verified before placing any orders on the platform.
Security
Coinmama can be considered relatively secure, since unlike most cryptocurrency exchange platforms, Coinmama is non-custodial. This means your funds are not held on the platform and hence cannot be stolen or tampered with. Instead, customers provide an external wallet address for each transaction, which is used as a receiving address when buying cryptocurrencies.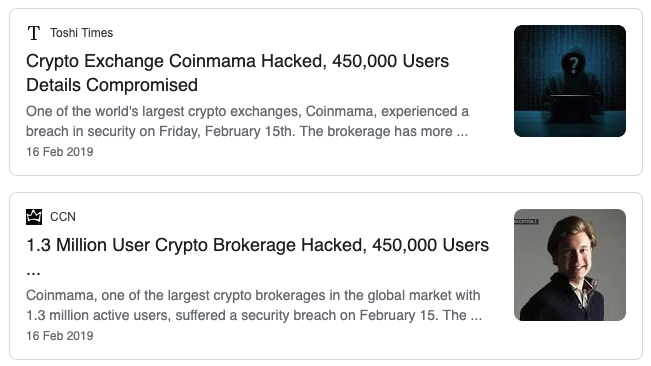 With that said, Coinmama did suffer a data breach resulting in the personal data of 450,000 Coinmama customers stolen by an unknown hacker. Fortunately, the firm worked to immediately remedy the situation, and there is no indication that anybody suffered financial loss as fallout from the breach.
Coinmama also doesn't appear to have any additional security layers for user accounts besides the standard password. It doesn't currently support two-factor authentication and users can't set whitelisted addresses or do anything else to improve the security of their account.
Conclusion
To wrap things up, those looking for an extremely simple cryptocurrency exchange that doesn't operate a custodial wallet will struggle to find an option that is more accessible than Coinmama. The platform gives buyers access to a range of 7 different hand-selected cryptocurrencies—each of which can be purchased with a credit or debit card—but also allows users to quickly sell their Bitcoin.
The platform is extremely easy to use and is available to users in the great majority of countries, but its limited security options and a previous data security blip mar its otherwise impeccable reputation.
Coinmama is available in the vast majority of countries and offers customer support in a wide variety of languages, demonstrating its global ambitions, and it also offers speedy account verification, making it simple to get up and running on the platform.
However, it's important to bear in mind that though Coinmama is arguably one of the easiest platforms to use, it can also be quite costly to use—particularly for those paying with their bank card. These fees are in line with the industry standard, but may be unattractive to those used to trading spot markets.
Nonetheless, the platform does offer discounts for those transacting regularly and offers custom packages for those dealing with large volumes.
All-in-all, Coinmama exchange is ideal for beginners, but watch out for the fees.
Visit Exchange >>>
Social media