ShapeShift Review

Bank transfer

Credit Card

Cryptocurrency

ShapeShift [Wikipedia] was founded in 2014 by Erik Tristan Voorhees and has since become one of the popular and well-recognized online cryptocurrency exchanges. The platform markets itself as one of the pioneers in the crypto industry, allowing customers to trade hundreds of coins in thousands of pairs, while remaining in complete control of their funds. Unfortunately, ShapeShift has seen its fair share of attacks in the past, highlighted later in this review.
Through the article, we will examine the platform's features, tools, and fees. In addition, we will overview its trading options, security protocol, native FOX token, account creation process, and more.
Trading View
Shapeshift has a rather simple trading view in contrast with other online exchanges. Once you enter, you will see an exchange box where you can easily trade between your favourite trading pairs, as well as a few trading settings such as maximum tolerance for price slippage. On the right, you will find a section outlining your trade history, dashboard, and the charting  interface showing recent price trends for BTC, ETH, USDC, and FOX, ShapeShift's native token. The exchange does not have advanced tools, making it less suitable for avid traders, but better suited to beginners.
For buying, sending or receiving crypto, three options are located in the upper left corner. Each option consists of a simple order box. ShapeShift is non-custodial, so you will have to create or connect an existing wallet to use its services – a welcomed addition for user security.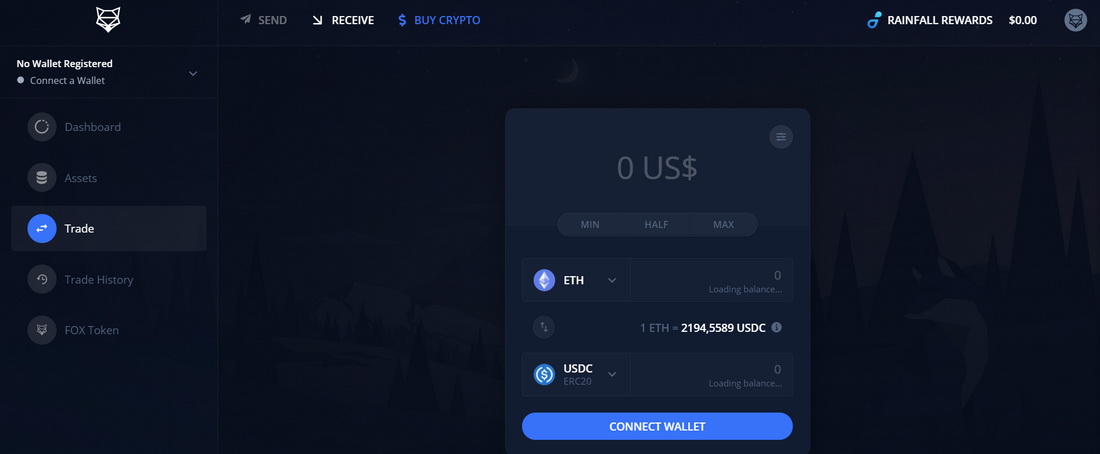 Trading and Withdrawal Fees
ShapeShift exchange does not charge any fees apart from the costs incurred by transactions validators. However, they do have their own exchange rate for each pair, which changes every thirty seconds according to market trends, meaning that it can climb up to above-average on some occasions. Users looking for better rates must know that FOX holding does entail lucrative incentives.
The platform does not charge any fees for deposits and withdrawals, thanks to their non-custodial nature, but users must pay the miner fee associated with each crypto pair being transacted.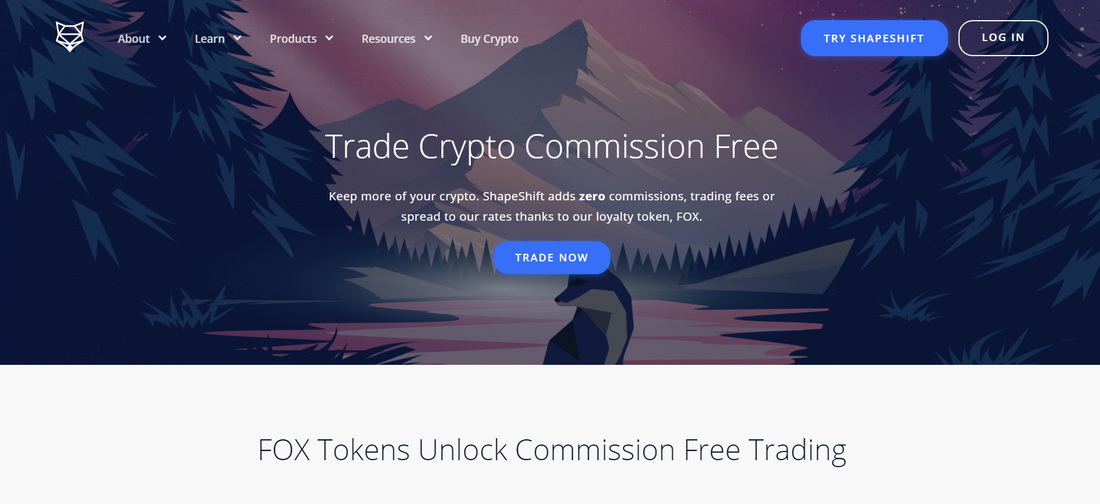 Deposit and Withdrawal Methods
Currently, ShapeShift exchange does not support any fiat currencies, so it is a crypto-only exchange. A fiat on-ramp is available via the exchange's Banxa partner, accessible upon clicking on the 'Buy Crypto' option. In doing so, users can purchase a series of cryptocurrencies using debit cards and credit cards.
ShapeShift does not disclose information regarding transaction limits, but some users report it stands at $10,000 per transaction and $50,000 per month.
Supported Cryptocurrencies and Countries
Due to its no-fiat money policy, ShapeShift is able to allow users from all around the world to use its interface. It restricts users from specific regions from buying crypto via fiat, but also from using the mobile app. Among those restricted regions are Afghanistan, Syria, China, and some US states, such as New York, Kansas, and Hawaii.
ShapeShift exchange supports over 100 cryptocurrencies, including, but not limited to Bitcoin (BTC), Ether (ETH), Ethereum Classic (ETC), Dogecoin (DOGE), Litecoin (LTC), Monero (XMR), and XRP.
Understanding the FOX Token
The FOX Token is ShapeShift's own ERC20 native token. By verifying their accounts, users receive 10 FOX Tokens which allows them to access $100 zero-commission trade volume per month, which replenishes every 30 days. Nevertheless, users with no FOX tokens available in their active wallets are still subjected to the standard rates.
For every exchange, ShapeShift shows FOX-holding users how much more they were able to receive due to their holdings. On the other hand, users who do not have FOX available in their wallets will see how much more they could have received if they had.
ShapeShift active users earn FOX Tokens for every $1,000 they trade. The platform has also referral programs, allowing users to bring friends to the platform. In doing so, 10 FOX tokens are rewarded, alongside 10 extra for every $1,000 the referral trades with.

Inside the Rainfall ShapeShift Rewards
Users who hold FOX Tokens are also eligible for Rainfall Rewards. This program offers customers the opportunity to win prizes in USDC everytime an exchange is made via the platform. Those who have more FOX Tokens in their wallet have higher chances of winning, further incentivising FOX ownership. Rainfall Rewards winners are announced in the activity board, with over $50K in rewards reportedly given every month.

DEX Trade on ShapeShift Mobile
Earlier this year, the company announced its plan to start providing decentralized and cross-blockchain trading services through its DEX-powered mobile app.
The interface makes use of the THORchain, an aggregator that facilitates the swapping of non-ERC20 tokens via DEX. Basically, customers are able to trade with any currency as long as there is sufficient available liquidity.
How to use ShapeShift Exchange
Creating an account
To create an account, click on the "Get started" button right at the middle of the home screen. Then enter your email and a secure password. A confirmation email will be sent to your inbox.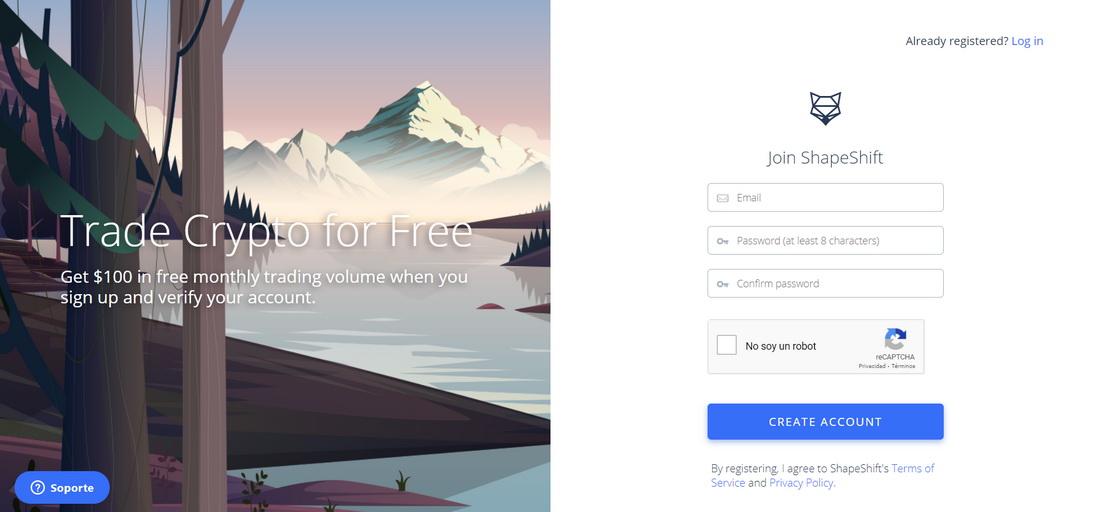 API
ShapeShift was primarily intended to be used as an API. In order to integrate with ShapeShift, all API partners are required to implement oAuth and sign up with ShapeShift's membership programs. Once the partner's membership has been approved, partners must open a ticket with its support team, where the applicant must enter details pertaining to their project. Once the process is successfully completed, ShapeShift will generate all the necessary information and keys.
Security Protocols
Perhaps one of the most important aspects crypto traders consider when choosing an exchange is security. Although ShapeShift exchange has a good standing within the crypto industry,, it has found itself in the eye of several security incidents which included a system-wide hack of in 2016. Users reported over $200K in funds stolen, with the attack being conducted by a ShapeShift rogue employee. Since then, the platform has reformed its security practices, rebuilding their entire protocol.
Nowadays, ShapeShift's non-custodial protocol allows users to be in total control of their holdings,  securing funds in the case of another attack.
Bottom Line
ShapeShift's value proposition is clear – the facilitation of seamless trading for crypto beginners. It does lack advanced charting and trading tools that would've helped it differentiate itself from other competitors in the same league. Fortunately, its FOX-based incentives do make it worthwhile for loyal customers, in spite of not providing an in-platform fiat on-ramp.
Visit Exchange >>>
Social media