Compound Finance Review

Withdrawal fee: 0.00

Taker fee: 0.00%

Maker fee: 0.00%

Bank transfer

Credit Card

Cryptocurrency

Compound is currently the largest DeFi lending protocol available on the market today, running on the Ethereum blockchain. It allows users to lend and borrow various ERC-20 tokens, and gives them the opportunity to earn some pretty staggering rewards.
The protocol was created by Compound Labs in September 2018, and was founded by Robert Leshner [LinledIn]. The current headquarters is in San Francisco, CA. The main core team consists of Geoffrey Hayes [LinkedIn] (CTO), Torrey Atcitty [LinkedIn] (Application Lead), and Calvin Liu [LinkedIn] (Strategy Lead).
It has also been listed on major exchanges such as Binance and Gemini, making it one of the most trusted projects in the space when it comes to DeFi. Additionally, it's made recent headlines due to many large funds placing investments in it to add to their portfolios.
$COMP is the governance token and is used for voting and distribution of rewards for lending digital assets. Compound used to be centralized, but the launch of the $COMP token has moved the needle for the protocol to shift to a more decentralized system.
Compound Finance Fees
Trading Fees
Compound does not charge any trading fees to buy or sell cryptocurrencies, nor does it have any slippage. The only fees you'll pay are the gas for facilitating transactions – that's it!
This is something that has attracted users and is a big part of the reason why Compound has become so popular.
Withdrawal fees
It doesn't cost anything to withdraw funds from the protocol – instead, the standard gas fee applies when attempting to withdraw funds from your Ethereum web wallet or physical device.
Withdrawal fees may vary depending on what the gas prices are at any given time or day.
Trading View
The overall app interface is advanced, intuitive, and appealing. The top menu shows the amount of tokens you're supplying (left) and borrowing (right) to the protocol, with your net APY and balance right in between.
The supply and borrow markets are below in addition to each tokens' APY, your wallet balance, and collateral (if selected).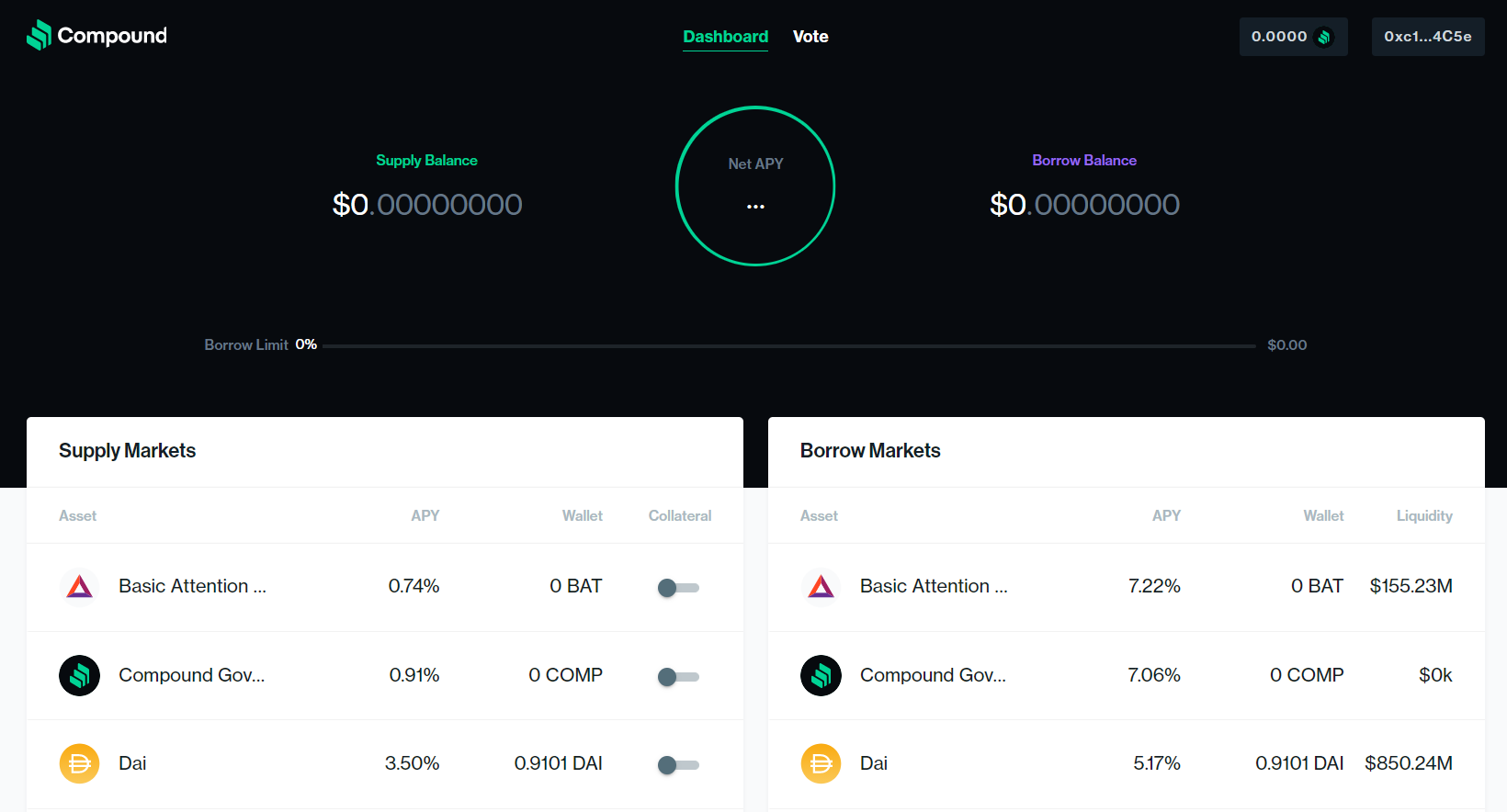 Supported Countries and Cryptos
As the protocol is completely decentralized, anyone from across the globe can access its services. It was originally founded/created in the United States, and as previously mentioned, is headquartered in San Francisco.
Compound currently supports 9 different ERC-20 assets, both for lending and borrowing: BAT, COMP, DAI, ETH, UNI, USDC, USDT, WBTC, and 0x.
Deposit and Withdrawal Methods
Depositing and withdrawing funds is easy and similar to virtually every other Ethereum DEX or protocol out there. Only crypto deposits and withdrawals are accepted and need to go through an Ethereum web wallet or physical storage device.
Depositing funds into the protocol can be done within the app interface if you're lending or borrowing. Withdrawing is essentially just as straightforward, where you would need to unlock your tokens from being staked if you desire to withdraw them.
Open Price Feed
Compound's Open Price Feed lets reporters sign price data using a public key. Then, Posters (or any Ethereum address) can enter this price data on-chain. The codebase is hosted on GitHub and overseen by its community.
Coinbase Pro and OKEx are the current Reporters and routinely sign prices for Compound's available digital assets, signing prices every few minutes for assets traded on the exchange.
COMP Token
COMP is the protocol's governance token that helps power and run the network. It is an ERC-20 token allowing holders to earn interest and enjoy governance power to debate, propose, and vote on changes to the system.
When you use the protocol to supply or borrow assets, you'll automatically begin earning COMP depending on the distribution and what share you are contributing. This helps as an incentive to continue to facilitate transactions within the protocol and make the ecosystem thrive.
Compound Developers
Compound's developers have created the protocol to offer as many features to users as possible, changing the landscape of finance forever.
High interest for locking in your tokens with the protocol, particularly for stablecoins, are an attractive incentive. Balances can also be tokenized, and assets can be withdrawn whenever desired.
For users who are concerned about the safety of their assets, you're in luck! If you store your digital assets on a physical device (i.e. cold storage) and keep cTokens in custody, Compound still allows you to earn interest. That means that your assets are completely safe while you reap the full rewards that protocol has to offer.
At the time of this writing, Compound has over $18 billion in assets earning interest across 10 different markets. The market for each token has very high liquidity, so trading is seamless and easy with no slippage.
As for borrowing, there's no time limit and balances can be repaid at any time (even as interest in being earned). As stablecoins are held in the protocol, this is made possible in addition to the ability to settle trades instantaneously.
API
The protocol's API input and output formats are specified by Protocol Buffers. Its endpoints also support JSON for input and output.
Using API keys is not required, and users can ask for keys in Compound's #development Discord channel. These keys are needed to gain access to the API.
The API has a few special features:
AccountService: Fetches information from accounts that have interacted with the Compound protocol
CTokenRequest: This can be used for filtering data, like which digital assets you want to pull information from
MarketHistoryGraphRequest: Provides information about a market within two different timeframes
GovernanceService: Contains three endpoints to get information about COMP accounts, governance proposals, and proposal vote receipts
Shared Data Types: These are custom data types shared between services
How to use Compound Finance Exchange
Using Compound is extremely simple, as the intuitive design of the protocol is easy to learn, even for beginners. Its simplicity is one of the main reasons it's become so popular – many users have difficulty learning how to work with DeFi protocols, but the Compound team has found the answer.
Once you've navigated to the app, connect your MetaMask or supported Ethereum web wallet to the protocol. Next, you'll have the option to either supply or borrow tokens. All information is clearly displayed, and you can facilitate a transaction with just a few clicks of a button.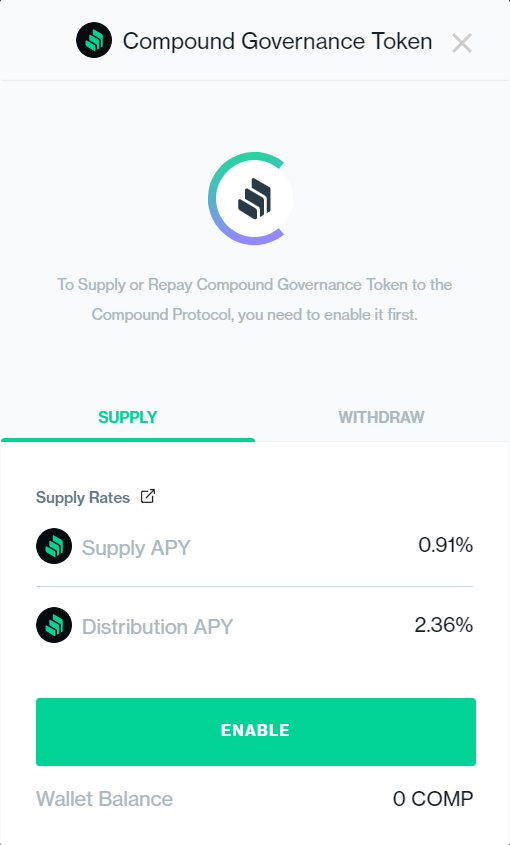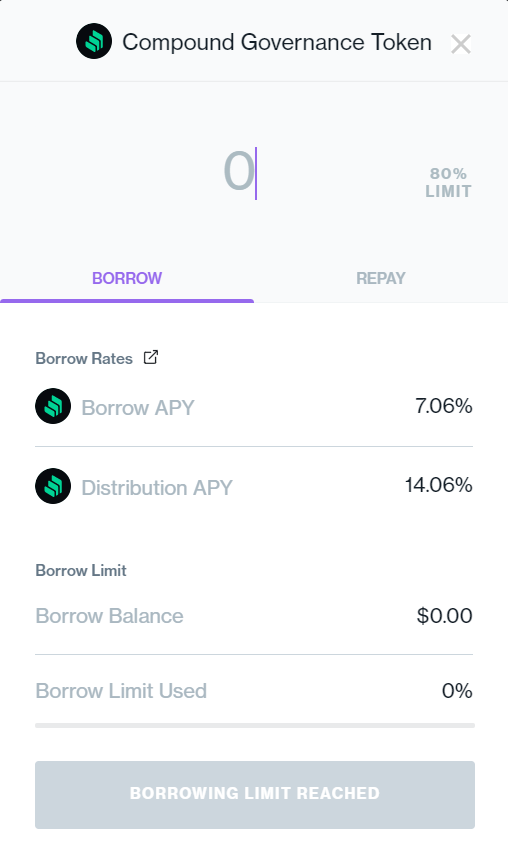 And voila, that's it! It really is that easy, and you can become a lender or borrower within seconds.
It's important to check and read all the details before making a transaction.
Security
Although nothing is perfectly secure, the Compound team has done a tremendous job at ensuring that the protocol is safe for its many users. All of the contract codes and balances are publicly available and specialists can receive a bug bounty if they are able to find and reveal any weaknesses from a security perspective.
The protocol has been reviewed and audited by Trail of Bits and OpenZeppelin, two major security companies, who have deemed it secure.
It's important to note that despite the fact that the team has taken vast security measures and there have been confirmed safety audits, there still lies the possibility that your funds could be hacked or stolen.
Please ensure you also take steps to secure your MetaMask seed phrase and password, as this is the main source and gateway to entering Compound.
Conclusion
Compound Finance has set the stage for what DeFi truly is – a permissionless and decentralized way to allow everyone to earn money and have equal opportunities. With large crypto funds backing the protocol through major investments and its volume surging through the roof, it's definitely peaked an interest in the crypto community.
As traditional retail investors and people begin to discover the beauty of DeFi, Compound could play a critical role in the onboarding of these new users, given that it can leverage its brand name and technology to gain their trust.
But is Compound the right DeFi protocol for you? Below we've put together our pros and cons for Compound, and we'll leave the rest up to you!
Pros
Easy-to-use and seamless UI/UX
Extremely secure – users can stake assets even from their physical hardware wallets
No slippage or trading fees
Extremely fast and efficient transactions
Strong API
Cons
Very limited amount of ERC-20 tokens available
APYs are generous, but much of what is offered is lower than what other major competitors do
Only supports Ethereum and no other chains
Visit Exchange >>>
Social media