PancakeSwap Review

Withdrawal fee: 0.00

Taker fee: 0.20%

Maker fee: 0.20%

Bank transfer

Credit Card

Cryptocurrency

PancakeSwap is a new breakfast food themed decentralized exchange (DEX) and automated market maker (AMM) running on Binance Smart Chain. Launched in September 2020, it has attracted tons of new users across the crypto community primarily because of its unique product offerings, such as high APYs, yield farms, lottery, and more. Additionally, it has presented itself as a viable alternative to other DEXes due to its extremely low fees, amounting to typically just pennies for a single transaction.
The founders and developers are anonymous, and questions continue to arise surrounding their identities. The exchange appears to have a strong relationship with Binance, as Binance has heavily promoted it. PancakeSwap's governance token is CAKE, which can be used for staking, trading, participation in events, and more.
PancakeSwap Fees
Trading Fees
PancakeSwap charges 0.2% per transaction for both makers and takers, which is quite high in comparison with other DEXes and even centralized exchanges. Otherwise, you will also need to pay the "gas" fee using Binance Coin (BNB) tokens in your Binance Smart Chain wallet, which are extremely cheap in comparison to Ethereum gas fees.
Of the 0.2%, 0.17% is given to the liquidity providers and 0.03% is given to the PancakeSwap Treasury for the tokens to be burned.
Withdrawal fees
PancakeSwap exchange does not currently charge any withdrawal fees. Again, you will need to spend BNB in order to withdraw assets from your Binance Smart Chain wallet.
Trading View
The information page displays the analytics of the exchange, including the BNB price, total liquidity and 24-hour volume. Token and pair information can also be viewed in the menu on the left-hand side of the screen.

Swap
The swapping interface is clean and simple – simply select the currencies you want to trade and receive and you're good to go. This is almost identical to the swapping interface on DEXes like Uniswap, expect you're surrounded by pancakes and pans!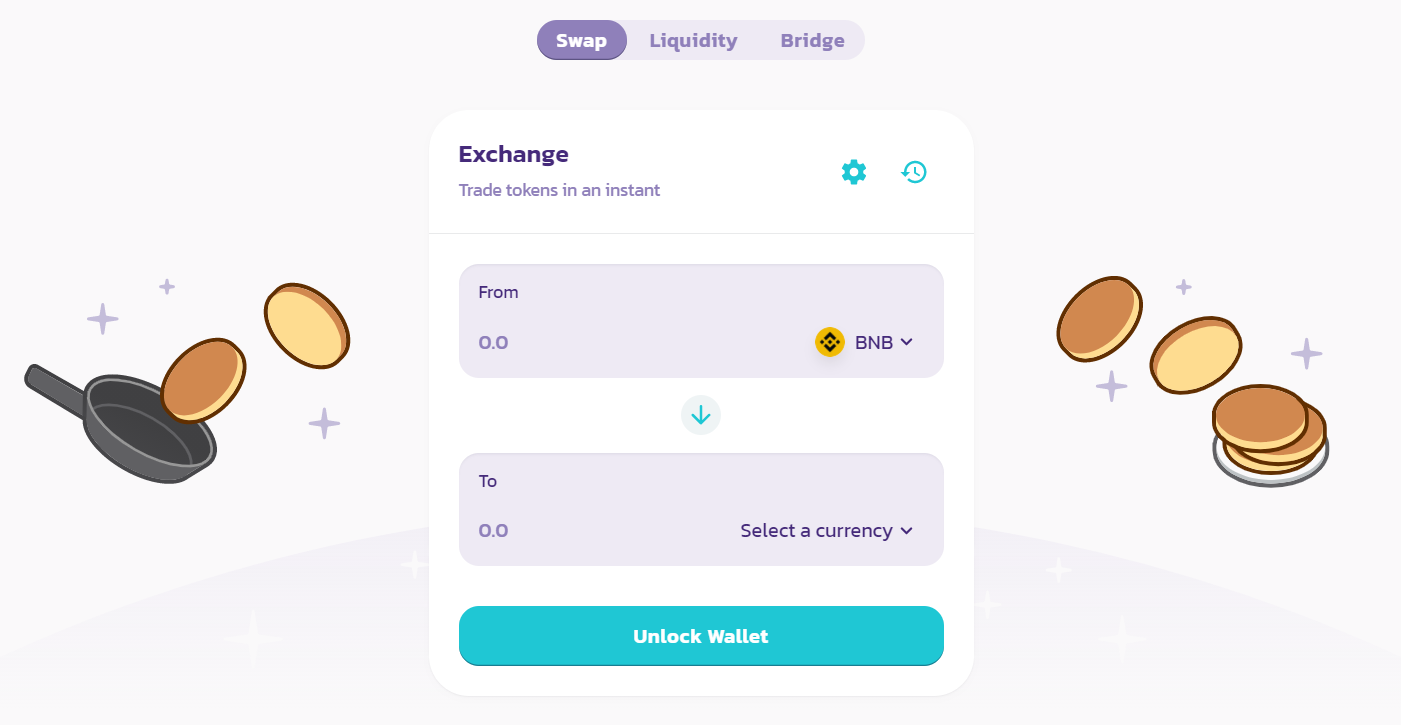 Liquidity Pools and Adding Liquidity
With you provide liquidity to the various pools on the exchange, you receive FLIP tokens as rewards (PancakeSwap's liquidity provider tokens). The number of FLIP tokens you are given are proportional to the amount of token value you have in the liquidity pool.
Liquidity providers receive these rewards based on the trading fees, where the trader pays 0.2% of the transaction value – 0.17% of that amount is added to the liquidity pool of the token pair.
Adding liquidity is easy – simply navigate to the main interface and select Liquidity. From there, choose the two tokens you want to provide liquidity with.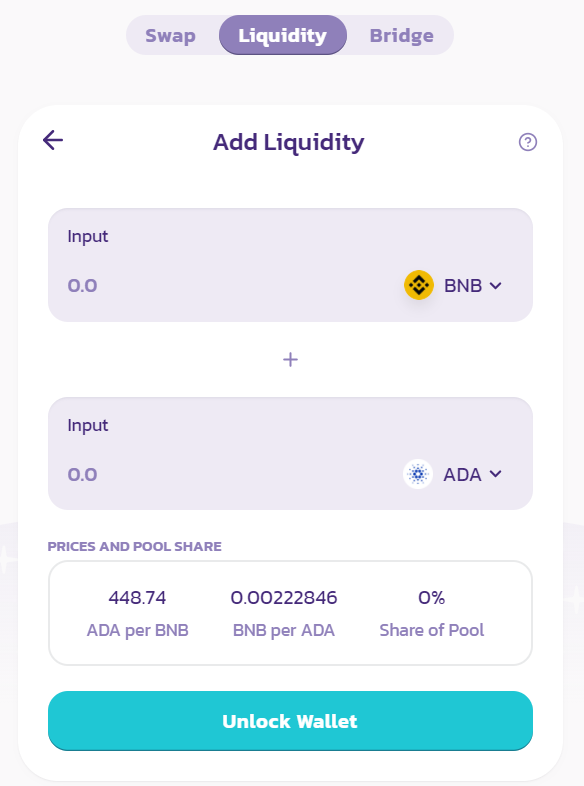 Whenever you add liquidity to a pool, you can always withdraw your funds at any time.
Yield Farming
There are many popular farms that provide astounding APYs on PancakeSwap. Instead of simply manually entering the tokens you want to provide liquidity with, you can navigate to the "farms" page and view the most profitable token pairs.
Examples of some of the options to choose from are below. Once you select a farm, it takes you straight to the interface to add liquidity, filling in all the information for you automatically.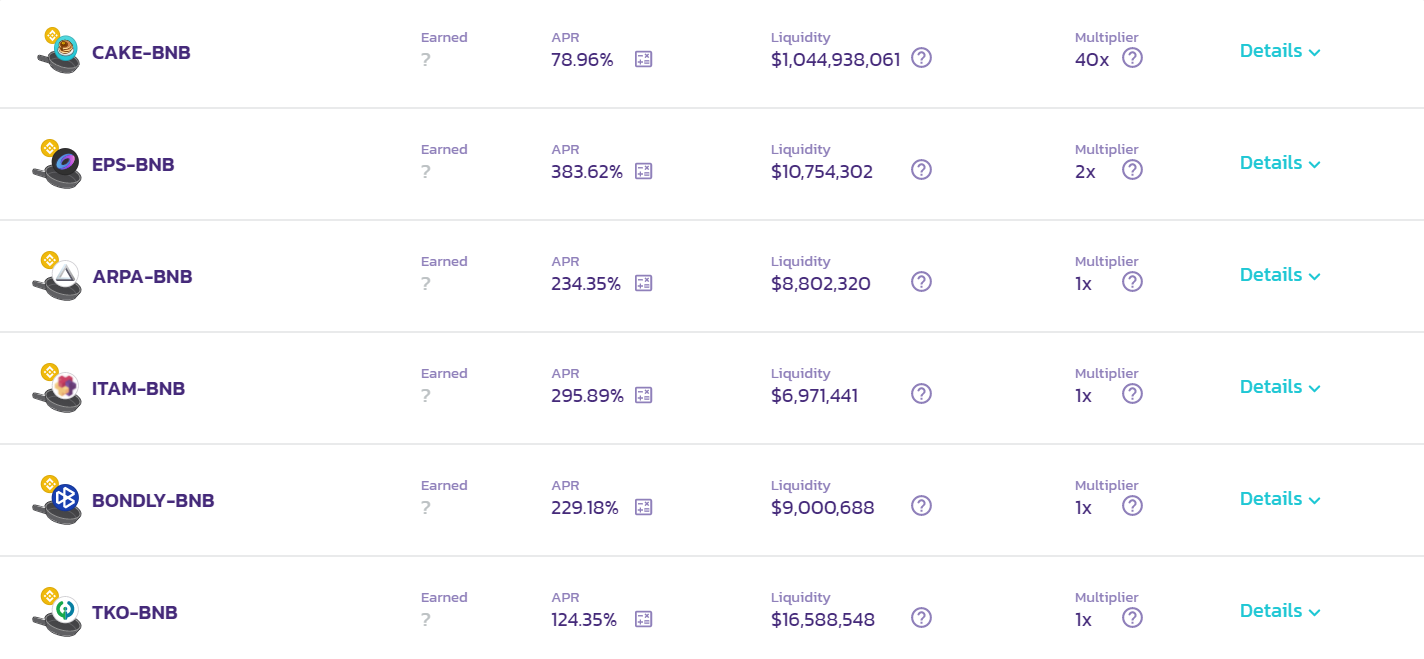 Syrup Pools
Syrup Pools are designed for projects on the Binance Smart Chain to gain exposure and marketing by distributing some of their tokens to CAKE holders.
Each Syrup Pool is divided into two sections: Core and Community. The Core section projects are chosen by PancakeSwap's team, where the Community section are voted on by members of the PancakeSwap community.
Supported Countries and Cryptos
As PancakeSwap is a DEX, anyone around the world has the ability to use it. If users want to use a bridge to migrate tokens from the Ethereum to Binance Smart Chain Network, citizens of the United States are currently restricted from doing so and need to use a VPN.
PancakeSwap currently supports 100+ different BEP-20 tokens, which are essentially versions of ERC-20 and other popular crypto coins. The list keeps on growing as it continues to expand.
Deposit and Withdrawal Methods
Users can deposit assets via a Binance Smart Chain wallet – examples are Binance's very own wallet, MetaMask, and more. If you have a MetaMask wallet, for example, you will need to switch the network to the Binance Smart Chain to interact with the DEX.
Withdrawing is just as easy – if you want to send tokens off the exchange, simply send them to a Binance Smart Chain address.
Lottery
PancakeSwap's lottery is a unique and fun feature that adds an extra dimension to the exchange. 1 lottery ticket can be purchased with 1 CAKE token – there is no limit to how many tickets you can buy, but the UI will only allow you to purchase 50 in 1 transaction.
You need to own at least 10 CAKE to play. When you purchase a ticket, you will receive a 4 digital combination between 1-14. To win the lottery jackpot, which is 50% of the entire pool, you need to match all 4 numbers on your ticket in the same position as the 4 winning numbers.
Even if you don't match all of the numbers, matching at least 2 of them will win you a reward. The lottery is a fun and interactive way to use your CAKE tokens and encourage participation.
IFO (Initial Farm Offering)
IFOs allow you to participate in new token sales by purchasing tokens of early projects. You are able to purchase the tokens with CAKE-BNB liquidity provider tokens. Once the sale is ready to begin, simply purchase the new project's tokens with your CAKE-BNB tokens, and wait to claim your coins.
With this model, the project receives BNB tokens, PancakeSwap burns the CAKE tokens, and you receive the new project's tokens.
Below are a few examples of previous IFO projects that have participated on PancakeSwap.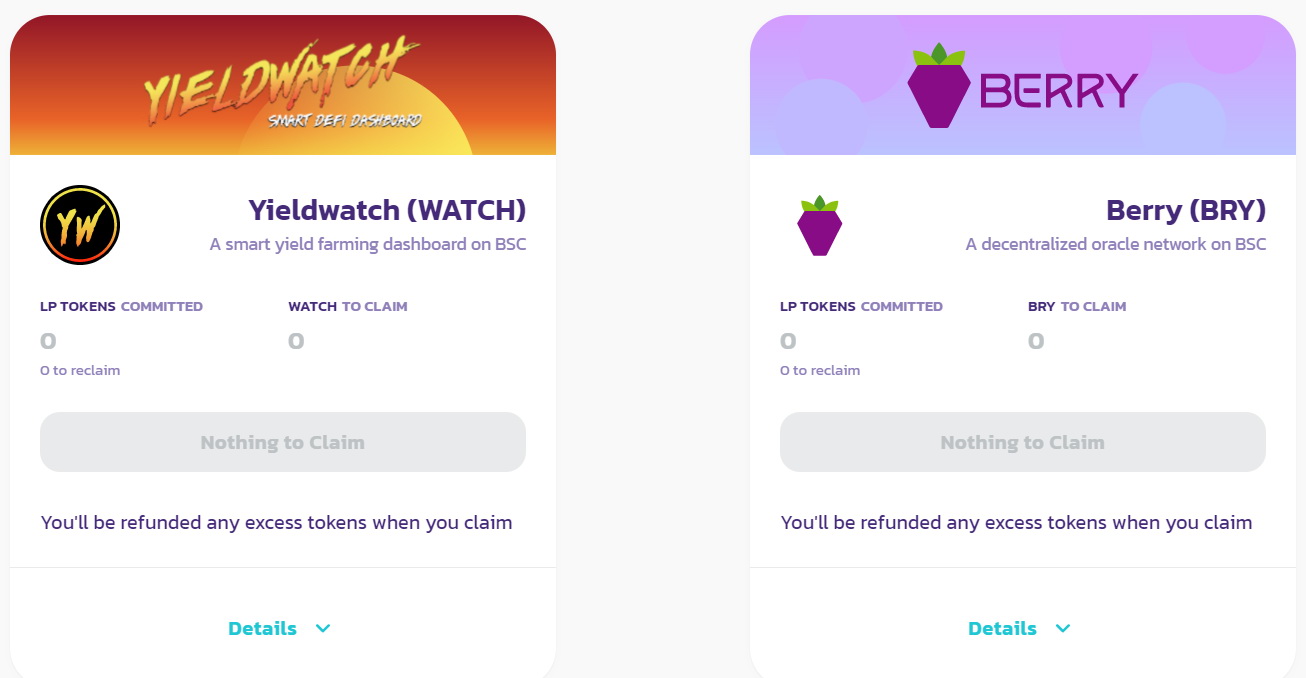 Voting
Similarly to the Syrup Pools, voting is divided into two sections: Core and Community. The Core section consists of proposals from PancakeSwap's team, whereas the Community section consists of proposals by the community – voting is done using a SafePal wallet.
The intent of voting is to facilitate governance to suggest new ideas and improvements to the protocol. Each vote is carefully reviewed by PancakeSwap's team. Some of the votes/proposals include new staking rewards, farm adjustments, and more.
Pancake NFT Collectibles
PancakeSwap has a wide array of different NFTs for users to collect and trade. You can either keep them in your wallet or redeem them for CAKE tokens. Some examples are below: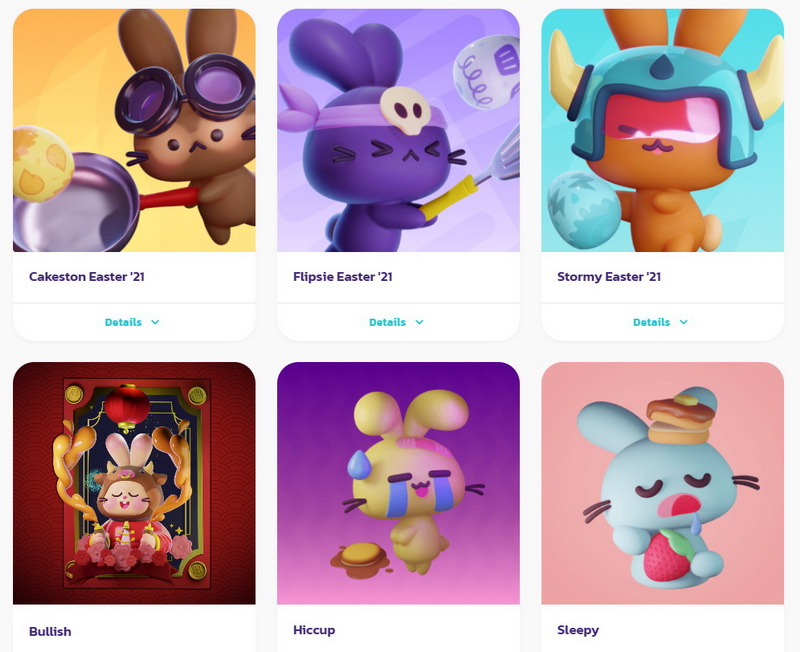 All of the current available variations are rabbit-themed, with different characters, colors, and more. These collectibles offer users an exciting new way to hop on board the NFT train.
To be eligible to win NFTs, you can register on Pancakeswap – winners are chosen randomly.
Team Battle
Team Battle is a fun, interactive game where users can compete with other teams to win rewards in CAKE, NFTs, achievements, and more.
Teams unite in a trading competition, where the team with the highest total combined volume of their top 500 members is declared the winner. This is a way great for PancakeSwap to encourage trading and additional transactions on its platforms, while motivating users to become more active and engaged.
Players can see the leaderboard of top wallets, as well as the prizes for the different rankings (as seen below).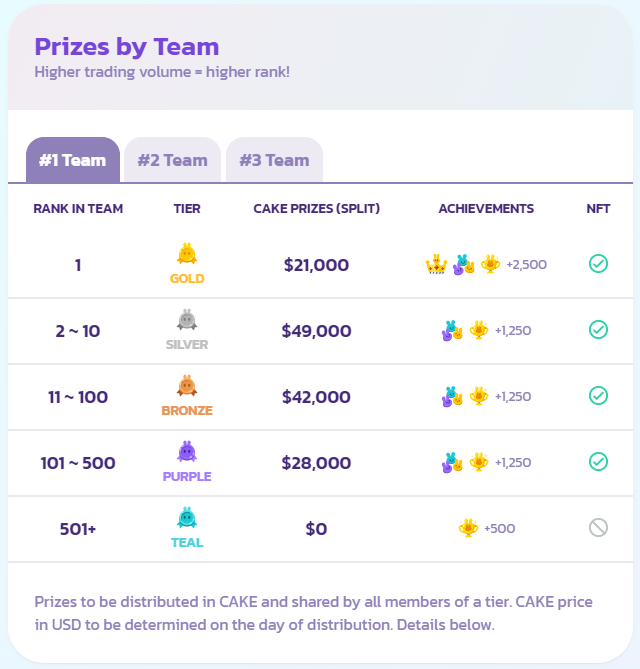 How to use PancakeSwap Exchange
PancakeSwap is decentralized, so no sign-up or KYC verification is required. All you need is a Binance Smart Chain wallet to get started. To set this up, visit Binance's website for the correct information to input into MetaMask or another BEP-20 compatible wallet.
As previously mentioned, if you have ERC-20 tokens stuck in your Ether wallet, you will need to use the Binance Smart Chain bridge to convert those tokens to BEP-20 tokens – then you can start using PancakeSwap.
When you're all set, go to the exchange homepage and start interacting with the platform! It's easy to use, and best of all, it's extremely cost efficient.
Security
Like all DEXes, PancakeSwap is fairly new and still undergoing major developments and upgrades. It's always recommended that users exercise caution when using any DEX, but it is generally pretty safe.
In October 2020, CertiK, a top cybersecurity firm, conducted an audit of PancakeSwap and announced that it was ready to be deployed on the Binance Smart Chain. CertiK currently has it ranked at the #1 spot in terms of its security, instilling additional faith and trust in the exchange.
By integrating with CertiK, it has received protections of the Security Oracle, CertiK Shield, DeepSEA, and the CertiK Virtual Machine.
Conclusion
Overall, PancakeSwap has solidified itself as an attractive alternative to the likes of Uniswap, SushiSwap, and other competitors. Leveraging Binance Smart Chain's extremely cheap transaction fees and continuing to innovate with creative breakfast-themed ideas, PancakeSwap continues to rise to the occasion.
Below are some of our pros and cons to using this exchange:
Pros
Very cheap and fast transaction fees
Easy to navigate and intuitive user interface
Fun and cleverly-themed games and high rewards (lottery, staking, farming, etc.)
Trustworthy security based on a recent audit of the code
Cons
Provide liquidity to pools exposes investors to impermanent loss (this is the case with any DEX)
ERC-20 holders need to use the bridge to convert their coins to BEP-20 tokens, which can be costly from the Ethereum side
Many of the early projects are virtually unknown and risky to invest in
Visit Exchange >>>
Social media