Liquid Review

Withdrawal fee: 0.0005 BTC

Taker fee: 0.15%

Maker fee: 0.00%

Bank transfer

Credit Card

Cryptocurrency

Founded in 2014, Liquid is a global cryptocurrency exchange with over 100 supported countries, 80 different token offerings, and over 800,000 current customers. They are headquartered in Japan but have offices in Singapore and Vietnam. The current CEO and co-founder is Mike Kayamori [LinkedIn], supported by a strong team which includes Mark Hammond [LinkedIn] (CPO), Chinh Nguyen [LinkedIn] (Chief Blockchain Technology Officer), Seth Melamed [LinkedIn] (Board Director & COO), and more. Their previous utility token was QASH, used to help power the Liquid network and help maintain the exchange's overall ecosystems. However, they will be rebranding QASH to "LQT" Liquid Token as of Q1 2021. QASH provides users with incentives for holding, including trading fee discounts and rewards programs.
Liquid Fees
Trading Fees
The trading fees on Liquid exchange are very low in comparison to its competitors. Their fee structure is based on a 12 tier system, from Level 0 to 11. For example, Level 0 (any trade amount above $0) maker and taker fees are 0.00% and 0.15%, respectively. Level 11 (any trade above $200 million) maker and taker fees are 0.00% and 0.03%, respectively. Below you can view some of the different levels and their fees:
| Level | 30-Day Volume (USD) | Maker fees | Taker fees |
| --- | --- | --- | --- |
| 0 | ≥ 0 | 0.0000% | 0.1500% |
| 1 | ≥ 10,000 | 0.1450% | 0.1450% |
| 2 | ≥ 20,000 | 0.1400% | 0.1400% |
| 3 | ≥ 50,000 | 0.1300% | 0.1300% |
| 4 | ≥ 100,000 | 0.0800% | 0.1000% |
| 5 | ≥ 1M | 0.0400% | 0.0800% |
| 6 | ≥ 5M | 0.0350% | 0.0600% |
| 7 | ≥ 10M | 0.0250% | 0.0500% |
| 8 | ≥ 25M | 0.0000% | 0.0450% |
Withdrawal fees
Each withdrawal fee varies depending on the cryptocurrency, or fiat, you want to send off the exchange. For cryptocurrencies, the fee you will pay is in the denomination of the coin and not in that respective fiat currency.
| Cryptocurrency | Min. Amount | Withdrawal Fee |
| --- | --- | --- |
| Bitcoin (BTC) | 0.001 | 0.0005 |
| Ethereum (ETH) | 0.02 | 0.01 |
| DASH | 0.006 | No fee |
| NEO | 0.0001 | No fee |
| XRP | 21.0 | 0.25 |
| USDT | 30.0 | 35.0 |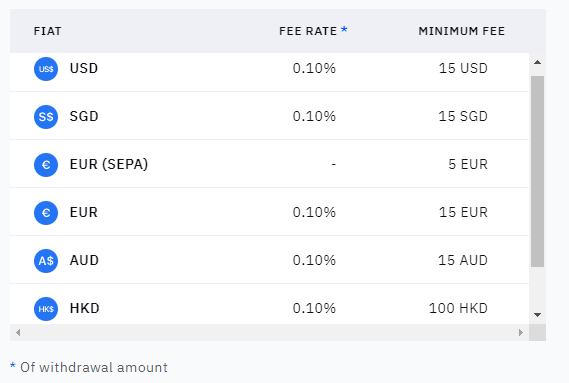 As an additional note, deposits to Liquid are free of charge.
Trading View
The overall interface is basic and clean, with the price chart in the middle, order book on the right, and buy/sell options on the far right. You can also see the 24-hour price change on the top, as well as the daily lows and highs of the particular crypto you are trading. On the top left of the screen, you can swap between Spot, Margin, Infinity, and Perpetual trading – each of them have a similar-looking interface.

Spot
Spot trading is very simple on Liquid exchange, and offers the greatest variety of options with over 2,000 different trading pairs. For spot, you have your basic limit, market, stop, and trailing stop options available when trading.
Liquid Pro
Liquid Pro is a more advanced trading platform with a powerful API, high liquidity, and low fees; signing up is easy and can be done on the homepage. They also have a mobile app for users who want to trade on the go. It has an umbrella of different features, which we will dive deeper into below.
Margin Trading
Liquid offers many opportunities for margin trading on their exchange; they currently offer 2x, 4x, 5x, 10x, and 25x leverage. With their platform, you have the ability to set your stop loss and take profits at the order entry and close positions by claiming them, or buying/selling the actual assets using your account balance. Margin trading is currently limited to BTC, ETH, and XRP only.
Liquid Infinity
Liquid Infinity allows you to partake in contract-for-difference (CFD) trading with up to 100x leverage. You are able to utilize this leverage with either BTC/USD or BTC/JPY trading pairs. To get started, you can add fiat currencies to your account – there are also no borrowing or fixed funding fees, so this is an enticing offer for anyone looking to try it out.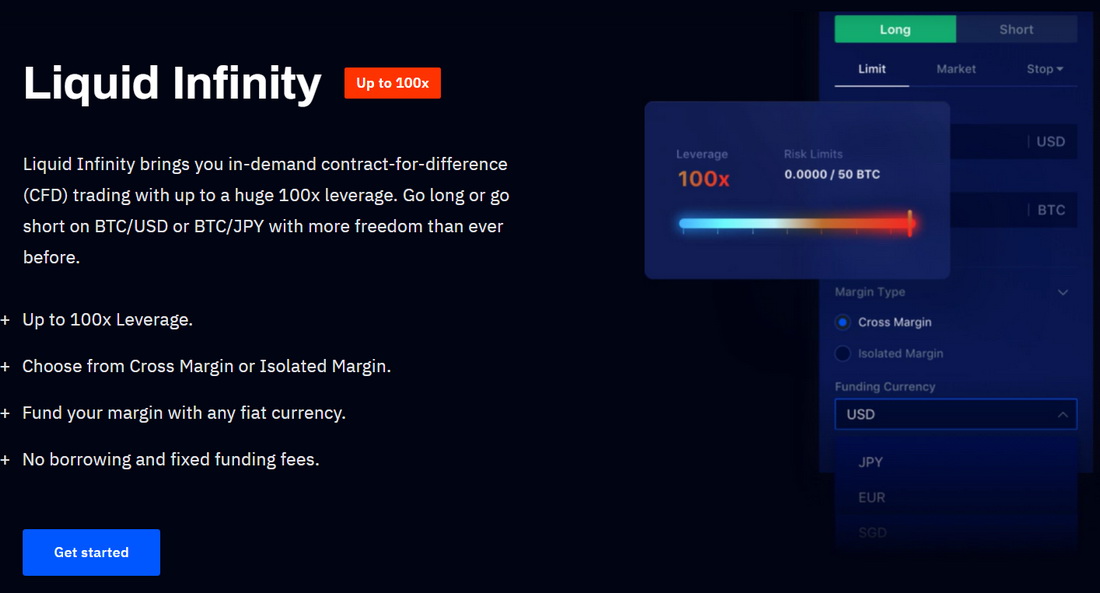 Liquid Perpetuals
Perpetuals trading on Liquid exchange offers the BTC/USD and BTC/JPY trading pairs only. 100x leverage is offered for perpetuals, and trades can be made in up to 13 different currencies. Liquid has a smart liquidation system that helps secure your position to ensure maximum safety, and you can also choose between cross or isolated margin trading.
API
All responses for the API are in JSON. The API can be used to customize and interact with Liquid's exchange in many ways, including authentication, creating an order, placing an order, creating different accounts (fiat, crypto), acquiring account balances, closing trades, and much more. As you can see, their API has a variety of uses and is very comprehensive.
Liquid Earn
Liquid Earn is a program that allows you to earn passive income by depositing your crypto assets on the platform. Liquid has developed a partnership with Celsius, allowing you to earn up to 10% APY on your crypto deposits. One of the benefits of their Earn program is that your assets aren't locked or constricted to a fixed-term for holding – you can withdraw and move them around at any time without restriction; there are also no gas fees.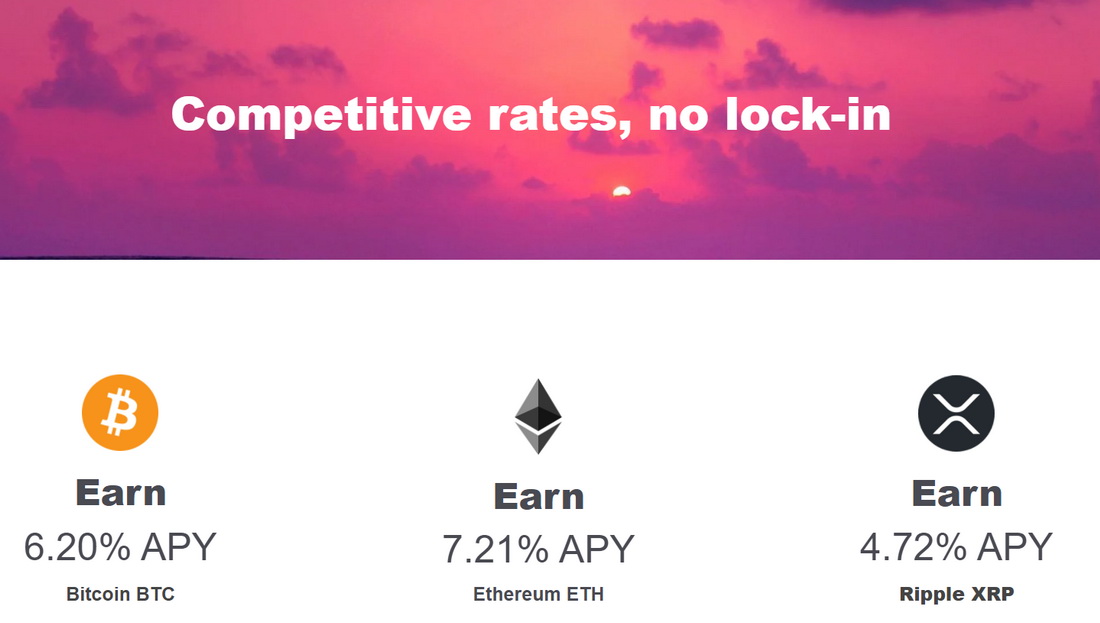 The only supported cryptos at the moment are BTC, ETH, XRP, Celsius Network, BCH, DASH, DAI, UNI, SNX, and LINK – they will be bringing stablecoins to the platform soon.
Supported Countries and Cryptos
Liquid allows for the creation of an account for citizens of all countries except: Albania, Bahamas, Barbados, Botswana, Cambodia, Cuba, Democratic Republic of the Congo, Ghana, Iceland, Iran, Jamaica, Libya, Mauritius, Mongolia, Myanmar, Nicaragua, North Korea, Pakistan, Panama, Somalia, South Sudan, Sudan, Syria, Uganda, Yemen, Zimbabwe, United States, Virgin islands, American Samoa, Guam, Puerto Rico, and Northern Mariana islands. For citizens of Japan, they will only have access to currency pairs and services approved by Japan Financial Services Agency.
In terms of their crypto offerings, they have over 80 different digital assets available for trading, ranging from your top-of-the-line cryptos (BTC, ETH, LINK, UNI) to lower and microcap cryptos.
Deposit and Withdrawal Methods
Depositing is very straightforward, and Liquid offers a multitude of different options to help you move your funds to their exchange. Of course, they allow for crypto deposits directly into your wallet. They also offer fiat deposits via your bank account, where you can link your bank account by entering the necessary information and which currency you would like to deposit in. Credit/debit card deposits are also allowed, with certain limitations in regards to the total amounts.
For withdrawing fiat, there are minimum accounts you will need to meet before transferring your funds off the exchange, as seen below:
| Currency | Minimum withdrawal amount |
| --- | --- |
| USD | 100 USDe |
| EUR | 100 USDe |
| SGD | 100 USDe |
| AUD | 100 USDe |
| HKD | 100 USDe |
| JPY | 1500 JPY |
Crypto withdrawals all have minimum amounts, and a list can be found on their website or in the beginning of this article under the "Withdrawal Fees" section.
How to use Liquid Exchange
To begin creating an account, go to the homepage and click Get Started on the top right of the page. You will be taken to a page where you will be asked to enter in your personal information, such as your country, first and last name, email, password, etc. Once you have entered all of the information, click Sign Up.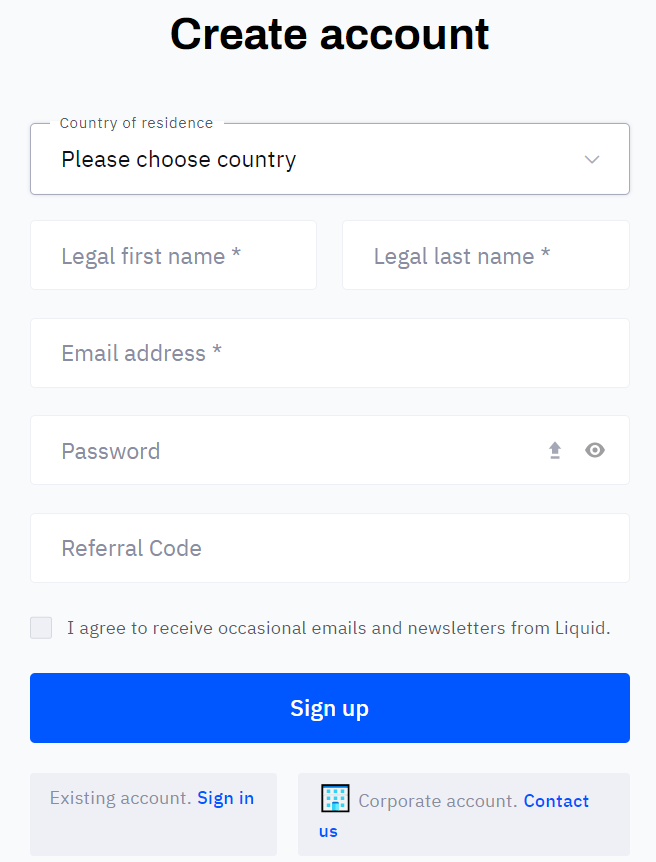 When you've created your account, you can begin using the exchange. However, there are certain limitations – in order to utilize the full range of services Liquid offers (such as fiat deposits and withdrawals), you will need to undergo KYC verification. For KYC, you will need to submit a government-issued ID document, proof of address that is less than 3 months old, and a selfie.
Security
At Liquid exchange, the safety of users' funds is a high priority, and they have taken many active measures in improving their security. 2FA is required for all accounts in order to complete actions like resetting your password, entering a new crypto withdrawal address, and withdrawing crypto assets. Whenever you make a major change (such as changing your password) you can't change your email for 3 days, so withdrawals cannot be made. There is also an approval queue for any changes to account settings, where a minimum of two staff members are required to approve any changes to account settings related to password, email address, or 2FA.
In case you are not able to access your account, they have a feature where you can even video call the Liquid team in order to verify it's really you and restore access to your account. 98% of their customer funds are held in cold storage, within an offline wallet. There is also a multisig process for withdrawing funds out of their cold storage, adding additional security.
On November 13, 2020, there was a cyberattack where a hacker was able to gain access to Liquid's domain records and obtain access to employee accounts and their network. Personal customer information was obtained, including names, emails, and more. Liquid later noted that customer funds were accounted for and safe; the MPC-based and cold storage crypto wallets were not hacked either.
Conclusion
Liquid exchange may have one of the most diverse product offerings on the market, and certainly show strength in regards to their overall liquidity and transparency relative to the competition. Below we've developed a list of the advantages and disadvantages of using Liquid, so you can judge for yourself and make your own determination as to whether or not you will use it:
Pros
Generous amount of trading pairs and fiat currencies to choose from
Many different features/platforms, including margin and perpetuals trading with up to 100x leverage
Earn program with high interest rates for depositing crypto assets
Clean and easy to navigate website, with a section offering transparency surrounding their team and security
Comprehensive user guide and FAQ support section
Strong security measures
Cons
Perpetuals and margin trading are limited to only two BTC pairings, USD and JPY
Was recently hacked, citing some security concerns and vulnerabilities
Visit Exchange >>>
Social media