P2PB2B Review

Withdrawal fee: 0.001 BTC

Taker fee: 0.20%

Maker fee: 0.20%

Bank transfer

Credit Card

Cryptocurrency

Founded and launched in 2018, P2PB2B is an online cryptocurrency exchange with a selection of over 200 different cryptocurrency tokens and a partner of crypto projects. They are headquartered in Tallin, Estonia with a team consisting of Valerii Solodovnik (CEO), Alex Raus (Head of Partnership), Jack Velasquez [LinkedIn] (Business Development Manager), to name a few. The native token of the exchange is PACT, which is used to help fuel the ecosystem and offers incentive to holders in the form of rewards and interest.
P2PB2B Fees
Trading Fees
The fee schedule operates as a tiered level system – the higher your 30-day trading volume or PACT balance, the higher your tier, which grants you lower fees. There are 11 total tiers, ranging from LVL 0 – 10. Below is a list of the different trading fees and associated levels:
| Level | 30-Day Volume (BTC) and/or PACT Balance | Maker fees | Taker fees |
| --- | --- | --- | --- |
| 0 | ≥ 0 or ≥ 0 | 0.2% | 0.2% |
| 1 | ≥ 1 or ≥ 150 | 0.18% | 0.19% |
| 2 | ≥ 5 or ≥ 300 | 0.16% | 0.18% |
| 3 | ≥ 10 and ≥ 600 | 0.14% | 0.17% |
| 4 | ≥ 25 and ≥ 900 | 0.12% | 0.16% |
| 5 | ≥ 75 and ≥ 1800 | 0.1% | 0.15% |
| 6 | ≥ 100 and ≥ 3200 | 0.08% | 0.14% |
| 7 | ≥ 150 and ≥ 6400 | 0.06% | 0.13% |
| 8 | ≥ 300 and ≥ 9600 | 0.04% | 0.12% |
| 9 | ≥ 450 and ≥ 19200 | 0.02% | 0.11% |
| 10 | ≥ 500 and ≥ 38000 | 0.01% | 0.1% |
Withdrawal fees
The withdrawal fees are quite standard relative to other exchanges. This fee is dependent upon the type of cryptocurrency you withdraw, and is paid in the denomination of that token – minimum amounts are noted and will be flagged before you are allowed to withdraw any asset. Below is a sample of some of the withdrawal fees (as you can see, there are no deposit fees):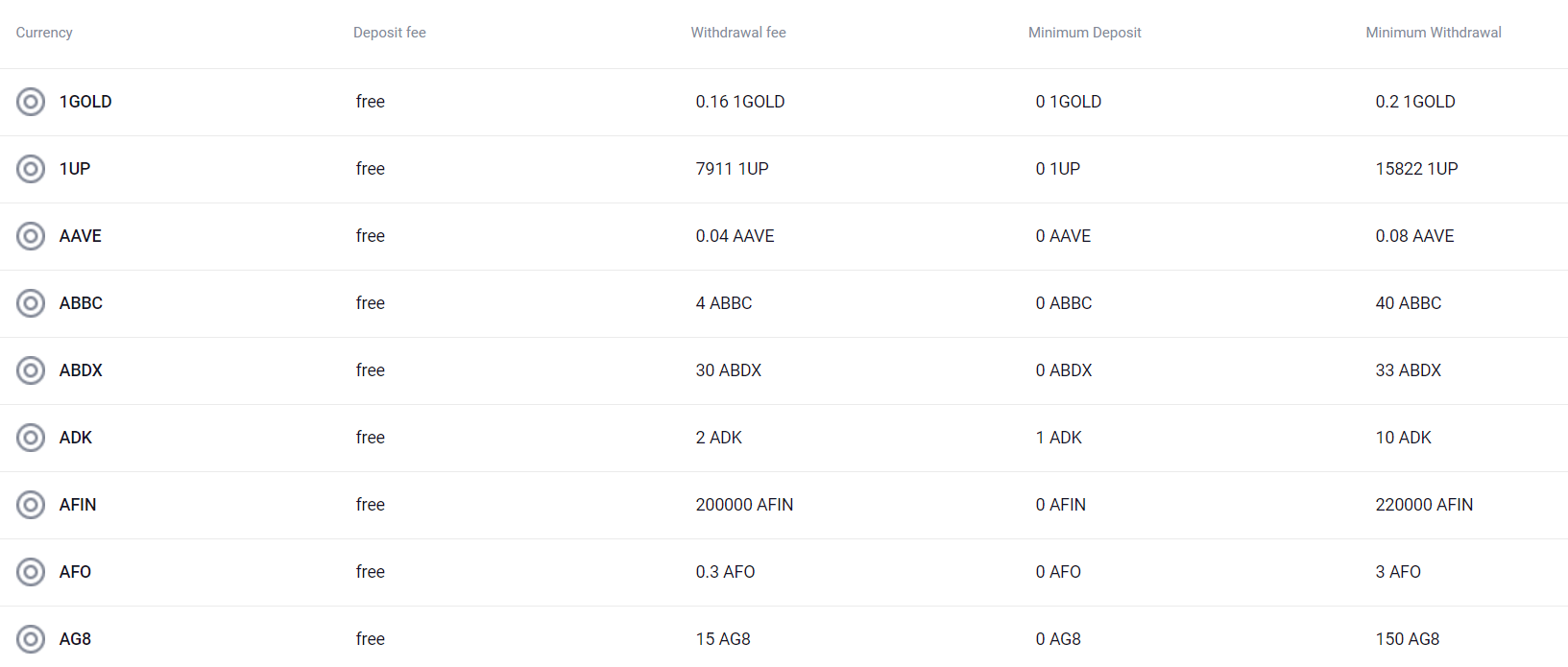 Trading View
The user interface/application for trading is very basic in nature. The order book of buy and sell orders is on the left, with the price chart in the middle, and the different trading pairs on the right; below the pricing chart lies the limit and market orders section. Overall, the look and feel is quite plain and nothing too aesthetically pleasing – it won't blow your mind away, but it gets the job done.

One major limitation of P2PB2B is that they do not offer any futures/margin trading, or any particular advanced trading, that you would normally find on most exchanges. This may be fine for the average newbie or retail investor, but can be a huge drawback for any professional/advanced traders.
Supported Countries and Cryptos
In their terms of service document, services may be fully or partially limited for citizens of the following countries: United States, Canada, UK, Australia, France, Japan, and China. There does not appear to be any mentions of any other countries that may be restricted, but please check your local laws and regulations to be sure.
In regards to their crypto offerings, they have over 200 different tokens you can choose from directly on their website, in a variety of different trading pairs. A sample of the different coins they provide is below: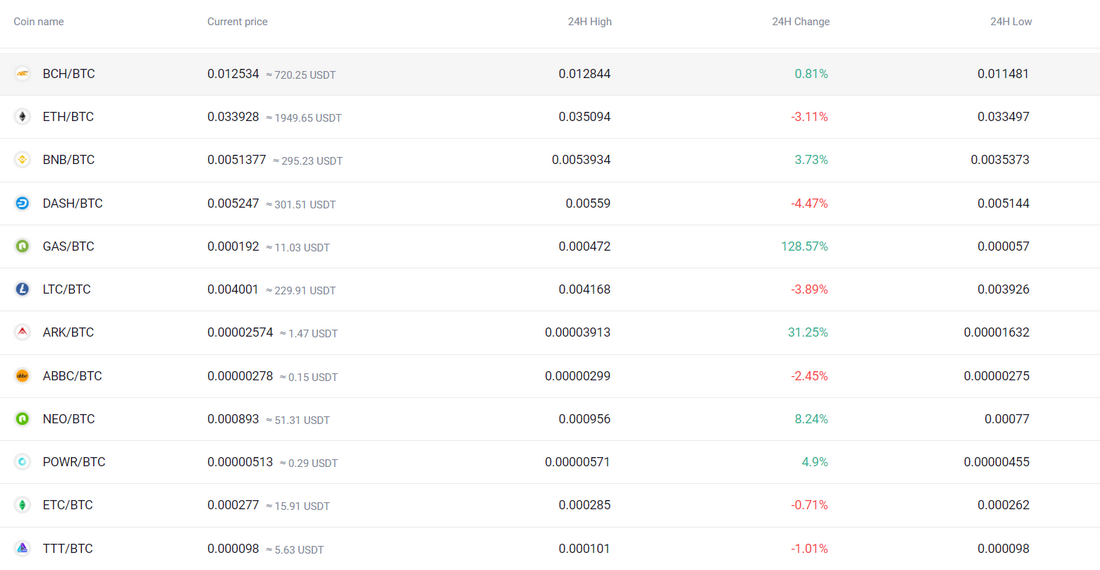 Deposit and Withdrawal Methods
For depositing, Visa or Mastercard credit/debit cards are supported through their partner Simplex, allowing a very convenient and easy way to get funds on the exchange; wire transfers are also allowed. You can also deposit cryptocurrency the traditional way by entering your P2PB2B deposit address and sending your tokens via the blockchain.
Withdrawing is done in the traditional crypto sense by selecting the deposit address from the exchange you want to send to, then selecting the currency you want to withdraw and entering it on the screen.
Earning
P2PB2B's earning program is extremely easy to use. They offer three different options: locked earning, flexible earning, and earning pool. When you deposit and hold the tokens on their earn platform, you will receive rewards in the same token. The annualized interest rates for the locked earning are the highest, and you can select either a 7, 14, 30, or 90 day duration; the only downside is that there are not a large amount of tokens available and you cannot withdraw them until the locked period is over. However, the flexible earning option has a much larger variety of tokens available and still offers generous interest rates.
Launchpad
The launchpad is a platform allowing users with opportunities to invest in early startup cryptocurrency companies/projects. Available currencies you can use to contribute to projects of your choice are BTC, ETH, USD, and USDT. P2PB2B has many exciting and promising new projects that you can get involved in. Some examples of completed project events are below: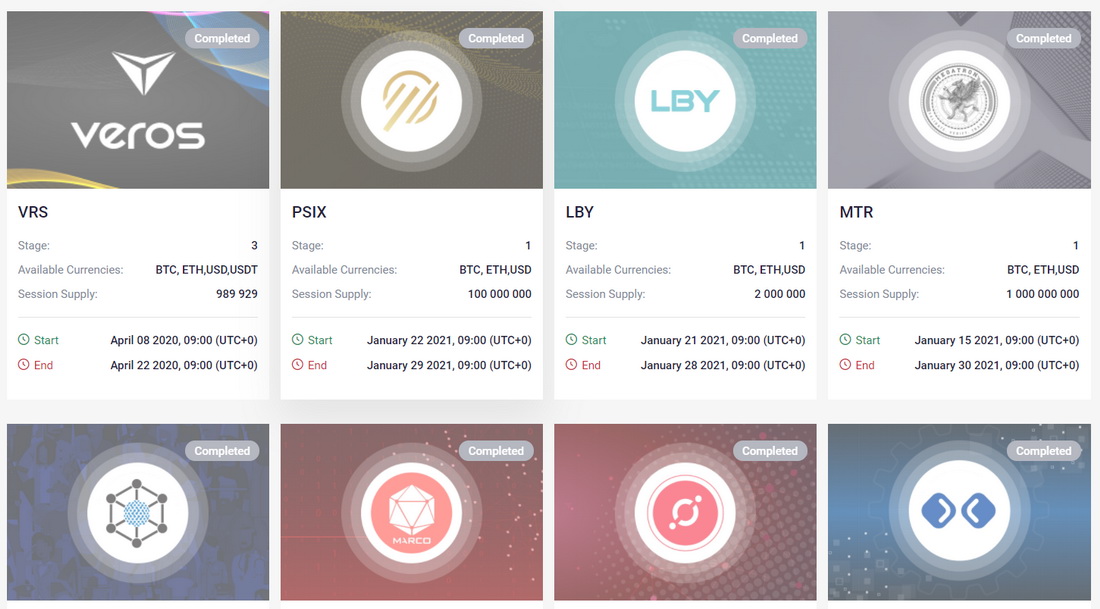 Startup Launch Program
P2PB2B offers a startup launch program where they offer advising services to help projects grow and develop; this program is outlined in 4 different steps:
Setting up and developing the project's social media platforms and entering information regarding the project.
Integrating and adding the project on the P2PB2B platform.
Launching the project through initial fundraising and undergoing a test run of the key exchange services.
Project development consisting of internal promotions, promotions for the external crypto community, a AMA session, and an analysis of the overall performance.
You can apply for this program on their website and/or Telegram community – the name of the listing manager is on the startup launch program homepage.
Staking PACT
As PACT is the governance token of the exchange, there are some lucrative benefits that come with holding it. You can stake PACT on their platform to receive interest; you will earn more if you stake more, and all interest is rewarded in the form of PACT as well. The minimum amount of PACT you can stake is 100, and the current interest rate ranges from 16% – 40%. In addition, the more you stake, the higher your additional earning bonus will be on top of the interest. The staking period is 180 days – if you do decide to stake your tokens, make sure you are comfortable with this, as it is a very long period of time.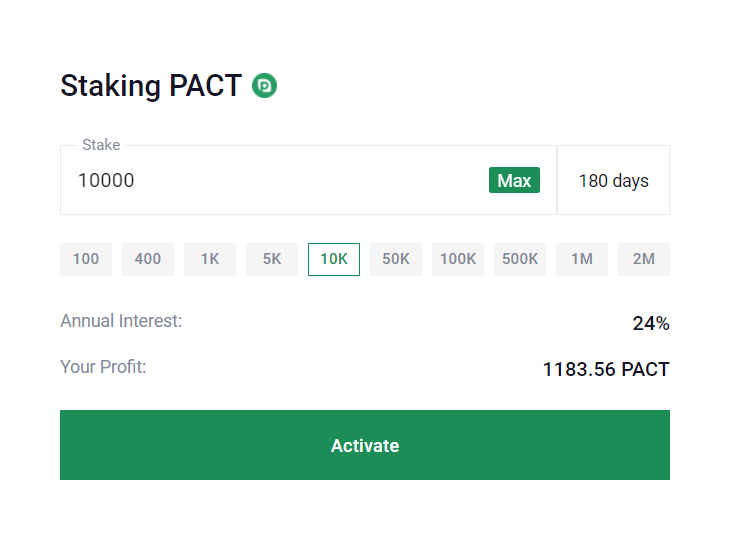 If you make an account and join the P2PB2B community, you will be rewarded with 100 free PACT tokens upfront! All of this information can be found on the staking page on their website.
API
Their API has various features that allow you to have control of your information; there is a Websocket and Protected API. You can use the API for balances, creating/cancelling orders, obtaining public market, ticker, order book, and symbols information. There is a note that If an IP address goes over 5 requests per second and 100 requests per minute to a specific REST API endpoint, the requesting IP address will be blocked for 1 minute.
How to use P2PB2B exchange
Registering for an account is simple and easy – first go to their homepage, navigate to the top right and click Register. You will now be prompted to enter your email and password, in addition to a referral ID (if you have one). Once you've entered this information, on the bottom you will need to select whether you are a US resident or not. After you've selected this, check the box to agree to the terms of services and click Sign Up.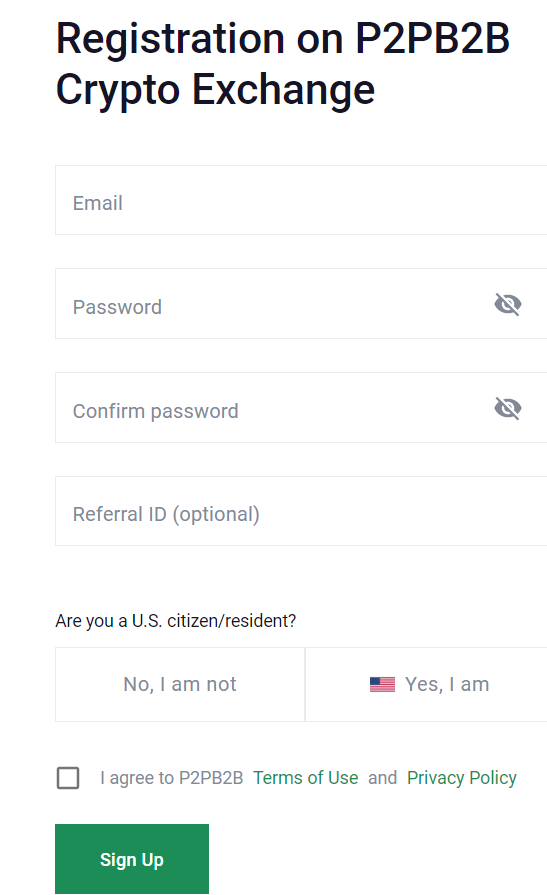 Next you should receive a confirmation email – navigate to your email and follow the instructions. When you've completed that step, you account setup is finished!
Please note that although you will be able to access most of the exchange features by just setting up an account with email, KYC is required for deposits and withdrawals. To verify your account through KYC, you need to submit a passport photo, national ID card, or driver's license. In addition, you will need to take a selfie with your chose document and a sheet of paper that says "P2PB2B.IO" and the current date.
Security
P2PB2B prides itself on its security measures to keep its customers' funds safe. They are compliant with OWASP TOP 10 security requirements and have been noted as the world's 12th most Trust Core secure crypto exchange, based on a CER rating. Over 95% of their tokens are held offline in cold storage, and they use a Web Application Firewall to catch and stop attacks from online hackers.
They also offer 2FA for your phone – if you create an account, it is strongly advised that you utilize and install this feature immediately to add extra security to secure your account.
Conclusion
P2PB2B is a relatively new exchange in crypto terms, but is working to establish itself in the space. There are some very enticing features and offers that they bring to the table, but those benefits come with some concerns as well. Below are our thoughts on the advantages and disadvantages of using this exchange:
Pros
Easy and simple user interface – good for beginners or less tech-savvy traders
Very high interest rates on large-cap cryptos and the PACT token
Strong and dedicated customer service team
Launch program offers a large breadth of services to new projects
Provides options to buy/sell many different large/small-cap cryptos
Ability to process up to 10,000 transactions per second
Cons
KYC is required to deposit or withdraw assets, unlike many other exchanges
Lack of transparency about the overall team on their website or LinkedIn page
Online reviews have a mix of positive and negative reviews
While the user interface is easy and simple, it is lackluster in terms of its appeal in this modern era
No futures or margin trading, which may push away experienced traders
Visit Exchange >>>
Social media