Truegame (TGAME)

Truegame is a blockchain-based iGambling platform intended for all parties involved in the casino industry.

IMPORTANT: By investing in this business you agree to our Disclaimer. All information including our rating, is provided merely for informational purposes. CryptoTotem does not provide investment advice.

| | |
| --- | --- |
| Overview | Whitepaper |
Charts
24h
7d
14d
30d
60d
90d
180d
365d
Max
What is Truegame
TRUEGAME OFFERS A NUMBER OF THE FOLLOWING BENEFITS TO THE PLAYERS:
ABSOLUTE INTEGRITY OF PRIZE DRAWINGS:
it is ensured by the use of a completely open blockchain technology. One can verify game results at any time in blockchain open registry. This information cannot be manipulated.
FAIR CHANCES TO EACH PLAYER:
the game is based on totally random combinations received from blockchain. They are secured and cannot be manipulated. The winnings are dependent only on the fortune and mathematical probability
FAIR DISTRIBUTION OF THE WINNINGS:
the winnings are not distributed by the casino manager. Blockchain automatically sends the winning immediately it has determined the winner, strictly in accordance with the rules of the game.
FULLY INTEGRATED PLATFORM:
we have developed a platform architecture which allows us to quickly implement any game on smart contracts, add a payment system, third-party service, etc.
PROBLEMS AND SOLUTIONS
Problem:
Player's mistrust to the casino manager. In most cases with online casino, the player does not have a chance to check the randomness of determining the winner. Generating random numbers is not transparent, and even in case of certifi ed algorithms, a player can not be 100% sure of trustworthiness of a party that monitors the game.
Solution:
Truegame solves this problem using blockchain and smart contracts technologies. Our algorithms for generating random numbers are available on GitHub and can be checked by anyone. Generation of random numbers and distribution of winnings happens not on our servers, but in an autonomous environment of blockchain Therefore, neither side can intervene in this process.
Problem:
Most of the websites of iGaming industry can not provide suffi cient transparency to the user to ensure the player's complete confi dence in the integrity of site managers. The player can not see how many people actually took part in particular game, which of them won and what is the amount of the winning
Solution:
Our platform presents a completely transparent system - all transactions are stored in blockchain. They can not be changed or deleted. Anyone can check and see the progress of all our drawings on an independent platform (for example Etherscan) or on his computer on which the corresponding environment of blockchain is deployed.
Problem:
The player can not check the paying capacity of casino operator. The user can not be sure whether the casino management has funds for payments, and whether the promised Jackpot can be actually provided.
Solution:
Truegame provides full transparency - all the accumulated tokens are consolidated on a smart contract. Anyone can look at the size of Jackpot on an independent platform, ensuring our ability to pay the winnings.
Problem:
Security. An overwhelming number of online resources is subject to attacks by hackers. Whatever protection measures are taken by the owner's site - the risk of hacking always remains. In case of traditional online casinos when their site is compromised, the attacker is able to fully manage the draws and access the Jackpot.
Solution:
Truegame is a decentralized application (DAPP). If our website is compromised, the attacker will not be able to infl uence the process of the draws or gain access to the Jackpot. Our site is only an interface of the infrastructure that we created in the environment of blockchain. Drawings, storage and distribution of the Jackpot are managed by a smart contract that is executed in a decentralized environment.
Details

Pre-sales: Mar 05, 2018 - Apr 15, 2018
Public sales: Apr 16, 2018 - Apr 30, 2018
Token supply: 300,000,000 TGAME
Total tokens for sale: 210,000,000 TGAME
Soft cap: 2,300 ETH
Hard cap: 10,300 ETH
Raised: 3,426,445 USD


Legal

Blockchain Platform: Ethereum
Country limitations: United States
Registration country: Costa Rica
Office address: 10901, Costa Rica, San Jose, Santa Ana, 350 metros al Norte de Restaurante Ceviche del Rey

Bounty

Bounty: 1%


Token info

Ticker: TGAME
Type: Utility-token
Token standard: ERC-20
Token price in USD: 1 TGAME = 0.0736 USD
Token price in ETH: 1 Token = 0.000100 ETH
Accepted currencies: ETH, BTC, LTC
Bonus program:
Private sale: 1 ETH = 18,500 (100% bonus)
Pre sale stage 1: 1 ETH = 12950 (40% bonus)
Pre sale stage 2: 1 ETH = 12,025 (30% bonus)
Pre sale stage 3: 1 ETH = 11,100 (20% bonus)
Main sale: 1 ETH = 9,250 (no bonus)
Token distribution:
70% - Crowdsale
15% - Team
10% - Reserve
4% - Advisory board
1% - Bounty
Funds allocation:
45% - Attracting players
33% - Jackpot
12% - Development
10% - Legal


Offices on the map
Truegame Roadmap
1
November 2016
Start of the project: goals defi nition, concept development, team formation
2
DECEMber 2016
Technical infrastructure creation: servers, Ethereum node, development environment
Platform server-side logic development
3
JANUARY 2017
Design development
4
FEBRUARY 2017
Technical implementation of interface design: adaptive layout, client-side logic development
5
MARCH 2017
Development of random number generator (RNG) based on blockchain and smart contract
6
APRIL 2017
Smart contract based prize drawing development and its integration into a platform
7
May 2017
Smart contract based scratchcard development and its integration into a platform
8
JUNE 2017
Smart contract based lotteries development (including Lotto 6/49) and their integration into a platform
9
JULY 2017
Utility token integration into a platform
10
AUGUST 2017
Implementation of Ethereum based Player's balance system integrated into a platform
11
SEPTEMBER 2017
Smart contract tests, platform tests
12
OCTOBER 2017
The fi rst working version of a platform
13
NOVEMBER 2017
Launch of public version of a platform
14
DECEMBER 2017
Website adjustments based on feedback from Bitcointalk professional community
15
JANUARY 2018
Public release of Ethereum (Ropsten) Integration (TGAME token deposits/withdrawals tests)
Platform audit (smart contracts audit, vulnerability scanning, security audit)
16
FEBRUARY 2018
Utility token public announcement and its limited Private sale
17
MARCH 2018
Pre sale
Mobile app on Google Play (Alpha version)
Token crowdsale referral partner program launch
Finalization of multilingual user interface (11 languages)
18
APRIL 2018
Main sale
Release of Crypto Legends scratch-off game
19
MAY 2018
Gift Box game release
Blockchain ball lottery release
Crypto millions lottery release
20
JUNE 2018
Card lottery release
Extended billing system
Dice game release
Smart Roulette game release
Slot games release
Rock paper scissors game release
Instant Lotto Duel release
Popular cryptocurrencies integration: Litecoin, DASH, DOGECOIN and others
Mobile app Apple Store (not guaranteed, because the decision about publishing is made by Apple)
Skrill Public release (in case of obtaining the necessary permission from the Regulator) Note: as of December 1, 2017 integration of the payment system has been implemented but not yet activated for the Players.
Neteller Public release (in case of obtaining the necessary permission from the Regulator) Note: as of December, 21 2017 integration of the payment system has been implemented but not yet activated for the Players.
The TGAME token listing on exchanges (The listing terms are not guaranteed as they are fully dependent on the exchange)
21
JULY 2018
Hilo Arcade Games
Craps
Bingo lotto
Keno lotto
Games subscription system
Lotto mechanical draw machine controlled by smart contract
Hackathon (Complex platform vulnerability testing)
Start of the iGaming vertical (card games with the casino): Black jack
22
AUGUST 2018
The iGaming vertical: stage 2 (games between the Players): Poker Room
23
SEPTEMBER 2018
The iGaming vertical: stage 3: Betting
24
OCTOBER 2018
Release of the following games:
- Pontoon
- Baccarat
Chatroom
25
NOVEMBER 2018
Release of the following games:
- Wheel of fortune
- Crystal Ball
- Pinball
- Crypto diamonds
- Coin fl ip
Start of attracting classic online Players to the Platform
Affi lliate marketing (CPA)
Multichannel advertising campaign
E-mail marketing
26
DECEMBER 2018
API for third party services (White Label casino solution)
27
JANUARY 2019
Annual report
28
YEAR 2019
Plans for the year 2019 are surely there, but it will be too presumptuous to present them by stages and months. The main planned stages are:
Multichannel marketing campaign
Increase in customer base
Expansion of the range of games
Strengthening of the iGaming vertical
Project team

Dmitry Danilov
CEO

Dmitry Shchuvatov
CMO

Denis Snitserev
Head of affiliate marketing

Liudmila Varavina
Head of communications

Shivank Shekhar
Blockchain developer

Carmel Said
Affiliate marketing consultant

Mirlan Jelamanov
Full stack web developer
Aleksey Seleznev
Front-end developer

Vadim Grinchik
UX Designer

Nikita Shchuvatov
Financial analyst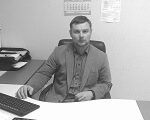 VLADIMIR SAFONOV
Lawyer
Advisors

Bogdan Fiedur
Strategic blockchain consultant

Eduardo Morales-Hermo
Senior gambling and betting, business consultant at Ficom Leisure

Benjamin Föckersperger
Co-Founder / Chief Esports Officer at esports.com

Mate Tokay
COO Bitcoin.com

Robert Lenzhofer
CEO at Glück Games Services GmbH

Arvind Upadhyay
Co-founder and COO at Glück Games Services GmbH

Andrew Clarke
ex-Lottoland, Head of communications and PR at The Multi Group
Social media