The Global Healthcare sector, in the wake of a pandemic and suffering frequent ransomware attacks, is ready for disruptive innovation via blockchain. With the increased digitalization of healthcare, R-DEE™ by Radiologex provides a revolutionary enterprise-focused medical blockchain ecosystem built to improve patient outcomes.
R-DEE's fully built, ready to deploy product and network eliminates manual data errors, unsecure system penetration, identity/access/and trust, and streamlines communication and collaboration between providers. Radiologex's high-speed interoperability network has been in development for several years, undergoing an array of stress tests to ensure that its infrastructure is as robust as possible.  The ecosystem has been positioned as an enterprise-focused medical blockchain project that isn't patient-facing, unlike the overwhelming majority of medical blockchain products and projects under development which cater strictly to Telemedicine or Patient Health Records.
R-DEE is a collaboration and productivity suite built upon a vast distributed content delivery and data storage network. The platform delivers next-gen, borderless medical and healthcare interactivity for the $20 trillion Global Healthcare industry with 8 powerful built-in modules including:
R-DEE Connect: End-to-end encrypted communication (text/voice/video) on any device. Built with full HIPAA compliance and industry-grade security exclusively for healthcare industry.
R-DEE Marketplace: Commercial hub for purchase and sale of all healthcare products. Secure payment and transaction processing with escrow capabilities to facilitate global connectivity.
R-DEE Pay: Payments wallet that enables transactions with a global USD-backed stable currency. Allows for seamless international settlements, access to financing, payroll, and smart contract capabilities with KYC-verified users.
R-DEE Expert: Provide instant, on-demand and 24/7 direct access to service providers worldwide, while providing payment processing and ensuring vendor reliability to end users.
R-DEE Scan: A PACS (medical imaging) platform that features advanced image analysis and reporting tools presented on a clean and intuitive user interface. Integrated to R-DEE Vault to offer unlimited storage for Radiologists and medical imaging staff across the globe.
R-DEE Vault: A fast, secure, end-to-end encrypted storage solution designed to meet the data requirements of the healthcare industry. Built on a hybrid cloud-DLT stack, the module offers granular file control/permissions and unlimited storage capacities.
R-DEE Manager: Full array of clinical workflow management capabilities, from patient referral and onboarding to invoicing and patient release.
R-DEE Stream:  Content creation and distribution platform to deliver healthcare-exclusive content (e.g., analytics reports, instructional material, medical documentation) in multiple formats.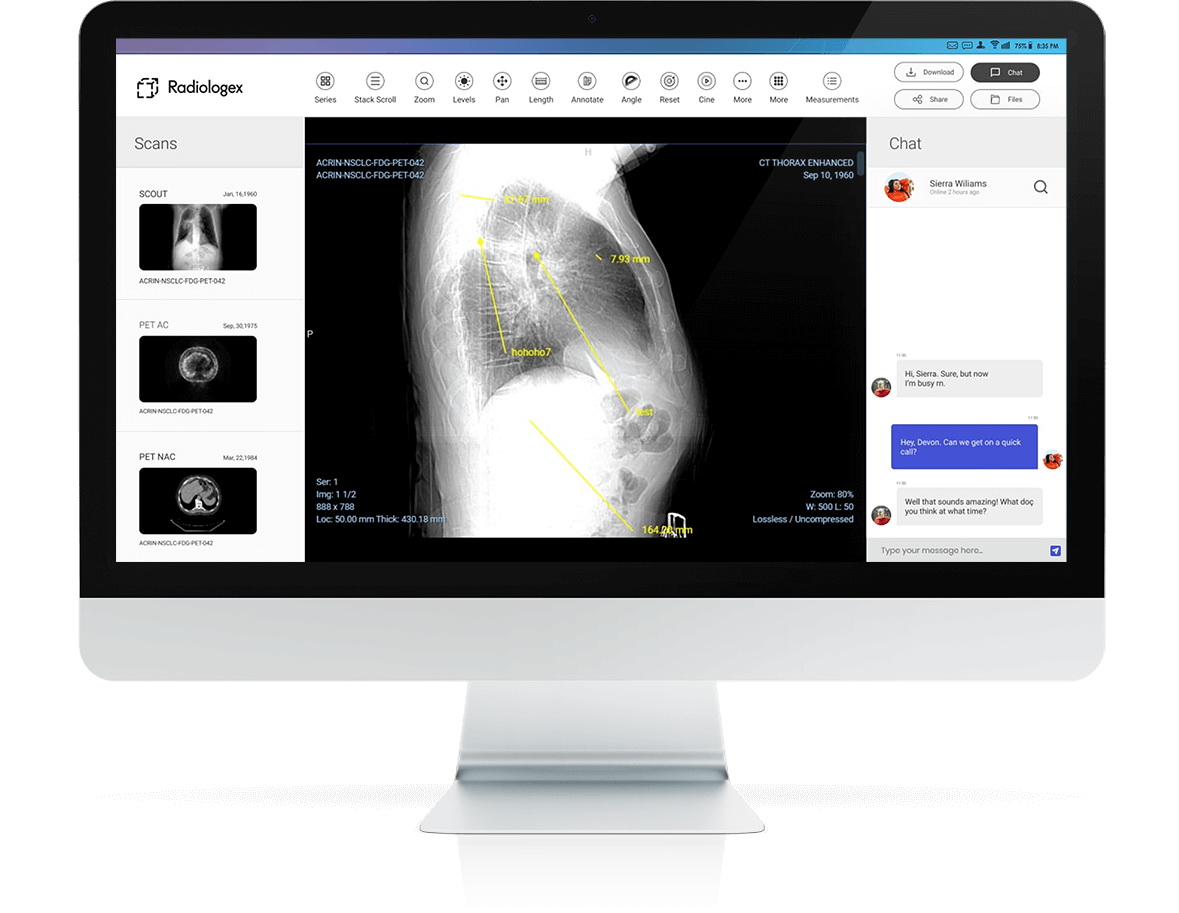 With over 1600 global nodes up and running spread out over 60 countries, R-DEE is securing over 1200 terabytes of healthcare data. R-DEE is the only ZERO-TRUST™ built technological architecture available in Health IT, designed by healthcare professionals and blockchain experts to eliminate redundancy and dangerously unsecured legacy systems. Radiologex has teamed up with their partner Trusona, backed by Microsoft Ventures, to develop a third and most potent layer of R-DEE's advanced user-identification gateway dubbed "Authlogex." Through blockchain technology, this 3rd tier adds a strong firewall for security and tampering by enabling any extra node deployments for rapid strike data/login replication and adds audit trails for data access, a vital missing capability in enterprise health IT systems.
This fully-built product is the only one of its kind currently on the market, and boasts certifications to ensure maximum security and trust: R-DEE's technology has been tested and certified by the ONC of the US Department of Human and Health Services, and attained ISO 9001 and 27001 Certifications for Quality Management Systems and Information Security Management. R-DEE users are provided with the ultimate security in one ecosystem, including detailed and verified control over who views, accesses and shares their data, allowing for microlevel controls and tracking which vastly increases the speed of disseminating this data.
Limited (or "freemium") versions of R-DEE are available at Google Play Market and Apple App Store.
The STO public offering is SEC-Compliant with complete onboarding through Securitize, an SEC-registered transfer agent and the first end-to-end digital platform utilizing blockchain technology. Round 1 investors are currently incentivized to participate with generous bonuses including:
GET A FREE APPLE 2021 MACBOOK (LATEST GEN)
(limited up to first 500 investors)
Tier 1 = $50,000.00 and up (USD or Crypto) (2x) – 100% RDG Bonus, plus 2021 MacBook
Tier 2 = $25,000.00 – $49,999.99 (USD or Crypto) (1.75x) – 75% RDG Bonus, plus 2021 MacBook
Tier 3= $15,000.00 – $24,999.99 (USD or Crypto) (1.50x) – 50% RDG Bonus
Tier 4= $2,500.00 (USD or Crypto) (1.25x) – 25% RDG Bonus
Limited Time Referral Bonus up to 100% (first 100 referrals only)
As with any digital security holding you won't rely solely on market action of the token, but also receive gains on a transparent and well-thought system of dividends that are paid quarterly and automatically credited to your dashboard or wallet of choice. Dividends come from Radiologex platform revenues and proceeds from the monetization of the business.
You can learn more about the Radiologex STO offering, view the smart-contract audit certificate, and register to become an investor via the link below:
---
Disclaimer:
This is a sponsored press release, and is for informational purposes only. It does not reflect the views of CryptoTotem, nor is it intended to be used as legal, tax, investment, or financial advice. The author or the publication does not hold any responsibility, directly, or indirectly, for any damage or loss caused or alleged to be caused by or connected with the use of or reliance on any content, goods or services mentioned in this article. Readers should conduct their own research before taking any actions related to this company.