DeFi DAO (DDAO)

ICO

DeFi DAO enables customers equal access to a practical and simple DeFi market where everyone can enjoy safe diversified financial services without borders. DeFi DAO developed the parachain DAO Chain based on Polkadot and issued the governance token DeFi DAO Token, referred to as DDAO.

IMPORTANT: By investing in this business you agree to our Disclaimer. All information including our rating, is provided merely for informational purposes. CryptoTotem does not provide investment advice.
| | |
| --- | --- |
| Overview | Whitepaper |
What is DeFi DAO
A DAO is a decentralized autonomous organization. Once launched as a smart contract on the Polkadot blockchain, a DAO operates according to its programming. These organizations run without a central operating authority, all the rules of the organization are enforced by its code running on the blockchain.
Furthermore, DAOs often manage their own treasury and issue their own tokens. These tokens represent membership, voting rights, and/or ownership of the DAO. In the Ethereum ecosystem, DAOs fill similar roles to traditional organizations you are familiar with like corporations, cooperatives, non-profits, etc.
DeFi DAO, initiated by DDAO Labs,aims to build up an open financial network based on Blockchain technology.
There is no central leadership, decisions are made in a bottom-up way.
The idea takes on a life of its own, and it's able to incentivize others to make itself happen.
It can have its own rules, such as how to manage its own funds.
Goal
As a DeFi Dapp hub, DeFi DAO is committed to enabling customers to conduct seamless, instant, and secure financial services anywhere in the world, creating a global-scale, multilateral participation, and open finance portal.
Details

Pre-sales: Sep 06, 2020 - Sep 06, 2020
Public sales: Sep 08, 2020 - Oct 08, 2020
Pre-sale token supply: 400,000,000 DDAO
Token supply: 10,000,000,000 DDAO
Total tokens for sale: 1,919,000,000 DDAO
Soft cap: 1,515,000,000 DDAO
Hard cap: 10,000,000,000 DDAO
Raised: 19 ETH


Legal

Blockchain Platform: Polkadot
Registration country: United States
Registration year: 2019


Token info

Ticker: DDAO
Token price in USD: 1 DDAO = 0.002 USDT
Accepted currencies: USDT, ETH, DOT
Token distribution:
19.19% - investors who have been distributed to DDAO Labs
15.63% - founders and team members in 2 years
4.13% - future team members
61.05% - users of the agreement

DeFi DAO Roadmap
1
2020 Q3
DDAO token function development based on ERC20, realizing functions such as transaction, currency generation, and currency sales (already implemented)
2
2020 Q4
DeFi DAO product development to achieve basic features (in progress)
3
2021 Q1
Complete development of 70% of the product's features, conduct the first internal test, launch the DeFi interface, and encourage developers to test the protocol
4
2021 Q2
Complete the main DeFi application; simultaneously develop the DDAO DeFi protocol (stable currency asset agreement: DDAO Bank, launch the staking function and launch DE-USD, asset liquidity agreement: DDAO Swap, asset loan agreement: DDAO Lend, synthetic asset agreement: DDAO Synthetix)
5
2021 Q3
DeFi DAO realizes 100% of the product's functions and launches the global public beta. The DeFi DAO Chain mainnet launches, and users can switch to mainnet tokens
Project team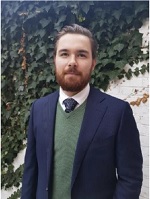 Brenden Keller
Founder
Social media