Gaimin (GMRX)

ICO

Gaimin.io connects the world's largest supply of GPU processing power, which belongs to the 1.3 billion gaming PCs in the global gaming community, with the rapidly growing, worldwide demand for massive processing power.

IMPORTANT: By investing in this business you agree to our Disclaimer. All information including our rating, is provided merely for informational purposes. CryptoTotem does not provide investment advice.

Overview

| | |
| --- | --- |
| Project industry | Gaming & VR |
| Product type | Platform |
| Founded | United Kingdom |

Whitepaper Onepager

What is Gaimin

Introduction:

Gaimin.io have managed to identify an innovative solution to one of the largest growing global resource requirements in the market today, the current requirement is huge and growing exponentially year on year with no real solution for provision currently available. Gaimin.io, have not only identified the issue, the requirement, and the demand but have also managed to formulate a profitable solution to the on-going problem.

Opportunity:

It is a well-known fact that the world has become more and more reliant on the digital environment and just like all environments, its very survival and financial stability relies on the provision of required resources. Just as electricity, oil, gas, water, and capital are finite vital resources within the real world, computer processing power is the finite required resource of the digital world.

Markets:

In the digital world, the required, necessary resource in question is cost-effective, efficient, reliable, globally distributed computer processing power. Putting it simply, the world has a huge demand for processing power, almost everything in our modern lives now requires some form of processing operation. The current market demand is proving undeliverable, unfeasible and financial untenable to supply in its current format.

Solution:

Rather than spending billions of dollars on building dedicated resource farms, Gaimin.io are accessing the worldwide gaming community, and utilizing and rewarding this global network of untapped, globally distributed resources of 1.3 billion processing power providers, connected by high speed Internet connections, which can be aggregated, consolidated and then utilized to satisfy any of the myriad of profitable current, and future, needs for processing power.

Summary:

The Gaimin.io project connects the world's largest supply of GPU processing power, which belongs to the 1.3 billion gaming PCs in the global gaming community, with the rapidly growing, worldwide demand for massive processing power.

The Gaimin.io software platform has been designed to aggregate user processing power (hash rate or hash power) from the user's GPU (graphics card) and direct to this processing power to potential monetization options including the two main initial methods of:

Confirming and validating blockchain transactions (blockchain "mining")
CGI rendering

A user (gamer) is rewarded for connecting their own PC's processing power to the "Gaimin.io Processing Power Supply Network" via the GMRX native Gaimin.io blockchain token which he can then use in the Gaimin.io community for "user-to-user" transactions (buy, sell, rent) and on the Gaimin.io marketplace to purchase digital gaming assets.

Details

Public sales: Aug 01, 2018 - Sep 01, 2019
Token supply: 5,000,000,000 GMRX
Total tokens for sale: 1,000,000,000 GMRX
Soft cap: 10,000,000 USD
Hard cap: 100,000,000 USD
Raised: 1,000,000 USD


Legal

Blockchain Platform: EOS
Registration country: United Kingdom
Office address: 55 King Street, Manchester M2 4LQ

Token info

Ticker: GMRX
Type: Utility-token
Token standard: EOS
Token price in USD: 1 GMRX = 0.06 USDT
Accepted currencies: ETH,BTC,BCH,EOS,USD.DASH
Token distribution:
Token Sales - 20%
Kickstart/Community - 30%
Company Holdings - 30%
Founders - 15%
Advisors/Seed Investors - 5%


Gaimin Roadmap

1

2018 MILESTONES ACHIEVED: BASIC PROOF OF CONCEPT / COMPANY FORMATION

Company formation: UK/Crypto Valley, Zug, Switzerland
Team, partners & strategic advisors in place (gaming, marketing, regulatory, blockchain)
Internet presence (website, social media, etc.)
Initial documentation (decks, use of funds, litepaper, marketing plan, etc.)
Software development: plan "Alpha" testing
User demand confirmed: Madrid Games Week

2

2019 ACHIEVEMENTS: Milestones achieved: Funding, Presence, IEOs

Continued private funding
Full Alpha version testing
Produce "Alpha Report" and full "Whitepaper"
Launch GMRX on EOS blockchain
Start aggressive PR (community, social media, press releases)
Prepare for IEO. Establish presence in Asia
Ran two successful IEOs to test Asian market receptiveness
Began Beta version of platform
MOUs, partnerships, alliances
Add key team members
Reached phase 1 funding target $1m

3

January 1, 2020

IEO 3
Continue private fundraising
MOUs - continue to build alliances
Community Communication - build and foster relations (Social media updates | Newsletter)
Key stakeholder updates
Continue to look for key members to add to team throughout all Q1 - 2020

4

February 1, 2020

Aggressive PR Campaign prior to IEO 4
IEO 4
Continued development of Beta version (Big push to MVP)
Community Communication - build and foster relations (Social media updates | Newsletter)
Key stakeholder updates
Continue to look for key members to add to team throughout all Q1 - 2020

5

March 1, 2020

Korea event sponsorship & promotion
Begin aggressive promotion of anticipated Beta launch
Social Awareness - start thinking about the positioning of this prior to launch ("No Gamer Left Behind" | Socially responsible gaming)
Platform: 3rd party trust builders (McAfee)
Beta - launch product officially ( Have working product | Have a game they can spend GMRX)
Aggressive PR prior to token listing
Full token listing
User acquisition strategy begins
Community Communication - build and foster relations (Social media updates | Newsletter)
Key stakeholder updates
Continue to look for key members to add to team throughout all Q1 - 2020

6

Q2 – 2020

Marketing MVP pre-launch (Influencers | Create stories | Social proof | Anticipation | Press releases)
MVP - Test ready for launch (Needs full EOS integration | Community - working | Marketplace - working)
LAUNCH MVP - Marketing (Define the offer | Define the offer | Grow userbase)
Aggressive user acquisition
Full Exchange Listing
Key stakeholder updates
Continue to look for key members to add to team throughout all Q1 - 2020

7

Q3 – 2020

Continue private fundraising
Continue platform upgrades
Aggressive user acquisition
Key stakeholder updates

8

Q4 – 2020

Continue private fundraising
Continue platform upgrades
Aggressive user acquisition
Key stakeholder updates
Continue platform upgrades

Project team

Martin Speight

CEO

Andrew Faridani

CMO

Robert van Schaik

CFO

Calvin Adamus

CPO

Clive Aroskin

COO

Buki Ben Natan

CTO

Miguel Ferrero

CGO

Beverley Warburton

Branding and Community Advisor

Sander de Bruijn

Investor Relations Asia & Europe

Enrique Santos

Market Analyst

Roman Golovakha

VP Product Development

Shaun Martelly

Investor Relations North America

Advisors

Alexander Shulgin

One of the foremost authorities on blockchain technology and crypto mining

Emad Mostaque

Co-CIO of Capricorn Fund Managers and an experienced investor in artificial intelligence, crypto assets and the video games sector

Simon Quirke

FCA approved Compliance and Money Laundering Reporting Officer (CF 11, CF10), Director of an international FX broker, Over 30 years experience in the Financial Markets

Josep Rosich

EOS.IO Blockchain Advisor. Founder of BlockDapps Lab and eosBarcelona, an EOS.IO Block Producer Candidate. Five years of experience in the video game industry.

Social media

MVP

Claim admin rights for this project

Gaimin NEWS

Tweets by BitTorrent
How To get a verified Project status
To pass the verification you need to place a our logo on the main page of your website and make an announcement of the listing in your social network accounts. Send us the email in reply with confirmation of the link placement.
Top-Rated Crypto Projects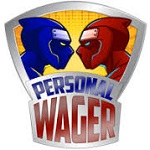 ICO
Personal Wager aims to create a globally accessible esports player to player (P2P) wagering system, allowing players in any country to wager on their own skill ...
| | |
| --- | --- |
| Start ICO | Jan 01, 2020 |
| End ICO | Oct 31, 2020 |
| Received | Pending |
| Goal | $ 25,000,000 |