BitMax Review

Exchange

Withdrawal fee: 0.0005 BTC

Taker fee: 0.20%

Maker fee: 0.20%

Bank transfer

Credit Card

Cryptocurrency

BitMax is an online cryptocurrency exchange and trading platform registered in Singapore that offers trading for over 100 different coins as well as for spot, margin, and futures. They are headquartered in Singapore and have users located in 200+ countries. George Cao, the CEO, and Ariel Ling [LinkedIn] (COO) are the founders of the company, and it was launched in August 2018. The original founding team was made up of Wall Street and cryptocurrency trading investors, and they have worked with large banks and crypto companies.
BitMax Fees
Trading Fees
Trading fees are based on tiers that are calculated by a user's daily trading volume and the type of tokens being traded. For example, the second lowest tier (VIP1) would incur a maker fee of 0.090% and a taker fee of 0.100% for large cap coins; the highest tier (VIP9) would a maker fee of -0.010% and a taker fee of 0.015% for large cap coins. The VIP1 tier requires at least 100,000 USDT in trading volume over a 30-day period, and the VIP9 tier requires over 500,000,000 USDT in volume.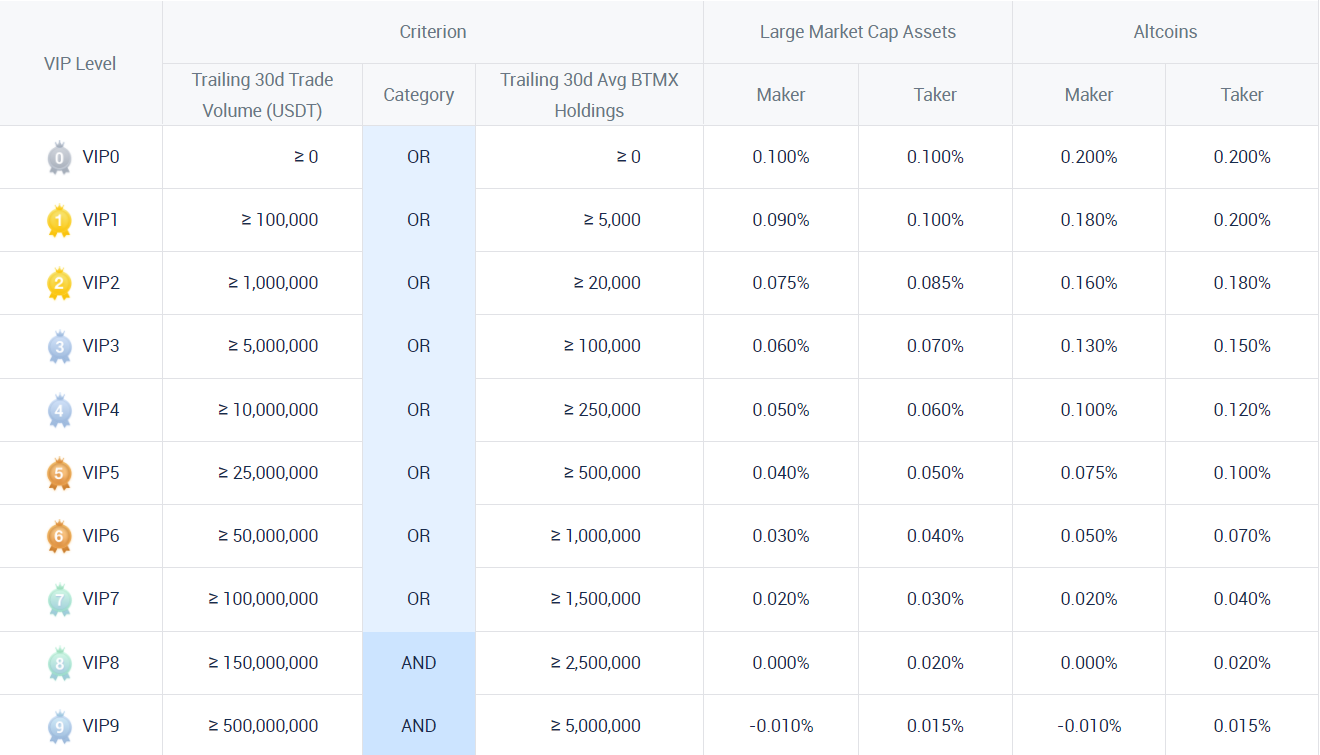 Withdrawal fees
In regards to fees for withdrawing your crypto, BitMax remains competitive amongst many exchanges. For example, you will pay 0.0005 BTC for withdrawing Bitcoin, 0.01 ETH for withdrawing Ethereum, 10 ADA for withdrawing Cardano, etc.
Trading View
Leveraged Trading
Users can trade leveraged ERC20 tokens on FTX spot markets, and the price of the token typically follows the price of the primary position taken in the asset of choice. The BULL tokens provide around 3x returns, and the BEAR tokens provide around -3x returns. An example of a leveraged token is ETHBULL, where if you purchased $1000 of this token, the account on FTX would purchase $3,000 worth of Ethereum perpetual futures – so you have longed Ethereum by 3x.
Margin Trading
BitMax exchange offers margin trading to its customers for Bitcoin and various different altcoins. They allow for up to 25x leverage, and a list of some of the cryptos they allow for margin trading can be found in the image below. When you open a BitMax account, your margin account is automatically set up, and interest is charged if you repay within 8 hours.

Futures Trading
The futures contract that BitMax exchange offers is called a "perpetual contract," which is only available for Bitcoin but can have a collateral in BTC, ETH, USDT, USDC, or PAX. These perpetual contracts do not expire, so you can hold longs or shorts for any period of time you desire as long as you have enough margin. BitMax's trading platform allows up to 100x leverage for futures trading, which is some of the highest in the industry.
BitMax API
BitMax has upgraded their backend system to support BitMax Pro API, which is their latest release of APIs that allows users to access automatically; this upgrade improved upon the older versions' speed and stability. There are now synchronized and synchronized API calls which can be used when placing or cancelling orders; synchronized will get you the order result in one API call, and asynchronized will help get the least delay.
Supported Countries and Cryptos
BitMax exchange offers support for most countries across the globe – however, there are a few exceptions. Countries that are not supported are the United States, Algeria, The Balkans, Bangladesh, Belarus, Bolivia, Burma (Myanmar), Cambodia, Côte D'Ivoire, Cuba, Democratic Republic of the Congo, Ecuador, Iran, Iraq, Liberia, Nepal, North Korea, Sudan, Syria, and Zimbabwe.
They offer access to over 150 coins and 211 different trading pairs, ranging from the largest market cap coins to some of the lesser-known altcoins, providing a wide variety of choices and pairings across the board.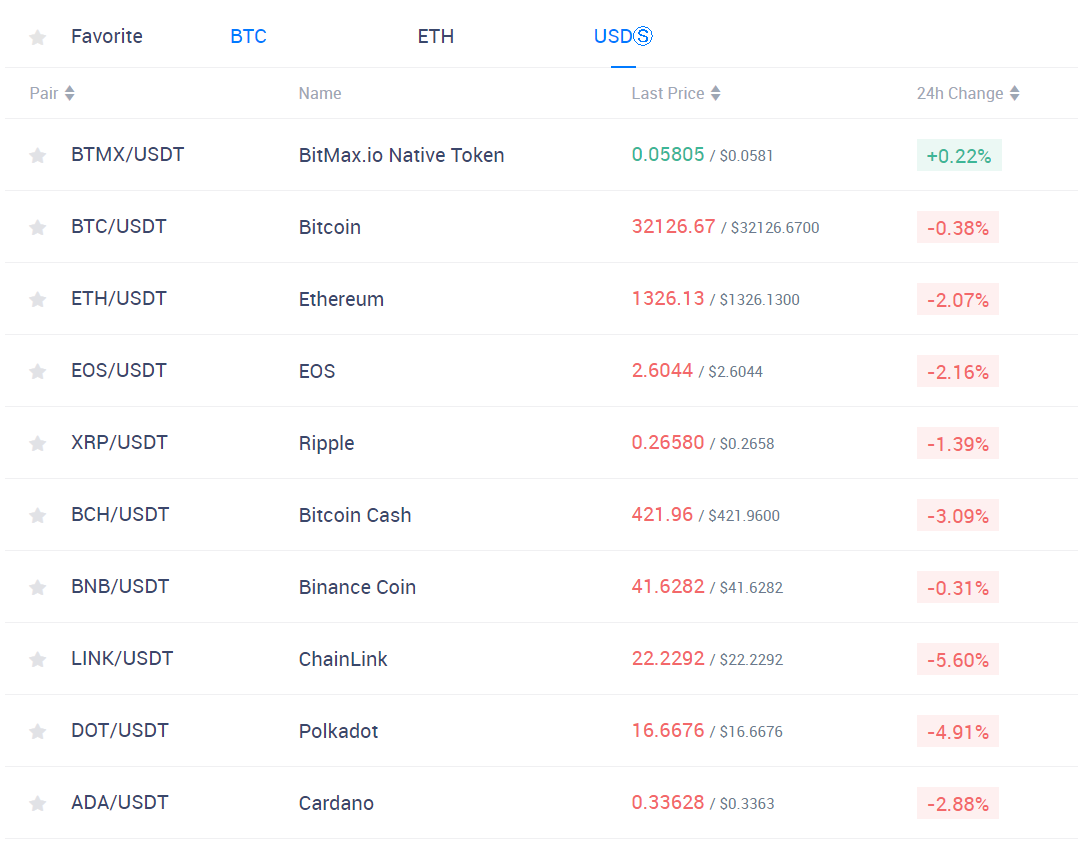 BTMX Token and Ecosystem
BTMX is the native utility token for the BitMax trading platform, and holders of the token can receive many rewards and services. Users have the option to subscribe to the "BTMX Investment Product" where they can earn an estimated APR of 18.26% on their BTMX holdings in the form of major coins (at the time of this writing).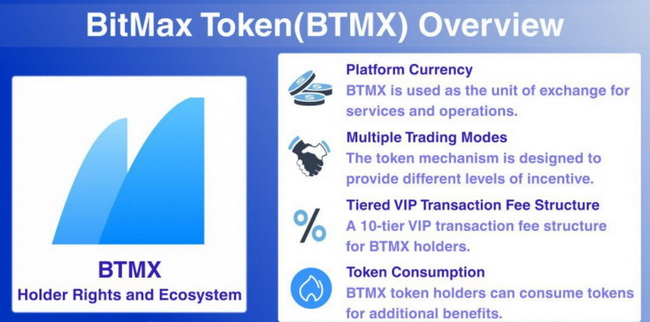 As mentioned earlier, the VIP fee & rebate structure consists of a 10-tier VIP fee schedule that is calculated depending on a user's 30-day trading volume. There are also opportunities for users to participate in auctions, price predictions, and token presales if they choose to do so.
Deposit and Withdrawal Methods
There are multiple ways you can deposit assets onto BitMax. The first is by crypto deposit, where you can navigate to your online wallet, select the token you wish to receive, copy the deposit address, and send the token to that BitMax deposit address. If you want to withdraw your tokens, navigate again to your online wallet, however this time you will need to paste the deposit address of the external wallet you are trying to send to.
Users also have the ability to purchase cryptocurrencies with fiat via a credit card or debit card payment (Visa/Mastercard) in USD or EUR, simplifying the process even further; supported assets for purchase are BTC, BCH, LTC, XRP, ETH, and XLM. You can also make deposits and withdrawals from and to your bank account.
Other Features and Services
Over-the-Counter (OTC) Trading Solution
Prime Trust is a US regulated trust and custodian supporting BitMax, which helps provide an OTC trading solution to BitMax's customers. The supported assets are Bitcoin, Ethereum, and Tether (USDT), and a minimum of $100,000 is required for a transaction.
BTMX Investment Multiple Card
The BTMX Investment Multiple Card is available to users as an additional incentive, which can be purchased with the BTMX token. If you have 1 multiple card, up to 10,000 BTMX in your account will be multiplied by 5 when your portion of the platform distribution pool is calculated – in other words, you can potentially make a 5x on your investment up to 10,000 BTMX that you hold if you possess one of these cards.
Staking
Users can earn rewards from staking their tokens – tokens can be unstaked whenever needed, so there is no fixed holding period. There is also margin trading available for staked tokens, so you can still actively trade them. Earned rewards are automatically reinvested in order to create a compounding return to increase the overall ROI – this is optional and can be switched on/off as desired.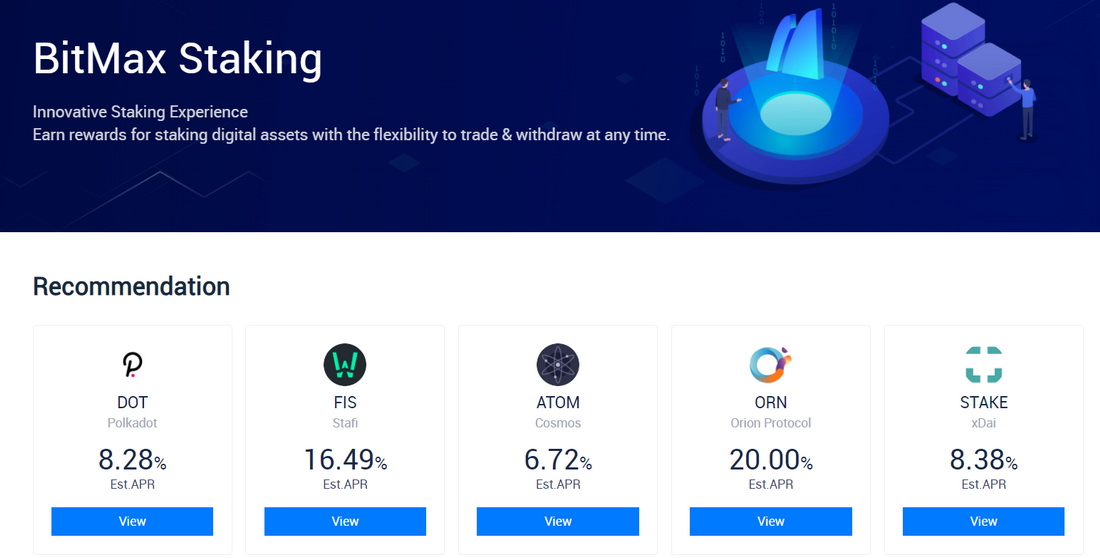 DeFi Yield Farming
Users can provide liquidity to yield farm on BitMax. They offer decentralized liquidity pools and lending/borrowing options – yield optimization vaults and derivatives protocols are not yet available but coming soon. The benefits of yield farming on their platform are that there are no gas fees and that the team takes care of all backend integration to make the process as simple as possible with a "one-click" function.
BitTreasure
BitTreasure is a financial product that allows you to invest tokens for a high rate of return. The total rate of return is dependent upon the token you choose to invest and the investment term period (30, 90, or 180-day terms are available).
How to use BitMax Exchange
To create an account, you can go to their website and click "sign up" in the upper right hand corner, which will then give you two options: verifying by email or phone number. Enter your details and then verify your phone number or email address by entering the security code sent to your device.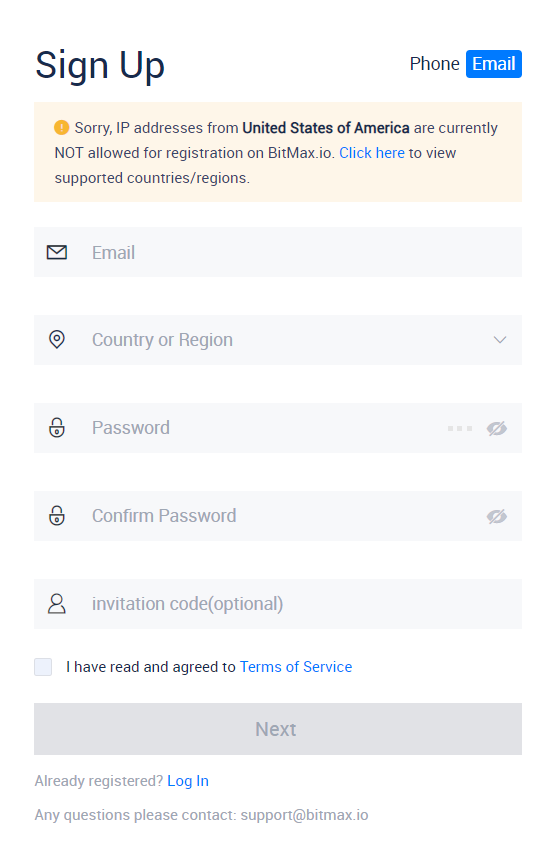 You will also need to provide verification of a government-issued ID, in the form of an ID card or passport. You will also be required to take a selfie with a piece of paper in your hand to confirm it's really you, which should contain the account email address, BitMax.io, and the date.
Security
There are several security options you can enable to keep your account safe. The first is a password, which you will need to create an account; it is important to choose a unique password with a variety of different characters.
Enabling two-factor authentication with Google Authenticator adds an extra layer of security that can help keep your account from being accessed. Navigate to your security settings to enabled 2FA, and it will prompt you to scan the bar code or enter the encryption key. Once this has been enabled, whenever you login to BitMax, you will need to enter the 6 digital code which is only available on your Google Authenticator app.
Conclusion
The advantage of using BitMax is that it has a multitude of services, essentially a "one-stop-shop" for basic trading to advanced investing, staking, margin trading, and more. It also provides users with options to earn substantial rewards through BTMX, unique to its own platform. While their trading fees remain competitive, they are nowhere near the lowest available compared to other exchanges. Additionally, they do not provide insurance, so your funds are at risk – that being said, most exchanges do not provide guaranteed insurance on your assets.
Give BitMax a try for yourself and see what they can offer!
Visit Exchange >>>
Social media