LATOKEN Review

Withdrawal fee: 0.0005 BTC

Taker fee: 0.28%

Maker fee: 0.22%

Bank transfer

Credit Card

Cryptocurrency

LATOKEN is a cryptocurrency exchange for asset tokenization, focused on providing liquidity for new digital assets; it was founded in March 2017 by Valentin Preobrazhenskiy. Located in Cayman Islands, it is managed by a team including, but not limited to, Danila Simonov [LinkedIn] (CTO), Denis Simagin [LinkedIn] (Managing Director), and Aaron Schwartz (Smart Contracts Developer).They have 300,000+ registered traders and 320+ different crypto pairs, and are continuing to grow and add new tokens onto their platform. LA is their native token, which is currently listed on seven different exchanges – on their exchange, they offer a few different trading pairs with their LA token, all smaller-cap coins.
LATOKEN Fees
Trading Fees
All trading fees are classified under a ranking system of 9 different levels, Level 1 to Level 9. Your level is determined by your 30-day trading volume – so the higher your level, the lower your maker and taker fees will be. The total 30-day trading volume is determined by your trades across all different crypto assets, which is then converted into USDT for simplifying the evaluation process. A chart of the fee structure across the various levels can be found below.
| Level | 30d Volume, USD | Maker | Taker |
| --- | --- | --- | --- |
| 1 | Less than $10K | 0.22% | 0.28% |
| 2 | $10K-$50K | 0.19% | 0.25% |
| 3 | $50K-$100K | 0.17% | 0.22% |
| 4 | $100K-$250K | 0.12% | 0.15% |
| 5 | $250K-$1M | 0.07% | 0.11% |
| 6 | $1M-$2.5M | 0.06% | 0.09% |
| 7 | $2.5M-$10M | 0.04% | 0.07% |
| 8 | $10M-$20M | 0.02% | 0.05% |
| 9 | More than $20M | 0.00% | 0.04% |
There are also trading fees for futures – for a BTC/USDT contract, the maker/taker fees are 0.06%. For depositing crypto, deposits are free in USDT and 1% in any other crypto asset.
Withdrawal fees
The fee you will pay to withdraw varies depending on which asset you want to send off the exchange – the below table gives you a general idea of some of the withdrawal fees for some of LATOKEN's most popular cryptos. Please note that the fee is calculated in the denomination of the crypto being withdrawn.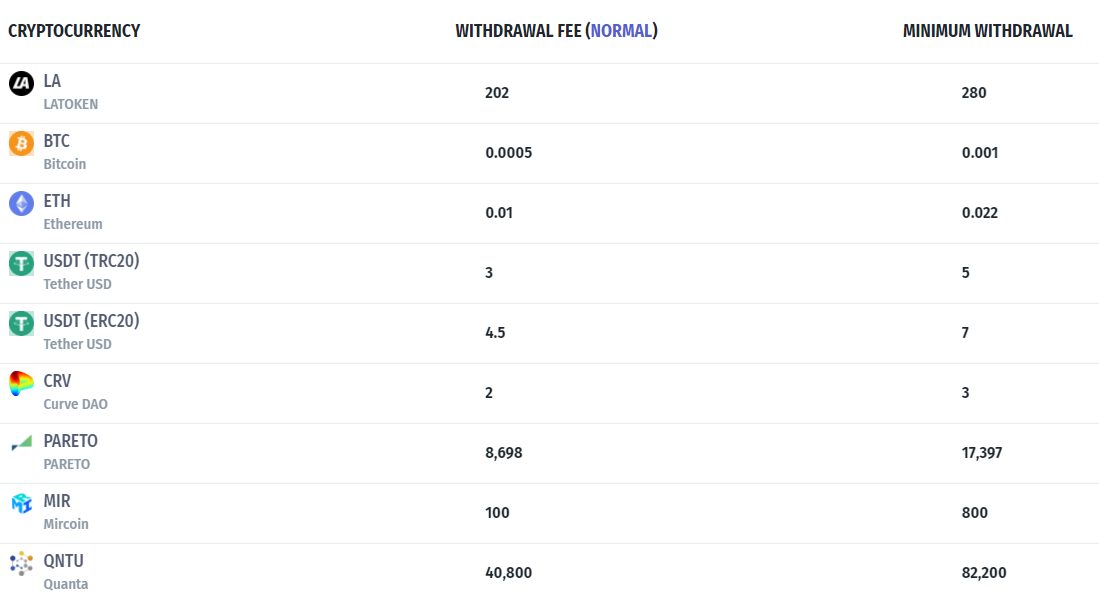 Trading View
Futures trading
LATOKEN offers perpetual futures contracts, which are similar to regular futures but do not expire and replicate margin spot market trading. They support up to 10x leverage, and you are able to choose how much leverage you would like to use when you place the order. In addition, they use an index price instead of the actual spot price of the asset – according to LATOKEN, using the index price represents a fair value of the asset because it is the weighted average of the prices of major exchanges (it uses Bitmex, Binance, Huobi, OKEx, and HitBTC data).
LATOKEN API
LATOKEN's API has Public and Signed endpoints; anyone has the ability to access Public endpoints,  which provide public market data (i.e. order books, trade information). Signed endpoints have user related data and allow you to make, cancel and see orders, balances, etc. Additionally, all methods return JSON object. In order to generate your own API key, login to your account and select Profile in the upper right hand corner, and then select API Keys. Afterwards, select Create API key and enter a label and set a permission for your key. Click the button noting Create API key again, enter your 2FA code, and you're all set!
Listing and Crowdfunding
Listing services are provided by LATOKEN's team, and they also help organize token sales during a crowdsale; they have a large IEO platform to help support these efforts. For each project, a roadmap is created, starting from the initial application, then pre-marketing, fundraising and marketing, distribution, and finally a listing on a secondary market. Their services also extend to large banners and announcements, referral programs, oversight of marketing campaigns, and more to help projects have a successful listing and fuel organic growth.
In regards to investors, LATOKEN has their regular users, in addition to a large amount of investors who participate in panel discussions, attend project pitches, and provide general feedback. On their website, you can apply to pitch in online panels and even see information on some of the investors you will be presenting to; you are given a 5 minute slot for your presentation if you do decide to pitch your project.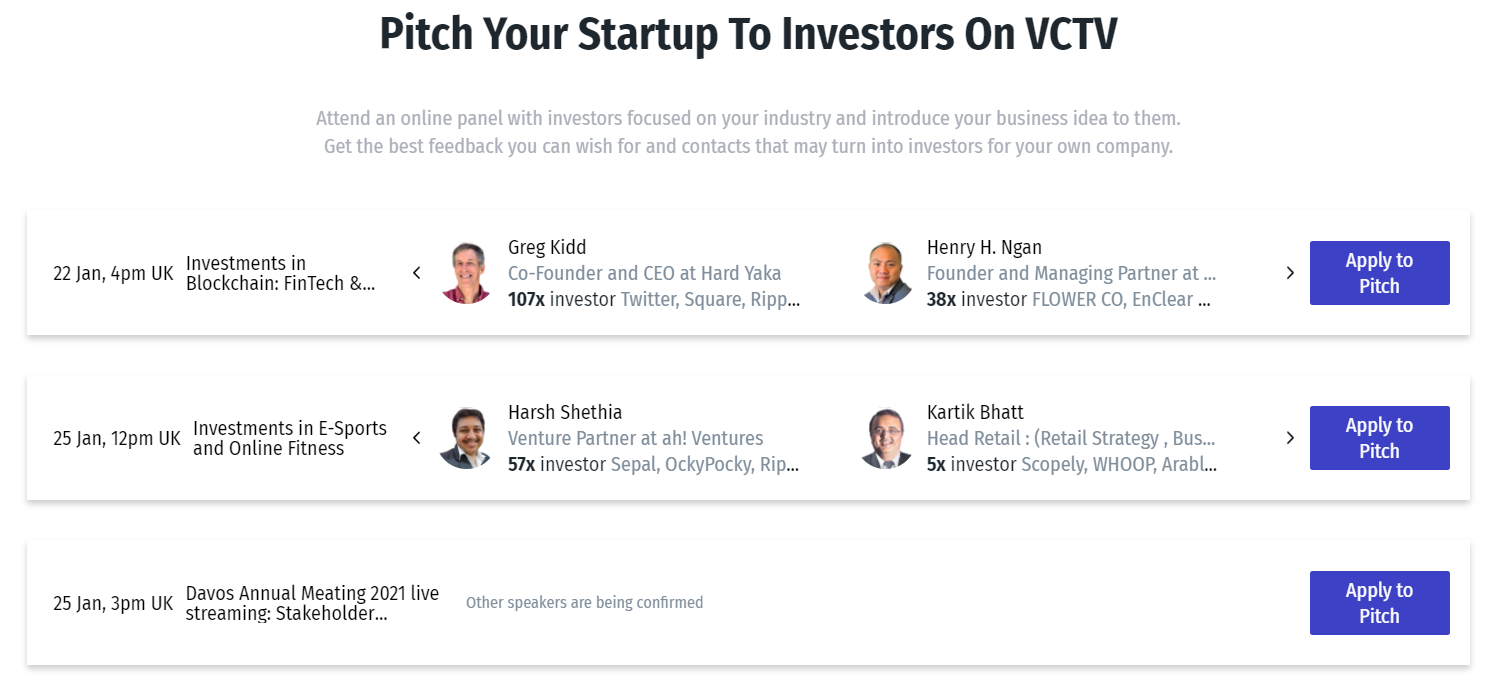 Supported countries and cryptos
LATOKEN prohibits users/investors from the following countries: Afghanistan, Bosnia And Herzegovina, Democratic People's Republic of Korea (DPRK), Ethiopia, Iran, Iraq, Pakistan, Syria, Sri Lanka, Trinidad and Tobago, Tunisia, Uganda, and Yemen. They also withhold the right, per their terms of service, to potentially restrict trading for users/investors (including residents and citizens, from the United States, Canada, United Kingdom, Australia, France, South Africa, New Zealand, Japan, People's Republic of China, Singapore, South Korea, Israel, and Cayman Islands.
As previously mentioned, LATOKEN supports over 320 different trading pairs. They offer many of the major cryptos such as BTC, ETH, XRP, LTC, ADA, etc. Lesser-known altcoins are also offered, such as SUSHI, WAVES, ICX, ALGO, etc. Some additional coin offerings are below.

Deposit and Withdrawal Methods
In order to deposit funds, they offer a variety of different methods. The first is by credit or debit card – with a card, you have the choice to purchase either BTC, ETH, LTC, XRP, TRX, and ATOM. There is a 7% commission when using a credit card, and purchases can be made in USD or EUR. Depositing by crypto is another way to transfer funds into your account. Simply go to the exchange and click on Wallet in the upper right hand corner – select Deposit next to the cryptocurrency you would like to bring onto the LATOKEN exchange and copy the deposit address.
To withdraw funds, navigate to the same wallet page, select the cryptocurrency you want to withdraw, and enter the deposit address of the exchange or wallet you want to send it to. It is important to remember to check to ensure you have the funds available for withdrawal in your wallet, and not in your spot account.
One feature that makes LATOKEN unique is the ability to transfer funds using an email address. When doing a transfer to an email address, please note that it can only be done internally to another LATOKEN user; external exchanges or wallets are not supported with this feature. When you go to withdraw your crypto, you are given the option to send to a "crypto wallet" or email address – simply enter the email address of a registered LATOKEN account holder, and you are good to go.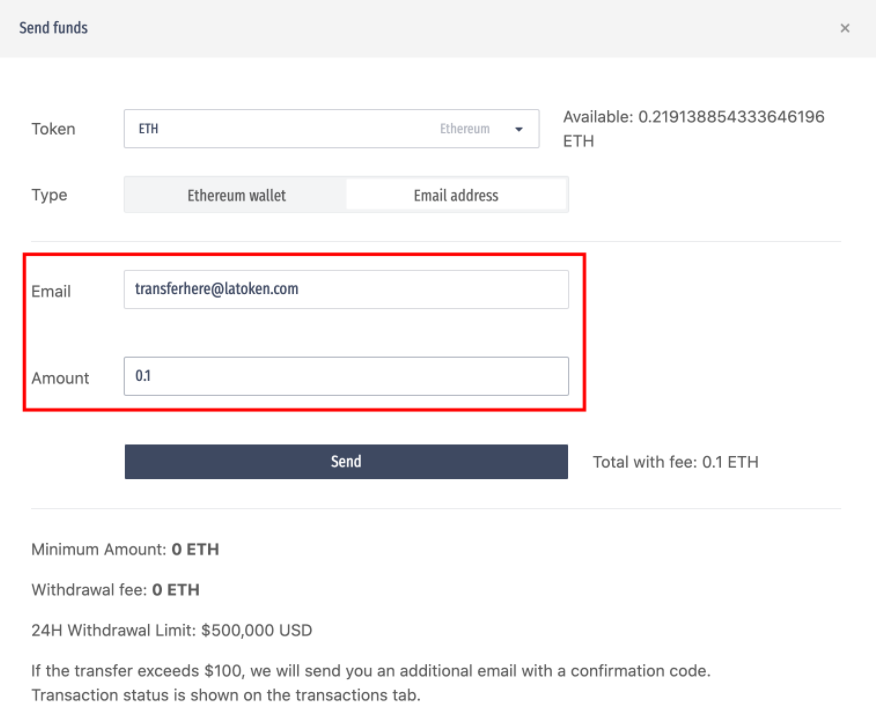 How to use LATOKEN exchange
To create an account, navigate to the homepage and click on Login or sign up on the top right hand side of the page. Enter an email address, and then it will prompt you to add your password; the password you choose needs to have at least 8 characters, 1 uppercase letter, 1 lowercase letter, and 1 digit.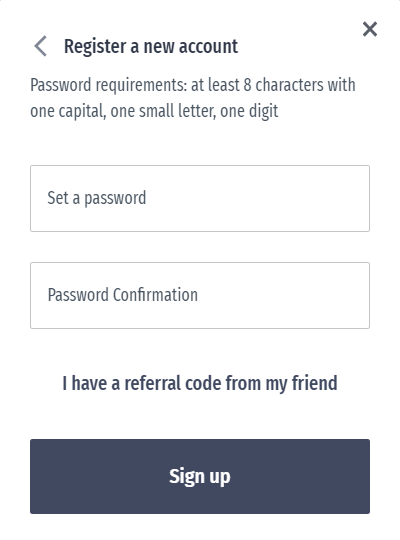 Once you've completed these steps, you will be able to browse the exchange, but with very limited functionality; you can click Later to move past any steps you do not want to go through. However, in order to gain full access, you will need to verify your email address by entering the 6-digit confirmation code sent there. It can take up to around 30 minutes to arrive, and don't forget to check your spam in case it doesn't appear in your main inbox.
Security
LATOKEN offers a multitude of security features to help keep your account safe. You can enable 2FA, which will add an extra secure layer of protection to your account; once you've logged in, click on Profile, then Security, then Google Auth to get a barcode, and follow the subsequent instructions.
They also offer SMS text verification to your mobile phone, which will send a numerical code to your phone that you can enter to login to your account; this method is less secure than 2FA, but still an option for keeping your account secure. Email confirmation is another option, where you will need to enter a code from your email address in order to verify the account is yours.
All of their private keys for wallets are encrypted with AES-256 and stored offline. There is also added password security, with passwords being encrypted with Salted SHA-256. In addition, 99.5% of customer assets are kept in cold storage with multi-sig, ensuring extra protection. The data from their website is sent using encrypted Transport Layer Security (TLS) connections, and their system architecture is made to protect against DDoS to make sure trading can't be disrupted by external cyber attackers.
Conclusion
LATOKEN has built a reputation for itself over the years and has made advancements in its product offerings. It certainly has its advantages and disadvantages, so before you consider giving it a spin, take a look below at some of the pros and cons:
Pros
Many available trading pairs and solid liquidity, as ranked by CoinGecko
Unique framework for being able to pitch directly to investors, with transparency of details for these specific investors
Supports debit and credit card purchases for fiat deposits
Clean, easy to use interface with a variety of options for trading and earning
Strong security systems in place
Cons
Brand name is not as recognizable as other major exchanges
Has a shaky reputation, with many critics on review sites
Outside of regular trading opportunities and functionalities, they don't offer many unique add-ons compared to their competitors (i.e. very limited DeFi offerings)
Visit Exchange >>>
Social media